Best PS4 games - the essentials on PlayStation 4 you shouldn't miss
Best
Contributions from
last updated
The best PS4 games are still great fun and worthy of your time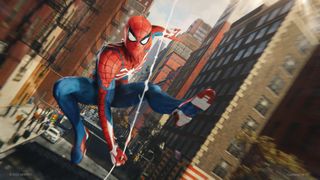 (Image credit: Sony)
The best PS4 games can still pack a huge punch, even 10 years after the console first came out. Given that we can all still enjoy the best of the PS4 library on a PS5 too, the selection of experiences the console provides is still as accessible as ever. From gripping adventures, beautiful visuals, and unforgettable stories, there's still plenty to get out of PS4 games.
Importantly, you shouldn't be put off by the fact that the console is now the 'last generation' of gaming. The PS4 is still being used by millions of gamers, and can still give you a wealth of experiences and enjoyment.
The PS4's biggest hits all offer incredible style and fresh gameplay ideas. They also offer gaming moments for the ages – characters and story moments we are still talking about years later. Whether it's a new adventure of a popular PlayStation hero or something entirely new, the PS4 has it.
And despite the PS5 being into its third year, don't discount the fact that PlayStation 4 games are still being released! This means that we're continuing to experience a PS4 game library that's bigger than ever, bursting at the seams, but also, if you do own a PS5, you can enjoy PS4 games with a performance boost thanks to backward compatibility. If you're looking for the best PS5 games, however, we do have you covered there too.
We have curated a list of games from different genres to show that no matter what you enjoy, the PS4 offers something that's right in your wheelhouse. From shooters and sports to action-adventures and RPGs, here are the best PS4 games you can play right now.
The best PS4 games 2023
Why you can trust TechRadar We spend hours testing every product or service we review, so you can be sure you're buying the best. Find out more about how we test.
The last entry in EA's football series is the best PS4 sports game
Why we love it
The slick and smooth football action of FIFA 23 is the best available in games right now - there's nothing more satisfying than stringing together some beautiful passes or executing the perfect tackle or set-piece.
The FIFA games are a staple in any sports game lover's collection, and FIFA 23 is no exception. This is the last game publisher EA can release under this name, as the original FIFA license has expired. That means FIFA 23 is the last opportunity and best way to live your soccer gaming fantasy, including taking your favorite real-life players to the pitch.
FIFA 23 is the best way to enjoy soccer on a console, a current-gen game that still looks great on the, offers detailed ball control options, and makes shots look the way they do on high-octane TV matches.
Existing fans will enjoy the gameplay changes that give the game a fresh feel, while anyone who loves football will find plenty of modes to enjoy near-photorealistic soccer with. Read our FIFA 23 review for more.
Deliver packages in an eerily beautiful apocalyptic wasteland
Why we love it
There's no denying that Death Stranding is one of a kind in terms of its play and story, but the setting, environment, and landscapes are some of the most beautiful and best-realised on PS4.
Hideo Kojima's first game as an independent designer is Death Stranding, an action-adventure many players also affectionately call the Postman Pat simulator. You play Sam Porter-Bridges, a courier brave enough to walk across a post-apocalyptic America to deliver goods to people.
Death Stranding is essentially a wayfinding simulation that may test your patience – rappelling down a mountain with a swaying stack of boxes on Sam's back is a genuine challenge, and it's unlike anything we've ever played before.
Not only is Death Stranding unique, it's also often very beautiful. Sam, played by The Walking Dead actor Norman Reedus, is rendered perfectly, the snow-capped mountains and grassy fields you travel through can exude an uncanny calm. But Death Stranding can be tense, too – you will have some run-ins with monsters, leading to some tense stealth. Add to this incredibly detailed worldbuilding in Kojima's signature style, and you've got yourself one of the best PS4 games, a game truly like no other. Read more in our Death Stranding review.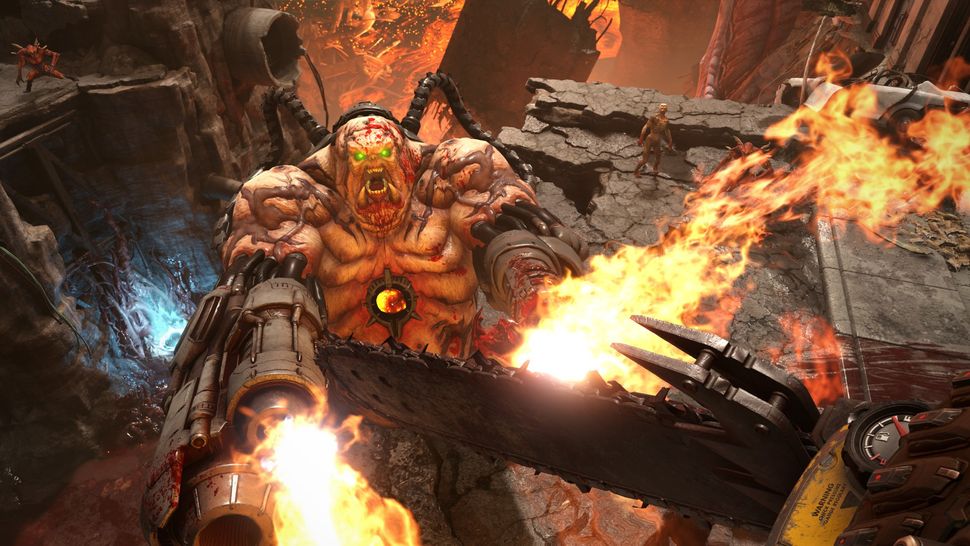 A speedy, satisfyingly grisly horror shooter
Why we love it
Picking up where Doom (2016) left off, Eternal's bombastic metal-infused action and soundtrack combo is one that will stay with you for a long time. A perfect blend of music and action in a game.
The latest game in the Doom series is a crunchy shooter that will excite old and new series fans alike – it's a speedy, loud shooter that feels like a real power trip. As Doom Guy, you're slashing and shooting your way through battle arenas filled with hordes of monsters, all set to a pumping heavy metal soundtrack.
With Doom Eternal, shooter fans get a smooth, stylish adventure that's still distinctively Doom, heavy metal attitude, and all – read our full Doom Eternal review for more details.
Doom Eternal renders its kills with a degree of gory detail that should excite any horror fan, pushing the PS4 hardware and producing some astounding visuals. The frantic gameplay is so smooth that you just want to keep going – this is a game that makes you feel powerful while still offering a decent challenge. You can enhance and adapt Doom Guy in several ways so that there is plenty of reason to keep playing Doom Eternal even when you have completed its story.
7. Dreams
A playground for aspiring game developers
Why we love it
The creativity and freedom that Dreams grants you to bring to life, well, whatever you like really, is unparalleled. If you want to learn about game development in a game, then Dreams is brilliant for just that.
Dreams isn't really a game, it's more of a creation platform. As the currently only game development tools for consoles with this breadth of features, it shows that the best PS4 games aren't just there to be played, they also inspire you to get creative.
Dreams is a tool for you to create your own games. It teaches you game development with its toolset in a playful way, and you also get to play the games its large community of creators has made, a seemingly infinite pool of ideas and gameplay experiences for you to peruse. That's why Dreams is great if you're an artist, but it's even better if you're not.
Dreams' game development tools are powerful, intuitive and made for the PlayStation. It will take some time to learn, but if you've always wanted to make your own game, this is an option only the PS4 offers.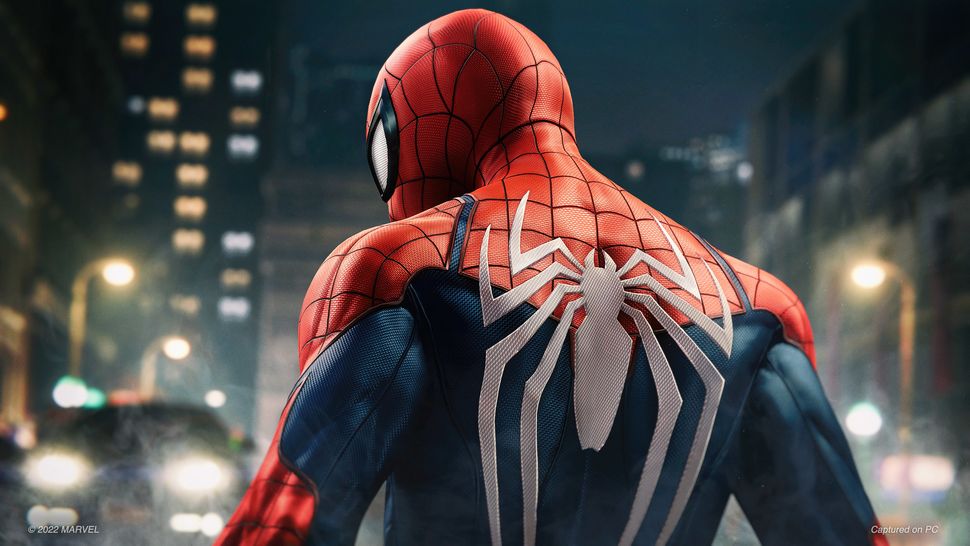 6. Marvel's Spider-Man
The best superhero PS4 game
Why we love it
The web-slinging traversal in Marvel's Spider-Man is our favorite thing in the game, narrowly beating out the superb combo-tastic combat. Swinging through the streets of New York as the music swells while you do tricks and twists in mid-air is just fantastic.
As the name suggests, this game lets you journey through New York City as one of Marvel's most popular superheroes. This is Spider-Man's first outing since the PS2 era, and controlling Spider-Man just feels phenomenal. Whether you swing around buildings or whack enemies with an acrobatic attack, in this open-world action adventure you get to enjoy some of the tightest gameplay the genre has to offer.
Marvel's Spider-Man combines good storytelling and fun combat with an open world that doesn't overdo it with optional content, making it one of the best PS4 games to play if you enjoy open-world games but always get too busy to finish them.
Make sure to play Marvel's Spider-Man: Miles Morales on PS5 if you have one, too. Both it and Spider-man are well worth playing, and Marvel's Spider-Man 2 already has a release date, too. Check our Marvel's Spider-Man review for more details.
5. Persona 5 Royal
The best PS4 game for JRPG fans
Why we love it
Persona 5 is so stylish and well put together artistically that you can get lost in the menus. However, the way it also applies the style to a gripping story, and combat is superb.
Persona 5 follows Joker, a student who has transferred to a new school in modern-day Tokyo. Over the course of the school year, Joker and some of his fellow students begin to awaken special powers, resulting in those affected forming a vigilante group called the Phantom Thieves of Hearts. The group travels through the mysterious Metaverse (not the Facebook one), forcing adults to have a "change of heart", in an effort to reform the city. There's so much more to it than that, but we don't want to spoil it for you.
Persona 5 is considered one of the best JRPGS of all time and it's not hard to see why. It's a stylish game, packed with over 100 hours of content and a story that is sure to keep you invested, all while tugging on your heartstrings at the same time. While Persona 5 also released on the PS3, the PS4 is truly the Persona 5 console – more people played the game than ever before, and it even got a sequel called Persona 5 Strikers.
If you buy it now, make sure to buy Persona 5 Royal over the original version. If Western RPGs are more your thing, head over to our best RPGs list.
The sequel Kratos deserves
Why we love it
The way that Ragnarok build's on 2018's God of War in most ways means there's much to love here by default. But the evolution and development of Kratos' combat, and the new moves and weapons on offer is particularly brilliant.
Since God of War's 2018 reboot of the action-adventure series, the series has won over many new fans, thanks to satisfying combat, and an emotional story told completely without the camera cutting away even once, which is both a large technical achievement and fascinating to see.
As our God of War Ragnarok review will tell you, the sequel brings back all these elements, but it also comes with some choice improvements and new parts. For one, while the beloved Leviathan axe is certainly back to fight and solve puzzles with, Ragnarok also introduces a few new weapons and environmental puzzles. You get to experience the story from many other perspectives than Kratos', thanks to a much larger cast and plenty of side missions, and now that Atreus is older, he has an even more active role to play in events, too.
God of War Ragnarok is one of the best PS4 games and must-play for players who loved Kratos and Atreus' adventure and want to see it end, but it's also a game that draws you in with incredibly beautiful graphics both on PS4 and PS5, and a manageable amount of side content that will teach more Norse mythology if you're so inclined. God of War Ragnarok is currently still exclusive to PlayStation consoles, and its genuinely the kind of game you should get the console for.
3. The Witcher 3: Wild Hunt
The best PS4 RPG game
Why we love it
It's more of a case of 'what's there not to love' with The Witcher 3. It's greatest strength really is 'everything;' though as it offers the full Fantasy-adventure package with a wonderful story, some of the best lands and places in games, and superb writing and characters.
The Witcher roleplaying game series has been around for a long time, but the Witcher's 3's release during the PS4 era made Witcher Geralt and the world he lives in more popular than ever. As witcher Geralt, you make your way through the world in search of your adoptive daughter, a powerful magic user just like you, is being hunted by a group called The Wild Hunt. But the journey isn't straightforward, as you get involved in war, political intrigue, and plenty of personal problems, which will require your decision-making skills, your sword, and some magic.
For a long time, there was no game on the PS4 that looked better, but The Witcher 3 is one of the best PS4 games because Geralt's story will take you through a fascinating fantasy world free of the usual character tropes such as dwarves living underground and wizened magic users with long, white beards.
The Witcher 3 is huge, and it's one of the few open-world games where no task and no sidequest feels superfluous, it's simply all part of a large, interesting tapestry that you get to explore. This is a game stuffed with memorable moments, headed by one of gaming's most beloved protagonists – if you are a fan of RPGs, you'd do well not to miss it.
2. Uncharted 4: A Thief's End
The end of the road
Why we love it
A thief's End's actual treasure hunt - following the legendary tale of Henry Avery and his treasure - is an absolute belter. It's probably my favourite actual treasure hunt of the series for its twists, revelations, and the pace at which Nate discovers key moments in brilliant.
Uncharted 4: A Thief's End is the last part in the saga of Nathan Drake, another enduringly popular PlayStation protagonist. When we meet him this time around, Nathan is married and has sworn off the treasure-hunting lifestyle, but when his long-lost brother asks him for help, Nathan can't turn him down. This action-adventure series combines third-person cover shooting with climbing sequences.
The Uncharted series is one of the best in games for cinematic presentation, and Uncharted 4 is no exception. Nowhere but on PlayStation do you get to enjoy an Indiana Jones-type game with a hero that quips with the best of them.
Uncharted is truly the game for anyone who enjoys large setpieces, whether that's a giant bell smashing through a clocktower Nathan has just climbed or a tense chase sequence. This is a great sendoff for Nathan Drake fans, and you can also pick up remastered versions of the previous four games for PS4. Check out our full Uncharted 4: A Thief's End review.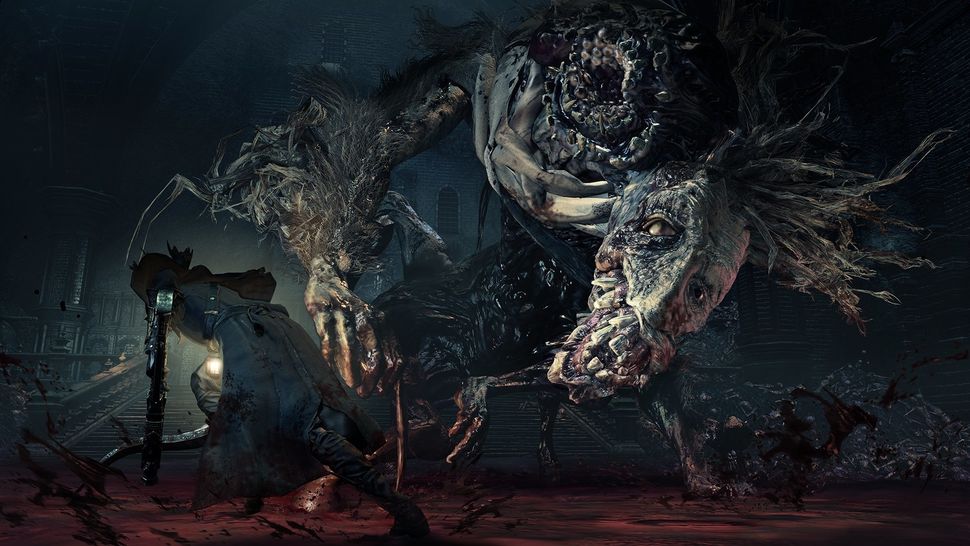 1. Bloodborne
A dark and atmospheric journey that will test your gameplay skills
Why we love it
The switch from slow, deliberate, and cautious combat of Dark Souls to the aggression-encouraged, rewarding on-the-front-foot combat in Bloodborne results in some of the finest FromSoftware action we've known. Quick, agile, combat, while choosing your own approach is a winner.
FromSoftware's Bloodborne is an action-roleplaying game that sees you explore the Gothic world of Yharnam as a character simply called the Hunter. Your goal is to explore Yharnam, or, to put it more simply, survive it – its dark streets are full of powerful monsters that can't be taken down with a few simple button presses.
Bloodborne shares a lot of similarities with FromSoftware's Souls games as well as Elden Ring – you will face difficult combat, find your way around with no help, and connect the dots of the world's lore yourself. However, Bloodborne's combat is quick, monsters often attack in large hordes and the game's RPG elements give you enough freedom to customize your fighting style.
This is the perfect game for players who find Souls combat too slow and restrictive, and Bloodborne's visual design, music, and worldbuilding are highly distinct and memorable. Bloodborne is a Lovecraftian nightmare that will keep you coming back for more, thanks to a satisfying degree of mystery and player freedom, and you should experience it at least once.
What PS4 games I'm playing right now
While my go-to games right now are Metal Gear Solid 3 on the PS3 and Back 4 Blood on PS5, my wife and I are playing the PS5 game Unravel 2 together right now which is proving an absolute joy.
It's putting the hours into PS4 games, still, like this that means you can trust us when it comes to these lists, and know that we're dedicated to the platform and its library.
Best PS4 games - FAQs