The best PSVR 2 games are the first-party titles made for Sony's virtual reality headset, but the tech has launched with some great ports and free updates for existing games, too.
If you already have a VR headset, the PSVR 2's launch lineup may not appeal as there are only a few exclusives for the PS5 headset. The vast majority are either ports from existing headsets like the Meta Quest 2 or the original PlayStation VR. Some of the best PSVR 2 games, are actually PS5 games that have received a free VR update, such as Gran Turismo 7.
If PSVR 2 is your first foray into the world of VR, there are many great games to check out across a variety of genres. There's plenty more to come, too, with a recent State of Play presentation highlighting a bunch of new games coming to PSVR 2 in the near future. And if you need a headset, here's where to buy PSVR 2 right now.
Best PSVR 2 games
Horizon: Call of the Mountain is PSVR 2's killer app, and an easy recommendation as the best PSVR 2 game at launch. Developers Guerrilla Games and Firesprite have effortlessly managed to adapt the world of Horizon to VR, and it'll certainly sell you on the power of PSVR 2.
In Call of the Mountain, you play as Ryas, a Shadow Carja looking to clear his name of criminal charges and find his lost brother. To do so, you'll be doing a lot of climbing and taking out machines with your bow, all with PSVR 2's excellent Sense controllers.
Physical actions simply feel incredible in Call of the Mountain. Climbing feels immersive and accurate, with you moving the Sense controllers in a realistic clambering motion. Combat is also hugely thrilling; the loop of aiming, firing, dodging, and scrambling for resources against some of Horizon's most iconic machines feels consistently fresh and involving.
Tetris Effect, much like the iconic puzzler itself, is timeless. It's simply one of the best iterations of the classic puzzle game, marrying its block-clearing gameplay with mesmerizing music and visuals that evolve as you play.
If you already own Tetris Effect on PS5, you can download the VR update at no extra cost. If you're sensitive to constant motion in VR, Tetris Effect provides a static gameplay environment that's perfect for short, seated sessions.
It's arguably developer Enhance's best work, and the game's gorgeous visuals and sound design shine extra brightly on PSVR 2 thanks to its superb image quality and high-quality 3D audio-supporting headphones. Tetris Effect is cheaper than many other games in the PlayStation Store, too, so it won't break the bank if you don't already own the game. As a result, we believe you shouldn't miss this great experience.
Gran Turismo 7 plays like it was developed with VR in mind from the get-go. Polyphony Digital has done a tremendous job adapting its flagship racing sim to PSVR 2. And it's a huge improvement over the VR options available in Gran Turismo Sport.
GT7's menus are presented in PSVR 2's Cinematic Mode, but once you're in a race, you'll be in full VR. It's quite a jarring feeling at first, but not unwelcome, as freely looking around inside your car is wonderfully natural. In the driver's seat, the tracks feel absolutely massive; the banks and hills of courses like Laguna Seca and Mount Panorama are more daunting than ever.
Racing in VR is deeply immersive, as you are seeing the race from the driver's cockpit view. Best of all, the VR update is entirely free, and all aspects of the game are playable in VR, including the online Sport mode. There's even a VR showcase mode, letting you get up close and personal with your car collection, and their stunning detail is more apparent than ever, thanks to PSVR 2's excellent image quality.
Fancy something a bit less active, and more therapeutic? We can't recommend Puzzling Places enough. While it's been available for some of the other best VR headsets, we feel it's a real hidden gem on PSVR 2.
Puzzling Places provides a huge collection of 3D models of iconic real-world architecture to piece together. With the Sense controllers, you can freely pick up and examine each piece to figure out which slot next to each other. Reference images provide additional help, and a calming zen atmosphere helps you focus solely on the puzzle at hand.
And if you're feeling like Puzzling Places' default difficulty is a little easy, the game lets you increase the number of pieces for all puzzles. The game will dynamically split the puzzles into more pieces, perfect if you're looking for an immersive challenge.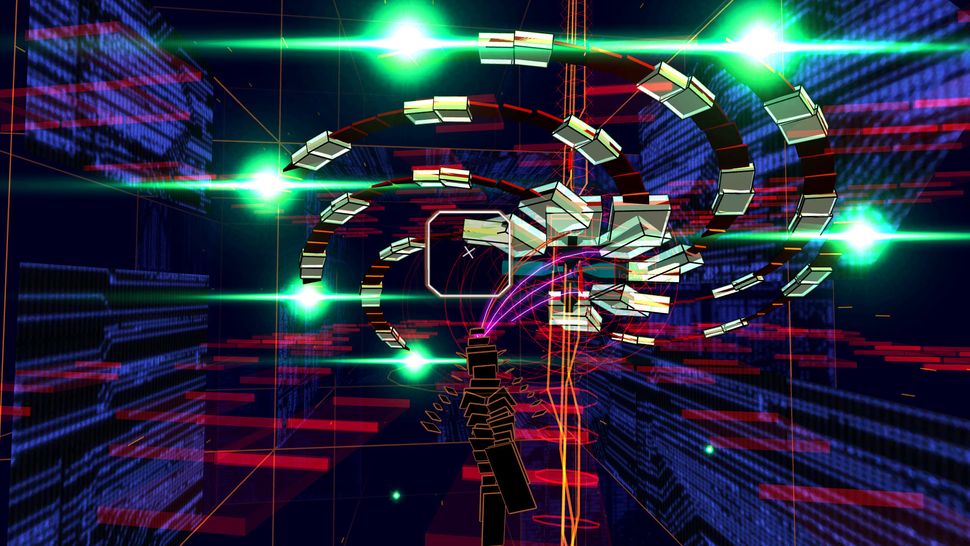 Originally a PS4 port of the Sega Dreamcast classic, the latest PS5 version of Rez Infinite has been updated with PSVR 2 support. And it's added much content to the legacy rhythm-shooter.
The entire game is playable in VR, but the most fascinating inclusion is its adoption of PSVR 2's eye-tracking. Typically, you'd use the DualSense's analog stick to move Rez Infinite's targeting reticule. But with PSVR 2's eye tracking, you can move your eyes without adjusting the headset's facing.
It works brilliantly, too. Rez Infinite is a wild game, often presenting several enemies on-screen at once. So having an option to simply shift your eyes to target them instead of constantly shifting your entire head makes this rhythm-centric title far more enjoyable with PSVR 2.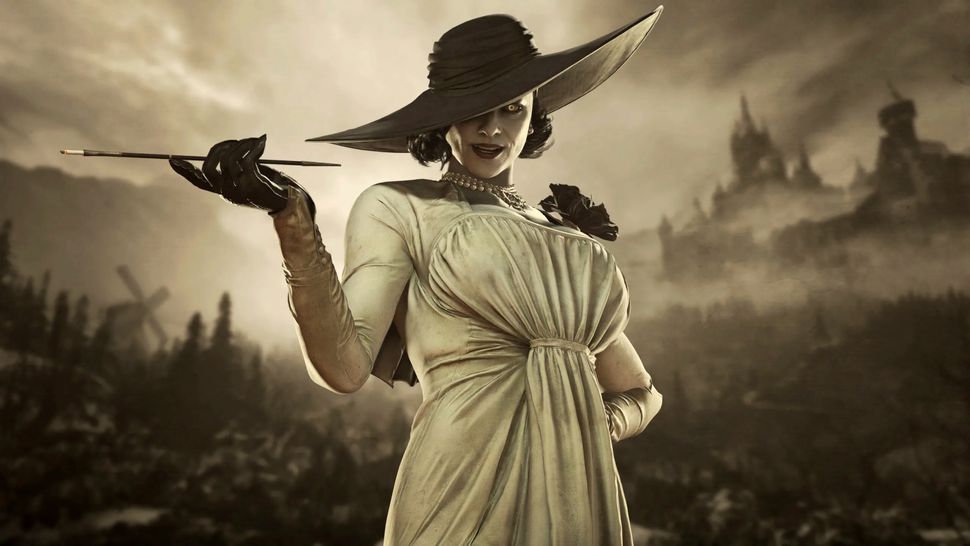 Resident Evil Village is one of the best horror games in recent years, and once again, it provided an excuse for Capcom to show off its RE Engine. PSVR 2 gives us another compelling reason to return to Village's werewolf-ridden setting.
If you've played Resident Evil 4 VR on Quest 2, many of that game's features have found their way over to Village. You can now dual wield weapons and manually perform actions like applying healing effects, reload your guns, and interact with objects, thoroughly immersing you in the scene… and the scares.
Be aware that this is the full game experience, too, including all of its scariest moments. While Resident Evil Village is certainly a thrilling, action-heavy game, its more horror-focused segments are not for the faint of heart, doubly so if you're tackling them in VR.
We didn't think paddling a kayak would make for that fulfilling an experience, but Kayak VR on PSVR 2 shows best that seemingly mundane tasks can be both immersive and thrilling.
Kayak VR makes excellent use of PSVR 2's Sense controllers. You'll use their motion functionality to paddle your kayak, in a first-person view, down a variety of rivers and streams across the globe. It's an absorbing experience that's equal parts relaxing and engaging; you'll certainly get a good upper body workout by mimicking the act of paddling.
Exploring new worlds in VR can be a transformative experience. But how about if you wanted to build one yourself? This is what Townsmen VR excels at, providing a building and management simulator.
The best part of Townsmen VR is its high level of interactivity. You'll gather resources, build structures and defenses, and manage (or potentially torture) your population all with your virtual hands via the Sense controllers.
It's a game that's remarkably easy to learn, but ever so moreish thanks to its level of depth. We also found Townsmen VR's high interactivity to be rather intimate and immensely satisfying, too. Knowing we technically built our towns with our own hands adds a layer of tactile depth that even the best PS5 controllers can't provide.
No Man's Sky has come a long way since its initial release, with bags of additional content and features provided through years of free updates. The latest adds free PSVR 2 support to the game, making No Man's Sky's near-infinite universe all the more gratifying to explore.
Whether you're entirely new to the galaxies of No Man's Sky, or a returning spacefarer, PSVR 2 support adds a welcome layer of immersion to the game's lonely, contemplative universe. The whole game is here, too, meaning you can go from chiseling a planet apart for resources to soaring through outer space all within the lenses of your PSVR 2 headset.
Best PSVR 2 games: FAQs
How much do PSVR 2 games cost?
PSVR 2 games are available at a range of prices. Horizon: Call of the Mountain has set a precedent for the headset's big exclusives to be full-priced, at $59.99 / £59.99 / AU$109.95. Smaller titles and ports can be bought, usually, for less. Some games have also added PSVR 2 support as free updates, meaning you don't necessarily have to spend more beyond the headset itself.
When will PSVR 2 release?
PSVR 2 is available now, as of February 22, 2023. You can buy the headset on its own for $549 / £529 / AU$879. Alternatively, a bundle packing PSVR 2 with Horizon: Call of the Mountain retails for $599 / £569 / AU$959.
Can you play regular PS5 games on PSVR 2?
Yes, you can play your library of PS5 games via the headset's Cinematic mode. This creates a virtual screen within the display. However, we'd only recommend this as a curiosity, as regular PS5 games benefit more from being outputted on a 4K TV screen or monitor.