The best PS5 controllers help to immerse players effectively into some of the best games Sony's current-gen console offers, and whether you're looking for an affordable spare gamepad or a more premium go-to, there's never been as much choice as there is now, and the current year is bound to have something to suit your preferences and budget.
However, we must admit that there's not quite as much choice with the best PS5 controllers as you'll find with the best Xbox controllers and best Nintendo Switch controllers, but things are beginning to change. We're seeing continuous, high quality efforts from third-party companies now that Sony itself has released its official PS5 pro controller: the DualSense Edge.
We think that an extra PS5 controller is as close to the best PS5 accessory as you can get. If you're thinking of getting the most out of your setup for some of the best PS5 games then the best SSDs for PS5 can help you massively in keeping more titles downloaded and ready to go at a moment's notice.
Best PS5 controllers in 2023
Why you can trust TechRadar Our expert reviewers spend hours testing and comparing products and services so you can choose the best for you. Find out more about how we test.
The DualSense Wireless Controller takes the top spot as the best PS5 controller right now. It offers excellent build quality and features even higher-end alternatives don't. We've been using this particular controller now for over two years to great success because of the genuinely innovative inclusions of haptic feedback and adaptive triggers, which both first and third-party game developers are utilizing in exciting ways. This is it if you're after the most cost-effective way to play PS5 games.
Extra features aside, the DualSense is just an incredibly well-designed gamepad to have in your hands. A little curvier than the DualShock 4 that shipped with the PS4, this makes for a controller that's more comfortable to use for long play sessions. Every aspect of the controller, such as the face buttons, the D-pad, and those all-star triggers, feels great to the touch.
Where the DualSense is let down by the battery life. All these extra bells and whistles come at a cost: you can expect anywhere from four to eight hours of use between charges. We often found ourselves reaching for the included USB-C cable when going the distance in longer titles such as God of War Raganrok and Ghost of Tsushima.
While the DualSense Edge is only a slight improvement over the stock model, what's offered here with this upgraded version is more likely to appeal to hardcore gamers. Priced at $199.99 / £209.99 / AU$339.95, this gamepad isn't meant to replace the standard PS5 controller.
The biggest upgrade with the DualSense Edge is in the build quality and aesthetic tweaks. It's down to the redesigned triggers, touchpad, and slightly heavier chassis. It feels like a premium product while offering the extra functionality you should expect from a controller that's more than double the cost of a standard DualSense.
We particularly enjoyed the adjustable trigger stops, rear paddles, and function buttons which made a real difference in games like Call of Duty Modern Warfare 2 and Returnal. Depending on how you play on your PS5, you'll either notice these additions as game changers or nice extras.
The one thing that the DualSense Edge doesn't address is the battery life. You can expect anywhere from six to eight hours, depending on what features you're using. We found that the controller averaged just over seven hours before going flat when utilizing everything that the Edge could do.
Seeing as some PS5 controllers aimed at the Esports scene strip away core DualSense functionality and cost more than this, such as with the Razer Wolverine V2 Pro, we think this model is a good investment for those who will use it to its full potential.
If you're after a competitive edge in some of the more demanding PS5 games then you should strongly consider the Victrix Pro BFG controller. That's because this gamepad features not only five different levels of trigger adjustments, four remappable back paddles, and multiple sticks and D-pads to choose from but also an entire fightpad module, too.
Priced at $179.99 / £179.99 / AU$269, the Victrix Pro BFG is considerably more expensive than the standard DualSense, yes, but it does significantly undercut the competition from other first and third-party offerings. A major strength of this PS5 controller that we found in our testing was the lengthy battery life, of which you can expect up to 20 hours, and the lightweight nature of the remote itself. You've also got a protective carrying case and a 3m long braided USB-C cable just in case you want to bring it to all kinds of gaming tournaments with you.
The trade-off here is that you're forgoing the DualSense functionality all together. Now, this isn't just the case with the Victrix BFG Pro, as other officially licensed pads also aren't using adaptive triggers and haptic feedback. But keep in mind that everything has been stripped back here to prioritize low latency and responsive gaming over more immersive features from the stock PS5 controller.
The main attraction of the Scuf Reflex Pro is its customization options, where you can create unique color schemes for your controller with a simple-to-use design tool. You're paying a pretty penny for the privilege, though. With prices starting at $219.99 / £219.99 (roughly AU$315), fine-tuning your pad doesn't come cheap.
Our review unit has a black and red color scheme with a complementing face plate and color-matched buttons, triggers, bumpers, and D-pad. There are over 25 pre-made designs to choose from and a vast array of color combinations should you want to take things in a different direction. The main thing that separates the standard Reflex from the Pro variant is the 'high-performance grip', which costs $19.99 / £19.99 (approximately $AU38) to add to your controller. We found that it was easily the better investment here as it feels substantially more supportive than the otherwise smooth finish of the DualSense's chassis.
The Scuf Reflex Pro retains everything that makes the PS5 DualSense special, the haptic feedback and adaptive triggers. You're also getting remappable paddles, which you can use to free up your hands over the face buttons. Ultimately, we found these functions are ultimately secondary to the design customization. If you've dreamed of having a particular color combo for your PS5 controller with the extra coin to spend, this is a great start.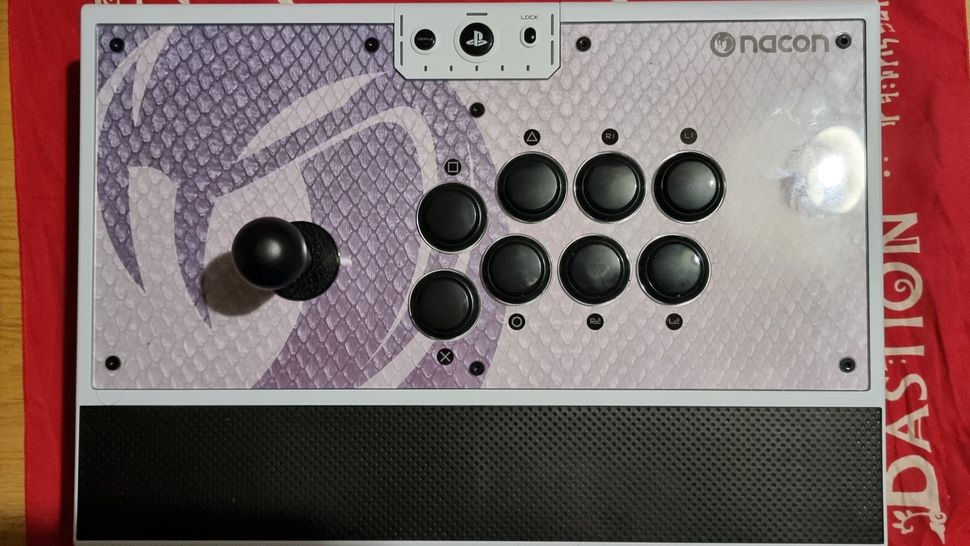 If you're looking at a new PS5 controller to get the most out of fighting games, then you should look past a traditional gamepad. The Nacon Daija is our pick for the best fight stick. We were continuously impressed with the build quality, the parts used, and the overall responsiveness when battling it out in titles such as Guilty Gear Strive and Tekken 7. It's not cheap, though: the Daija currently retails for around $292 / £240 from its €279.90 cited MSRP.
The Nacon Daija is a controller, with a good amount of heft and size, making it stable when the fighting gets intense. We found the Daija comfortable whether used on the lap or a table. What's particularly great about this controller is you can open it up to make repairs or any upgrades to the buttons, switches, and stick if required. Given that you're getting top-of-the-line Sanwa-Denshi parts here, we never saw the immediate need to swap these out.
While primarily marketed at the fighting game community, the Nacon Daija is also a superstar for your arcade games. We particularly enjoyed run-throughs of titles such as Streets of Rage 4, Teenage Mutant Ninja Turtles: Shredders Revenge, and Metal Slug 3. Given the price tag, it's certainly an investment, but if you want to take on the latest and greatest fighting games with superior input control than a gamepad, then we think it's worth a shot.
Best PS5 controllers - Frequently asked questions
Are Scuf PS5 controllers worth it?
In our experience, we've found that Scuf controllers for PS5 are well-built and highly customizable but far from essential. Ultimately, you're paying a premium on the design and a few extra features.
Are there third-party PS5 controllers?
There are now several options as far as third-party PS5 controllers go. There are officially licensed options from Razer and Victrix, as well as unlicensed controllers from Scuf. It's still early days for the PS5, so we're likely to see more developers create gamepads for the platform further into the console's life.
Are there different types of PS5 controllers?
PS5 controllers come in three forms. first-party, licensed, and boutique. The DualSense and DualSense Edge are first-party controllers designed and sold by Sony. Licensed controllers are made and sold by companies that have made a deal with Sony, such as Razer and Victrix. Boutique makers, such as Scuf, take the standard DualSense and modify it to make something new. There are currently no budget options for the PS5, making the standard controller the cheapest right now.