The PS4 is very difficult to buy as the PS5 is now firmly established as Sony's main console and the hunt for a PS5 restock has improved considerably. It's actually easier to buy the latest hardware today as multiple retailers have stock at any one time. Because of that, any PS4 deals are now limited to second-hand or refurbished consoles - the best of which you can find right here.
And that's still where we find ourselves today. The only way to buy a PS4 right now is as a used console. If you're happy to do that, it's not a bad way to play some of the best PS4 games and most recent PlayStation exclusives on a budget console.
Whether you want a PS4 or are willing to wait for the latest Sony console, do check back in regularly for all the latest deals.
PS4 console deals in the US
New PS4s were available to buy - but only for a very short while. Much like Sony's newest console, it too has already sold out again. It seems weird saying this, given the console should have gone out of production at the end of last year, but it's been so hard to get a PS5.
Seeing this, Sony wanted to give people an option if they were desperate to play new releases that are also launching on the previous generation console.
If a brand new console comes back in stock we'll add it below. For now, your only option is to go second-hand or refurbished.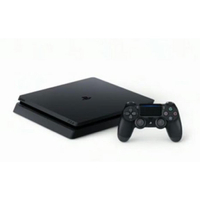 (opens in new tab)
PS4 (1TB) Refurbished: was $289.99 now $259.99 at GameStop (opens in new tab)
Given a brand new PS4 console sells for $299.99, this is an OK price to pay for a second-hand one at GameStop. It just goes to show how prices have increased now that no new PS4 consoles are available to buy.
PS4 console deals in the UK
No brand new PS4 console or bundle deals are available to buy in the UK right now. It's unclear if it will follow the US lead and get a batch of new consoles soon but we're not expecting it. There are lots of second-hand consoles, though, so here are some of the cheapest prices we've spotted right now.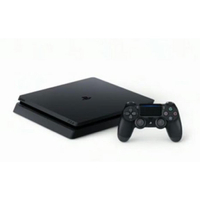 (opens in new tab)
PS4 Slim (500GB) Pre-owned: from £149.99 at Game (opens in new tab)
Game has a few second-hand PS4 Slim consoles in stock right now. The condition is labelled as 'fair' which describes a fully functional console but one that has a few cosmetic imperfections such as scuffs and marks. You can even add a copy of The Last of Us Part 2 for free.
PS4 game deals
Looking for a cheap game or two for your PS4 console? We've collected all the best prices on the latest and greatest PS4 releases right here.
PlayStation Plus deals
If you're buying a PS4, you want to pick up a PlayStation Plus membership, too. PlayStation Plus (aka PS Plus or PS+) allows you to play PS4 games online, get access to the Instant Game Collection on PS5 and download a bunch of free games for PS4 each month.
It's recently been overhauled with a bunch of new tiers but you can pick up the Essential membership for around $60/£50. There are regular discounts available, though, so check below for all the latest PlayStation Plus deals.
After anything else? How about a cheap PS4 controller? Don't forget to check our best DualShock 4 deals guide for all the latest prices. Or maybe you want to keep an eye out for PlayStation VR deals once the PSVR 2 arrives? We've got you covered there, too.