Thankfully, it's no longer horrendously expensive to upgrade your console storage with a PS5 compatible SSD. We've seen prices tumble since the start of the year and you can now double your console's game storage for as little as $150 / £150. With that in mind, we've gathered together all the cheap PS5 SSD upgrade deals so you install more games for less.
The best savings are had if you buy certain SSDs or are willing to do a bit of extra work when installing the drive in your PS5. Buying one with a heatsink already attached is usually more expensive, but you can add a heatsink yourself to a more affordable PS5 SSD from Samsung, Western Digital or Crucial to save some money.
We've included these and many more of the cheapest PS5 SSD upgrade deals below. You'll find our top picks, as well as the pros and cons of each option so you can choose the right one for you: whether you're looking for the lowest cost option, easiest install or simply the biggest boost to your game storage space.
Not got a console yet? Check out our PS5 restock hub for all the latest updates on where to buy the PS5 from all major retailers. You can also browse all the latest PS5 deals for offers on other accessories and top games.
Best PS5 SSD deals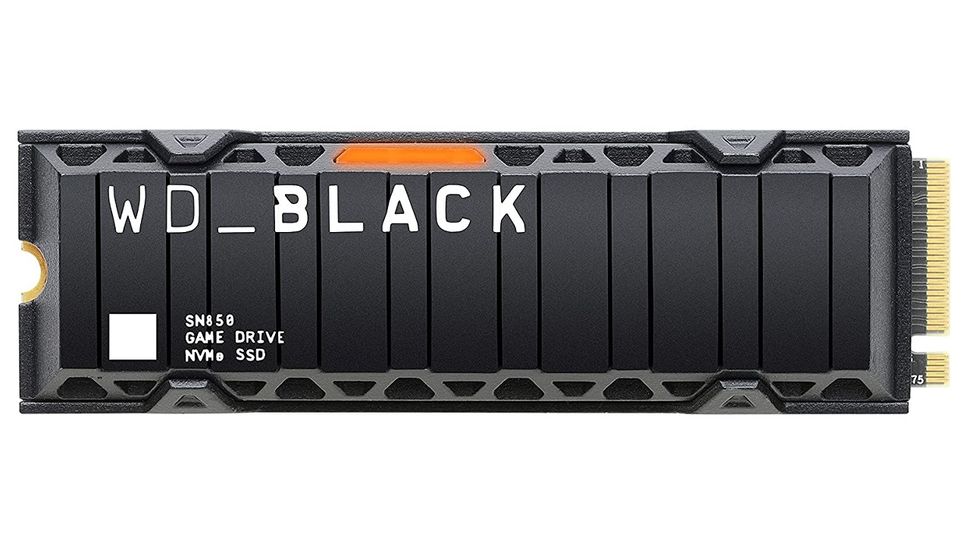 The WD Black SN850 is a great all-in-one solution to your PS5 SSD upgrade needs as it meets all requirements, is available in multiple capacity options and comes with a pre-attached heatsink. This is also the SSD chosen by Mark Cerny, the lead system architect of the PS5, so you know it's a great pick.
As this already has a heatsink you need to pay a little more than the usual cost of an SSD. However, the WD Black SN850 retails for around $200 / £150, so it's usually only about $30/£20 more than non-heatsink options. That's not a bad price to pay to save you the effort of finding a compatible heatsink and installing it yourself. Plus, the price of this drive has fallen so significantly over recent months that we think it's now the best deal anyway.
Because of this, though, it's an extremely popular item and can be difficult to find in stock at some stores. If it's available, this should be one of your first options when it comes to buying a PS5 SSD upgrade. Western Digital drives are regularly on sale, too, so you should be able to get an even better bargain at some point.
When it comes to quality and performance in SSDs, Samsung is usually at the top of the pile. The Samsung 980 Pro is no different and is a great pick if you're after one of the best PS5 SSD storage upgrades. It's fast enough, has a number of capacity options and comes from what many would consider the best name in the business.
More importantly, the Samsung 980 Pro has also received substantial discounts in the past from its usual $190/£180 price point. Last Amazon Prime Day, for example, it dropped by over 20%. It's definitely one to keep an eye on during any future sales if you want to snag a cheap PS5 SSD.
The only downside is you'll need to buy your own heatsink (more on that here) to attach to the drive which will drive up the cost a little – a requirement in order to keep the SSD cool in your PS5. Still, it's an inexpensive and easy process – and could save you some cash over the Western Digital drive above – if you feel comfortable doing it.
The XPG Gammix S70 Blade is one of the cheapest PS5 SSDs we've seen that comes with a heatsink. You'd usually have to part with somewhere around $50/£40 less compared to the WD Black SN850, though that gap has narrowed over recent months as the technology gets cheaper. Either way, this SSD is usually about the same price as the Samsung 980 Pro (which doesn't include a heatsink).
One potential downside is that it's only available in 1TB and 2TB capacities. If your PS5 storage needs are much lighter then you should be able to save a bit more cash by picking up a 500GB SSD from a different manufacturer. For the larger sizes, though, the XPG Gammix S70 Blade is one of the cheapest options available with an included heatsink.
Naturally, this has made the XPG Gammix S70 Blade a very popular item during this rush to get a PS5 SSD so stock can be hard to find in some regions. Some stores have also seen this as an opportunity to bump the price up a little so be careful you aren't paying more than is necessary. We suggest looking out for a voucher deal on this specific model at Amazon as one seems to be available every couple of weeks.
The latest Crucial P5 Plus was released at a very opportune time to take advantage of the demand for PS5 compatible SSD upgrades. Its specs line up perfectly with what's needed to function as additional PS5 storage, while also being one of the more affordable Gen 4 NVMe M.2 SSDs available.
Its regular price is about $20/£20 less than the Samsung 980 Pro, but it is a slower drive. Even so, the Crucial P5 Plus is still well above the 5500Mb/s read speed requirement listed by Sony, so it shouldn't be massively noticeable when it comes to playing PS5 games.
Even better, it's worth noting that it's even less than similar drives without any discounts and regular under $100 / £100 for a 1TB version. You may see even larger price cuts during the next big Prime Day or Black Friday sale that could make the P5 Plus even better value. Just remember, you'll need to add the cost of a heatsink on top – that's no more than $10/£10, though.
The Seagate Firecuda 530 has been popular as it's the fastest PS5 SSD upgrade currently available, with read speeds of up to 7300 MB/s. That comes at a price, though, as a 1TB version of this drive has been $50/£50 more than that budget XPG Gammix Blade.
Theoretically, this speed boost could allow quicker load times when playing PS5 games and faster transfer times if you move them between multiple storage options. However, there's a question as to whether the PS5 can actually take full advantage of that speed, so we wouldn't necessarily suggest you rush to buy this drive on that potential benefit alone.
Elsewhere, it's one of the few drives that offer a 4TB capacity option if you really want all that space for more PS5 games. Just know you have to pay nearly $1000/£1000 for an SSD of that size – that's basically twice the price of a PS5 console itself! We feel it isn't really worth it at this stage.
If you really want the best PS5 SSD upgrade from a technical perspective then the Seagate Firecuda 530 is the one to go for. Still, there are much cheaper options available that will do the job just as well – even with included heatsinks. It's one to follow, though, as the competition from other manufacturers could drive the price lower over the coming months.
PS5 SSD deals: FAQs
What size PS5 SSD do I need?
We recommend getting a 1TB SSD in order to get the best value for money for a significant boost to your PS5 game storage. With an SSD of this size, you'll be able to install between 15-20 major PS5 game releases, though that could be less if they are all particularly large 100GB+ titles such as Call of Duty: Warzone, Destiny 2 or Hitman 3. If your library is more varied, you'll get dozens of smaller titles on it with no issue.
For anyone whose gaming habits are a little lighter, if you're on a tighter budget, or you don't mind uninstalling excess games every so often, a 500GB SSD is a reasonable choice. That'll give you room for about 5-10 AAA games or many indie hits.
You could plump for a 2TB SSD if you really want to forget about all future PS5 storage woes for some time to come. You're approaching the cost of the console again at this point and that seems a little ridiculous. Of course, the PS5 does support SSDs up to 4TB. You really don't need that amount of space and they cost almost $1000/£1000 so we don't think it's a wise investment right now.
Which heatsinks are compatible with PS5?
The majority of third-party heatsinks that match the size requirements of the SSD and the PS5's internal storage expansion drive will work just fine. Those measurements are really the key thing to look out for as a few millimetres in the wrong place could mean the SSD won't fit in your PS5.
To make things easy, we've listed a few compatible options that you can take your pick from below. Once you've got everything you need we'll take you through how to install your PS5 internal SSD upgrade too. Luckily, it's a fairly straightforward process.
PS5 SSD heatsink deals (US)
QIVYNSRY M.2 heatsink: $12.99 at Amazon (opens in new tab)
Here's one of the more affordable M.2 heatsinks that'll be compatible with any of the SSDs that require one on this page. It also meets the size limitations of the PS5 SSD storage expansion slot.

PS5 SSD heatsink deals (UK)
QIVYNSRY M.2 heatsink: £13.99 at Amazon (opens in new tab)
Those in the UK will find this is a cheap heatsink that fits in the PS5 storage expansion slot. It's also compatible with all the PS5 SSD upgrade options we've highlighted above that require one.

Now you've got all that room, why not fill it up with all the latest cheap PS5 game deals on the shelves or get a cheap PS Plus membership and grab all those free games on the service? You might also want to check out the best PS5 external hard drives.