Update: Over 40 new games are coming to PlayStation Now this month, most of which will be the Sony PS3 exclusives you might have missed on the last-generation console. Journey, Killzone 2 and White Knight Chronicles will all be available on the service.
Original review below...
A lot can change in three years. Take, for example, PlayStation Now.
On July 2, 2012, Sony bought the then-barely-known cloud gaming service, GaiKai, to the tune of $380 million (£242 million, AU$518). The decision was met with tepid excitement and heaps of skepticism.
The excitement made sense. Though a foreign idea at the time, game-streaming sounded like an ambitious way to replace the derelict brick and mortar rental stores. (Sorry, Blockbuster!) The skepticism, however, was also understandable.
How could the average user expect a stable, quick connection for an entire gaming session? And how could Sony price it so that both consumers and developers get a fair deal?
Now, three years after the acquisition of GaiKai, one year after the service left beta testing in the US and several months after arriving in the UK, I can finally answer those questions.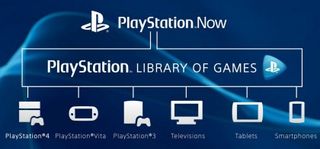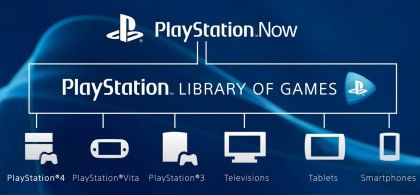 PlayStation Now: what is it?
PlayStation Now is a digital game-streaming service from Sony. In simplest terms: you pay Sony some cash and they'll let you borrow a game for a limited amount of time.
The system currently works in two ways: an a la carte, pay-for-what-you-want model where you pay only for the amount of time you want the game for; and a recurring subscription that's similar, in some respects, to Netflix.
For a long time, PlayStation Now was exclusive to the PS4, but that's slowly changed over the last year. Currently, you can find PlayStation Now on the PS3, PlayStation Vita, PlayStation TV, select Sony 2014 and 2015 TVs, Sony Blu-ray players and some Samsung TVs.
Most of these systems require a PlayStation 4 DualShock 4 controller to work, but in some cases you'll be able to save some money and use a DualShock 3 controller instead.
As far as what games you can expect, it's probably best to keep expectations low. Sony has added over 100 titles in the past six months from renowned third-party publishers, like Ubisoft and Capcom, but there's still plenty of gaps in the coverage.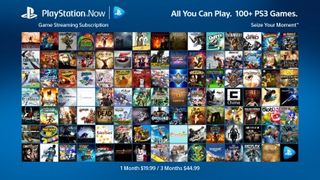 Most games are from the PS3 era, but you can find a handful of PlayStation Vita titles there in the mix, as well as a few PS4 games. We recently caught wind of a PlayStation 2 emulator on the PS4, which could mean that games from that generation could arrive some time in 2016.
Once you pick a game, the service will connect you to a remote server that will host your session. There's a bit of a wait, while Sony strings it all together, before you're thrown into the action, no need to download the game.
Great expectations
There was a time that we hoped, perhaps somewhat naively, that PlayStation Now would be the Netflix of video game streaming. The hope was that we could shell out a paltry $8.99 (£6, AU$12) a month and access any game on the service forever – so long as we didn't let our subscription lapse.
PlayStation Now hasn't quite unfolded that way. That's not to say that the service is bad, mind you. It's just … different.
All a streaming video service has to do is push content from a server to your PC. It needs to know when you pause, obviously, but other than a few small commands, the service doesn't really take any input.
That need to always be listening for commands and interpreting them in real time is what makes a service like PlayStation Now a nightmare to code. For you, this point can mean the difference between lag-free gameplay and an unplayable experience.
Before I get into the performance, one of PlayStation Now's greatest strengths is that it's worth focusing on its vision for the future.
The service, in its current state, supports over 260 games with no signs of slowing down in the near future. In fact, it looks like that rate might increase as soon as Sony widely releases that emulator it's teased recently, which could happen as early as next year.
The service could carry over from platform to platform, and become a – pardon my language – game-changing feature for the future of Sony game consoles. Of course, we can't review the future before it happens nor the promises Sony has made so far. Instead, what follows is a review of the service as I see it today.