Xbox One S is the pinnacle of what Microsoft set out to create with the original Xbox One. Despite releasing in 2016, the One S is everything a game console should be: sleek, powerful and well-stocked. It's not quite at Xbox One X's level in terms of performance, but the Xbox One S makes a compelling argument in how it balances power and price point.
Pros
+

Vastly reduced physical footprint

+

4K & HDR streaming

+

HDR gaming
Cons
-

Needs adapter for Kinect

-

4K gaming limited to upscaling
Why you can trust TechRadar We spend hours testing every product or service we review, so you can be sure you're buying the best. Find out more about how we test.
Three years after the Xbox One, the Xbox One S has been designed to take its place. As the smaller, quieter, higher-quality gaming console, it had a lot to say for itself, which is why it's worked itself up to be one of the most highly-praised consoles to date.
With the Xbox One family now discontinued and the Xbox Series X and Series S now here, that's become a complicated question. In the six years since the Xbox One S launched, the console is still a firm favorite for those that want a high-quality Xbox experience without the higher price.
With the Xbox One S, you'll find the best Xbox One games that are upscaled to Ultra HD (aka 4K) with HDR. It's worth pointing out that this isn't the 'native' 4K that's offered by the more powerful Xbox One X, but movies and TV shows still take advantage of the room to improve, whether you're playing an Ultra HD Blu-ray or streaming 4K Netflix.
Since 2016, Microsoft streamlined the console even further by releasing the (now discontinued) Xbox One S All-Digital Edition. This is a system without a disc tray that can only play downloaded games from the Xbox Live Store. The good news is it comes in even cheaper than the standard Xbox One S. Impressive when you consider the original One S 1TB console's price, which was: $349 (£299 / AU$499).
The One S remains a fantastic and affordable option. In fact, thanks to Microsoft's Smart Delivery system it could remain a viable option for some time. However, if you're looking for a more powerful, but still affordable, alternative and don't want to be left out of the next generation, then check out the all-digital Xbox Series S. Luckily for you, we have a Xbox One S vs Xbox Series S guide to answer all your questions.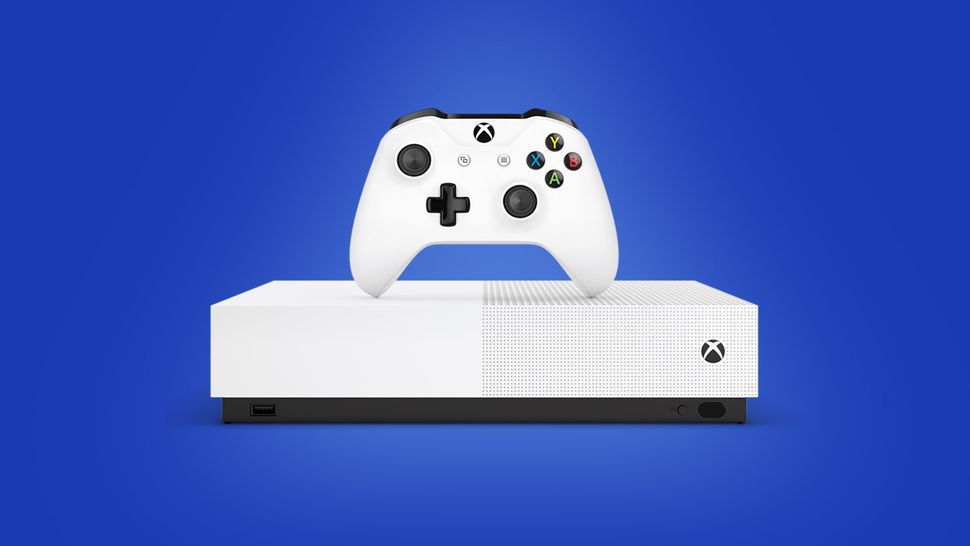 Our original review of the Xbox One S below details everything you need to know about Microsoft's upscaling console including its performance, design, and capabilities.
If you're interested in Xbox's competition, you're probably wondering how the Xbox One S stacks up against the PS4 Slim that was released around the same time. For you guys and girls, we put together a special guide that should answer all your questions: Xbox One vs PS4. More interested in how it stacks up against the PS4 Pro? Watch this video to find out!
Xbox One S review - design and features
Advanced electrical engineering. Moore's Law. A miracle. Call it whatever you want, but the Xbox One S defies what we thought was possible, integrating a massive power supply and an expansive 2TB hard drive into a chassis two-fifths the size of the original – 17 x 11.4 x 4.4 inches (L x W x D) if you want to know specifics. How Microsoft pulled it off, we'll never know.
Well... actually, we might. Something tells us it has to do with porous siding that allows for better airflow. A denser design would enable Microsoft to use a smaller fan, while repositioning the hard drive directly behind the disc tray – instead of in the back right corner – would leave a lot extra space that Microsoft could just cut out of the box completely.
Then, Microsoft could move the hard drive, allowing the power brick (essentially a power supply unit that you'd find in a desktop PC) to be seated inside the console instead of sitting next to it, creating less unnecessary clutter on your entertainment shelf. While components have shifted on the inside of the box, the shell of the system has undergone a transformation of its own.
There are two physical buttons in place of the capacitive touch buttons for power and eject on the face of the console, and the sync and USB 3.0 ports have been brought from the side of the unit to the lower half of the front face.
Around the back, you'll find an HDMI In port that allows you to pass in a cable box, an HDMI Out that's HDMI 2.0a/HDCP 2.2, two Super Speed USB ports, and S/PDIF and Ethernet ports. There's an IR blaster on the front of the console that allows you to turn on other devices, like your TV, audio/video receiver, and cable/satellite box. The only thing missing is a standard port for Kinect.
Also, if you like your consoles in loud color schemes – or anything other than white – you're out of luck. Microsoft's Xbox Design Lab program only allows you to customize the color of your controllers, so when it comes to the console itself you're limited to white (unless you opt for one of the special editions that have been released to coincide with various games).
While Microsoft has said that the chipset has remained exactly the same, it has swapped the standard Blu-ray disc drive for a 4K, HDR-capable one that can read Ultra HD Blu-rays, the next generation of physical media.
The Xbox One S is a great match for an Ultra HD TV, although it doesn't quite have a complete edge on Sony's PS4 Pro. The biggest upgrade is a graphical one – 4K resolution. The Xbox One S can either upscale all content to 3,840 x 2,160 for you, or you can leave that to your TV.
We had concerns that the loading and buffering of this content would take eons, and yet content seems to load faster here in an even higher resolution than it did on the original Xbox One in normal high definition. So far, Netflix, Amazon Video, YouTube and US-exclusives Vudu and Hulu all have 4K versions of their apps available on the Xbox One Store, which should cover most of your streaming needs.
For apps that aren't yet supported, Microsoft's Universal Windows Apps promise to fill in a lot of the blanks by making it easier for developers to support both the Xbox One S and Windows 10 with a single app. Otherwise, if you're not a subscriber to a 4K streaming service, there's always the option of popping a 4K Ultra HD Blu-ray into the Xbox One S.
As a Blu-ray player the Xbox One S performs about as well as most other consoles. There's an optional media remote that's sold separately if you want to use a more traditional remote control, otherwise you'll be using the standard gamepad to control movie playback. We were impressed when we used the Xbox One S as a UHD Blu-ray player. Images looks great, and the interface was easy to navigate.
Opting for a dedicated player might give you more premium functionality like a second HDMI port for outputting audio separate to video, but we found the console more than met our needs.
Xbox One S review - games
As you might imagine, games look better in 4K resolution – even if it's achieved by upconversion instead of through native 4K read-through. In the time allotted for this review, we checked out two games: Fallout 4 and Rise of the Tomb Raider.
Starting games took the usual 15-20 seconds of waiting, but once started, they generally seemed to play – and obviously look – better on the Xbox One S. Roaming the streets of Diamond City in Fallout 4, for example, we noticed the stadium lightning for the first time ever.
Its surface reflections added almost as much to the scene as the character models themselves. Or in Rise of the Tomb Raider, the full-motion capture sequences had a crisp sheen to them. It was like watching a 4K movie instead of watching a game rendered in 1080p.
These were two limited experiences, and may not be indicative of the entire experience. But from everything we've seen so far, games are smoother, faster and better-looking here than they've ever been on the original Xbox One.
That said, it's important to note that Microsoft won't be making games specifically for the Xbox One S. Sure, some games will have additional HDR capabilities on Microsoft's latest console, but the developers at 343 won't make the game in the Halo franchise an Xbox One S exclusive by any means.
But in order to play games, you're going to need a controller. And to that end Microsoft has introduced a new gamepad launching alongside the new system. The Xbox One S controller is, by and large, an almost exact copy of the original Xbox One controller with small but effective improvements.
Xbox One S review - Controller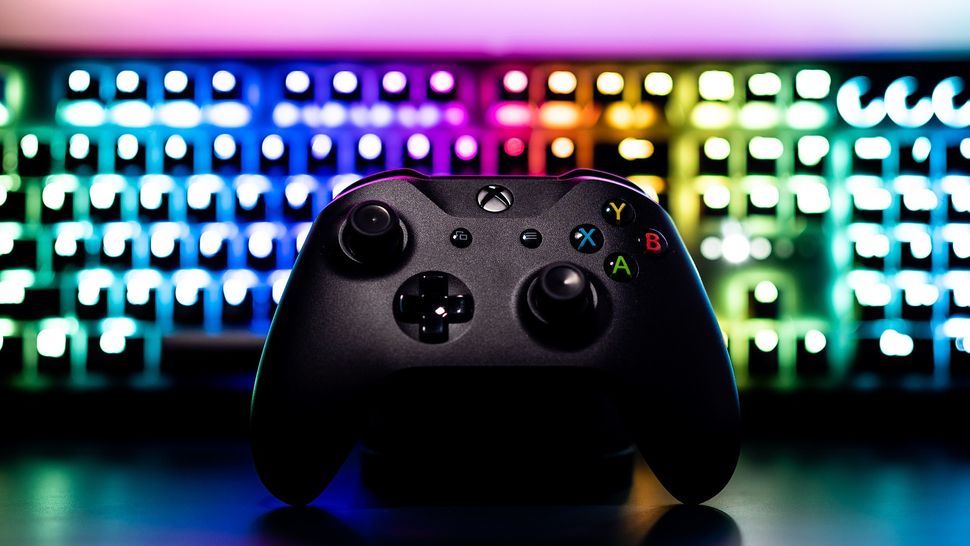 The first is that the Xbox One controller will be Microsoft's first to natively support Bluetooth. That means should you want to use it as a controller for your PC you won't need a proprietary Xbox One USB receiver plugged in.
Though great in theory, real-world testing has been less positive. You can only connect one controller at a time to your PC, you can't get audio through its 3.5mm jack over Bluetooth, and even then you might be lucky if you get the controller working at all.
The other two changes are a textured grip that makes the controller easier to hold for longer periods of time, and an extra powerful wireless antenna that allows players to sit farther from the screen. While the switch from Xbox One to Xbox One S would've been a perfect time to replace the controller's power source from batteries to a rechargeable Lithium Ion battery, that unfortunately wasn't on the cards.
If you've already got a number of original Xbox One controllers lying around, thankfully you won't have to replace them with the new controllers: they'll work just fine with the new console.
Xbox One S review - As a platform
If you're just now joining the green team from PlayStation Nation or from the far reaches of casual gaming, you're in luck. Xbox as a platform is the best it's ever been. The App Store is still barebones compared to proper Windows 10 devices, but overall it's vastly improved from where it was when the platform launched three years ago.
Microsoft's subscription game service Xbox Game Pass is a big part of that. Allowing subscribers to access a wealth of Xbox titles past and present for a monthly fee, that includes first-party releases on day one.
Similarly, navigation is getting better with minor improvements – like moving My Apps and Games to the top right of the home screen – that make the interface exponentially easier to get from one place to the other without getting lost.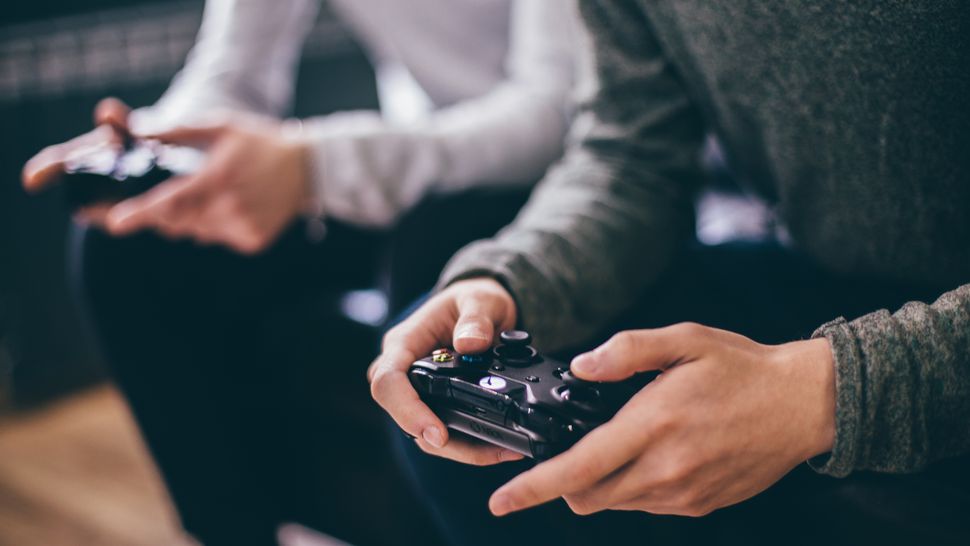 Xbox Live (now Xbox Network) still feels like a premium service. There's Games with Gold, which allows you to keep your games even once your Live subscription expires (unlike PS Plus). However, $60 (£39.99 / AU$ 79.95) a year can feel a bit steep if you're not online playing a game with a group of friends every day. Thankfully, Xbox Game Pass Ultimate includes Xbox Live Gold, so you'll still get Games With Gold.
The final feature worth mentioning here is Cortana, a feature that works similarly to Siri on iOS, tvOS and OSX, or Google Assistant on Android devices. Cortana can field commands like "Invite my friend Dave to a party" or "Pull up my achievements." Using Cortana is a more intuitive way of controlling and navigating Xbox One, and is a major step forward from the previous Kinect-only voice commands.
But those are just the major systems in play on Xbox One S. Behind them, there's GameDVR, live streaming, SmartGlass functionality, EA Access, Xbox OneGuide, Snap, Game Streaming on Windows 10, Xbox 360 backwards compatibility and Microsoft's own movie store that are all worth deeper looks.
The Xbox One S is a smart upgrade to Microsoft's Xbox One system, but whether you'll want to make the upgrade is a slightly more complicated question. If you've been considering buying an Xbox One already, then the Xbox One S is a no-brainer. But if you already own an Xbox One then your decision will likely have more to do with whether you own a 4K TV that's HDR-compatible.
Xbox One S: we liked
In short, the engineering team at Microsoft deserves a standing ovation. Condensing everything inside the original Xbox One – as well as the massive power brick – into a framework 40% of the size is a feat of engineering.
And while not every gamer will be able to appreciate the Xbox One S in all its 4K Ultra-HD, High Dynamic Range glory, those that can will be absolutely floored by the speed at which content loads over decently quick connections, and how drop-dead gorgeous games look when they're 3,840 pixels wide by 2,160 pixels high.
Xbox One S: we disliked
While there's never a great time to unveil a smaller, more powerful system to someone who's just purchased one of the now second-tier original consoles, Microsoft's original timing did seem questionable. Ditching the Kinect port entirely was the final indicator that Microsoft's motion controller is truly dead, one last slap in the face to everyone forced to buy the peripheral two-and-a-half years ago.
Microsoft's new console poses a problem in the form of a fragmented audience. While some gamers will see games in more vivid colors that are brighter and have higher contrast than those rocking the first Xbox One, others will be stuck with the capabilities of the original console.
Does that mean you shouldn't buy an Xbox One S? Probably not. But it might mean investigating how the game looks and performs on your specific model of Xbox One before plunking down a wad of cash for the latest release.
Xbox One S: final verdict
But all that taken into account, it's hard to find anything tangible to dislike about the Xbox One S in its current form. By all accounts, it's a slimmer, sleeker and sexier console than the Xbox console we've had in our cabinets for the past two and a half years. But, given all the advancements, it's hard to fathom how Microsoft plans on selling it for the same price as the current hardware.
Of course, the obvious downside is that anyone who recently bought an Xbox One is now faced with a difficult and expensive decision: is the upgraded performance, 4K HDR streaming and 2TB of storage worth re-buying the system?
If you own a 4K HDR TV or you're running out of space on that measly 500GB hard drive, the answer is an emphatic yes. If you can hold out another 12 months, however, there's an even more powerful system on the way that will blow this one out of the water.
Originally reviewed August 2016.
Xbox One S FAQs:
Can the Xbox One S do 4K?
Kind of, yes. For those not in the know, 4K is a resolution for your TV. It packs in four times as many pixels as a 1080p HDTV, which makes the picture sharper and a lot more detailed. To be able to watch 4K and the video technology HDR, you need a 4K TV and an Xbox One X or Xbox One S.
If you set your console resolution to 4K UHD, some things on the console, like Home and apps will display at 4K. But games are a bit different. Games on the Xbox One S get upscaled to 4K. What that means is that although the picture tends to be smoother and more detailed than native 720p or 1080p, upscaled 4K isn't as rich or detailed as native 4K.
Do you need a 4K TV for Xbox One S?
No. You can use any modern TV with your Xbox One S console, all it needs to get you up and running is an HDMI cable. But, to take advantage of the 4K elements, and the 4K game upscaling, you'll need a 4K TV.
What's the difference between an Xbox One and Xbox One S?
The Xbox One S is slimmer than the Xbox One and runs quieter. But the main difference is that the Xbox One S offers HDR and 4K blu-ray support. Although you'll need a 4KTV to make use of these features.
If you're looking for something on the other, Sony-shaped side, then check out our PS5 review, as well as our takes on the best PS5 games and best PS5 exclusives.
Nick Pino is Managing Editor, TV and AV for TechRadar's sister site, Tom's Guide. Previously, he was the Senior Editor of Home Entertainment at TechRadar, covering TVs, headphones, speakers, video games, VR and streaming devices. He's also written for GamesRadar+, Official Xbox Magazine, PC Gamer and other outlets over the last decade, and he has a degree in computer science he's not using if anyone wants it.