Xbox One S is the pinnacle of what Microsoft set out to create with the original Xbox One. Despite releasing in 2016, the One S is everything a game console should be: sleek, powerful and well-stocked. It's not quite at Xbox One X's level in terms of performance, but the Xbox One S makes a compelling argument in how it balances power and price point.
Pros
+

Vastly reduced physical footprint

+

4K & HDR streaming

+

HDR gaming
Cons
-

Needs adapter for Kinect

-

4K gaming limited to upscaling
Why you can trust TechRadar We spend hours testing every product or service we review, so you can be sure you're buying the best. Find out more about how we test.
Three years after the Xbox One, the Xbox One S has been designed to take its place. As the smaller, quieter, higher-quality gaming console, it had a lot to say for itself, which is why it's worked itself up to be one of the most highly-praised consoles to date.
With the Xbox One family now discontinued and the Xbox Series X and Series S now here, that's become a complicated question. In the six years since the Xbox One S launched, the console is still a firm favorite for those that want a high-quality Xbox experience without the higher price.
With the Xbox One S, you'll find the best Xbox One games that are upscaled to Ultra HD (aka 4K) with HDR. It's worth pointing out that this isn't the 'native' 4K that's offered by the more powerful Xbox One X, but movies and TV shows still take advantage of the room to improve, whether you're playing an Ultra HD Blu-ray or streaming 4K Netflix.
Since 2016, Microsoft streamlined the console even further by releasing the (now discontinued) Xbox One S All-Digital Edition. This is a system without a disc tray that can only play downloaded games from the Xbox Live Store. The good news is it comes in even cheaper than the standard Xbox One S. Impressive when you consider the original One S 1TB console's price, which was: $349 (£299 / AU$499).
The One S remains a fantastic and affordable option. In fact, thanks to Microsoft's Smart Delivery system it could remain a viable option for some time. However, if you're looking for a more powerful, but still affordable, alternative and don't want to be left out of the next generation, then check out the all-digital Xbox Series S. Luckily for you, we have a Xbox One S vs Xbox Series S guide to answer all your questions.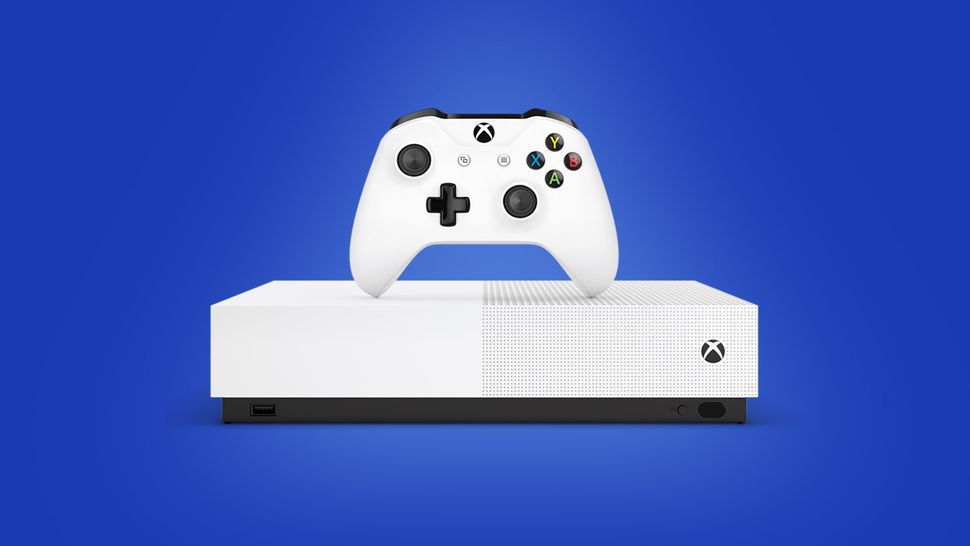 Our original review of the Xbox One S below details everything you need to know about Microsoft's upscaling console including its performance, design and capabilities.
If you're interested in Xbox's competition, you're probably wondering how the Xbox One S stacks up against the PS4 Slim that was released around the same time. For you guys and girls we put together a special guide that should answer all your questions: Xbox One vs PS4. More interested in how it stacks up against the PS4 Pro? Watch this video to find out!
Xbox One S FAQ: quick questions answered
Can the Xbox One S do 4K?
Kind of, yes. For those not in the know, 4K is a resolution for your TV. It packs in four times as many pixels as a 1080p HDTV, which makes the picture sharper and a lot more detailed. To be able to watch 4K and the video technology HDR, you need a 4K TV and an Xbox One X or Xbox One S.
If you set your console resolution to 4K UHD, some things on the console, like Home and apps will display at 4K. But games are a bit different. Games on the Xbox One S get upscaled to 4K. What that means is that although the picture tends to be smoother and more detailed than native 720p or 1080p, upscaled 4K isn't as rich or detailed as native 4K.
Do you need a 4K TV for Xbox One S?
No. You can use any modern TV with your Xbox One S console, all it needs to get you up and running is an HDMI cable. But, to take advantage of the 4K elements, and the 4K game upscaling, you'll need a 4K TV.
What's the difference between an Xbox One and Xbox One S?
The Xbox One S is slimmer than the Xbox One and runs quieter. But the main difference is that the Xbox One S offers HDR and 4K blu-ray support. Although you'll need a 4KTV to make use of these features.
What's better Xbox One S or PS4?
The short answer is: it totally depends. Both pieces of hardware have their strengths, and which console ends up being the one for you will come down to what matches your specific needs. The PS4 Pro's games look better, but the Xbox One S is the better-equipped media player. Read our detailed head-to-head to find out more: Xbox One S vs PS4 Pro: which is better?
Is Fortnite free on Xbox One S?
Yes. Not only is it free, but Fortnite is one of a few games that gamers in the Insider Program will be able to use special Xbox One peripheries, including a keyboard and mouse, to play with too.
What is the All-Digital Xbox One S?
The All-Digital Xbox One S is the new disc tray-less console from Microsoft. It plays all the same games as the Xbox One, One S and One X, but can only play games downloaded via the Xbox Live Store. Despite having the same specs, it's cheaper than the standard Xbox One S by about $50 or so.
Nick Pino is Managing Editor, TV and AV for TechRadar's sister site, Tom's Guide. Previously, he was the Senior Editor of Home Entertainment at TechRadar, covering TVs, headphones, speakers, video games, VR and streaming devices. He's also written for GamesRadar+, Official Xbox Magazine, PC Gamer and other outlets over the last decade, and he has a degree in computer science he's not using if anyone wants it.