The Xbox One vs PS4 comparison is more important in 2017 than ever because both consoles are infinitely more powerful than the previous generation and both Sony and Microsoft tout their hardware as the absolute best.
Who's right? Well, currently, there are two separate versions of both console: Sony has PS4 Pro and PS4 Slim, while Microsoft has the Xbox One X and Xbox One S. The PS4 Pro and Xbox One X represent the high-end 4K gaming, with the PS4 Slim and Xbox One S are a much better value for gamers with HD TVs.
Microsoft has the lead in the 4K gaming sphere with the powerful Xbox One X - a system that's capable of playing games in native 4K resolution. The PS4 Pro, on the other hand, is only capable of upscaling games to 4K but has the advantage of having a stronger stable of first-party exclusive games.
The PS4 vs Xbox One comparison all starts with the price and bundles.
PS4 vs Xbox One price comparison
The PS4 and Xbox One prices seem to change by the week, with price drops and bundle deals coming and going faster than handheld PlayStation systems.
While all these bundles are great for consumers, it can be hard to keep up with the latest pricing info. So, in an effort to cut through the noise, here are the latest prices and bundles for each console.
Today's best Sony PlayStation 4 Pro deals
Today's best Microsoft Xbox One X deals
The Xbox One X is clearly the newest console with few discount available, while the PS4 Pro is now a year old, as of this month. It's seeing more discounts and gives you a bit more power than the PS4 Slim while still staying at a reasonable price.
If you want to dial back the cost of either console, check out the latest prices for the Xbox One S and PS4 Slim.
Today's best Microsoft Xbox One S deals
Today's best Sony PlayStation 4 Slim deals
Additional reading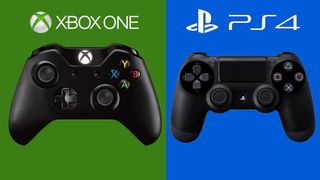 Want to compare the slim consoles? Check out our guide to the PS4 Slim vs the Xbox One S.
Want to compare 4K apples-to-4K apples? Our PS4 Pro vs Xbox One X guide will give you just that.
Look, we can sit here and mete out the differences between each iteration of the consoles, but we really don't want to be here all day – so, instead we're going to compare the entire ecosystem of each platform. If you want to really look into the fine details, we have you covered below. Don't worry. And, don't forget that Black Friday is coming soon, which you can bet will entail lots of deals on both consoles.
PS4 vs Xbox One sales
Both Sony and Microsoft have approached this generation completely differently – with Sony focusing entirely on games, and Microsoft focusing more on having the Xbox One as more of an all-around home theater device.
Sony took an early lead this generation, and has currently sold an astounding 70 million PS4s over the last 4 years – more than doubling Microsoft's 30 million sales. A pretty big part of the reason that Sony dominated Microsoft was that focus that we mentioned earlier. They put all of their attention on building a great game library – and it's paid off. Don't write Microsoft off though, 30 million units is nothing to shake your head at, and with the recent release of the Xbox One X, they stand a pretty good chance of closing a bit of that gap.
Hardware Versions and Design
Both consoles are available in two different versions, one budget and one premium
The PS4 has a slim version and a 4K PS4 Pro
The Xbox has the Xbox One S and Xbox One X
Both the Xbox One and the PS4 have two separate hardware versions that you can buy right now. This is different than in the past, when each console existed on its own, and lasted an entire generation.
The Xbox One S improved on the design of the original Xbox One by cutting down a lot of the heft, and removing the gigantic power brick – instead opting for an internal power supply. It measures at just 11.6 x 8.9 x 2.5 inches and unlike the previous version includes a 4K Ultra-HD Blu-ray player and can even upscale 1080p games to 4K, as long as you have a TV that can support it.
The Xbox One X might be heftier than the Xbox One S, but it's still considerably smaller than the original Xbox One, measuring in at 11.81 x 9.44 x 2.36 inches and weighing around 8.4 lbs and also opted for an internal power supply. This is the high-powered version of the Xbox One, that allows for native 4K gaming and, much like the Xbox One S, includes a 4K Ultra-HD Blu-ray player, something that not even the PS4 Pro can boast.
Then starting out the PS4 side of the equation, the PS4 Slim is straight up the smallest of the major consoles available right now, measuring in at 10.4 x 11.3 x 1.5 inches and serving as the baseline PS4 for most consumers, serving as a complete replacement for the original PS4. It doesn't allow for even 4K video playback, but it can still play the entire killer PS4 game library.
The PS4 was the original 4K console, coming out an entire year before the Xbox One X – even if the 'X' eventually outpowered it. It measures in at 12.8 x 11.6 x 2.1 inches. While the PS4 Pro does to at least some extent support native 4K gaming, it doesn't include a 4K Ultra-HD Blu-Ray Player, an omission that has caught Sony some flak over the last year or so.
Our guide to the PS4 Slim vs PS4 Pro outlines the differences between the consoles in more detail.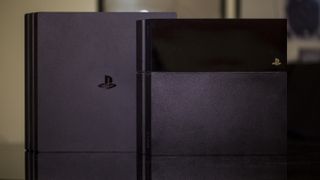 Xbox One vs PS4 connectivity
You can't upgrade Xbox One's internal hard drive, but you can on the PS4.
Both consoles support the use of external hard drives.
The Xbox One has more ports on its rear.
Depending on how your gaming setup is organised, the connectivity of your console could be an extremely important detail.
Both the Xbox One S and X have identical ports, each including two HDMI ports, one for receiving an input from a cable or satellite box, and one that inputs to your TV. On top of those, they've each got two USB 3 ports, IR outputs, optical audio out, Ethernet ports and, of course, the power cable – which is compatible with both versions of the Xbox. However, due to the quick and tragic downfall of Kinect, if you want to use a Kinect with either version of the Xbox One you'll have to go out and get an adapter.
The PS4 Pro and PS4 Slim have similar inputs, although they are slightly different. Each has a single HDMI out, a single USB port in the back (two in the front), an Ethernet port, and power. The only difference between the Pro and the Slim is that the Pro has an Optical Audio out, while the Slim drops it. One of the most compelling things about the connectivity of the PS4, however, is that both versions allow users to swap out the internal hard drive with one of their choice.
All versions of both the Xbox One and PS4 support 802.11 ac Wi-Fi and gigabit Ethernet. So no matter which console you decide on, you won't have to worry about network compatibility.
PS4 and Xbox One are void of remarkable characteristics on the front. There's a Blu-ray/DVD combo drive to the left (which can play Ultra HD Blu-rays on the Xbox One S and Xbox One X) and their respective, muted-color logos to the right. PS4 has a pair of USB ports tucked between its sandwich-like halves next to where the disc drive is located.
The best PS4 prices and bundles
Now that we've taken you through the positives and negatives of each console you've probably got a good idea of which is the one for you.
Fortunately, we're not going to leave you hanging there – over the next couple of pages you'll find the best deals available for each console to help you take your decision to its final destination.
Decided that the PS4 and Sony's attractive exclusives are perfect for you? Below you'll find the best PlayStation 4 deals you can get at the moment.
Searching for deals... Please hold on for a second.
The best Xbox One prices and bundles
Is it the Xbox One that's won you over? We understand, that 4K Blu-ray player is hard to resist. There are some fantastic deals on the latest model of Microsoft's consoles and below you'll find the latest and greatest:
Searching for deals... Please hold on for a second.
Check out our guide to the best soundbars if you want to give your console's audio a boost.