Best Mac games 2023 - the best Apple-friendly gaming experiences you can get
Best
Contributions from
last updated
Don't miss the best Mac games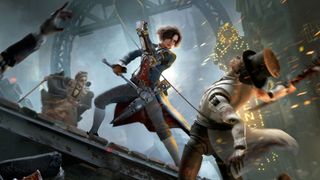 (Image credit: Neowiz Games)
The best Mac games offer a wide variety of different gaming experiences. Though the platform doesn't boast as wide a range of options as the PC, many of the best RPGs, best story games, and best indie games can also be found on Mac.
The best MacBooks and Macs can run a wide range of excellent titles thanks to their processing power. In fact, there are so many Mac-friendly games out there that it can be a little intimidating for Mac users to find the right title among all the games on offer.
Fortunately, we've done plenty of research so you don't have to. To help you save time, we've put together a list of the very best Mac games. The quality and breadth of titles on this list are easily enough to give our best PC games list a run for its money. Read on to discover the very best Mac games that you can play right now.
Baldur's Gate 3
Your personal D&D campaign
Why we love it
Baldur's Gate 3 gives players a staggering amount of agency - and not just in cutscenes. You can creatively use spells and surroundings to find unorthodox solutions to problems, manipulating the game's series of interlocking systems to produce all sorts of outcomes.
Baldur's Gate 3 is a wildly popular RPG that has you step into the world of classic tabletop RPG Dungeons & Dragons. Developed by Larian Studios, this fantasy epic will take you on a soaring fantasy adventure, full of delightful characters and difficult choices. What's more, though you can play a range of pre-made characters, Baldur's Gate 3 allows you to build your adventurer from the ground up, creating a hero (or villain) to your exact specifications.
One of the best Mac games of the RPG ilk, Baldur's Gate 3, tells a memorable, immersive story, full of stellar voice acting and top-notch writing. On top of this, the story-driven RPG makes liberal use of motion capture, lending its cutscenes a feeling of cinematic realism that transports you as you play. The game's core cast of characters is beautifully realized, drawing you into the drama with a graceful ease.
Why we love it
Celeste is a game about jumping and climbing, so it's fortunate that the jumps and climbs on offer in this indie classic are satisfying and diverse. Though punishing at times, the tougher platforming challenges never feel unfair, thanks to deliberate, responsive controls.
When it comes to tear-jerking platformers, Celeste is easily one of the best Mac games out there. The game's toolkit of jumping and climbing may seem simple, but the ingenious level design and responsive movement make for a platforming experience that rivals even the 2D Mario games.
In Celeste, you play as Madeline, a young woman seeking to make her way up a mountain. The game deals with heavy themes of depression, grief, loneliness, and self-discovery, using the mountain itself as a reflection of Madeline's inner turmoil. It's a thought-provoking, emotional title that'll stay with you for years.
Disco Elysium
Detective arriving on the scene
Why we love it
Disco Elysium manages to provide a gritty, grounded experience while also addressing big philosophical questions. Political and personal ideologies of all kinds are interrogated over the course of the story, and the RPG doesn't pull any punches.
As well as being one of the best Mac games, Disco Elysium is arguably one of the best games ever made. An isometric RPG, Disco Elysium has you take on the role of an amnesiac detective as he attempts to solve a murder in the seaside district of Martinaise in the fictional city of Revachol.
Taking place in an alternate reality reminiscent of our own, Disco Elysium grounds its characters in a bleak post-war setting. Memorable, challenging dialogue peppers the game's encounters - all of which run off of a dice-rolling system based on your stats. The kind of detective you play is up to you, as are the choices you make in pursuit of solving the case. Your choices compound throughout the game, rippling outwards as you continue to explore the thought-provoking RPG.
Final Fantasy 14
Critically acclaimed
Why we love it
Final Fantasy 14's main storyline may start off slow, but, once you sink your teeth in, you'll quickly find that this MMO contains some of the best single-player storytelling in modern gaming.
One of the best MMORPGs and best Mac games of recent years, Final Fantasy 14 boasts a gripping story, strong character customization, and a famously welcoming community. In Final Fantasy 14, you become the Warrior of Light, fated to protect the world from all sorts of nefarious horrors and conspiracies. Along your journey, you'll meet a vibrant cast of NPC characters, across hundreds of hours of gripping RPG storytelling.
No MMO is complete without its community, however, and Final Fantasy 14 has plenty to offer in that department, too. From Free Companies (14's version of guilds), and player housing to full-on player-run nightclubs, Square Enix's beloved MMO has something for everyone.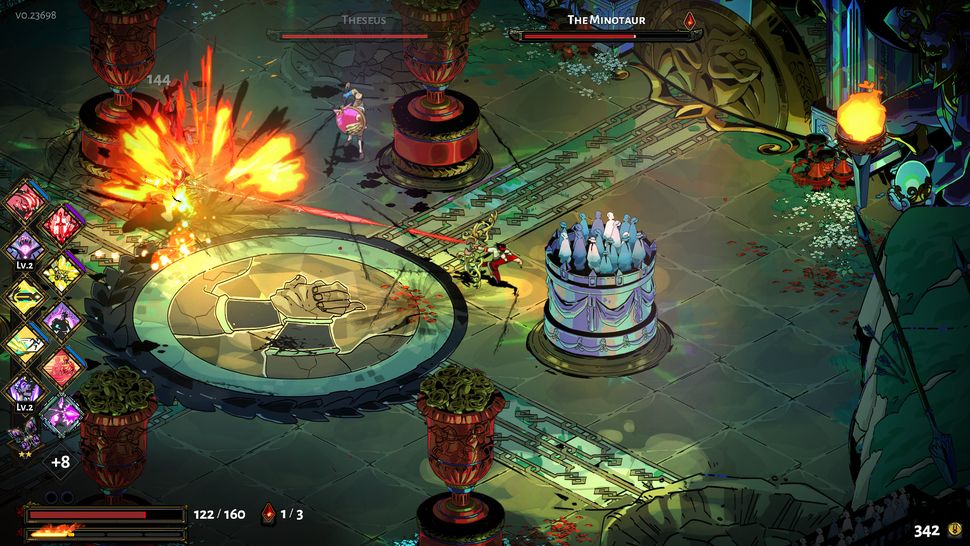 Why we love it
Hades is not only full of thrilling battles and poignant emotional moments but also boasts an ear-meltingly good soundtrack from composer Darren Korb. Come for the gorgeous art style but stay for the pulse-pounding, tear-jerking soundtrack.
A thrilling third-person action RPG, Hades follows the story of Zagreus, son of Hades, as he attempts to escape the underworld of ancient Greek myth. Though our hero perishes in short order, fortunately for the young prince, death is merely a setback. A roguelike game through and through, Hades demands persistence and cunning, but the payoff is fantastic.
As you progress on your journey you'll encounter figures from Greek myth, gorgeously reimagined with a distinctive art style and captivating voice acting. As you gradually get closer to the surface, more of the game's story will unfold, granting you an insight into Zagreus' trials, relationships, and dreams. This well-loved title easily ranks amongst the best Mac games available at the moment, especially when it comes to roguelikes.
Stellaris
The final frontier
Why we love it
Stellaris doesn't just put you in the driver's seat of a space empire, it also gives you a license to build your own faction from the ground up. This agency, when combined with the game's penchant for random events, creates gripping emergent stories.
Stellaris is a grand strategy game of ambitious scale and impressive customizability. In Paradox Interactive's sci-fi empire sim, you manage a space-faring civilization as it takes its first steps into the stars. You get to manage every aspect of your faction, right down to its political values and aesthetic of choice.
With sophisticated diplomacy, espionage, research, and economic mechanics, Sterllaris will keep even genre veterans busy with its wide scope for strategy and choice. Should relations with rival powers sour, you'll be able to deploy fleets of custom spaceships to make war on your enemies. With a wealth of mods and robust multiplayer modes, Stellaris easily stands as one of the best Mac games of 2023.
The Sims 4
All the little people
Why we love it
The Sims 4 allows you to simulate all sorts of different human beings, offering refreshing representation for LGBTQ+ people as well as disabled folks. Players from many different walks of life can see themselves reflected in The Sims 4, helping to make it an accessible and welcoming title.
The Sims 4 is a social simulation game developed by Maxis. Rather than give you a specific goal or task, The Sims is a sandbox, allowing you to build your own communities of virtual people called "Sims". As the player, you'll direct their actions perhaps guiding them towards their goals, or perhaps opting to mess with them instead if you're so inclined.
It's deeply satisfying to watch your own curated groups of people live out their lives. However, in addition to the social simulation elements, The Sims 4 also includes a Build Mode which allows you to construct homes and environments for your Sims. The game also includes an online content exchange system, allowing you to share your creations and download the creations of others. One of the best Mac games out there, The Sims 4 offers a fun virtual sandbox that's full of surprises.
Why we love it
Lies of P has some of the most interesting and breathtaking visuals in modern gaming. Its eerie, Belle Époque aesthetic is a welcome change of pace from the greys and browns of Elden Ring and Dark Souls.
Lies of P takes place in a distinctive, eye-catching setting reminiscent of Nineteenth-Century France. Dark and mysterious, this soulsborne title offers diverse, creepy enemy types alongside meaningful character customization and a compelling story. What's more, the game's combat is moreish and rewarding, as responsive and slick as you'd expect from a well-made modern action RPG.
The game centers around P, a puppet wrestling with his own potential humanity. As you play, you can raise or lower P's humanity levels through thought-provoking interactions with the setting and story. On top of this, the game's environments have plenty of optional side-quests and hidden mysteries. If you're looking for a novel yet challenging experience, then Lies of P may be one of the best Mac games for you.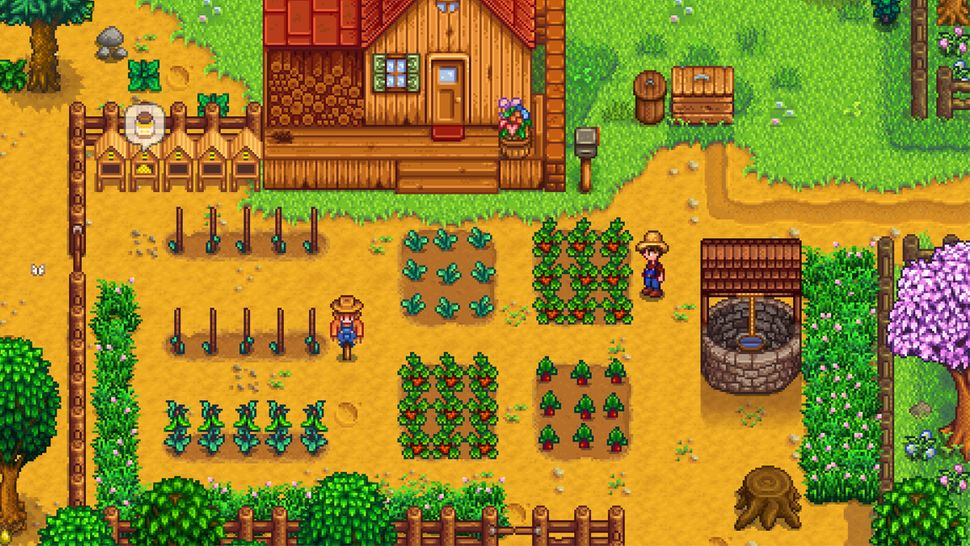 Stardew Valley
Gaming's coziest village
If you love pixel art and farming simulation games, Stardew Valley should be on your radar. The premise is simple: your grandfather has left you a small patch of land in the scenic village of Stardew Valley, prompting you to move out there and start your own life. Once you arrive, you'll be able to build a cozy farm of your very own, complete with charming pixel art animals.
Gentler than the other entries on this best Mac games list, you'll be able to form relationships with the other residents, making them gifts and immersing yourself in local culture. You can also take the fight to the sinister Joja Corporation as it attempts to muscle in on the village. Between farming, mining, combat, fishing, and foraging, there's plenty to do in this delightful open-ended RPG.
Best Mac games: FAQs
Why you can trust TechRadar We spend hours testing every product or service we review, so you can be sure you're buying the best. Find out more about how we test.