This is Techradar's ultimate list of best Xbox Game Pass games, regularly updated with new hits.
Game Pass, Microsoft's gaming subscription service has been a success right out the gate, thanks to day one availability of Xbox Studio's own games on the service, bringing you big games like Forza Horizon 5 immediately at release for a reasonable subscription fee.
Over the years, the service has only grown, now including EA's own subscription EA Play, and indie hits such as Among Us. Game Pass is simply a really good deal, whether you own an Xbox Series X|S or PC. Even better – if you want to enjoy Game Pass games both on your console and PC, then Xbox Game Pass Ultimate lets you access both libraries, giving you even more choice and making it easy to jump between platforms when you're playing a game.
Xbox Game Pass regularly adds and removes games from its line-up, keeping things fresh while giving you enough time to finish a game you've had your eye on. The only thing you have to do is choose, and this list of the best Xbox Game Pass games will help you.
Best Xbox Game Pass Games
There are a lot of places you can start on this list, but few are better than Alien: Isolation, a survival-horror game from Creative Assembly and SEGA that tasks you with surviving on a spaceship with little than ridley Scott's famous alien for company.
If you've always admonished the characters in horror movies that make an easily avoidable mistake that turns out to be fatal, here's your chance to prove that you'd do better. Spoiler alert: you probably won't, at least not always, but Alien Isolation is great for keeping you guessing wthether you'll make it out or not until the last minute.
Among the many licensed games that try to faithfully recreate their base material, Alien: Isolation probably does it best, so if you're not easily scared, we warmly recommend this intense experience.
---
Acting as somewhat of an inofficial sequel to the hugely popular Warhammer 40k: Vermintide 2, this co-op shooter pits you and your friends against endless hordes of mutated monsters.
Set in a world below ground devoid of hope, Warhammer 40k: Darktide is what is says on the tin, a fight for your life in the merciless world of Warhammer. For all of its grit, Darktide looks and feels amazing. Combat is hugely satisfying, especially at melee range, thanks to a large selection of interesting weapons. Progression kis slow but easy enough to achieve, and the Warhammer community is a closeknit group of people who love to slay together, and thus of course stay together.
Darktide is one of the best Xbox Game Pass games, because it lets you get a good look at a game that's still growing. if you're on the fence about darktide or co-op in general, what better way to give it a go?
---
After the immense success of Forza Horizon 4, making Forza Horizon 5 availble at launch on Game Pass was a stroke of genius. This game is definitely one of the best Xbox Game Pass games, simply because it's one of the best racers.
Forza Horizon 5 combines stunning visuals, beautifully rendering Mexico as a racers paradise, with a driving system that both veterans and newbies to the series (or racing games in general) can enjoy. Whether you're taking a specific challenge or simply race to be first, the many cars and customization options allow you to make yourself a vehicle you love to drive around in. If the series gets its story right there is nothing stopping it on the way to the pole position. If you already love Forza, you may also be interested in our list of the best racing games.
---
Like it's predecessor A Plague Tale: Innocence, this stealth adventure follows the siblings Amicia and Hugo, two children trying to survive on their own in 14th century France. Of course they aren't just two normal children – Hugo carries a mysterious superpower/curse, which has put him on the radar of the French Inquisition.
Amicia is trying to keep their brther safe, and while she is just a girl and has limits, A Plague tale: Requiem has a lot more fighting and even more intricate stealth sequences than the first game. However, it is just as sad and occasionally shocking as before, so be ready for a very emotional trip. One thing is sure – Requiem is one of the best Xbox Game Pass games currently available for fans of a good story.
---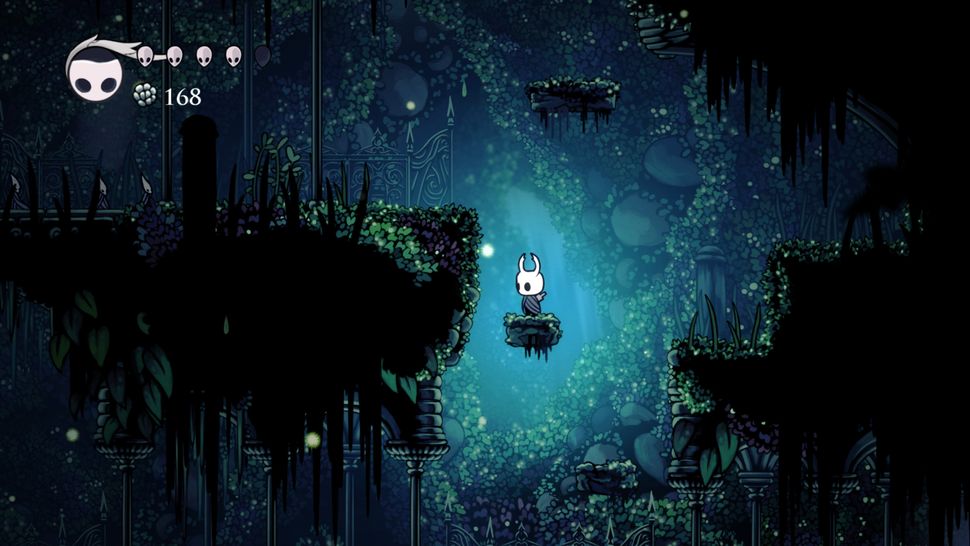 This may be the perfect game to play on Xbox Game Pass in order to give it a try first, especially if you don't know if metroidvanias are for you. Hollow Knight is one of the most beloved indie metroidvanias around, and for good reason – it has exactly the kind of world you want to explore in a metroidvania, acquiring and using new skills in different situations is fun, and the story-light approach conveys a sense of mystery that's fun to unravel.
Add to that beautiful visuals, music and a memorable lil bug hero, and you may think Hollow Knight is a relaxing affair, but far from it. To travel deeper, you have to take out a number of tough bosses and often jump blindly into the dark, and that takes patience and stamina. Hollow Knight rewards your bravery however, one of the reasons fans are impatiently awaiting the sequel Hollow Knight: Silksong, set to enter Xbox Game Pass on day one.
Read why Hollow Knight is one of the Techradar Games of the generation
---
*available on PC Game Pass only
Now that Death Stranding 2 is confirmed, Death Stranding on Xbox Game Pass gives you the perfect opportunity to either see what all the fuss is about, or to refresh your memory. Because let's be honest, even if you played it you don't exactly know what's been going on.
This is of course part of the charm of any Hideo Kojima game, and Death Stranding has plenty of weirdness to offer, amidst fascinating glimpses of future tech. as sam Porter-Bridges, you are essentially a post-apocalyptic postman, scaling mountains in an America that has become too dangerous for people to leave their pockets of civilisation. Sam goes where no one else will go, and so do you, on treks that can be tranquil and exciting in equal measure, just because there is always a stack of post teetering on Sam's back. Death Stranding isn't only one of the best Xbox Game Pass games you can play right now, it's also just a great single-player game. for more games you can enjoy alone, check our list of best single-player games for any system.
---
Whether you're a fan of the original who's waited over a decade for the sequel or have never heard of the series before, Psychonauts 2 is an absolute must-play from the Game Pass lineup. This action platformer dazzled us with its superb approach to mental health-related subjects and its unique worlds bring a much-needed freshness to the collectathon genre.
We adored absolutely everything in Psychonauts 2 from its gameplay to its quirky characters, so we aren't surprised that many see it as one of the best Xbox game Pass games, or even one of the best games in general. Once you've spent an hour or two play as Razputin Aquato, you'll understand the hype, too.
---
Fans of first-person shooters might be bummed that there aren't any Call of Duty games on Xbox Game Pass, but between the Battlefield series and Ubisoft's outstanding first-person shooter, Rainbow Six: Siege, there are plenty of other options.
What we like most about Siege is that it relies less on twitch skill, and more on tactical planning. Where you lay explosive charges, how you cover corners and when you move between rooms all matter, and it's decisions like those that give the game a high skill cap. If you're a first-person shooter fan, you can't miss it.
If you're looking for a slightly different Rainbow Six: Siege experience, the co-op standalone Rainbow Six Extraction, where operators take on aliens, is also available on Game Pass.
---
Rare's swashbuckling adventure Sea of Thieves lets you take on the role of a pirate sailing the seas of a fantastical world, either alone or as part of a crew of up to four members.
It's up to you whether you choose to focus on trading, treasure-hunting or plundering the loot of others. Who of us doesn't want to be a pirate? Sea of Thieves is great fun to explore, even though some players can take the freedom to plunder others a bit far, and you don't have to take quests in order to occupy itself.
Now, several seasons in, Sea of Thieves has gotten better and better, and while some areas, such as its storytelling, could still use some work, the team at Rare is hard at work to keep the pirating longtime fun.
---
This is Tetris like you haven't experienced it yet: colourful, with great music and weirdly...emotional? The makers of Rez Infinite and Lumines know how to add music and visual effects to a puzzle to make it into something more, and Tetris Effect is so far the pinnacle of games like these.
Of course it helps that Tetris is fun for puzzle lovers of any age – Tetris Effect is named after The Tetris effect, an effect that sets in if you spend so much time playing Tetris it starts to invade your thoughts. People who regularly play Tetris are apparently able to see shapes and combinations similar to Tetris in the real world.
You don't have to play Tetris Effect for that long to get enjoyment out of it, but we bet you will be humming its songs for a while, at the very least.
---