The best Steam games 2023 - download the top picks for PC
Best
Contributions from
last updated
Treat yourself to the best Steam games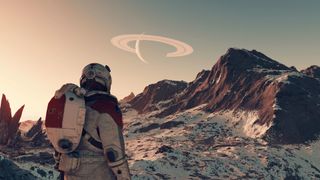 (Image credit: Bethesda)
The best Steam games stand out amongst Valve's crowded digital marketplace, offering experiences that stand head and shoulders above their peers.
If you have a Steam account, many of the best PC games ever made are just a purchase away. However, to help you make the most out of your money, we've compiled a list of the best Steam games out there. From a range of the best story games to some of the best PC strategy games, Steam's top games come in all sorts of different shapes and sizes. From the best single-player games to one of the best MMORPGs, there are plenty of options available.
Our list also includes some of the best indie games, making sure that you don't miss out on any hidden gems. There are also plenty of games on this list that are Steam Deck compatible, meaning that you'll be able to take them on the go if you own Valve's portable games console. Read on to learn the best of what's on offer on the Steam store.
Best Steam games 2023
Why you can trust TechRadar We spend hours testing every product or service we review, so you can be sure you're buying the best. Find out more about how we test.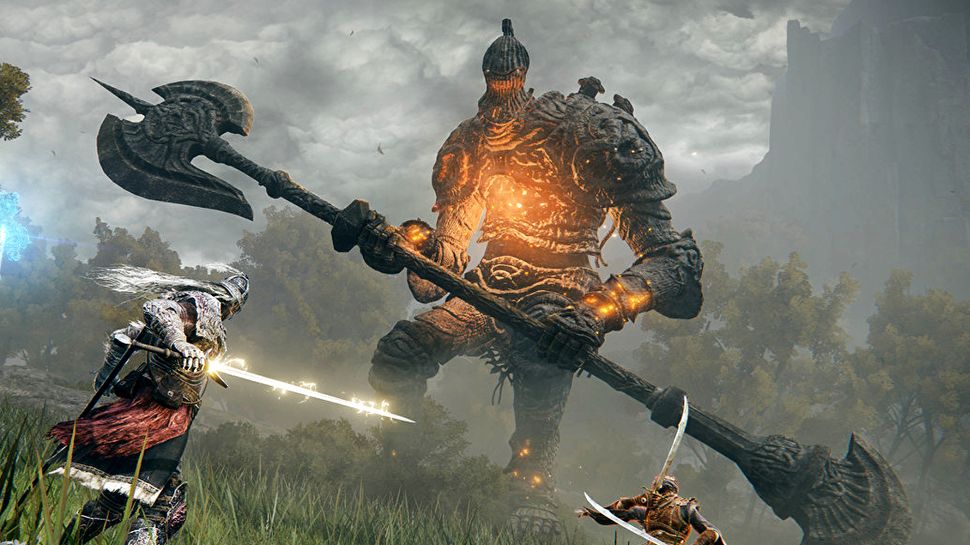 Why we love it
Elden Ring is the zenith of FromSoftware's soulsborne titles, taking the punishing, yet rewarding combat loop of the Dark Souls series and placing it within a stunning open world. This fusion creates a game that's more than the sum of its parts.
No list of the best Steam games would be complete without a nod to this particular title. It'd be easy to call Elden Ring an open-world Dark Souls game, but really it's so much more. This is the ultimate evolution of the fan-favorite Dark Souls series, even if it isn't a direct sequel. And just like those games revolutionized the action RPG, Elden Ring revolutionized what it means to be an open-world game.
There's very little that will hold you back from exploring wherever you want in the vast world of the Lands Between, but you can absolutely get your ass kicked if you walk into an area that's perhaps a little too tough for your current level.
Despite its size, Elden Ring manages to feel extremely structured at the same time. This is a game where you can do a million different little side activities, like dungeons, quests, and more - but it will all feel like it's feeding into your ultimate goal of mending the mythological Elden Ring by becoming Elden Lord. Want to know more? Check out our Elden Ring review.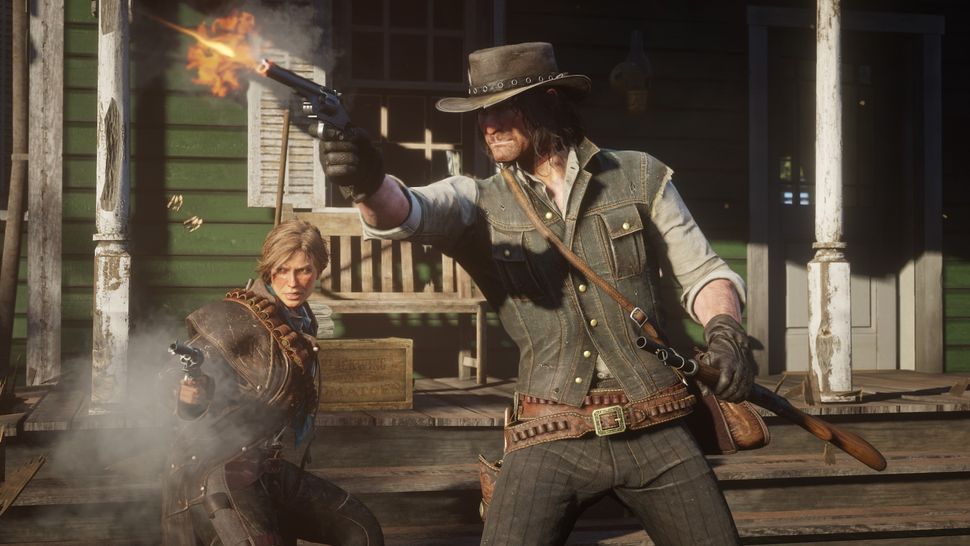 Red Dead Redemption 2
Go West
Why we love it
Red Dead Redemption 2 is a stone-cold classic, offering a complete narrative experience that immerses players in the Wild West. Rockstar Games' cowboy opus offers an emotional journey that'll stay with you long after the credits roll.
Easily one of the best Steam games of its genre, Red Dead Redemption 2 is an immersive open-world title from Rockstar Games. Released back in 2018, Red Dead Redemption 2 has you step into the dusty boots of Arthur Morgan, a well-meaning outlaw trying to make his way in the increasingly shrinking American frontier.
Despite this romantic premise, Arthur's journey plumbs dark emotional depths, telling a tale wrought with tragedy, but with glimmers of hope between. In addition to the exceptional main storyline, the game boasts an impressive open world, full of side quests and places to explore. If you ever wanted to be a cowboy, Red Dead Redemption 2 is easily the best way to live that particular fantasy.
Why we love it
Baldur's Gate 3 gives you a staggering amount of control over your adventure. Your choices both in and out of cutscenes have wide-reaching effects on the storyline. In Baldur's Gate 3, you truly have to live with the consequences of your actions.
One of the best Steam games of this year, Baldur's Gate 3 offers a modern, cinematic take on the CRPG. Based in the universe of the global roleplaying phenomenon Dungeons & Dragons, you'll take on the role of an adventurer infected with a nasty psychic parasite. Once you've created a character drawn from one of the Baldur's Gate 3 classes, you'll make your way into the world, meeting memorable companions and getting to grips with the dangers of the Sword Coast.
What separates Baldur's Gate 3, however, is how the title rewards players for creative solutions. Need to secure a specific magic item? You could fight through hordes of guards, or you could pickpocket the owner. Better yet, lure them outside in dialogue. All the while, the game is bound together by a branching narrative that asks tricky moral questions while providing deliciously rewarding consequences. Baldur's Gate 3 is a generous, open-ended fantasy adventure that'll please fans old and new. Read our Baldur's Gate 3 review for more information.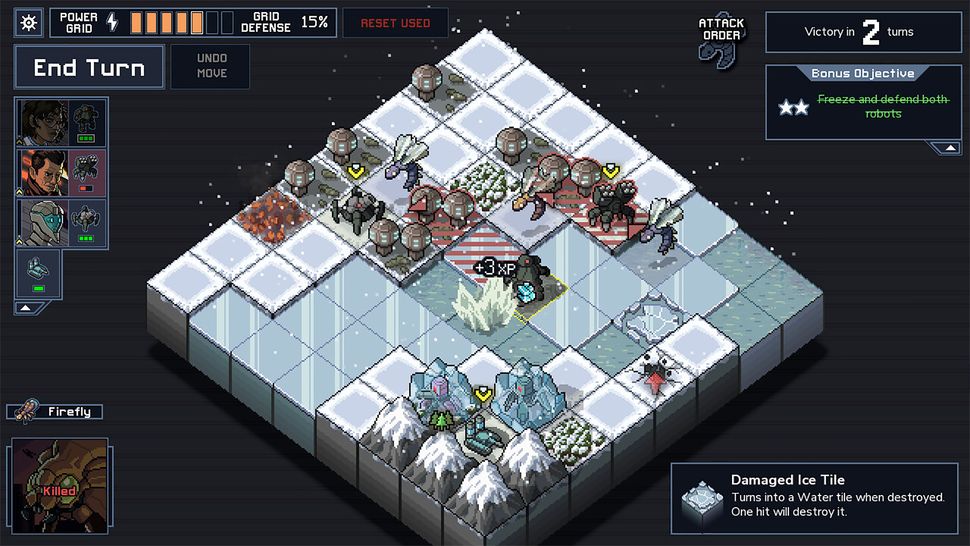 Into the Breach
Once more, with feeling
Why we love it
Contrary to many of its peers, Into the Breach tells you exactly what your enemies will be doing next turn. The challenge that comes with getting in their way without losing your mechs or too many civilian lives is a conundrum that keeps on giving.
Not all of the best Steam games are epic, time-consuming open-world titles that will set you back $60 on PS5 and Xbox Series X|S. Into the Breach is a sophisticated sci-fi rogue-like strategy game with little mechs and big decisions.
Earth has been attacked – and almost occupied – by aliens. In Into the Breach, you control groups of mechs sent from the future to reverse this fate. Should the team fail (and it will), one of your pilots will travel back to the future and the cycle will begin again.
Each encounter takes in an 8x8 block grid, your battlefield. Play unfolds in turns, and your mechs have to stop aliens from obliterating too many of the field's buildings and outposts. It has the tactical purity of chess, using small easy-to-parse numbers to represent health and damage. As you play, you can upgrade your mechs to improve your chances, and even carry over pilots between missions. This moreish treat starts as a lunch break diversion but ends in the small hours in the middle of the night.
Crusader Kings 3
Drama queens
Why we love it
Crusader Kings 3 lets you jump into medieval history and reinvent it. Thanks to its emphasis on player agency, every Crusader Kings 3 playthrough feels bespoke and meaningful, offering emergent stories that never cease to surprise and delight.
One of the best Steam games when it comes to strategy, Crusader Kings 3 lets you loose across the medieval world, allowing you to make history your personal playground. In a Crusader Kings 3 playthrough, you'll take on the role of a historical noble, or make up a new one for yourself. In this position you'll guide them as they live their life, managing their court, and deciding on their allies and enemies.
What distinguishes Crusader Kings 3, however, is its emphasis on events that offer decision points for your character hat can have large ramifications, both for their political environment and also for their personal lives. You may have spent the last 10 hours playing as King Malcolm of Scotland, but, thanks to the choices you've made on his behalf, this is very much your version of Malcolm - an alternate history that's entirely your own.
Final Fantasy 14
The critically acclaimed MMO
Why we love it
Final Fantasy 14 may be an MMO, but its story contest rates amongst some of the best we've seen from a modern JRPG. What's more, you'll experience this alongside millions of other players, further enriching the storyline in the context of a welcoming MMO community.
No best Steam games list would be complete without a nod to one of the many MMOs available on the platform, and Final Fantasy 14 takes the crown. With a very generous free trial, Final Fantasy 14 has a low barrier to entry, giving you a chance to savor much of the story content before you commit to purchasing a subscription.
Final Fantasy 14 is set apart by three things: its exceptional single-player story content, its famously welcoming community and it's loving references to the breadth of the Final Fantasy canon. Beyond this, there's plenty to do. Players have the option to build their own houses and even go to player-owned nightclubs. Fishing, crafting, questing, and exploration are all available in the world of Final Fantasy 14 for any who wish to look for them.
Starfield
The final frontier
Why we love it
Starfield may be a little too ambitious at times, but the sheer range of activities on offer will captivate almost any sort of sci-fi fan. From Star Trek-esque exploration to frontier justice ripped right out of Firefly, Starfield allows you to enjoy almost any sci-fi trope under the sun(s).
Starfield is one of the best Steam games in terms of the sheer volume of content on offer. A first-person sci-fi RPG from Bethesda Softworks, Starfield takes place across a portion of the galaxy consisting of hundreds of planets and a range of competing human factions. How you interact with this expansive setting is up to you. An impressively broad character creation system allows you to play anyone from a soft-handed diplomat to a roguish space scoundrel.
With space combat, exploration, and buckets of quests, there's more than enough in Bethesda's latest RPG to keep even the most voracious gamer entertained. Though the main storyline is a bit hit-and-miss (almost a tradition for Bethesda games) the side quests and additional content offer memorable stories, thrilling space dogfights, and more than a few tough choices.
Counter-Strike: Global Offensive
The thinking person's shooter
Why we love it
Counter-Strike: Global Offensive's emphasis on teamwork and strategy ensures that keeps players on their toes. It's not enough to have a twitch trigger finger to master Valve's signature multiplayer shooter, you must also have a keen strategic mind and nerves of steel.
One of the best Steam games of all time, Counter-Strike: Global Offensive (CS:GO) is a testament to the timeless appeal of a well-built shooter. While Counter-Strike itself is 19 years old, the game has enjoyed constant iterations since its humble beginnings as a mod for Half-Life. With its emphasis on teamwork and strategy, CS:GO offers a more pensive alternative to more twitchy first-person shooters.
CS:GO is also slated to receive a new update in the form of Counter-Strike 2. Set to release in September, this update is currently undergoing a limited beta test and promises to update the game's graphics as well as to introduce some welcome quality-of-life improvements. Though long in the tooth, CS:GO is alive and well - certainly worth checking out if you're looking for more team-based shooters in your life.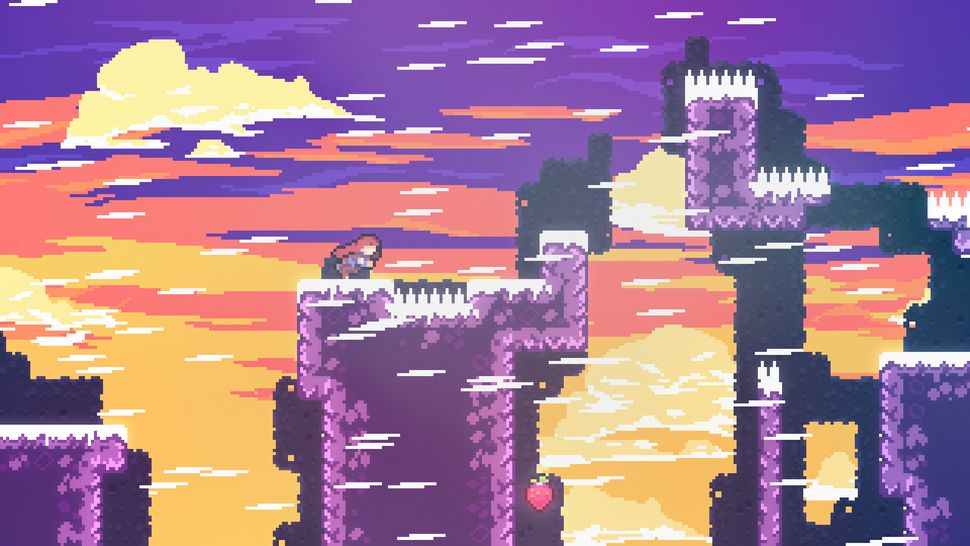 Why we love it
Celeste is as much a game about personal struggle as it is about platforming. Protagonist Madeline must not only attempt to scale a literal mountain, but she must also battle with the darkest parts of herself. The significance of this challenge is underscored by challenging level design which is as tough as it is fair.
Easily earning a spot on our list of the best Steam games, Celeste is the most rewarding pixel platformer in years. As you climb the titular mountain, flame-haired heroine Madeline battles her innermost demons just as much as the harsh and dangerous conditions around her. Celeste is a tight, 2D, twitch-style platformer, but, scratch the surface, and you'll find of the most unforgettable games we've come across in many years.
With a poignant story to match its unforgiving gameplay, Celeste has over 700 'scenes' to traverse, a myriad of secrets to uncover, and a story that will grip you as much as the muscle-memory-building formula of its platforming. For a game built around the simple mechanics of jumping, air-dashing, and climbing, there's an incredible amount of depth to be found as you claw your way to the summit. Full of surprises, Celeste isn't one to miss.
Best Steam games: FAQs:
What is the top game on Steam?
The top rated game on Steam is Portal 2, which boasts an impressive 97.7% approval rating across over 356,000 individual reviews. This means that over 352,000 people have given Portal 2 a "positive" review.
Undoubtedly a fantastic title, Portal 2 full of sparkling dialogue and sci-fi intrigue that keeps players guessing as they rush to solve its tricky portal-based puzzles. Though we felt Celeste had more to offer as a modern platformer, Portal 2 would also be right at home on our list of the best Steam games.
What games should you get on Steam?
Any of the titles on our best Steam games list would make an excellent addition to your collection. In terms of value for money, however, we recommend Celeste and Into the Breach. Both of these indie titles provide exceptional value for money, the latter offering a dizzying amount of replayability while the former provides enough of a challenge to keep players invested for an impressive amount of time.
If you're looking for something grander in scope, Red Dead Redemption 2 is a great choice, providing an immersive, tear-jerking adventure that shows off everything that modern games are capable of. Since it was released several years ago, the game is also often discounted in Steam's regular sales.
How we made this best Steam games list
This list of the best Steam games was built with diversity in mind. Rather than narrowly focus on a single genre or type of play, we felt it was best to offer as broad an approach as possible to Steam's exhaustive library of titles.
There are plenty of titles, such as the aforementioned Portal 2, that would have been right at home on this list. However, we also wanted to show off a blend of modern and more classical titles to ensure a more well-rounded survey of available titles. We also wanted to platform several strong indie titles, since Valve's digital distribution system is a great way to access games that you wouldn't often see in brick-and-mortar stores.
We also leant on our expertise here at TRG with many of the staff here being PC and Steam gaming veterans or residents given the amount of time they play on the platform and use the launcher. We know Steam inside and out and what makes the most popular games on the system, and thus which ones we can pick out as the best recommendations to you.
Wondering what things might look like beyond the PC? Check out our lists of the best Xbox Series X games and the best PS5 games.
Sign up to receive daily breaking news, reviews, opinion, analysis, deals and more from the world of tech.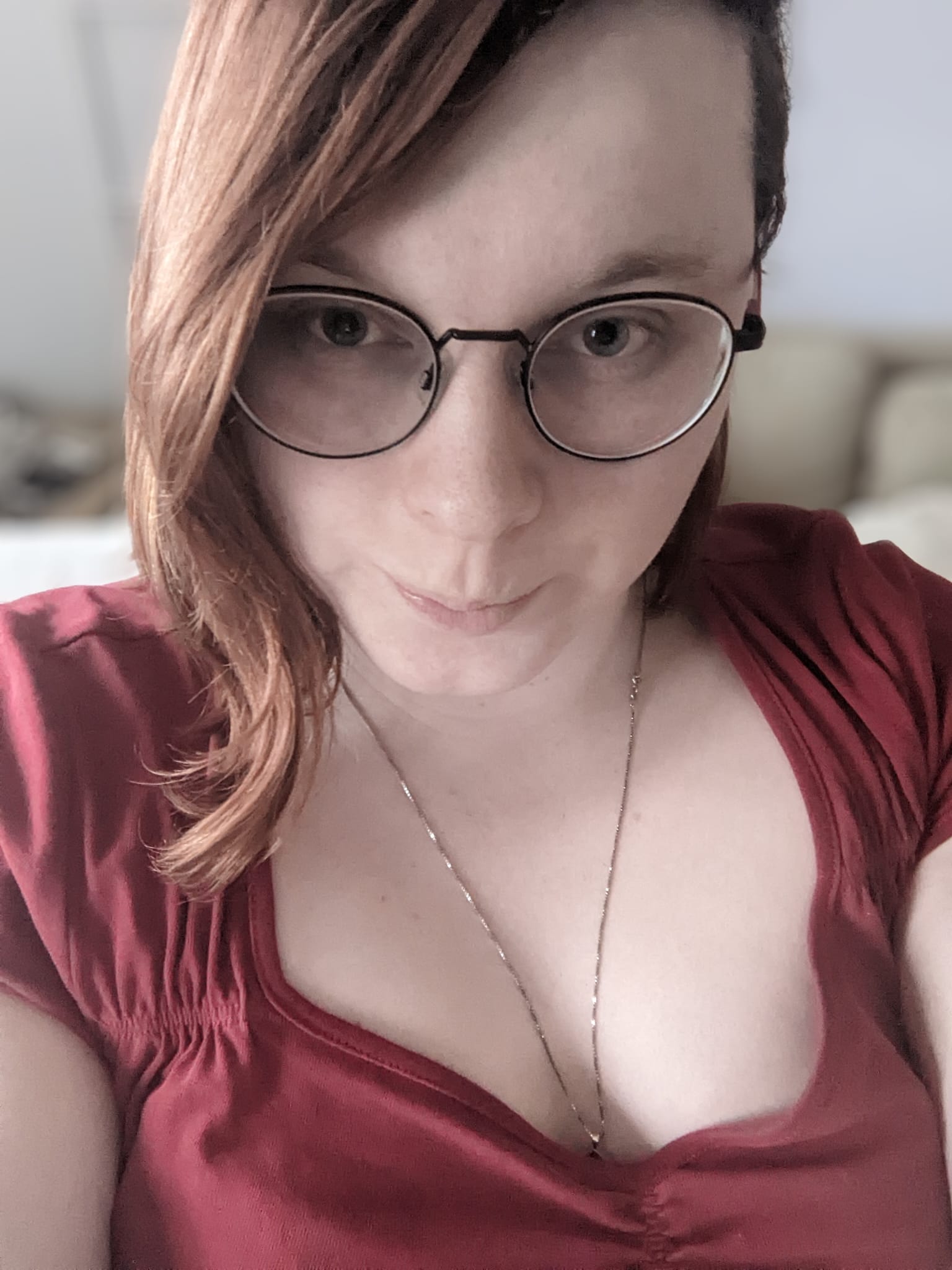 Cat Bussell is a Staff Writer at TechRadar Gaming. Hailing from the crooked spires of London, Cat is an experienced writer and journalist. As seen on Wargamer.com, TheGamer.com, and Superjumpmagazine.com, Cat is here to bring you coverage from all corners of the video game world. An inveterate RPG maven and strategy game enjoyer, Cat is known for her love of rich narratives; both story-driven and emergent.
Before migrating to the green pastures of games journalism, Cat worked as a political advisor and academic. She has three degrees and has studied and worked at Cambridge University, University College London, and Queen Mary University of London. She's also been an art gallery curator, an ice cream maker, and a cocktail mixologist. This crash course in NPC lifestyles uniquely qualifies her to pick apart only the juiciest video games for your reading pleasure.
Cat cut her teeth on MMOs in the heyday of World of Warcraft before giving in to her love of JRPGs and becoming embedded in Final Fantasy XIV. When she's not doing that, you might find her running a tabletop RPG or two, perhaps even voluntarily.