Best indie games 2023: the greatest gems from smaller studios
Best
Contributions from
last updated
The best indie games shine bright no matter the size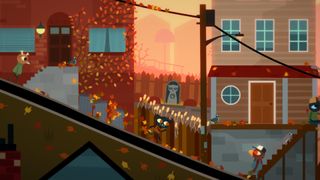 (Image credit: Finji)
The best indie games show off just how creative this medium can be. While there are some stellar AAA games that may push the boat out every now and again, indie games usually have very few constraints and so can really go all out.
It's great to see just how far this medium has become with indie games now up there, with the best of them tussling it out for first place. However, as the sector has grown, so has the amount of games, meaning sometimes it can be hard to figure out which ones are worth spending time on.
Luckily, that's what we're here for. We've collated a list of all the best indie games that are definite must-plays. Some even grace other lists, such as the best PS5 games, the best Xbox Series X games, and the best PC games if you're looking for more.
For now, find your next favorite on our list of the best indie games.
Best indie games 2023
Why you can trust TechRadar We spend hours testing every product or service we review, so you can be sure you're buying the best. Find out more about how we test.
Dredge
Some things are best left forgotten
Why we love it
Dredge is equal parts beautiful and ominous the setting and story for this single-player fishing game immediately made it stand out. You'll surely have a great time navigating this indie title.
Available on: PC, Xbox Series X/S, Xbox One, PS5, and PS4
Dredge is a single-player fishing game with a dark and ominous undercurrent. You man a small fishing trawler and venture out into the deep dark ocean in search of more than 125 deep sea critters, valuables, and hidden secrets.
You can travel from island to island, reaching new places and completing quests for random citizens that you meet along the way. There are tons of islands, each with its own unique opportunities, inhabitants, and, importantly, secrets. The possibilities are endless in this addition to our best indie games list.
While Dredge may look cute and cuddly with its beautiful art style and landscape, there's more than meets the eye under the water and in the depths of this Lovecraftian adventure which is why it's one of our top picks for the best Steam Deck games list.
Sea of Stars
Defeat the Fleshmancer
Why we love it
This classic RPG has a combat system that is easy to learn but hard to master. This means players are encouraged to sink time into Sea of Stars if only to master its high skill ceiling.
Available on: PC, Xbox Series X|S, Xbox One, PS5, PS4, and Nintendo Switch
Sea of Stars is a delightful gem that is full to the brim with exciting adventures, wholesome laughs, and some thrilling threats. In this turn-based RPG, players will follow the story of two children of the Solstice who must combine their powers of the sun and the moon to use Eclipse magic. This is the only way to defeat the evil alchemist known as The Fleshmancer.
Other than an engaging story, you'll also learn to love Sea of Star's fantastic soundtracks and stunning visuals, which tie together the whole experience, making you love every second spent in this fantastical land.
Cult of the Lamb
A lamb in a cult's pelt
Why we love it
Cult of the Lamb is an artistic and fun look at what it would be like becoming a cult leader. It's unique premise and art style will always stick out.
Available on: PC, PS5, PS4, Xbox Series X/S, Xbox One, and Nintendo Switch
Ah, video games. Where else can you play as a cute cartoon lamb leading a cult of colorful animals? Cult of the Lamb mixes several gaming genres and adds a theme that's as unusual as it is fitting. Your task as a loyal follower of a demon is to grow a cult. This means you must satisfy your follower's needs, increase your power by fighting monsters and clearing dungeons, and sometimes sacrifice someone.
The game is a fun mix of Stardew Valley and Hades, as you can marry, eat, and resurrect your spouse. It's tough to put down in the way only the best indie games are.
If you really want to immerse yourself in this roguelike, then check out our guides on how to bring followers back and how to marry them.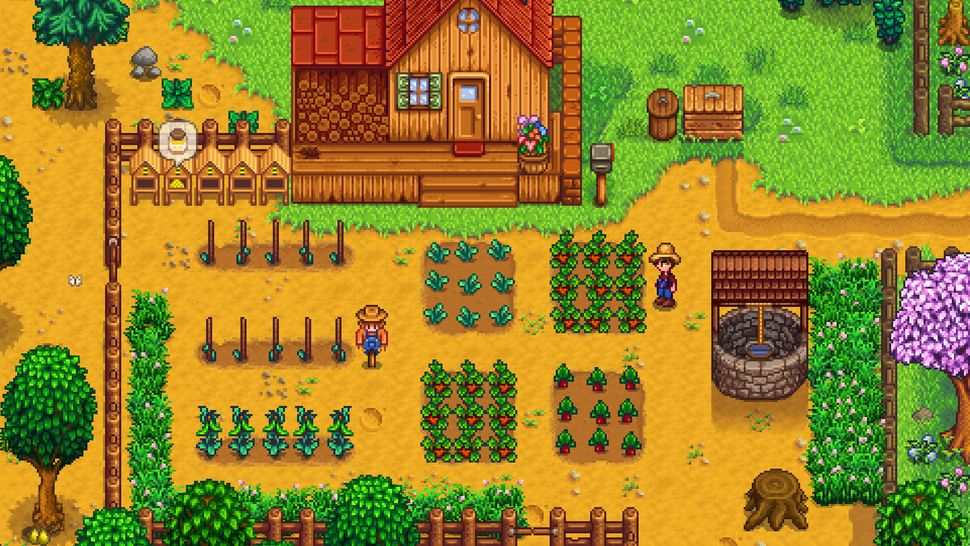 Stardew Valley
Try a different lifestyle
Why we love it
Stardew Valley is a fantatsic game to play if you're a fan of sitting back relaxing and quietly sinking time into one game. Expanding your farm and helping the community has almost no end so you'll get to have tons of fun with this one.
Available on: PC, Nintendo Switch, Xbox One, PS4, iOS, and Android
Suppose you've ever played a Harvest Moon game. In that case, you're likely already familiar with Stardew Valley's premise – a farming game in which you need to become both a successful farmer and a local community member.
Sole developer Eric Barone sought to make a Harvest Moon experience that was as good, if not better, as the game he remembered. As one of the most famous games on our best indie games list, we could argue that he succeeded. That's why you have lots to do – you farm, tend to livestock, fish, and even make your way through the local abandoned mine.
The game's farming is easy to pick up and fun; it's a great way to unwind. There are plenty of secrets, events in the local town, a bunch of characters to romance, and much more. If you're playing on PC, you should also look at its brilliant modding community, which has tirelessly worked to make even more features available in this simulation RPG.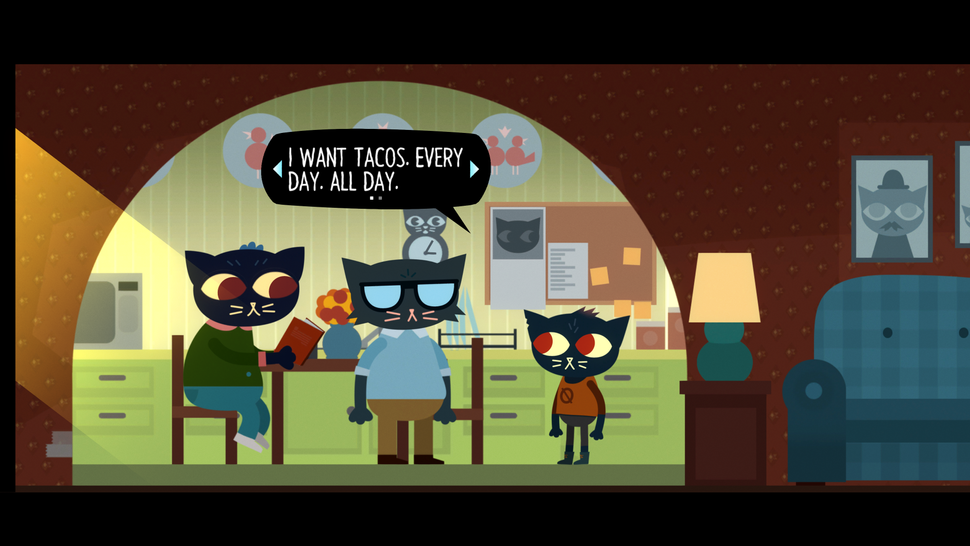 Night in the Woods
Blue collar blues
Why we love it
This indie game has a brilliant story and protagonist which is exciting and engaging from the get go. You'll also get to play some brilliant mini-games along the way.
Available on: PC, PS5, PS4, Xbox One, Nintendo Switch
An unconventional side-scrolling adventure game that revolves around a 20-year-old protagonist named Mae who drops out of college and moves back in with her parents, Night in the Woods is one of the more quirky additions to our best indie games list.
Featuring a story primarily based around dialogue choices and mini-games that put a spin on mundane tasks, like carrying boxes up the stairs and eating perogies. Night in the Woods is a timeless coming-of-age tale that effortlessly makes its way onto our best PC games with Queer characters list. Not only will you experience middle-class America through the eyes of a personified cat, but virtually every interaction in-game will have you laughing aloud. Thanks to its subject matter and how much Mae and her friends grow on you, it's one of the best indie games—a genuine pearl of the narrative genre.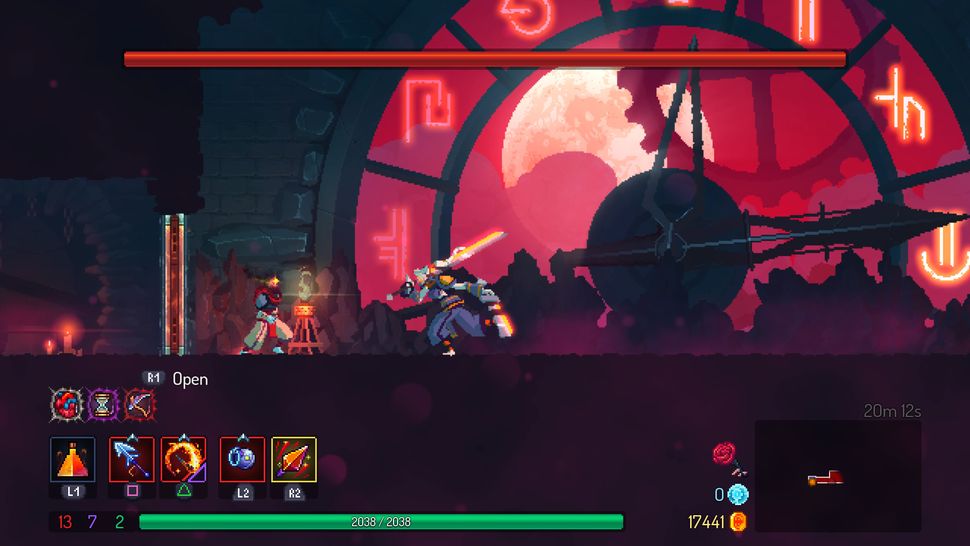 Dead Cells
Something different with every run
Why we love it
Dead Cells is on the more difficult side of indie games but this challenge is thrilling and engaging to the point where you always want to keep going.
Available on: PC, PS4, Xbox One, Nintendo Switch, iOS, and Android
If you're looking for a game that's as unforgiving as it is fun, look no further than Dead Cells. It takes gameplay inspiration from so many places – from roguelikes to Metroidvania. There's even a hint of Dark Souls in there, creating a unique action game that will test your limits and skills. It's one of the best indie games because of the sheer amount of stuff you get to do and the playstyles you can try,
Each time you play this game, it will feel new. And, while you'll lose some progress each time you die – and you will die a lot – the game will become even more rewarding as the complex and fluid combat becomes second nature. Thankfully, Dead Cells hasn't only grown in content over the years; it's also become more accessible, meaning you can also attempt to play it at a less punishing difficulty.
There's a very good reason why Dead Cells has made its way onto our best indie games list and our best roguelike games list.
Celeste
Climb that mountain
Why we love it
The story in Celeste is emotional and thought-provoking to the extent that you'll want to keep playing just to see the narrative through.
Available on: PC, PS4, Xbox One, Nintendo Switch
It's not often that a platformer can balance challenging and engaging gameplay with an emotional and thought-provoking narrative. Celeste, however, pulls it off, making it one of our best indie games picks. From the developers of Towerfall, Celeste follows the story of Madeline, a young girl who decides to face her mental health issues by climbing to the top of the mysterious Celeste Mountain. In doing so, she learns more not only about the mountain but about herself as well throughout the process.
An inevitable classic, Celeste integrates the obvious jump, air-dash, and climb controls into a brutal series of platforming challenges in upwards of 700 unique screens. If that's too easy, you'll unlock B-side chapters along the way, designed for only the most daring of hardcore players. You don't even have to worry about waiting an eternity between each respawn as Celeste instantly brings you back from the grave, a welcome departure from the typically extensive load screens.
Vampire Survivors
No one gets out alive
Why we love it
Vampire Survivors is a great way to relax despite it's chaotic premise. For whatever reason the roguelike perma-death is incredibly exciting and even addictive.
Available on: PC, Xbox Series X|S, Xbox One, iOS, and Android
For the price of a coffee to go, Vampire Survivors can ruin your life. Yes, this is both a recommendation and a threat, because if you enjoy idle games or any games that ask you to do stuff repeatedly, then Vampire Survivors is both very good and very bad for you.
In this visually minimalistic game, you're attacked by hordes of monsters, which you drive off with an array of weapons and buffs until you eventually lose. You will fail, so the fun in Vampire Survivors, just as with any roguelike, is really to see how long you can make it and see yourself slowly mastering different weapons and approaches. Rounds in Vampire Survivors don't take long, which makes it a perfect game to play on the go on the Steam Deck, but it's also a game you will want to play again. And again. And again. Don't say we didn't warn you.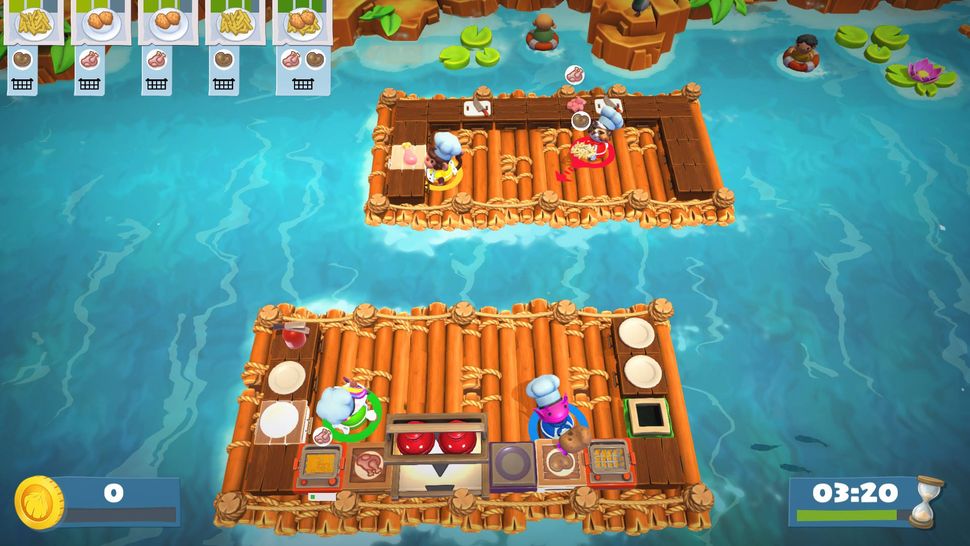 Why we love it
This cooking game is a thrilling indie title to play with friends. The maps and different stages are colorful and fun to look at and difficult to traverse.
In this party cooking game, your mission is to defeat the 'Un-Bread' (zombie baked goods) that have taken over the Onion Kingdom, by battling through recipes including sushi, pizza and burgers in increasingly chaotic kitchens with up to three other people.
To add to the frenetic fun, you must deal with obstacles, including random fires, collapsing floors and interfering passers-by, all while getting your orders out to the pass in time.
Things get complicated incredibly quickly. Relationships, friendships and family bonds will be tested as you work together to complete your recipes on time. Overcooked 2 is a fun and challenging couch co-op game that will make you truly understand the meaning of "too many cooks spoil the broth" and is well-deserving of its spot in our best indie games list and among the best co-op games.
Unpacking
Everything has its place
Why we love it
Unpacking is the best way to unwind. The simple premise and calming music allow you to lose yourself in rearranging rooms and unpacking boxes.
Available on: PC, PS4, Xbox One, and Nintendo Switch
If you're looking for the perfect way to spend a cozy night, then Unpacking will definitely help out with that. In this relaxing indie game, you follow a girl's life as she moves into different spaces. You see her grow up, encounter challenges, and finally settle down all through the lens of unpacking boxes.
Unpacking is also incredibly satisfying. You work to find a place for every single item you unload, but you can do so in any way you choose. While this indie game isn't particularly long it is still worth a look in.
Best indie game FAQs
What is the most popular indie game?
According to Steam Charts, the indie game that has the most concurrent users is Rust.
Is Minecraft still an indie game?
While Minecraft started out as an indie title created by Notch, after Mojang Studios was acquired by Microsoft it no longer qualifies as a purely indie game.
How we picked the best indie games
Picking the best indie games is no small feat. There's an infinite amount of choices out there, many of which we may never play. However, over at TechRadar Gaming, we live and breathe all sorts of games, and are always up for new challenges.
Every spare chance we get we spend browsing itch.io for new games to fall in love with. While we love a triple-A game as much as the next person, there's something about playing an indie game with boundless creativity and possibilities that we can't get enough of.
There's nothing better than sitting back and chilling with a good indie game. If you're in the mood for more relaxing solo adventures then check out our best single-player games list.