Best indie horror games 2023 - bone-chilling terrors await
The best indie horror games will offer some serious spooks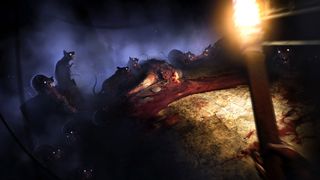 (Image credit: Frictional Games)
The best indie horror games are capable of forcing you to face your fears in a variety of ways, be it through haunting landscapes, challenging environments, or putting you up against terrifying monsters that chase you around the map. They are unforgettable experiences, and essential for anyone looking for a thrill.
Fortunately, the sphere of indie gaming isn't in short supply when it comes to horror games, and these titles might just open up the doors to brand new frights as you play through them. The best indie games pride themselves on unique experiences, and the best indie horror games are no exception and prove to be a worthy sub-category in their own right.
To appeal to players looking for the best horror games currently available, we've included games that tick all the boxes of Stephen King's three levels of horror; gross-out, horror, and terror, so there's something to appeal to every thrill seeker.
Best indie horror games 2023
Little Nightmares
Terrify your inner child
Why we love it
Little Nightmares has the ability to make you feel the same size and the same amount of fear as a child while offering darker themes for a more adult gaming experience. It's a classic when it comes to indie horror, and you'll never grow tired of exploring its secrets.
Little Nightmares, one of the most recognizable indie horror games, feels like a somewhat whimsical tale when you start out, playing as a tiny character in what feels like a gigantic world, but, as you progress through the story and unravel secrets about the enemies you're coming into contact with, you'll start to see why you feel so unsettled. Your one aim is to escape the setting, but it's not exactly an easy feat when towering enemies threaten your every move. It's important to remember that you're probably always being watched, and there's no straightforward way to escape from The Maw.
What's special about Little Nightmares is its ability to tap into childhood fears through its character design as well the tension presented by each different landscape on offer. Characters and environments feel grotesque in appearance, and you'll want to keep your distance while subsequently getting as close as possible to get a really good look at them. It's a game that you'll probably revisit time and time again and still manage to find new parts of, and, with Little Nightmares III on the horizon, you'll want to know the ins and outs of the game to make sure you're going into the newest one knowing as much as you possibly can.
Amnesia: The Bunker
Not for the faint of heart
Why we love it
Amnesia: The Bunker is one of the scariest gaming experiences currently available. The grit and gore is what puts it above the rest. It's non-stop psychological torment, which is what a lot of players seek from a horror game. In that regard - it's pretty special.
The Amnesia series is a veteran in the horror gaming landscape, so it's no surprise that its newest addition is part of our best indie horror games list. However, it's essential to remember that this game is not for the faint of heart, and it's one of the best horror games in general - not confined just to this indie list.
In the game, you'll be put to the ultimate psychological test, being placed in a WW1 bunker and forced to face up against any fear you might have - all while probably developing new ones; given just how heavy some of the content of this game is.
As we mentioned in our review, the horror levels of Amnesia: The Bunker are intense, and while sometimes this feels as if it might overstep the mark slightly, this intensity helps make the entire experience something completely unforgettable. While Amnesia might keep you awake at night, it's worth playing if you're a real thrill seeker looking for an unmatched horror experience.
5 Days a Stranger
Unravel every secret
Why we love it
If there's one word to describe 5 Days a Stranger, it would be eerie. This game manages to present an incredibly heavy atmosphere throughout. The sinister presence that looms over the house will keep you exploring, but you'll probably want to peek through your fingers each time you enter a new area. Just in case.
5 Days a Stranger relies on the atmosphere it has to create its scary experience - rather than using gore or shock to set the tone of the game. Because of this, it feels weighty, and while it's simple in design it's incredibly rich in narrative and character development. It's got a haunting feeling to it, despite how it appears in comparison to more modern takes on horror games. If you want something slightly more old-school that still holds up, it's worth checking out.
Although it doesn't boast the same hyper-realistic graphics as other contenders for the best indie horror games, nor does it offer traditional spooks and scares throughout, it's still an eerie title that will stay with you. Since you're stuck in the house, all you can do is explore what it has to offer, and what you come across is less than ideal, but it's an essential part of trying to figure out how you can leave.
Sons of the Forest
Survival of the fittest
Why we love it
Survival horror in itself is terrifying, especially when you're stranded on a deserted island with nothing to your name, but, when night falls and you've got no roof over your head, you'll start to feel just how terrifying Sons of the Forest can really be. It'll scare you in ways you don't expect.
Sons of the Forest is a survival horror game that places you in a cannibal-infested setting and leaves you to your own devices. Not ideal, really, but you'll have to gather your bearings fairly quickly to survive. You've got a huge map to explore, tonnes of resources to collect, a lot to uncover across its environment, as well as a lot to avoid or confront. This survival horror simulator will keep you on your toes at all times, which makes it one of the best indie horror games.
You aren't exclusively challenged to survive against the terrors that might be watching you either, which is what makes Sons of the Forest all the more scary. Between facing unsettling creatures, any prying eyes that come to steal from your settlement, and the landscape as a whole, you'll need to navigate environmental changes that'll hurt you if you aren't appropriately protected. Even though Sons of the Forest does feature a fair few spooks, the real fear is embedded within the desperate need to survive in a challenging landscape.
Why we love it
Although Dredge doesn't initially sound or look like a horror game, its eerie nature puts it among some of the best. Within its setting, it manages to create an unmatched eerie atmosphere - mirrored by the lurking shadows beneath your boat.
Dredge may not initially look like an indie horror game with its chunky art style and simple design. It looks like an innocent fishing simulator from the get-go, but don't let it fool you. Behind its simple concept, you'll find new fears lurking below the surface - which is why it's got a well-deserved place on our list of the best indie horror games. It's not your average horror game either, since it doesn't have any jumps or immediate spooks, it's just a generally tense indie that will enchant you and subsequently scare you when you're least expecting it.
Between islands, there's a chance you may encounter the horrors that lurk beneath the waters, but there's never a way to say for certain. What keeps you on your toes is the tension that the experience offers throughout. There's no climax, there's just this undeniable weight that sits with you as you go out to fish, sift through collectibles, or just go out sailing. You'll just need to remember to try not to stay in one place too long in case the piercing eyes become fixated on you.
Escape the Backrooms
Discover what lurks in the shadows
Why we love it
Escape the Backrooms seems like a goofy addition to the mix, but when you are hidden within its setting and trying to navigate its twisted rooms, you'll get so caught up in it that you may well find yourself developing brand-new fears.
The premise of Escape the Backrooms is exactly what it says on the tin. You'll need to traverse its locations in an attempt to leave, but you aren't alone - and there's a huge chance you might encounter what lurks in the shadows as you're walking around. What marks this game as one of the best indie horror games is how it is capable of tapping into fears you didn't even realize you had. Plus, while its multiplayer elements mean you won't have to face the whole thing alone, that doesn't mean you won't find yourself constantly checking your surroundings for a pair of eyes staring back at you.
The realistic graphics of Escape the Backrooms will absorb you into the game world, making it incredibly terrifying when you encounter an indescribable monster and turn to run. Level design feels familiar, and it'll start to become more so as you sink more hours into a desperate escape, but you'll still find ways to get lost and get separated from your group - making everything all the more terrifying. Suddenly even your own team becomes yet another scary encounter.
The Outlast Trials
A true test of strength
Why we love it
The Outlast Trials offer constant tension for every player, which is why it's such a fantastic addition to your library. It's enjoyable on its own or in a group setting, but it's definitely more intimidating solo.
Within The Outlast Trials, you'll be challenged to go through a series of spine-tingling gauntlets filled with puzzles to solve and experiments to avoid. Although it sounds like a straightforward task, the puzzle elements are genuinely challenging and when you're engrossed in the twists and turns of each map, you won't want to find out what lurks behind each corner. Whether you're using human hearts to complete fairground games, or running through a police station praying that you're not being chased, The Outlast Trials offers hours upon hours of entertainment, making it one of the best indie horror games out there.
Horror can usually be dampened in a group setting, but The Outlast Trials manages to maintain the tension and frantic terror of a solo experience within its multiplayer content. Each trial has been designed with both solo and group play in mind, so even if you go in glued at the hip - you'll eventually have to complete sections solo due to being split up. It's an essential title for any player looking for a truly terrifying and immersive experience.
The Mortuary Assistant
Save your soul
Why we love it
The Mortuary Assistant is simply terrifying. There's nothing else to it really. When you start, you'll constantly be checking over your shoulder to make sure you're not being watched. The entire game is tense and hair-raising.
The Mortuary Assistant puts you in the shoes of a character who has just completed their mortuary studies, and you've taken on a new apprenticeship at River Fields Mortuary. One night, you're called into work to handle some embalmings alone, but you may not be as alone as you think. You'll have to complete your tasks while trying to keep demonic spirits at bay. The kicker: you simply cannot leave. You'll have to practice rituals while completing embalming tasks, but it won't be an easy journey.
This game is capable of instilling fright in even the bravest sorts, so it's a must-play for anyone looking for a genuine, nightmare-inducing indie horror experience. What makes this one of the best indie horror games is the way it constantly keeps you on your toes, and no matter how long you play, you won't know what will happen next.
Barotrauma
Keep your eyes on your surroundings
Why we love it
Barotrauma doesn't put you into a first-person perspective when facing its terrors, which to many may be slightly less intimidating, but it still has an incredibly haunting atmosphere as you try and navigate its deep, dark depths.
Barotrauma is a 2D submarine simulator in which you and some companions will be challenged to navigate the dark depths under the water while repairing leaks on your vessel, completing missions, and crafting items. However, outside of these repairs and challenges, you will also need to fight a variety of creatures that lurk under the water and threaten the safety of you and your crew. This distinctive cocktail of horror and tension lands Barotrauma a place on our best indie horror games list.
What's most compelling about Barotrauma is that the danger doesn't announce itself; so you'll never know exactly when you're under threat. Because of this, you need to be ready at all times to face up against a huge variety of monsters that may board or cause damage to your ship. If you don't go into this game with a fear of what might lie below the waves, then you may walk away with one.
Best indie horror games - FAQs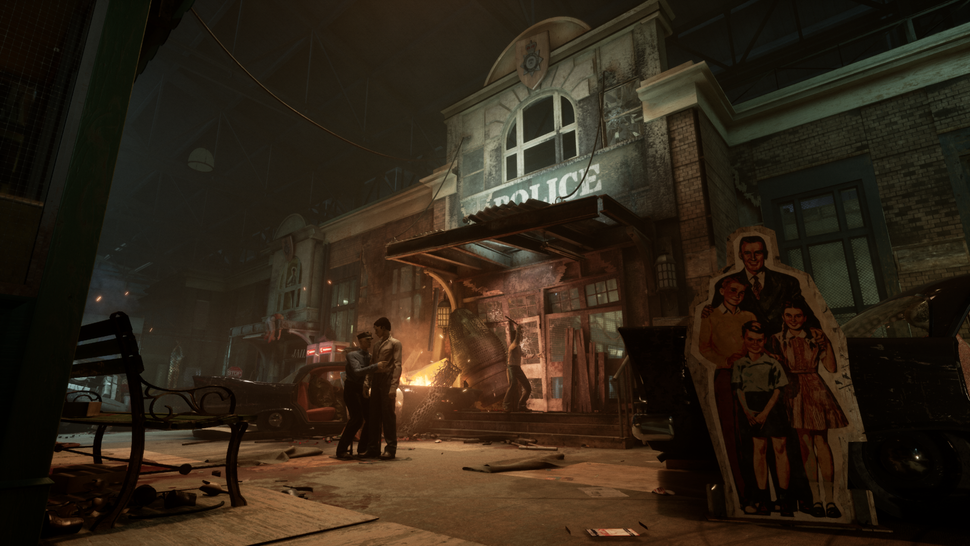 What is the best indie horror game on Nintendo Switch?
Little Nightmares is one of the best indie horror games on Nintendo Switch, and Little Nightmares II is also available on the system so you've got more than enough content on the system to get to grips with. However, Dredge is also available on the platform if you want a different, more open experience to enjoy.
What is the scariest co-op horror game from the best indie horror games list?
When it comes to deciding on the scariest co-op horror game from our best indie horror games list, a lot of the content is down to user preference. Escape the Backrooms, The Outlast Trials, and Sons of the Forest are all scary in their own way, so it's hard to decide which one is the most bone-chilling if you haven't played them all. As we've already mentioned, horror in a group setting can usually dampen the experience, but these three games are guaranteed to give you a fright regardless of how many people you have on your team.
How we made our best indie horror games list
The team at TRG has spent hundreds of hours exploring different indie horror games and putting both themselves and the titles to the test to find the best games to recommend. We've explored everything from slight spooks to gore and terror and spent sleepless nights comparing titles and seeing which come out on top.
Due to the time we've put into playing such a variety of games, we are confident in our ability to recommend the very best games to play, and that we've formed opinions you can trust.
If you're looking for a more relaxing gaming experience once you've sunk your teeth into the best indie horror games, then the best cozy Switch games will offer just that. The best indie games might offer you an experience that is less terrifying, but just as special as those on this list.