The best MMORPGs for 2023 - worlds to get lost in
Sink your teeth into the best MMORPGs ever made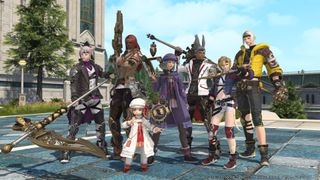 (Image credit: Square Enix)
The best MMORPGs don't just captivate with their immersive worlds, but they also allow you to share those worlds with thousands of players across the globe. Short for 'massively multiplayer online role-playing game' even the humblest MMORPG is a lofty project.
However, some MMORPGs tower head and shoulders above the rest. These are the titles that offer the most engrossing stories, the most robust multiplayer content, and the most varied communities. Though there's some overlap with our list of the best MMOs, MMORPGs place a greater emphasis on storytelling that you won't find in every single MMO out there. While all MMOs use a massively multiplayer element, MMORPGs prize character customization and more traditional combat mechanics that you might find in one of the best RPGs.
Across our list, you'll find cracking sci-fi epics, thrilling fantasy adventures, and even one of the best JRPGs ever made. What unites these titles, however, is their shared commitment to fostering community within their meticulously constructed virtual worlds. It's one thing to experience a great story, but it's another entirely to play through a great tale while immersed in a like-minded community. In fact, some of the greatest stories in MMORPGs come from the communities themselves taking advantage of game mechanics to build something of their own. It's these emergent stories that really distinguish MMORPGs as a genre - a spirit every game on this list channels with aplomb.
The best MMORPGs 2023
Why you can trust TechRadar We spend hours testing every product or service we review, so you can be sure you're buying the best. Find out more about how we test.
World of Warcraft
The gates are open
Why we love it
World of Warcraft invented the modern fantasy MMORPG. To this day, Blizzard Entertainment's flagship MMO continues to carry the torch of its original innovations, offering a wide fantasy world rich with tough challenges and engrossing lore.
Easily one of the best MMORPGs of all time, World of Warcraft practically invented the genre as it is now when it was originally released in 2004. By offering enormous fantasy environments with minimal loading screens, World of Warcraft had an almost open-world feel, encouraging players to form spontaneous groups to face up to the challenges on offer.
Since then, the game has been through a total of nine expansions, each offering a chance to iterate on these mechanics, allowing Blizzard to fine-tune the experience. In its current incarnation, World of Warcraft retains the expansive setting but possesses far stronger storytelling chops, offering a fantasy epic of impressive scale and depth.
Platforms available: PC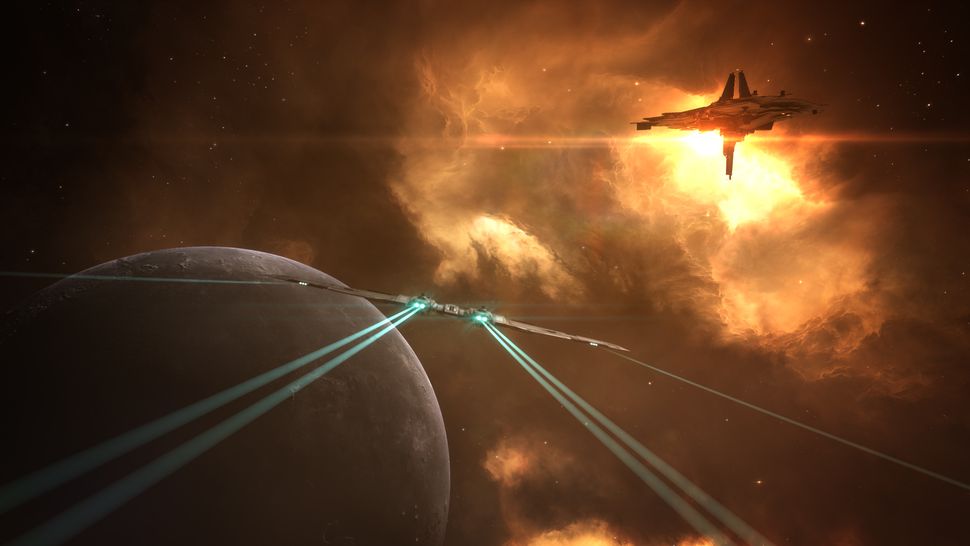 Why we love it
EVE Online may be two decades old, but its online sci-fi sandbox is just as vibrant (and cutthroat) as it's ever been. In CCP's simulated galaxy, players call the shots, taking on roles as heroes and villains in the game's emergent story.
EVE Online is, arguably, the best MMORPG when it comes to emergent player-driven narratives. In EVE, you play as a starship pilot. Overcome the game's steep learning curve, and you'll soon find that the galaxy's your oyster. You can join a player alliance and wage war alongside thousands of others. Not a violent type? Why not take up mining and become an industrial tycoon? Not of the lawful persuasion? Piracy's always an option.
EVE does little to hold its players' hands, but more than makes up for this in terms of the agency it offers. While developer CCP has crafted a game that can be intimidating at times, EVE Online rewards dedicated players by allowing them to do almost anything they set their mind to. The careers on offer boggle the mind with their breadth and diversity. There's even an EVE pope. Plus with the addition of a free-to-play version of the game in 2016, there's never been a lower bar to entry.
Platforms available: PC, browser, and tablet (though not available on mobile, the game does have a companion App)
Guild Wars 2
Secrets uncovered
Why we love it
Guild Wars 2 is a breath of fresh air, offering a take on combat that separates it from the MMORPG pack. Rather than picking from a huge list of spells, Guild Wars 2 asks you to commit to a loadout in battle, helping to give your character a sense of uniqueness.
One of the more novel titles on our list of the best MMORPGs, Guild Wars 2 offers a well-told single-player storyline on top of a wide range of breathtaking environments. In addition to oodles of world quests, Guild Wars 2 actively rewards players for exploration and for tracking down landmarks. While the action-oriented combat system is great for getting your blood pumping, NCSoft's decade-old MMO provides a fantastical world ripe for exploration.
Guild Wars 2 also includes a large amount of well-written, voice-acted dialogue which does wonders for inviting players into its world. More than that, the MMORPG dispenses with many traditional fantasy tropes, offering a novel list of species and classes for players to enjoy. Few games let you play as a rifle-toting tree-person, or a laser-shooting illusion wizard, but Guild Wars 2 will oblige you.
Platforms available: PC
Final Fantasy 14
Across the stars
Why we love it
Final Fantasy 14 offers one of the best single-player storylines in modern gaming. Despite its slow start, the MMORPG spins an epic yarn that snowballs over the course of several expansions before culminating in an emotional gut-punch. Bring tissues.
One of the best MMORPGs of recent years, Final Fantasy 14 offers a holy grail of storytelling, community building, and satisfying endgame content, making for a wild ride full of adventure. Not only are there hundreds of hours of content to enjoy, but the types of content on offer vary wildly. Final Fantasy 14's main story distinguishes itself with its mature storytelling and strong characters, however, if you're looking for a break from the drama, you can just as easily take up fishing, decorate your own home, or even go to a nightclub.
More important than any of this, however, is Final Fantasy 14's famously welcoming community. Since even veteran players are incentivized to help out with lower-level content, new players (lovingly nicknamed "sprouts") will usually find themselves supported by experienced adventurers when confronting challenges for the first time. This means that the title cultivates a culture where players "pay it forward". After all, today's sprout is tomorrow's mentor.
Platforms available: PS5, PS4, PC, and coming to Xbox Series X|S in spring 2024
Why we love it
The Elder Scrolls Online gives Bethesda's beloved fantasy setting the MMORPG treatment, offering players the chance to get lost in the world of Tamriel. The game is jaw-droppingly vast, allowing you to explore the land of The Elder Scrolls at your leisure.
One of the best MMORPGs in terms of immersion, The Elder Scrolls Online bathes players in gorgeous environments and stirring music. Almost all of Tamriel is yours to explore. If you so choose, you can even return to memorable locations from Skyrim or even Oblivion. Much like its single-player forbears, The Elder Scrolls Online is bursting at the seams with quests.
All in all, the MMORPG amounts to one of the best fantasy playgrounds out there. The combat system is more active than many of its competitors, requiring you to dodge and block proactively. You can also specialize across a variety of classes and combat roles, allowing you to build a character that's truly your own.

Platforms available: PC, PS5, PS4, Xbox Series X|S, Xbox One
Star Wars: The Old Republic
A long time ago...
Why we love it
Star Wars: The Old Republic is bursting with high-quality BioWare storytelling. Though dated in some respects, the main storylines provide plenty of thrilling setpieces and climatic moments that'll satisfy even the most curmudgeonly Star Wars enjoyer.
Though the graphics are a little dated, Star Wars: The Old Republic (SWTOR) remains one of the best MMORPGs when it comes to storytelling and writing. Set shortly after BioWare's well-received RPG Star Wars: Knights of the Old Republic, SWTOR carries an RPG torch, offering players the chance to make narrative choices as part of a fully fleshed-out cinematic storyline.
Though the game's multiplayer content can be hit and miss, the main storylines are fantastic and are well worth experiencing for both fans of Star Wars and fans of BioWare RPGs. Like Mass Effect and Dragon Age, you'll collect companions, get to know them better, and even, possibly, kindle a romance or two. Plus, since the game is free to play, there's no excuse not to give it a go.
Platforms available: PC
Runescape
Class is in session
Why we love it
Runescape is set apart by its sheer accessibility. Available on PC or mobile platforms, Jagex's classic MMORPG can be played on anything from a powerful gaming rig to a tablet. A great entry point into the genre, Runescape offers an impressive fantasy playground.
Perhaps the best MMORPG in terms of accessibility, Runescape is mobile-friendly, easy to grasp and get into, and rewarding. Originally released in 2001 as a browser-based game by UK-based developer Jagex, Runescape has gone from strength to strength in the years since.
The game takes heavy inspiration from classic CRPGs like Baldur's Gate with open-ended game design and a semi-real-time combat system. The world of Gielinor is very much a sandbox and the game doesn't follow a linear storyline but, rather, encourages players to set their own goals and objectives. Runescape is, perhaps, one of the better entry points into MMORPGs, showing off what the genre is capable of without even requiring a gaming PC.
Platforms available: PC, Android, iOS
Best MMORPGs: FAQs
What MMO should I play in 2023?
Any of the games that made our list of the best MMORPGs is well worth giving a go in 2023. However, at the time of writing, some have been updated more recently than others.
Guild Wars 2's Secrets of the Obscure expansion was released in August 2023 and brought a whole new storyline to the game. The Elder Scrolls Online was also recently updated in the summer of 2023 with the Necrom expansion, which brought an entirely new class to the game: the Arcanist. If you're looking for the freshest MMO content you can find, Guild Wars 2 and The Elder Scrolls Online are well worth a look.
What is the next great MMO?
Final Fantasy 14's upcoming Dawntrail expansion looks like a promising new direction for one of the best MMORPGs out there. If you're looking for a brand new title, however, Blue Protocol from Amazon Games seems refreshingly ambitious. Combining stylish design with novel combat systems, we were impressed with our hands-on preview of the game ahead of its planned release in the West next year.
How we made this best MMORPGs list
When crafting our best MMORPGs list, we sought to offer a range of games available across different genres and consoles while ensuring that the products we selected were of sufficiently high quality. The experiences on this list vary wildly. The tough politically intensive PvP of EVE Online is a far cry from the meticulously crafted single-player storylines of Final Fantasy 14. However, both titles accomplish what they set out to do with competence and flair - a quality shared by every game on our list.
At TRG we've put thousands of hours into MMORPGs, doing our best to understand the systems that underpin these titans of the gaming landscape. We brought that experience to bear when crafting this list. Every entry, no matter the genre, is something we've played and tested ourselves to ensure quality.
Rather ditch the other players and go solo? Our lists of the best single-player games and the best story games have you covered.
Sign up to receive daily breaking news, reviews, opinion, analysis, deals and more from the world of tech.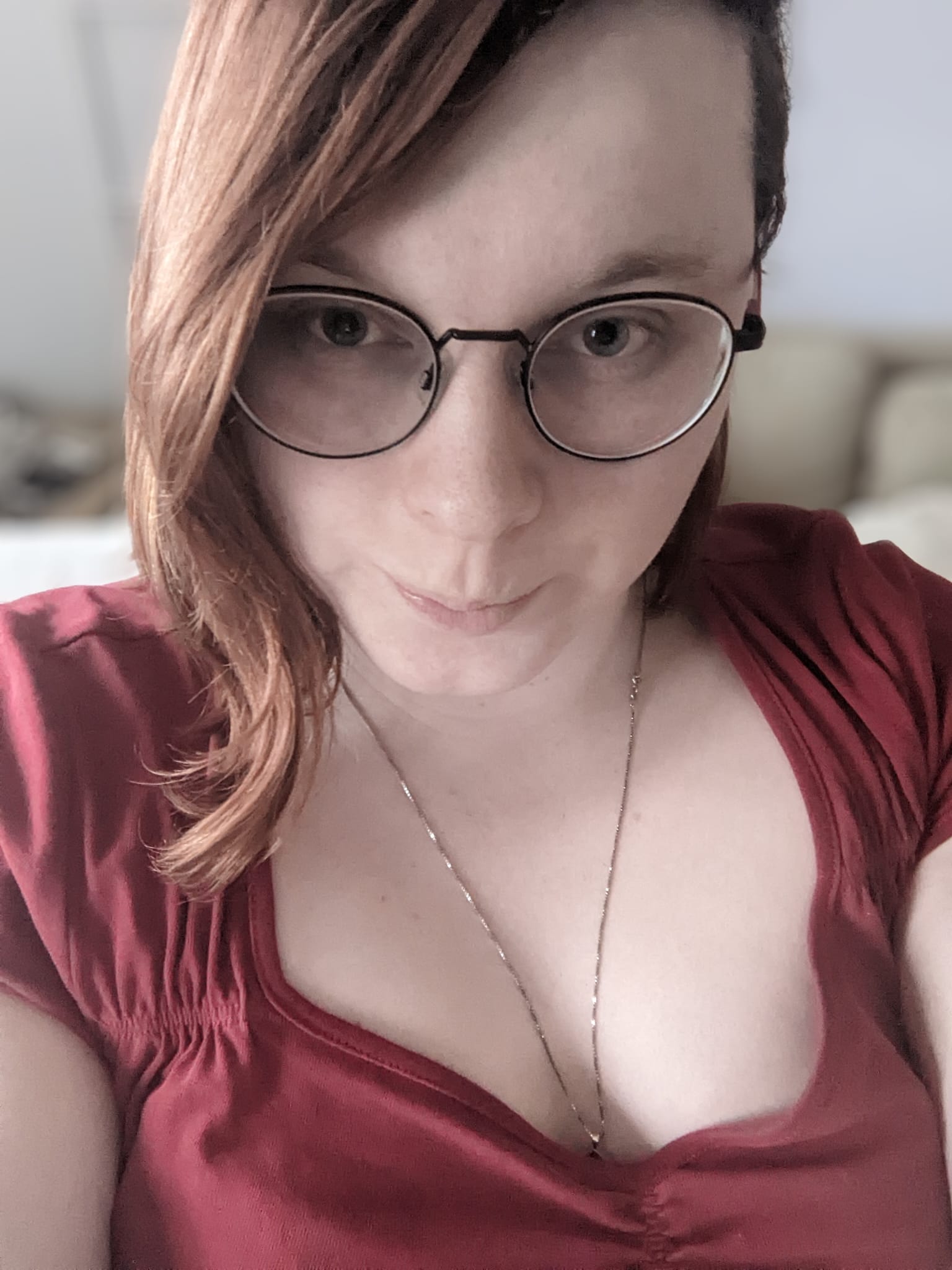 Cat Bussell is a Staff Writer at TechRadar Gaming. Hailing from the crooked spires of London, Cat is an experienced writer and journalist. As seen on Wargamer.com, TheGamer.com, and Superjumpmagazine.com, Cat is here to bring you coverage from all corners of the video game world. An inveterate RPG maven and strategy game enjoyer, Cat is known for her love of rich narratives; both story-driven and emergent.
Before migrating to the green pastures of games journalism, Cat worked as a political advisor and academic. She has three degrees and has studied and worked at Cambridge University, University College London, and Queen Mary University of London. She's also been an art gallery curator, an ice cream maker, and a cocktail mixologist. This crash course in NPC lifestyles uniquely qualifies her to pick apart only the juiciest video games for your reading pleasure.
Cat cut her teeth on MMOs in the heyday of World of Warcraft before giving in to her love of JRPGs and becoming embedded in Final Fantasy XIV. When she's not doing that, you might find her running a tabletop RPG or two, perhaps even voluntarily.