Fujifilm X-Pro3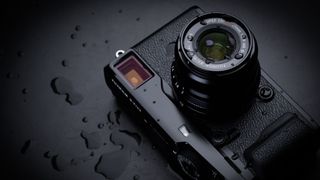 The X-T2 got a new sibling in the X-T3, so where's the X-Pro2's update?
Predicted specs: 26.1MP back-illuminated X-Trans CMOS sensor | X-Processor 4 | Even better AF with eye detection
The X-Pro3 is perhaps the most anticipated camera from Fujifilm right now. The fact that it's been with us for quite some time, and the recent updates to the X-T series in the shape of the X-T100, X-T30 and X-T3, mean that a switch in focus back to the X-Pro line would be as logical as it would be welcome.
While Fujifilm has kept the model fresh through a slew of firmware updates, these can't address the hardware side of things. So we expect the latest 26.1MP X-Trans CMOS 4 sensor and X-Processor Pro engine, together with boosts to the autofocus system and burst rate at the very least.
We'd also love to see Fujifilm drop the ISO dial within the shutter speed dial as it's just too fiddly, and it would be welcome to have a tilting rear display, although Fujifilm does need to keep the line different from the X-T range, whose models offer this.
When will it show up? The strongest rumors right now claim the model will be announced later this year, around October time, and that it's already been registered for wireless communication (which is standard for upcoming models, albeit under a code name).
Fujifilm X-H2
With the arrival of the X-T3 and the medium-format GFX models, the X-H1 is looking a little outdated.
Predicted specs: 26.1MP back-illuminated X-Trans CMOS sensor | X-Processor 4 | Vastly improved AF system with stronger Face and Eye detection
The X-H1 might still hold a handful of charms over its X-series siblings – sensor-based image stabilization, for example, and better support for longer and heavier lenses – but it's really starting to show its age now.
Time for a reboot? We think it's worth Fujifilm giving an X-H2 it a shot, particularly when you consider the wealth of technology that's been gifted to all the Fujifilm cameras that have arrived since the X-H1 was launched.
So, a newer sensor and processing partnership, stronger autofocus with the same improvements to face and eye detection, and maybe even a viewfinder more in line with the 5.76 million-dot beauty we saw inside the GFX 100?
It could be the case that the X-H1 was too niche a camera to attract too much love, and with the X-T line recently updated and the GFX series to populate, there's not enough call for a model between the two. We still think the X-H1 is a great camera – but we'd love to see what Fujifilm could do with a sequel.