Canon EOS R Pro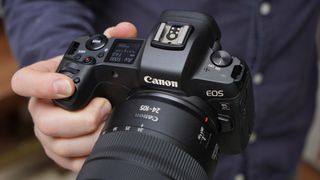 Could we see a pro-spec mirrorless equivalent of the EOS-1D X Mark II?
Predicted specs: Too early to say | RF Lens mount
While Canon's first full-frame mirrorless camera, the EOS R is a very good camera, it's not the flagship camera many had expected. What the EOS R is though is the first camera in an all-new system from the brand. With that in mind, it's not beyond the realms of possibility that we could see a new high-end model soon.
In fact, CanonRumours is reporting that we could see an EOS R Pro development announcement in January 2019, with an official launch at a later date, possibly at Japan's big CP+ photo show in March next year.
We reckon it'll potentially be a natural successor to the pros favorite, the mighty Canon EOS-1D X Mark II (though that's not to say we won't see a Mark III version as well), with a launch next year enough time to establish itself ahead of the 2020 Olympics.

Canon EOS M5 and M6 replacements
It looks like Canon's oldest current mirrorless cameras are going to get an update
Predicted specs: New 24MP APS-C sensors | 4K video recording | DIGIC 8 image processors
While Canon's been focusing its attention on its new EOS R full-frame mirrorless camera, Canon isn't about to drop its EOS M range of mirrorless cameras.
CanonRumors reports that "at least" two further models in the line are set to arrive in 2019.
These two new cameras are likely to be replacements for the EOS M5 (launched back in 2016 and the flagship camera in the range) and the EOS M6.
Both models are designed around Canon's 24.2MP APS-C sensors, but with both only shooting in Full HD video format, we expect both new models to get uprated sensors (though resolution is likely to stay the same) that support 4K video recording (though hopefully without the restrictive cropping that the EOS M50 suffers from).
This could mean we could see in DIGIC 8 image processors and improved Dual Pixel CMOS AF technology with better subject tracking.

Canon EOS 5D X
Could Canon launch a rival to Nikon's D850 and Sony's Alpha A7R III
Predicted specs: Full-frame 50MP sensor | 8fps burst shooting | Improved 4K video capture
When it was launched back in 2016, Canon's EOS 5D Mark IV was our favourite DSLR. A well-rounded camera, it was (and still is) an incredibly versatile photographic tool. However, 2017 saw Nikon release the mighty 45.4MP D850 and Sony launch the 42.2MP Alpha A7R III.
Both cameras are similarly priced, but offer more pixels, while matching or bettering the performance of the EOS 5D Mark IV. Unless you're a die hard Canon user, the 5D Mark IV is hard to recommend over the other two.
Then consider that the 50MP Canon EOS 5DS was launched in 2015 and we reckon Canon might consolidate its two lines into a single, multi-purpose DSLR that offers a high pixel count and high performance to rival the D850 and Alpha A7R III.
We're speculating here, but this new DSLR could potentially be called the EOS 5D X and feature a new and improved 50MP full-frame sensor that was used in the EOS 5DS, now with a much broader and improved ISO range, while burst shooting could hit 8fps.
We reckon video might also get a hike in performance - the 1.64x crop when shooting 4K on the EOS 5D Mark IV is a bit of a turn off to many videographers. To aid shooting both stills and video, maybe we might also see the inclusion of a vari-angle touchscreen display.

Canon EOS 7D Mark III
One of the oldest EOS DSLRs available, could Canon's high-end enthusiast DSLR be about to get an update?
Predicted specs: Updated 20.2MP sensor or new 28MP chip | Dual DIGIC 8 image processors | 11fps+ burst shooting
Announced back in 2014, the EOS 7D Mark II is one of the oldest, if not the oldest DSLR in the EOS line-up and we think 2018 will be the year we see the arrival of the EOS 7D Mark III.
What can we expect to see then? It'll certainly get a new sensor, but whether Canon opts to stick with a 20MP resolution or increase this to 28MP (as CanonWatch.com is reporting), it's still unclear. It'll definitely get a broader ISO performance to rival the Nikon D500, while a better dynamic range at low ISO sensitivities would be welcome too.
The dual DIGIC 4 image processors in the Mark II are likely to be replaced by the latest DIGIC 8 image processor, seeing burst shooting speeds increase beyond 10fps - maybe somewhere between 11-12fps. The new image processor could also help out with AF tracking - something the existing model lags behind on compared to its newer rivals.
The Canon EOS 7D Mark III should also see the inclusion of touchscreen functionality on the rear vari-angle display to real take advantage of Canon's Dual Pixel CMOS AF system for Live View.
What about video? Canon's been reticent to include 4K capture on a string of new cameras with the exception of the EOS 5D Mark IV, but to compete with rivals, the EOS 7D Mark III really needs this feature to compete.