Fujifilm X-H2
With the arrival of the X-T3, the flagship X-H1 is looking a little outdated
Predicted specs: 26.1MP back-illuminated X-Trans CMOS sensor | X-Processor 4 | Vastly improved AF system

It might not be the oldest model in Fujifilm's X-Series range, but we think the X-H1 might be ready for an update.
Why? Well, the arrival of the X-T3 with a new sensor makes, better AF, enhanced 4K video capture and faster processing makes the flagship X-H1 look a little outdated and a hard one to recommend unless in-body image stabilization is a deal breaker.
That's why we don't think it will be too long before we'll see a X-H2 with the new camera taking advantage of the company's forth generation 26.1MP X-Trans CMOS sensor.
This should also see the arrival of Fujifilm's X Processor 4 image processing engine and 4K video recording at up to 60p. Panasonic and Olympus have also put a lot of work into making their respective image stabilisation systems more powerful than before, so we expect Fujifilm will try to compete with more effective sensor-based image stabilisation.


Fujifilm X-Pro3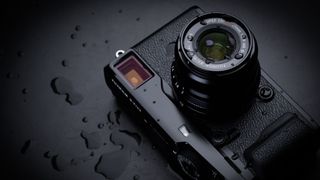 The X-T2 got a new sibling in X-T3, so where's the X-Pro2's update?
Predicted specs: 26.1MP back-illuminated X-Trans CMOS sensor | X-Processor 4 | Even better AF with eye detection
The X-Pro2 has been with us for over three years now, and while we still have a soft spot for its retro charms and excellent images, we'd love to see something fresh to take its place.
Its X-T2 sibling did, after all, get a newer X-T3 update not too long ago, so it does appear to be the next obvious move from the company.
No doubt a Fujifilm X-T3 would inherit the newer 26.1MP back-illuminated sensor that we've seen inside not just the X-T3 but also the X-T30. It should also arrive with the similar blend of high-quality 4K video, faster processing and a revamped autofocus system that would include better subject tracking and better face/eye detection.
Hopefully with three GFX models under its belt, the company will now return its focus to the X series. And if the X-Pro3 is anything like the X-T3 and X-T30, we'll be mighty happy with that.