How times have changed. It wasn't long ago that the idea of a home theater system was a laughable idea – held back by small TV panel sizes, poor display resolution, and sub-par audio quality.
These days however, creating a home theater system worthy of big-screen movies has never been more within reach. 
Why? TVs are getting bigger, for one. The average television sold today will be a 55 inch screen, while 65-inch TVs are the fastest growing part of the market. 4K TVs are also able to pack in 8 million pixels of detail – or even 33 million pixels for the 8K TVs now entering the market (though there isn't really enough 8K content out there to justify that quite yet). 
The growth of 3D audio codecs like Dolby Atmos and wireless speakers also means you can recreate cinematic audio in the comfort of your living room, making watching movies at home more immersive than ever before.
So what kit do you really need to create the best home theater setup on your street? 
Making a decision can be tricky, which is why we've put together this handy list of the best gadgets in every category; though be sure to check out our dedicated guides to the best TVs, soundbars, Dolby Atmos speakers, and 4K Blu-ray players if you want to do a little more research.
Best home theater system 2020: at a glance
The TV: Samsung Q90R QLED
The soundbar: Samsung HW-Q90R
The speakers : Focal Sib Evo Dolby Atmos 5.1.2
The Blu-ray player: Panasonic DP-UB9000
The projector: BenQ HT3550 projector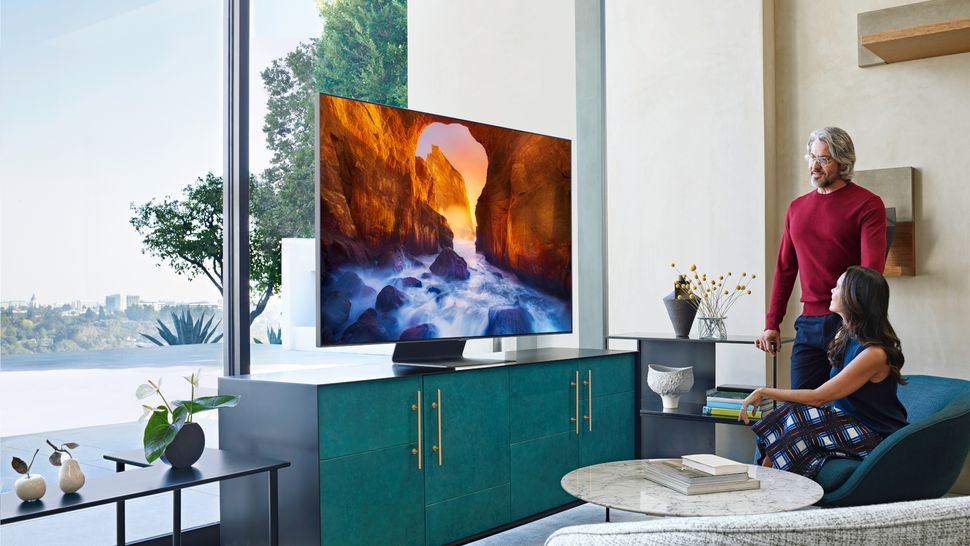 The Samsung Q90R is easily the most impressive QLED TV we have reviewed to date, incorporating comprehensive features and cutting-edge picture innovations. As a result, this TV can deliver a performance that is capable of competing with and often surpassing even the best OLEDs.
Compared to its predecessors, this Samsung TV has a visibly superior viewing angle, and the local dimming delivers deep blacks without losing shadow detail. To that end, the new Ultra Black Elite filter is nothing short of a revelation, rejecting ambient light in a way that's simply staggering.
The Q90R is able to deliver images that can directly compete with an OLED, with natural colors, bright highlights, deep blacks, and well defined shadows. It can also surpass any OLED when it comes to HDR, with images that are often breathtaking in their detail and dynamic range.
In fact our only real criticism would be that, unlike some of the competition, the Q90R doesn't support Dolby Vision. However in all other respects the Samsung Q90R is an absolutely stellar TV that takes QLED to another level, making it a fantastic choice for anyone who wants to create the very best home theater system.
While there's a newer Q95T QLED for 2020, Samsung's expansion of 8K TVs means that the Q90R's 4K successor isn't actually as highly specified – making this still our best pick for you.
Read more: Samsung Q90 QLED TV review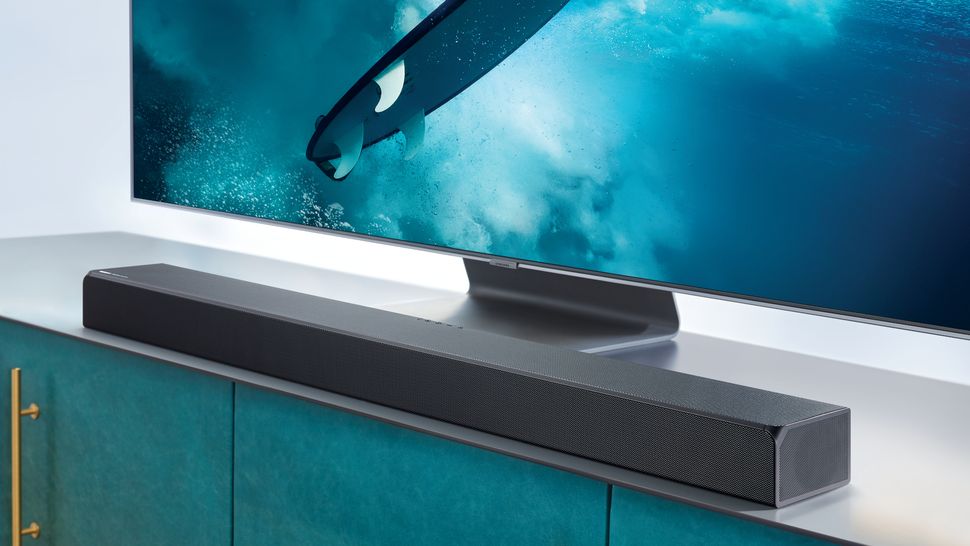 While high-end TVs are increasingly upping their game for built-in speakers, nothing compares to an external hi-fi system to really make an impact.
Don't be fooled into thinking a soundbar isn't good enough for your home theater system – especially when you consider models like the Samsung HW-q90R, which comes with two rear speakers and a wireless subwoofer to create a 7.1.4-channel setup.
The Samsung HW-Q90R is the brand's all-singing, all-dancing flagship soundbar. It not only supports object-based audio in the shape of both Dolby Atmos and DTS:X, it's also the only model from 2019 to achieve this with actual rear speakers and four upward-firing drivers.
Dolby Atmos takes recorded audio from a movie soundtrack or a video game and spits it out in a more immersive way. It gives sound a more three-dimensional effect by bouncing sound off of your ceiling and down to your ears, using upward-firing drivers – imagine the difference between hearing a helicopter flying a few hundred yards away versus directly over your head.
No other soundbar comes close to producing the full Dolby Atmos and DTS:X experience, and thanks to tuning from Harman Kardon the HW-Q90 even sounds good with music. A decent set of features and fully-specified HDMI connections complete a nearly flawless package... as long as you can afford it.
Read more: Samsung HW-Q90R Soundbar review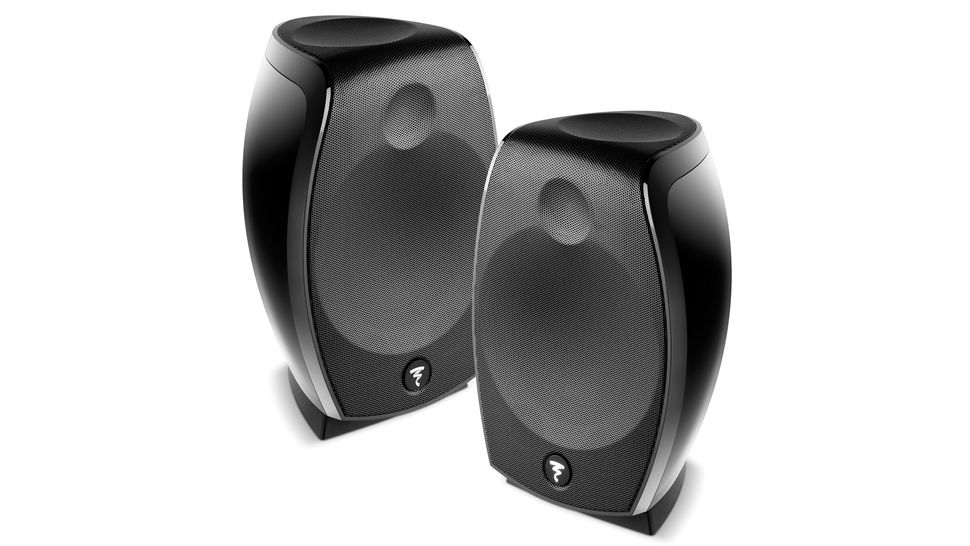 Prefer a true surround sound setup to a soundbar? French specialist Focal has produced a Dolby Atmos sound system that could win over the most reluctant technophobe.  
The Sib Evo 5.1.2 package combines two compact Sib Evo Dolby Atmos speakers to handle left, right and height channels, with a slim Cub Evo subwoofer and three smaller Sib Evo satellites, for centre and rear surround. 
The main Sib Evo speakers cleverly incorporate a 76mm full-range up-firer for Atmos audio in addition to front-firing speaker drivers. Finished in piano gloss black, the whole set looks positively premium.
Despite its compact size, this Focal system has range and attack. All the satellites share the same midrange driver and soft dome tweeter, which aids timbre matching.
The subwoofer integration is spectacularly good, crossing over effortlessly with the front soundstage at 100Hz. The sub may not do subterranean bass, but it's gutsy thanks to a downward firing 209mm woofer and 200W onboard amplification. The system's slam to footprint ratio is impressive.
That said, if you want a good looking Dolby Atmos speaker package to partner a mid-range AV receiver and create a stunning surround sound system for your home theater setup, this Focal speaker package is definitely one to short list.
Read more: the best Dolby Atmos speakers of 2020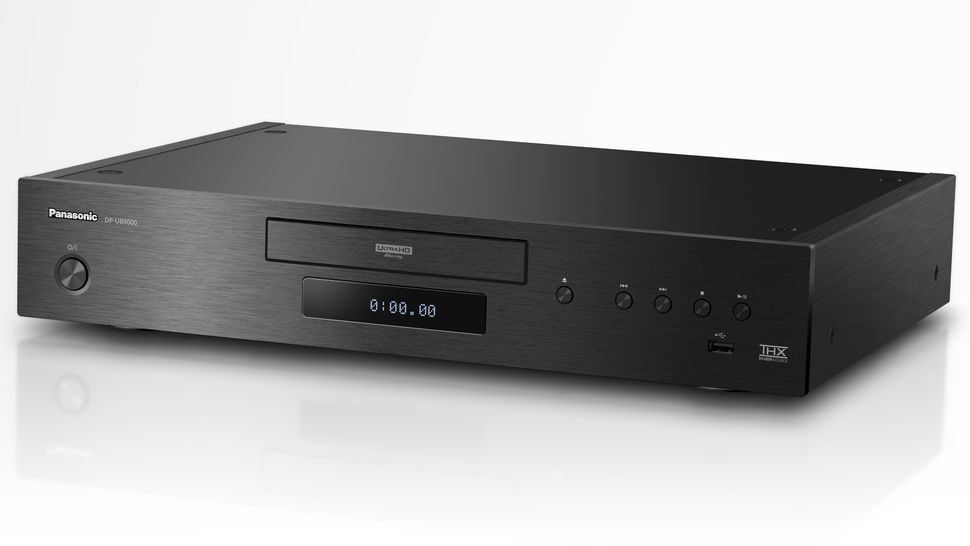 While more and more 4K-quality content is available through smart TV apps like Netflix and Amazon Prime, how many pixels you end up seeing will depend on the strength of your internet connection – and investing in a 4K Ultra HD Blu-ray player can be a sensible way to ensure you get the most of your favorite 4K Blu-ray movies.
The DP-UB9000 is Panasonic's latest flagship 4K Ultra HD Blu-ray player and, after Oppo started winding down its competing devices, the new model finds itself in one of the top spots in the high-end player market. 
Beautifully made and enviably specified, this flagship 4K disc spinner is unashamedly premium. Beyond its good looks, however, the DP-UB9000 is also the first UHD deck from Panasonic to support all the key HDR formats: vanilla HDR10, its dynamic sibling HDR10+, HLG and Dolby Vision. 
You'll need a television that can support those formats, of course: Dolby Vision and HDR10+ are competing formats, with LG TVs backing the former and Samsung sets packing in the latter. If you like all your kit being on-brand, the higher-end of Panasonic TVs now bundle in both, and should sit nicely above your new Blu-ray player.
Read more: Panasonic DP-UB9000 review

Sometimes your television just isn't enough. Home cinema projectors are able to go above and beyond the sizes of standard TV panels, and there's no better place to look than the LG CineBeam range.
For US shoppers, you'll see a link for the LG CineBeam HU85LA, an ultra short-throw projector that will cost the earth but also display it in vivid detail. At 2.2 inches away, the projector will deliver a 90-inch screen size, while at 7.2 inches, you'll get a 120-inch projection. The sound quality maybe isn't as impressive as the projection, with a lack of detail in high frequencies, and not much power on the low end either – so you may still need the soundbar or speakers also listed in this guide.
For UK shoppers, you'll want the LG CineBeam HU80KSW, a full home cinema system and laser projector in a sleek and compact box – boasting 2,500 lumens brightness with a whopping 20,000-hour lifespan. Again, the speakers are a bit underwhelming, but for top-notch projection, you'll be more than satisfied.
Read the full review: LG CineBeam HU85LA (US) / LG CineBeam HU80KSW (UK)