Panasonic's new high-end Blu-ray player sets Oppo in its sights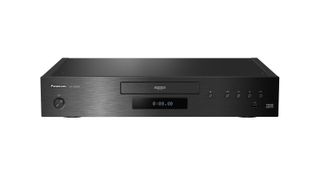 Watch out cinephiles, Panasonic has just announced a new 4K HDR Blu-ray player that stands to rival some of the best decks on the market.
A direct competitor for the Oppo UPD-203 and UPD-205, the Panasonic DP-UB9000 is a Blu-ray player with quite a few tricks up its sleeve.
Not to be confused with the Panasonic DMP-UB900 that came out back in 2016, the brand-new UB9000 has dedicated sources for audio and visual, meaning the two channels should be totally crisp and devoid of noise.
Of course, in order to truly isolate the channels, you need independent outputs, and the UB9000 has an HDMI output for each, meaning you get a totally uncluttered signal.
Surprisingly inclusive design
So what formats can the new player handle? According to Panasonic, the UB9000 will handle both HDR10+ and Dolby Vision. The latter of the two might be a little surprising for followers of Panasonic's range, as it doesn't support Dolby Vision in any of its TVs, favoring the open HDR10+ format.
Apparently the reasoning behind the move is to not exclude users looking for a high end Blu-ray player who may own a TV from a manufacturer like Sony which has supported Dolby Vision.
The audio output is 7.1 for home surround-sound systems, with THX certification in the works, an XLR balanced output and a 'high performance' DAC. In a further effort to improve sound quality, the unit is 7.5 kilos, with a design that is supposed to reduce vibration.
There's no word on price yet, but we're not expecting to see the UB9000 hitting shelves until toward the end of 2018.
Alongside the UB9000, Panasonic also released new cameras, televisions, and a speaker with Chromecast built in.
The HC2020, pictured above, is the first ever speaker from Panasonic to include Chromecast in the speaker, meaning you can access Spotify, Deezer, Google Play Music, and TuneIn Radio using Google Assistant on the speaker.
On top of that it's a traditional CD player, and supports play over Bluetooth. At the moment we've been given a price of €249 (about £220) but we'll let you know when we get a definite price. Release date is TBC.
Between the new speaker and the 4K Blu-ray player, it's looking like 2018 is going to be another exceptional year for audiovisual gear.
Sign up to receive daily breaking news, reviews, opinion, analysis, deals and more from the world of tech.
Andrew London is a writer at Velocity Partners. Prior to Velocity Partners, he was a staff writer at Future plc.