Budget OLED TVs: the best sets you can actually afford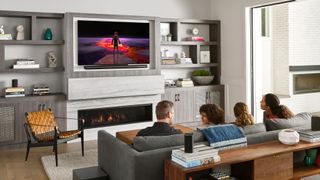 (Image credit: Vizio)
A roundup of the best budget OLED TVs would have seemed inconceivable even a couple of years ago. While OLED tech has long been favored for premium television ranges from the likes of Sony, LG and Panasonic, it's taken a while for it to drip down to more affordable sets, and it's only now that the word 'budget' is beginning to apply.
OLED sets offer the deepest blacks and most true-to-life colors of any TVs out there, and even these budget OLED TVs showcase the technology's immense picture potential.
Now, don't get too excited. You aren't going to be picking up an OLED TV for the bargain prices that you can find some LCD TVs selling for. Most of these sets still tip over the $1,000 / £1,000 / AU$1,400 mark and above, but when you can expect to pay two or three times that for a flagship set, that's a considerable saving indeed.
Our selection includes some of our best-rated picks from LG, Panasonic, Sony and Philips. Most offer their best prices at a very respectable 55-inch screen size, but the first 48-inch OLED from LG also makes the list, for those with a little less space (or budget) to play with.
If you're looking for a bargain, keep reading for our pick of budget OLED TVs you can buy right now.
Got more to spend? Check out the very best OLED TVs on the market instead.
1. Best budget OLED: LG OLED48CX
A simply superb OLED TV – at a 48-inch size
Specifications
HDR:
HDR10, HLG, Dolby Vision
Reasons to buy
+
Outstanding picture quality
+
Gorgeous design
Reasons to avoid
-
No HDR10+ support
-
Missing UK catch-up apps for now
LG's C Series has long been an outstanding demonstration of how to balance features and performance at a reasonable price. But as we've just mentioned, 'reasonable' in OLED terms doesn't always hold the same meaning as it does elsewhere.
However, the latest CX model introduced the first-ever 48-inch OLED size. It's one of the smallest OLED TVs you can currently buy – along with the 48-inch Sony A9S – and comes with a smaller price tag to match, all while offering the same panel as you'll get at the very top of the range. That means for $1,499 / £1,499 (around AU$2,000), you can get one of the best picture performances we've seen this year.
The CX has only seen minor tweaks over the previous C9 model, the key one being the new a9 Gen 3 processor. This offers enhanced picture processing, meaning you'll notice things like improved shadow detail, increased peak brightness in HDR scenes and better colour handling too.
At just a couple of millimetres deep, it looks the part too and gamers will be happy with the low input lag. We're also wholly impressed with its connectivity options, including the four HDMI 2.1 inputs with eARC support.
It does have a couple of snagging points – one being its lack of HDR10+ support and the second being that the usually excellent webOS smart TV platform currently has no UK catch up apps on it. Even so, this is still the best OLED TV you can spend your money on this year.
Keep an eye out for the 2021 LG TVs on the way, though, including an LG C1 OLED successor, an entry-level A1 OLED (almost certain to appear on this list), and a G1 Gallery OLED for those with more cash to splash.
Read our full LG CX OLED review

2. Sony A9S/A9 OLED
Sony's best 2019 TV is smaller and cheaper than ever
Specifications
Dimensions:
1,069 x 624 x 58mm
Reasons to buy
+
Best-in-class upscaling
+
Acoustic Surface+ audio
Reasons to avoid
-
No Freeview Play
-
No HDR10+
You can't fault Sony for getting the most out of one of its most impressive televisions. The 2019 Sony A9G/AG9 has got a new 48-inch size, a year after its initial release, giving it a new lease of life at a lower-than-ever price point.
Called the A9S in the US, or more simply as the A9 in the UK and Ireland, the smaller model packs in everything we loved about its larger iterations.
As a 4K HDR television, you're getting state-of-the-art streaming resolution and an expanded dynamic range for enhanced color and contrast. You'll get Sony's X-Motion Clarity feature for smooth, judder-free movement, as well as Acoustic Surface Audio to literally vibrate audio out of the OLED panel itself. Google Assistant and Alexa are naturally both here, and you'll be using an Android smart TV platform that largely improves on its past iterations.
The A9S/A9 retails for $1,899 / £1,799 (around AU$2,600, though Australian availability is yet to be confirmed). Note that UK viewers won't get Freeview Play, with all its catch-up apps for British broadcasters.
Read more: Sony A9S 48-inch OLED price, specs and features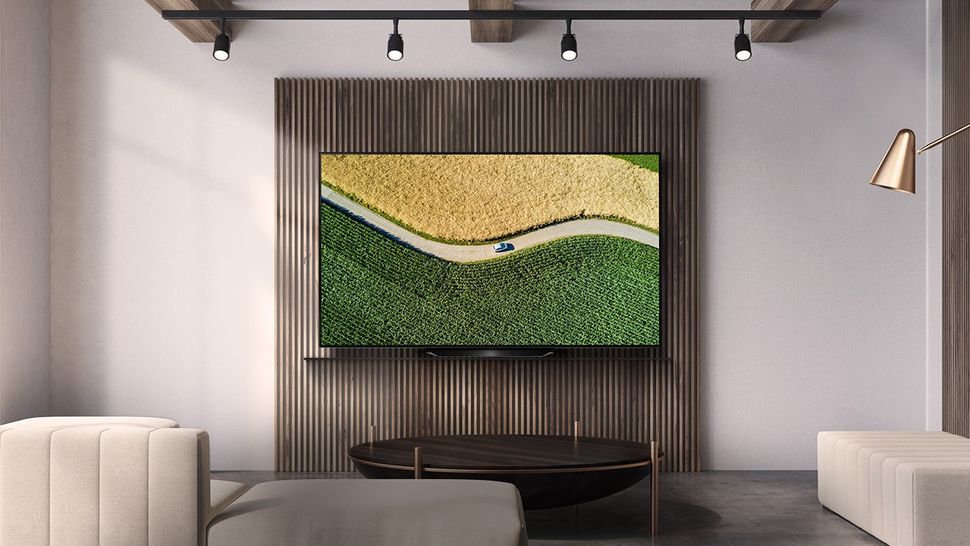 3. Best value: LG OLED55BX
Some compromises, but still fantastic
Specifications
HDR:
HDR10, HLG, Dolby Vision
Reasons to buy
+
Rich colours and sharp detail
+
Great value
Reasons to avoid
-
No HDR10+
-
Not the latest processing
LG's entry-level B Series range is a fantastic way to sample the excellence of OLED at a reasonable price.
LG's 2020 entry-level OLED has just launched – the BX OLED – and is available for around $1,200 / £1,200 for its 55-inch version.
The BX doesn't bring many changes over the previous B9, other than this latest model receiving a slight boost to processing with the new a7 Gen 3 chip – which is itself a step down in capability from the a9 Gen 3 chip used in the LG CX and Gallery Series OLED models.
It offers the same picture advantages as its predecessor, though, including excellent color vibrance, deep blacks and contrast to make its pictures truly pop. However, the same picture defects remain, too – there's some motion stutter around suddenly moving objects, as well as persistent grain and banding in dark scenes. While the true blacks are beautiful, making use of OLED's ability to turn pixels off entirely, less decisive shadows aren't as brilliantly realized.
However, the BX still offers a gorgeous and enjoyable picture for the money, with an excellent webOS smart TV platform and a very tempting price for a budget OLED TV.
Keep an eye out for the LG A1 OLED, which is a new entry-level OLED model for 2021 too.
Read our full LG BX OLED review

4. HDR hero: Vizio OLED H-1 (US)
Vizio's entry-level OLED is surprisingly good value
Specifications
HDR:
HDR10, HLG, Dolby Vision, HDR10+
Reasons to buy
+
Stunning 4K HDR pictures
+
Dolby Vision and HDR10+ support
Reasons to avoid
-
Not as bright as other OLEDs
-
SmartCast has some issues
The Vizio OLED H-1 was a new and bold entry into the OLED TV market last year, packaging a stellar 4K HDR picture and OLED panel for a very acceptable price.
At just $1,299, the Vizio OLED costs around the same as the LG BX, but is prone to receive far bigger discounts, dropping to as low as $899 during the Black Friday sales.
You'll get a strong picture here, though it does fare best for 4K HDR, with grainy upscaling that can't compete with the processing used by LG, or others. The SmartCast interface is a bit sluggish, too – as well as missing a few key apps – though it's not much of an issue once you have a film or TV show playing. The HDMI 2.1 ports also simply didn't work during our review, with a PS5 unable to passthrough and an Xbox Series X limited to 60Hz output – suggesting the technology hasn't been properly implemented.
What you're left with, after you consider all the details, is a good budget OLED that excels at 4K HDR content and stumbles slightly with HD upscaling. It has some issues right now, but we're hoping that those will be fixed in the near future with over-the-air updates.
Read our full Vizio OLED H-1 review

5. Wild card: Panasonic TX-55HZ980 (UK)
Panasonic's most affordable OLED yet
Specifications
Smart TV:
My Home Screen 5.0
HDR:
HDR10, HLG, Dolby Vision, HDR10+
Reasons to buy
+
HCX Pro Intelligent processor
+
Good value
Reasons to avoid
-
Static stand
-
Less capable motion processing
The Panasonic HZ980 was something of a surprise announcement from Panasonic in the middle of this year, considering it already had a three-strong OLED offering in 2020.
It was a welcome one nonetheless, especially for those on a budget, offering the same panel, processor and 30W Dolby Atmos speaker system as the excellent HZ1000 but coming in £300 cheaper.
That means you can pick up the 55-inch model for £1,699, which is the cheapest we've ever seen a Panasonic OLED at launch.
So what are you sacrificing for this saving? Actually, very little. Firstly, the HZ980 offers a static stand instead of the swivel one seen higher up the range, so you can't adjust your viewing angle quite so easily. Secondly, the Motion Drive Pro technology is a step below the one you'll find in the HZ1000, so you can expect some small-but-notable difference in the way motion is handled.
We haven't actually got to test a HZ980 just yet, but given the five-star performance of its close sibling, the HZ1000, we don't expect a huge disparity in performance. Of course, a small hit to picture processing is expected at this price too. But it still seems like less of a compromise than the LG B Series – which uses a cheaper, lower-spec processor compared to the LG CX – so we wouldn't rule this one out.
Read more: Should I buy the Panasonic HZ980 OLED TV?
Sign up for Black Friday email alerts!
Get the hottest deals available in your inbox plus news, reviews, opinion, analysis and more from the TechRadar team.
Henry is a freelance technology journalist, and former News & Features Editor for TechRadar, where he specialized in home entertainment gadgets such as TVs, projectors, soundbars, and smart speakers. Other bylines include Edge, T3, iMore, GamesRadar, NBC News, Healthline, and The Times.