Best gaming keyboard in the UAE for 2022 – the best gaming keyboards we've tested
The best gaming keyboards will make your desk stand out
VERDICT
REASONS TO BUY
REASONS TO AVOID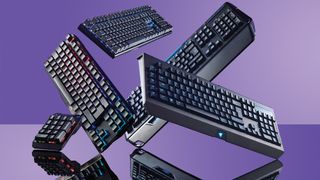 (Image credit: Future)
Any serious gamer should consider investing in the best gaming keyboard out there, as the benefits are innumerable. A good quality gaming keyboard has a much faster response time than the standard keyboard, lasts longer due to having a better build quality, lacks the delay between a key press and the action being carried out that normal keyboards have, and the keys won't stick even after hundreds of hours of gaming.
Those who have already invested in the best gaming laptops or the best gaming PC, especially competitive players, often also invest in a high-quality gaming keyboard as it can mean the difference between winning and losing a game. And for those who prefer to stream games, having the ability to program macro keys make that endeavor much easier.
Gaming keyboards also come in a wide range of designs and sizes to best suit your needs, including small ones that are meant to be just as portable as some of the best thin and light gaming laptops. They can also be paired with the best mouse, as having both can seriously improve your gaming experience.
To make the search for the best gaming keyboard even easier, we gathered a list of them that range in price, size, and features.
Best gaming keyboard 2022: Top picks
Why you can trust TechRadar We spend hours testing every product or service we review, so you can be sure you're buying the best. Find out more about how we test.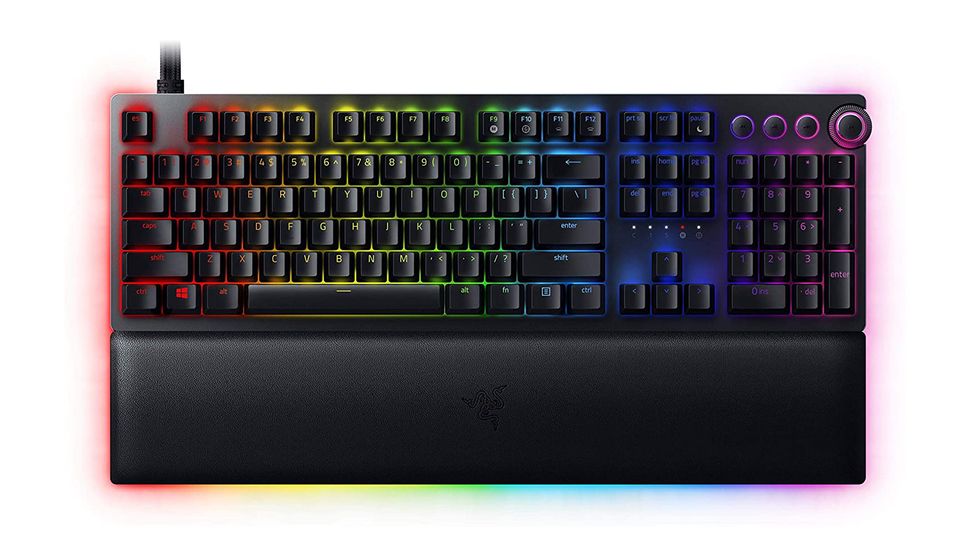 The best gaming keyboard right now
Specifications
Keyboard backlighting:
Yes
Switches:
Analog mechanical
Reasons to buy
+
Fully customizable key actuation
+
Delightfully tactile key clicks
Reasons to avoid
-
Eye-wateringly expensive
Combining the latest optical technology and Razer's analog mechanical key switches, the Razer Huntsman v2 Analog is good enough to get a five-star rating from us. That's under-selling it. This gaming keyboard delivers the best typing and gaming experience of any keyboard we've tested in the last few months, with extremely satisfying tactile feedback and a wrist rest that's designed to let you game for longer. As far as keyboards go, it is sitting on the expensive side of things, but it's definitely worth it.
Read the full review: Razer Huntsman v2 Analog
First in its class compact gaming keyboard
Specifications
Keyboard backlighting:
Yes
Reasons to buy
+
Fast and accurate performance
+
Satisfying yet quiet operation
Reasons to avoid
-
Plethora of shortcuts have a steep learning curve
Who needs a full-sized keyboard when TKL gaming keyboards such as the Roccat Vulkan TKL Pro exist? This compact gaming keyboard is among the best in performance, comfort, and looks, touting a classy brushed gunmetal finish and floating keys that brilliantly showcase its customizable RGB lighting. Roccat's Titan optical switches are not only fast and accurate, but satisfying, quiet and robust as well. It'll set you back quite a bit, but it's so worth it.
Read the full review: Roccat Vulkan TKL Pro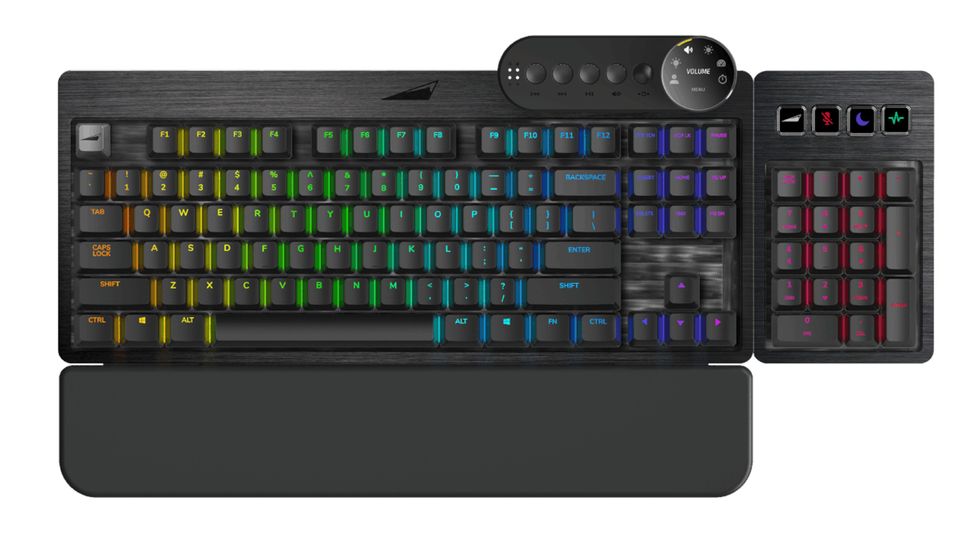 Jack-of-all-trades
Specifications
Keyboard backlighting:
Yes
Reasons to buy
+
Innovative modular design
+
Creative media deck and macro pad
The Everest Max is the result of a successfully backed Kickstarter campaign, a fully customizable modular keyboard where it feels like every aspect of the design has been planned by the PC enthusiast community. Its modular design includes a media deck with an innovative display dial with boundless potential to monitor or change your PC performance, a left or right-handed Numpad with four programmable macro keys similar to those seen on the Elgato Streamdeck, and a plush wrist rest. Mountain even includes a set of hot-swappable key switches with the keyboard to help you get a feel for future modifications should you so choose.
Read the full review: Mountain Everest Max
Buy it at Virgin Megastore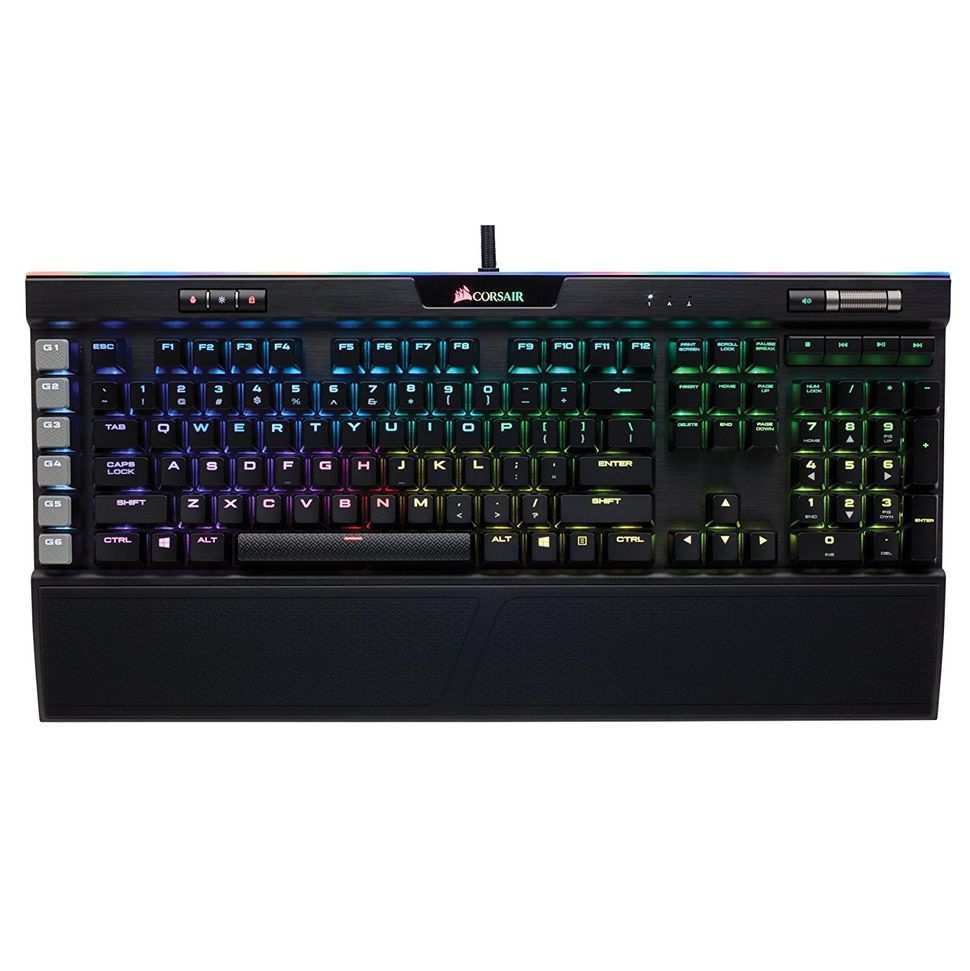 The Rolls Royce of RGB gaming keyboards
Specifications
Keyboard backlighting:
Yes
Reasons to buy
+
Hypnotic disco lighting
+
Handy media and shortcut keys
Reasons to avoid
-
Rubber palm rest gets grungy quickly
A $159 price tag on a gaming keyboard might a tad too steep, but the Corsair K95 RGB Platinum, one of the best gaming keyboards we've tested in the last year, really does give you a lot of ounce for your bounce. We're not talking the more trivial bells and whistles like fancy RGB lighting either – although since we are on the subject, this one's got a whole lot of them, not to mention its integrated 19-zone light bar and the 16.8 million color options, to boot. By bang, we actually mean its 6 dedicated macro keys, 8MB on-board storage and aircraft-grade anodized brushed aluminum frame.
Read the full review: Corsair K95 RGB Platinum
The Razer Huntsman, but smaller and faster
Specifications
Keyboard backlighting:
Yes
Reasons to buy
+
Fast optical switches
+
Removable cable
Reasons to avoid
-
Not a lot of extra features
Even if you're getting one of the best gaming keyboards, it can be hard to swallow a high price tag on a gaming keyboard, and it gets even harder when it's as small as the Razer Huntsman V2 TKL. But, what you're missing in extra features that a full-sized keyboard might offer, you gain in reliability and speed.
The Razer Huntsman V2 TKL takes the second-generation Razer Optical switches that makes all of its keyboards so good, and puts it into an easy-to-carry package. It's still wired, sure, but when you're counting lag in the milliseconds to win a Counter-Strike match, you want that anyway.
This keyboard is a dream, and would fit nicely on the desk of any PC gamer.
Read our full review: Razer Huntsman V2 TKL
The best wireless TKL gaming keyboard
Specifications
Keyboard backlighting:
Yes
Reasons to buy
+
Amazing tactile feedback and typing experience
+
Wireless multi-device connectivity is impressive
Reasons to avoid
-
No full remapping/macro capabilities
The G915 TKL lives up to its name, delivering the speed you need for epic gaming while keeping things cable-free. With a 1,000Hz polling rate and 1.5 mm actuation distance, it can keep up with its wired setup. It also has a long wireless range and decent battery life considering its stunning RGB lighting. Best of all, it's a gorgeous keyboard with its low-profile floating keys and brushed aluminum deck. Small desk and travel friendly, this is without a doubt among the best gaming keyboards out there.
Read the full review: Logitech G915 TKL Lightspeed
Hard to ignore performance in a compact design
Specifications
Keyboard backlighting:
Yes
Reasons to buy
+
Hyper responsive keystrokes with up to 8,000Hz polling rate
+
Individually lit customizable RGB keys
Reasons to avoid
-
No way to change elevation
60% keyboards are more than a passing fad. Gamers with smaller desks or just want a more compact setup in general will find these ultra-compact gaming keyboards a boon, and the Corsair K65 Mini is among the best of those. With incredibly satisfying presses, an impressive polling rate of 8,000Hz, and highly customizable keys, there's a lot to love here. And, they make this keyboard well worth the admittedly steep learning curve if you're used to full-sized keyboards. It may take a while to get used to not having arrow keys, for example, but you won't regret it.
Read the full review: Corsair K65 Mini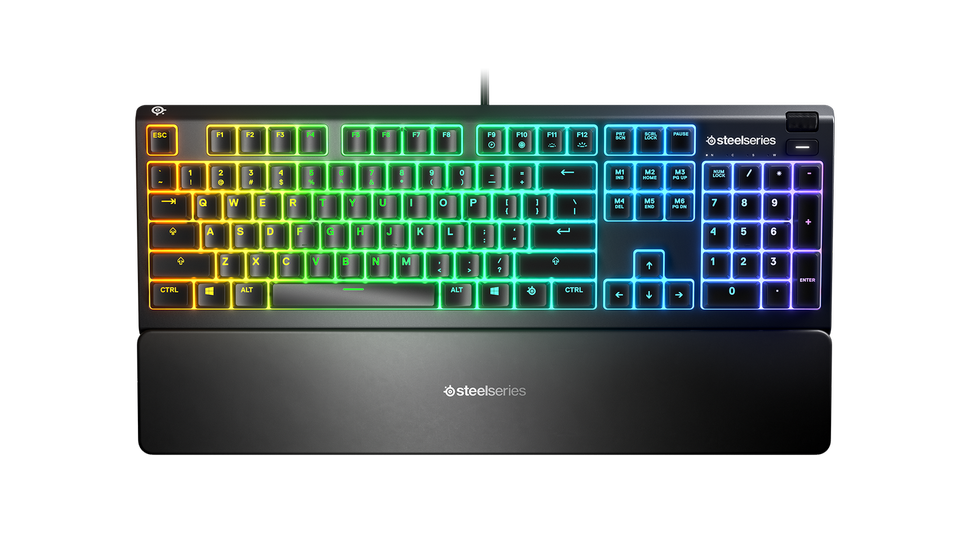 The Apex of value
Specifications
Keyboard backlighting:
Yes
Reasons to buy
+
Affordable but has impressive features
+
Great RGB lighting
Not all great gaming keyboards have mechanical switches, as this affordable Apex keyboard is proving. The budget-minded SteelSeries Apex 3 may come with a few concessions, but it also boasts some impressive features that more than make up for those compromises. One of those features is its IP32 water resistance for protection against any spills – because who hasn't accidentally knocked over a can of soda while gaming? Another is its reactive and customizable 10-zone RGB illumination to make your gaming experience all the more impressive. And, if you absolutely hate those clickety clacking noises that mechanical keyboards love to make, you'll really appreciate this keyboard's whisper quiet gaming switches.
Read the full review: SteelSeries Apex 3
Compact gaming keyboard at an affordable price
Specifications
Keyboard backlighting:
Yes
Reasons to buy
+
Affordable yet premium build
+
HyperX Red switches are speedy and responsive
Gone are the days when mini keyboards were a novelty. These days, there's not only a lot of options out there, but a lot more people are also making the switch. Still, it's easy to find the best one for you. HyperX's contender, for example, the Alloy Origins 60, is the best option if you're looking for a mini keyboard that's affordable yet extremely reliable. Some corners are cut, yes. At the same time, you're getting a premium build and excellent performance so it's still worth every penny.
Read the full review: HyperX Alloy Origins 60