Asus ROG Azoth: Two-minute review
The Asus ROG Azoth is an excellent wireless keyboard that could make you reconsider some of your biases surrounding keyboards. It certainly did that for me, as before I used the Asus ROG Azoth, I dismissed compact gaming keyboards for feeling too cramped and not offering enough of additional features I've come to love about the full-size keyboards I usually use to type and play games on.
Yet, the Asus ROG Azoth has a chance at topping not only our best mini keyboards list, but our best gaming keyboards one as well. As a 75% keyboard, it keeps its size down by jettisoning certain keys. Like a Tenkeyless, to TKL, keyboard, you don't get the numpad, and the keys that remain are cleverly moved to minimise space. So, you get a more compact keyboard than a TKL, but you don't sacrifice quite as many keys as a 60% keyboard.
With the Asus ROG Azoth, you still get the full range of F keys at the top, as well as the Insert, Delete, Page Up and Page Down keys, which are moved so they run down the right-hand side. By pressing the function key, you can then use those same keys for Pause, Scroll Lock, Home and End functions – a smart way of ensuring functionality isn't lost with the removal of certain keys.
Most importantly of all (for me at least), the four arrow keys are maintained. I use these a lot not just in games, but when typing, as it's a quick way to jump around a document. The lack of these dedicated arrow keys on 60% keyboards (and smaller) has meant I've never wanted to use them for my day-to-day tasks. With the Asus ROG Azoth, I could see how well it could fit into my life.
The overall design and build quality of the Asus ROG Azoth is exceptional. It's a weighty keyboard, but it feels incredibly robust due to its aluminium frame – an important consideration if you're planning on taking the Asus ROG Azoth out and about with you.
The keycaps are PBT doubleshot and feel great to type on. Again, they feel robust, and a light texture keeps your fingers from slipping. The keys are backlit by per-key RGB lighting that can be configured in the Armoury Crate software and offer a wide range of customisation. It's worth noting, however, that when the lighting is off, the letters and symbols on the keycaps can be difficult to see, especially in low-light conditions. This caught me out a few times when I chose a lighting pattern that dimmed the keys occasionally – I looked down and couldn't accurately see the key I was aiming to press.
The good news is that the Asus ROG Azoth is very customizable, so you can set the RGB lighting to best suit your needs.
The customization doesn't end there, as you can easily remove the keycaps and replace them. You can swap out the switches as well. The Asus ROG Azoth is a compact keyboard that's clearly aimed at keyboard enthusiasts that like to fine-tune their keyboard, as well as beginners looking to get into keyboard customization. It even comes with a switch opener, keycap puller, switch puller, lube station and a brush. The keys come pre-lubed, but there's also a bottle of Krytox GPL-205-GD0 lubricant included that lets you add more depending on your preference.
It's really nice to see a compact keyboard that positively encourages its users to take it apart and tinker.
By default, the Asus ROG Azoth comes with custom ROG NX switches, and these make the keyboard feel satisfying to type on, with a responsive and pleasant feel when pushed. They're not too loud, so you won't annoy people while you hammer away on it, but nor do the switches feel too soft. They are a great starting point for people getting into mechanical keyboards, and the great thing is, if you're not keen on them, it's incredibly easy to swap the switches out for your preference. The included tools make this a cinch, and the solid build quality means you can happily rip out the keys and switches without worrying about breaking anything.
I stuck with the ROG NX switches for this review and used the Asus ROG Azoth extensively. Typing up emails and documents felt fantastic, even if I do prefer a full-size keyboard for writing longer screeds.
But the Asus ROG Azoth, like other Republic of Gamers-branded products, is aimed at gaming – so of course, I fired up some games as well. I mainly stuck to first person shooters, namely Cyberpunk 2077 and Atomic Heart, and it performed brilliantly. It was extremely fast and responsive, and its wireless design made it perfect for using with the PC connected to my TV in the lounge.
Unlike many other wireless keyboards I've used, there was no noticeable lag between me pressing a key and the action being replicated in the game, and there were no times that the connection dropped. Asus claims that if you turn off the RGB and OLED screen (more on that in a moment), you get near zero latency. I kept those on and still found it to perform excellently.
For any gamers who are wary of relying on a wireless connection, you also have the option of connecting the keyboard via USB (which is also how you charge the device), or via Bluetooth, and you can switch between the three connection methods via a slider. For the wireless connection, you get a USB dongle – after plugging it in, Windows 11 found it instantly, and I was able to get playing.
The other noticeable additions to the Asus ROG Azoth that make it stand out amongst smaller keyboards are the inclusion of a small black and white OLED display and a three way control knob. By default, you can use the knob to raise or lower volume, but by pressing the button on its face, you can switch between modes. Meanwhile, the OLED display shows the battery life and connection, as well as an animation.
By downloading the Armory Crate software, you can configure the OLED display to show various animations, including your own if you upload gifs, and the OLED display can also show the settings menu, media visualizations and system monitoring. The settings display is useful as it means you can configure the Asus ROG Azoth via the control knob, so you can tweak the RGB lighting, for example, without having to use the software.
I found the system monitoring screen to be the most useful use of the OLED display. In Armory Crate, I configured it to measure the CPU frequency and GPU temperature of my PC, so I could keep an eye on things while I played. Frustratingly, I couldn't set it to monitor CPU temperature, but hopefully that feature comes in an update down the line.
The software itself is fine. It does the job, and you can adjust the RGB settings and make your own custom effects, as well as sync it to other Asus Aura-enabled devices. But it takes a while to install, and it hasn't got the most intuitive user interface. Still, I prefer it to Razer's Synapse app, which can be a bit too demanding with updates and notifications.
There's no doubt that the Asus ROG Azoth is one of the best mechanical keyboards you can buy, but it does come at a price – and that may be the main stumbling block for some people. At $249.99 / £269.99 / AU$399, this is a big investment for a keyboard. There's a lot to love about this keyboard, but there's no denying it's expensive.
Asus ROG Azoth: Price & availability
How much does it cost? $249.99 / £269.99 / AU$399
When is it available? Available now
Where can you get it? Available in the US, UK, and Australia
The Asus ROG Azoth is a pricey keyboard, launching at $249.99 / £269.99 / AU$399, which makes it one of the most expensive keyboards you can buy right now. For anyone balking at the idea of spending that kind of cash on a keyboard, then the Asus ROG Azoth is certainly not for you.
However, thanks to its solid build quality and easily replaceable and upgradable switches, the Asus ROG Azoth is a far more future-proof keyboard than many others. If you do invest in this keyboard, it's unlikely you'll need to buy a new keyboard for a long, long time. Perhaps forever.
That still doesn't quite take the sting out of the high price however. Two of its closest rivals, the Corsair K70 Pro Mini Wireless and the SteelSeries Apex Pro Mini Wireless, are quite a bit cheaper, and while they don't have the upgradability or extra features like the OLED screen, it does make the higher price of the Asus ROG Azoth a bit harder to justify, especially if you're a gamer that's on a budget – and would rather spend money on games instead.
The Asus ROG Azoth is a luxury purchase in many respects, then, and while it won't be for everyone, anyone who wants to invest in it will likely be very pleased with the overall build quality and performance.
Asus ROG Azoth: Specs
Swipe to scroll horizontally
| | |
| --- | --- |
| Layout: | 75% |
| Switch: | Asus ROG NX |
| Programmable keys: | Yes |
| Dimensions: | 326 x 136 x 40 mm |
| RGB or backlighting: | Yes, programmable |
Should you buy the Asus ROG Azoth?
Swipe to scroll horizontally
| | | |
| --- | --- | --- |
| Value | The Asus ROG Azoth is one of the most expensive keyboard out there. | 3 / 5 |
| Design | Exceptional build quality, a great OLED screen and easily customizable keycaps and switches all impress | 5 / 5 |
| Performance | Excellent performance even when used wirelessly | 5 / 5 |
| Average rating | Row 3 - Cell 1 | 4.5 / 5 |
Buy it if...
You want to get into keyboard customization
The Asus ROG Azoth is a great keyboard to dip your toes into customization.
You want a compact gaming keyboard
It may be compact, but it doesn't sacrifice functionality, with arrow keys and an OLED screen added in.
Don't buy it if...
You want a budget keyboard
The Asus ROG Azoth is a very pricey keyboard. It's worth the money, but if you don't want to spend too much, look elsewhere.
You need loads of extra keys
As a 75% size keyboard, you don't get all the keys that a full-size keyboard comes with.
Asus ROG Azoth: Also consider
Swipe to scroll horizontally
| | Asus ROG Azoth | KiiBOOM Phantom 81 | Lofree 1% Transparent |
| --- | --- | --- | --- |
| Price: | $249.99 / £269.99 / AU$399 | $159 / £128 / AU$233 | $219 / £181 (about AU$320) |
| Layout: | 75% | 75% | 65% |
| Switch: | Asus ROG NX | KiiBOOM pre-lubed Crystal mechanical | Pre-lubed Kailh Jellyfish mechanical |
| Programmable keys: | Yes | Custom key programming, macro function mapping | No |
| Dimensions: | 326 x 136 x 40 mm | 330 x 150 x 35 mm | 306 x 144 x 30.6 mm |
| RGB or backlighting: | Yes, programmable | Yes | 7 white LED backlit effects |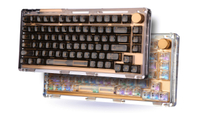 (opens in new tab)
KiiBOOM Phantom 81
The KiiBOOM Phantom 81 is another impressive linear mechanical keyboard with a transparent design. It's a lot heavier and a little bigger than the Lofree 1% Transparent, but it's also a little cheaper.
Read our full KiiBOOM Phantom 81 review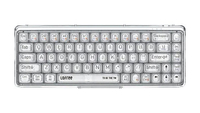 (opens in new tab)
Lofree 1% Transparent
The Lofree 1% Transparent delivers great performance, a comfortable, satisfying experience, and that glorious thocky sound of an impressive pre-lubed linear switch.
Read our full Lofree 1% Transparent review
How I tested the [Product name]
I used it for gaming for a month
Played a range of modern games
Also used it to type
To fully test out the Asus ROG Azoth, I used it on my main gaming PC for a month, playing a range of games almost daily on it. I also used it to type up emails and enter website addresses.
The gaming PC I tested it with is in my lounge, which allowed me to test out the wireless capabilities, as I was sat around six feet away from my PC.
I also used the included tools to lift up several keycaps, remove the switches and add additional lube, before replacing them.
We pride ourselves on our independence and our rigorous review-testing process, offering up long-term attention to the products we review and making sure our reviews are updated and maintained - regardless of when a device was released, if you can still buy it, it's on our radar.
First reviewed March 2023