Attractive keyboards are no longer just novelties, and the Lofree 1% Transparent is proof. This stunner of a keeb, which Lofree has painstakingly designed, delivers great performance, a comfortable, satisfying experience, and that glorious thocky sound of an impressive pre-lubed linear switch.
Pros
+

Sleek and stunning design

+

Sturdy, premium build

+

Excellent typing performance

+

Comfortable and satisfying to use

+

Good battery life
Cons
-

Expensive for some people

-

Not hot-swappable
Why you can trust TechRadar We spend hours testing every product or service we review, so you can be sure you're buying the best. Find out more about how we test.
Lofree 1% Transparent: One-minute review
We'll never love another keyboard again. No, wait! We take that back. There are many amazing keyboards out there, and this reviewer, for one, will probably continue collecting them the rest of her life. But, if you're more of a one-keyboard kind of person, the Lofree 1% Transparent might be just the one for you.
This aptly-named mechanical keyboard from Lofree is a love-at-first-sight kind of keeb. It's an absolute stunner, with a sleek and sophisticated transparent design, and it only gets better when you start using it, thanks to its pre-lubed Kailh Jellyfish switches, dual connectivity, and decent battery life.
It's on the expensive side – much more so than most of the other enthusiast keyboards we've tested or owned – but it's worth every penny. The Lofree 1% Transparent is a gorgeous mechanical keyboard that delivers an elevated experience, so much so that we actually look forward to starting our day because we get to type on it. No, really.
Lofree 1% Transparent: Price and availability
How much does it cost? $219 / £181 (about AU$320)
When is it available? Available now
Where can you get it? Available in the US, the UK, and Australia
Lofree 1% Transparent: SPECS
Layout: 65%
Switch: Pre-lubed Kailh Jellyfish switches
Programmable keys: No
Interface: Bluetooth 5.1, USB-C
Dimensions: 306 x 144 x 30.6 mm
RGB or backlighting: 7 white LED backlit effects
There aren't a lot of keyboards around the Lofree 1% Transparent's price point, and at $219 / £181 (about AU$320) we'd definitely put it in the high-end category. Yes, it's an expensive one. However, we think it's worth the price, considering its solid build, its thoughtful and gorgeous design, and the amazing typing performance it delivers.
If that's too rich for your blood, there are many other excellent keyboards that can give you that satisfying linear-switch experience for less. The KiiBOOM Phantom 81, for example, is a great alternative, and has the same transparent look if you're a fan of that aesthetic.
Still, we recommend giving the Lofree 1% Transparent serious consideration, even if it's more expensive than most keyboards on the shelves.
Lofree 1% Transparent: Design
Compact, minimalist design
Transparent keycaps, switches and case
Seven white LED backlight effects
Lofree clearly put a lot of thought into designing the Lofree 1% Transparent mechanical keyboard, even tweaking its keycaps so that they look sophisticated and stylish, and utilizing durable, factory-lubed switches so that you're getting a refined experience all around.
Before we dig deep into its design, let's look at the basics. This keyboard is a fairly compact one with its 68-key layout, 306 x 144 x 30.6mm dimensions, and a relatively light weight. It's not exactly the most travel-friendly, but it is portable enough to stuff in your backpack if you insist on taking it with you to work – and we think most users would want to.
It's also very well-made with premium materials, so it should survive transport, although we'd recommend purchasing a travel pouch to protect it from scratches; sadly, it doesn't come with one, unlike Lofree's Wanderfree mechanical keyboard, which comes with its own suitcase. (We'll bring you a review of that keyboard soon).
Lofree says the 1% Transparent is completely see-through, but that's not exactly accurate. Only the keycaps, top case, and switches are clear, while the plate is solid white. And, although we haven't opened the keyboard, we're assuming that the switch pad, PCB board, and foam aren't transparent either. Neither are its bottom case and inner case, which are shiny silver-chrome.
We wish the clear top and chrome bottom cases didn't track fingerprints, but they do. And, if you're anything like us, this might force you to constantly wipe the keyboard, especially if you're constantly carrying it around. It's not a deal-breaker, however, and happily the keycaps are coated to keep fingerprints at bay.
Those keycaps might just be the Lofree 1% Transparent's main attraction. The characters, which are nice and big, were pad-printed, which according to Lofree should ensure they don't fade with use.
What's more, they're hollow. Most keycaps have their mount shaft running through the middle, but Lofree found that to be an eyesore on its clear keycaps. So it lowered the mount shaft and came up with a press-and-fit lid that attaches the mount shaft to the keycaps.
This not only results in a cleaner, more elevated look, it presents an opportunity for customization. Take the lid off, fill that space up with tiny sequins or beads, and glitter, and you can spruce it up to match your mood or aesthetic. Just keep in mind that removing that lid of each keycap isn't easy, so it takes a little bit of patience.
The keycaps are smooth, but each has a dip to help keep your fingers in place. Plus – and this may be due to their coating – unlike other smooth keycaps, you'll feel your fingers somewhat sticking to the keycaps, although not in an unpleasant way as if they were greasy.
Because of the keyboard's minimalist nature, you're not getting colorful RGB lighting here. Instead, you're getting white LED backlighting, which we honestly think works better with the keyboard; it does add a bit of fun, with seven lighting effects that you can cycle through. You can also increase or decrease the brightness, or turn the backlighting off completely.
As it offers both wired and wireless connectivity, as well as multi-platform compatibility, the Lofree 1% Transparent has two switches on its underside – one to switch it on and off, as well as to activate Bluetooth mode, and another to switch platforms (Windows/Android or Mac/iOS) for a more seamless workflow depending on the system you're on.
Lofree 1% Transparent: Performance
Both wired and wireless connection
Pre-lubed Kailh Jellyfish switches feel and sound amazing
Decent battery life
The Lofree 1% Transparent is a versatile keyboard, offering both wired and wireless connectivity. It comes with a USB Type-A to USB-C cable, which feels robust, if you'd rather not worry about battery life, and Bluetooth 5.1, which is reliable and lag-free, if you have limited USB ports.
Typing for long hours, as we know all too well, can be fatiguing. However, doing so on this mechanical keyboard is effortless, so much so we actually look forward to writing on it.
That's thanks to its clear, factory-lubed Kailh Jellyfish linear switches, which have a total travel of 4mm and an actuation force of 40gf. These switches not only feel super-smooth, they're also satisfying and effortless to type on, making them a genuine aid to productivity.
Better yet, because the switches are pre-lubed, this mechanical keyboard is actually quieter than others, delivering that nice thocky sound that most keyboard enthusiasts want. That also means it's office-friendly; the keys obviously aren't silent, but you won't be driving your neighbors nuts with annoying clacking.
The battery life is decent. It's a 2,000mAh power pack, and it gets you about 60 hours of typing time if you set its backlight to low brightness, so it should last you about a week before you need to charge it. We've had the backlight turned all the way up during testing, mostly because it looks so good, and we averaged about three working days before reaching for the charger.
Should I buy the Lofree 1% Transparent?
Buy it if...
You want a mechanical keyboard
The Lofree 1% Transparent is one of the best mechanical keyboards we've ever tested. Plus, it's compact and relatively light, which makes it travel-friendly.
You're tired of the traditional keyboard look
Tired of that traditional keyboard look in black or light gray? This keyboard's elevated and thoughtful transparent design is absolutely stunning.
You can't resist that thock sound
Thanks to its pre-lubed Kailh Jellyfish switches, the Lofree 1% Transparent offers a smooth and quiet typing experience that keyboard enthusiasts will love.
Don't buy it if...
You're on a budget
The Lofree 1% Transparent is worth every penny, but it is still a little more expensive than more keyboards on the market. If you're on a budget, you might prefer a cheaper alternative.
You need a hot-swappable keyboard
Especially if you're a keyboard enthusiast, you might be disappointed that this isn't a hot-swappable keyboard, which means you can't switch out those switches.
Also consider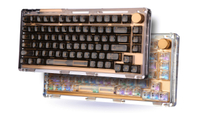 KiiBOOM Phantom 81
The KiiBOOM Phantom 81 is another impressive linear mechanical keyboard with a transparent design. It's a lot heavier and a little bigger than the Lofree 1% Transparent, but it's also a little cheaper.
Read our full KiiBOOM Phantom 81 review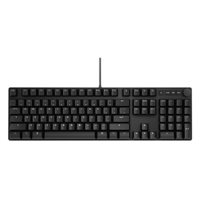 Das Keyboard MacTigr
It's rare to find third-party keyboards for Macs, but if you're going to go that route, you might as well go all-in on a Das Keyboard, and the MacTigr is one of the most premium keyboards on the market.
Read our full Das Keyboard MacTigr review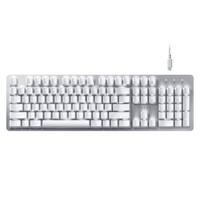 Razer Pro Type
The Razer Pro Type is a solid wireless keyboard that provides an ice-white aesthetic and satisfying typing experience for both business and home office users.
Check out our Razer Pro Type review
Lofree 1% Transparent: Report card
Swipe to scroll horizontally
| | | |
| --- | --- | --- |
| Value | The Lofree 1% Transparent may be expensive, but it's a stunning, premium-built mechanical keyboard that delivers in performance, making it worth every penny. | 4.7 / 5 |
| Design | Its transparent design isn't just gorgeous to look at, it's also well thought out. Plus, it's compact and relatively lightweight. | 5 / 5 |
| Performance | The Lofree 1% Transparent feels and sounds great in use. Plus, its Bluetooth connection is reliable with no noticeable latency, and its battery life is decent. | 5 / 5 |
| Total | It's truly hard to find faults in the Lofree 1% Transparent. This is one of the best mechanical keyboards we've ever tested. | 5 / 5 |
First reviewed January 2023
How we test
We pride ourselves on our independence and our rigorous review-testing process, offering up long-term attention to the products we review and making sure our reviews are updated and maintained - regardless of when a device was released, if you can still buy it, it's on our radar.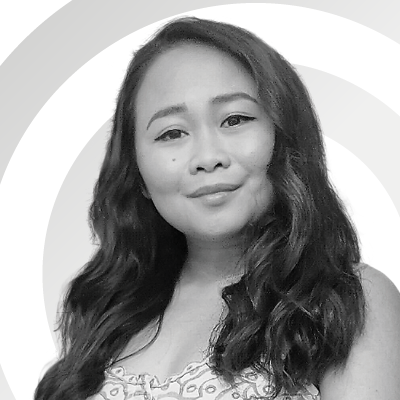 Computing Reviews and Buying Guides Editor
Michelle Rae Uy is the Computing Reviews and Buying Guides Editor here at TechRadar. She's a Los Angeles-based tech, travel and lifestyle writer covering a wide range of topics, from computing to the latest in green commutes to the best hiking trails. She's an ambivert who enjoys communing with nature and traveling for months at a time just as much as watching movies and playing sim games at home. That also means that she has a lot more avenues to explore in terms of understanding how tech can improve the different aspects of our lives.