It's worth investing in one of the best keyboards for typing or gaming. Trust us; we spend most of our every day pounding away on our keyboard, whether we're writing an article or testing a game, and we can attest to the massive difference an excellent keyboard makes.
Why exactly should you invest in a quality keyboard, especially when Amazon has loads of dirt-cheap options? Any mediocre keyboard can function properly as an input device. However, a high-quality keyboard is generally more accurate, faster, and a lot more responsive, as well as more satisfying and more comfortable to type on. And, much like when you're using the best mouse and the best monitor, it will change the way you interact with your computer and elevate your experience overall.
We've tested, reviewed and used our share of keyboards for work and play so who better to help you find the ideal keyboard to see you through your daily typing needs? We gathered all the best keyboards we've tested or used ourselves, including the best mechanical keyboards, a couple of the best gaming keyboards, and even some of our favorite mini keyboards.
Some of our recommendations might not come cheap. However, our included price comparison tool should have some productivity and gaming keyboard deals so you can save a bit of cash.
The best keyboards 2022
The Logitech MX Mechanical comes with the sorts of features and design choices that make getting through a day of non-stop typing and productivity work just a little easier. It may not have the bonafides of gaming keyboards, but that's because it doesn't need to.
To start, the backlighting on the keyboard can adjust to lighting conditions to save you a little battery life. And, it's incredibly easy to switch seamlessly between different sources. And, there's plenty more customization on tap. The Logitech MX Mechanical is also a low-profile keyboard so it offers a sleeker look as well. Its performance is nothing to sneeze at either as it comes with the choice of three different mechanical switches, quiet brown, linear red, and clicky blue, that are as quick to actuate as their Cherry MX counterparts.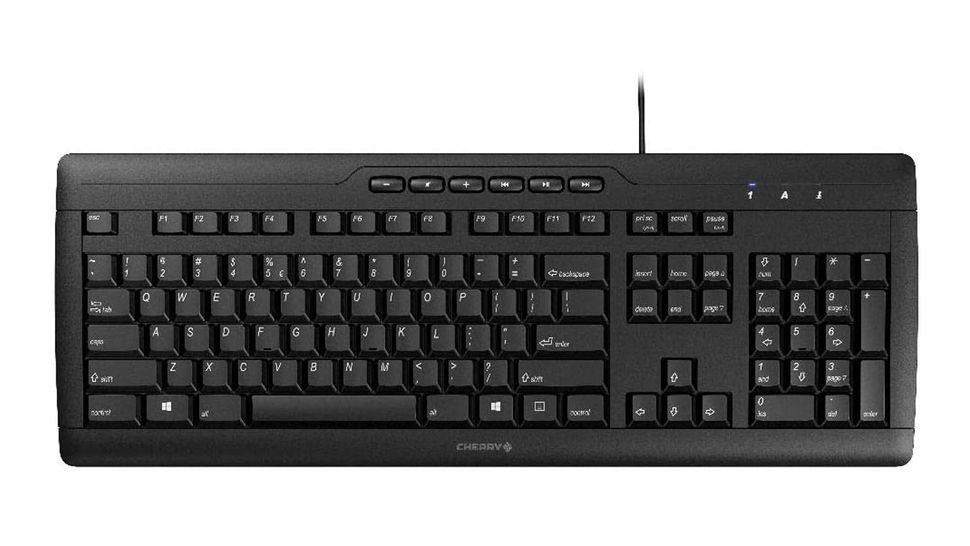 Although the Cherry Stream Desktop keyboard is not exactly the best-looking or the most compact, it's arguably one of the best keyboards of 2022. This no-nonsense Cherry SX scissor-switch keyboard brings things back to the basics while also adding in some vital modern luxuries. So, while we were prepared to be underwhelmed by it, we were floored by its performance and the typing comfort it offered during testing.
Not only is this Cherry SX scissor-switch keyboard robust and affordable, but it also delivers a great performance and even greater comfort, making it a pleasure to use even though it's not exactly what you'd call eye candy. The setup is breathtakingly easy as well, something many casual users will appreciate. You just need a single dongle to connect it and its matching mouse to your computer or laptop, which should free up some of those ports for other peripherals. Not all great things come in fancy, attractive packages.
Read our full Cherry Stream Desktop Keyboard review
The Razer Pro Type Ultra may be expensive, but it's just the kind of product you'd want to shell out for because it's worth it. Fitted with silent and linear mechanical keys, you'll get that satisfying tactile feedback without the unnecessarily loud click-clacking that might bug your co-workers in the office or your clients during video calls.
It also comes fully-loaded with features, boasting three connectivity options, multi-device connectivity, and a luxurious wrist pad to keep your wrists comfortable especially during long typing sessions. When using the wireless connectivity, you've got up to 214 hours of battery life on Bluetooth and up to 207 hours when using the 2.4GHz dongle. Of course, if you don't feel like having to charge every time the battery runs out, you can also go wired. Pair this one with the Razer Pro Click Mini, and you might never look at your productivity workload the same way again.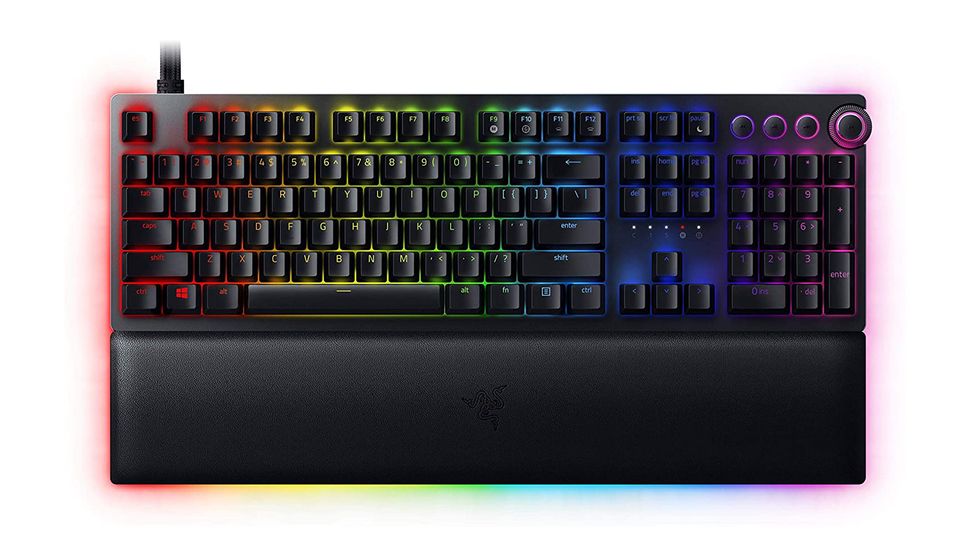 The Razer Huntsman v2 Analog combines the latest optical technology and Razer's analog mechanical key switches, and it is good enough to get a five-star rating from us. And, that's under-selling it. This gaming keyboard may be a bit older, but we still think it's the the best keyboard on the market, delivering an incredible typing and gaming experience. That's thanks in large part to its extremely satisfying tactile feedback and a wrist rest that's designed to let you game comfortably and for longer.
As far as keyboards go, it is sitting on the expensive side of things. But, that price isn't really surprising, considering it's loaded with features as well – more specifically, features you'd be hard-pressed to find anywhere else. That includes its fully customizable key actuation and dual-step key activation, which are both meant to help you rise to the top of the leaderboards. Let's not forget to mention Razer's latest Analog Optical Switches, which are the cream of the keyboard switches crop.
Read our full Razer Huntsman v2 Analog review
The Logitech MX Keys Mini is among the best keyboards in the mini keyboards market. Being not only compact but also thin and lightweight, it's just as ideal for travel and commutes, as it is for home use, which gives it that versatility many remote and hybrid workers are seeking these days.
While it is wrapped in a compact package, we found it to deliver a pleasant typing experience during testing, with its keys ergonomically designed to keep your fingertips in place and feel tactile despite the lack of mechanical switches. It's robust as well – the absence of any detectable scratches or bumps after a week of carting it around in our backpack is proof. And, naturally, since it is Logitech, there's a great system here for multi-device connectivity, allowing you to pair it with three devices at once and easily switch from one to the other on the fly.
Read our full Logitech MX Keys Mini review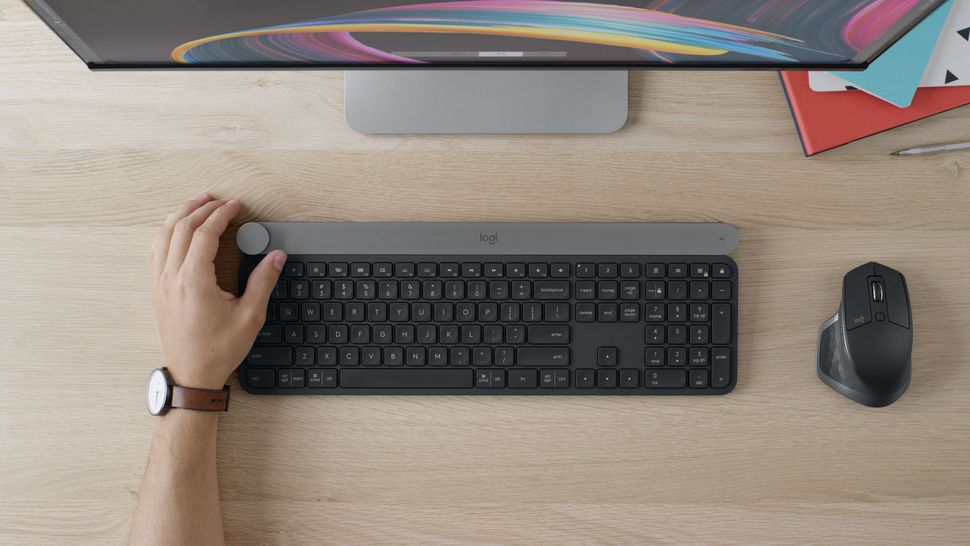 With the Logitech Craft, we finally found a keyboard designed specifically with content creators in mind. We've seen all kinds of keyboards over the years here at TechRadar, from stylish tenkeyless keyboards to RGB-laden gaming behemoths, but that has always been missing. Until now.
Not only is this a sturdy, tactile and attractive keyboard, but it also features a unique dial on its top left corner. It's the key element here as it helps creatives expedite and smoothen their workflow while also putting the focus back on the creative process. This dial's functionality will vary depending on the application, from simply controlling the volume on the desktop to changing levels in various tools in Photoshop. As for the rest of the keyboard, we found it to deliver good actuation, a nice bounce back, and great accuracy with no discernable lags during our tests.
Read the full Logitech Craft review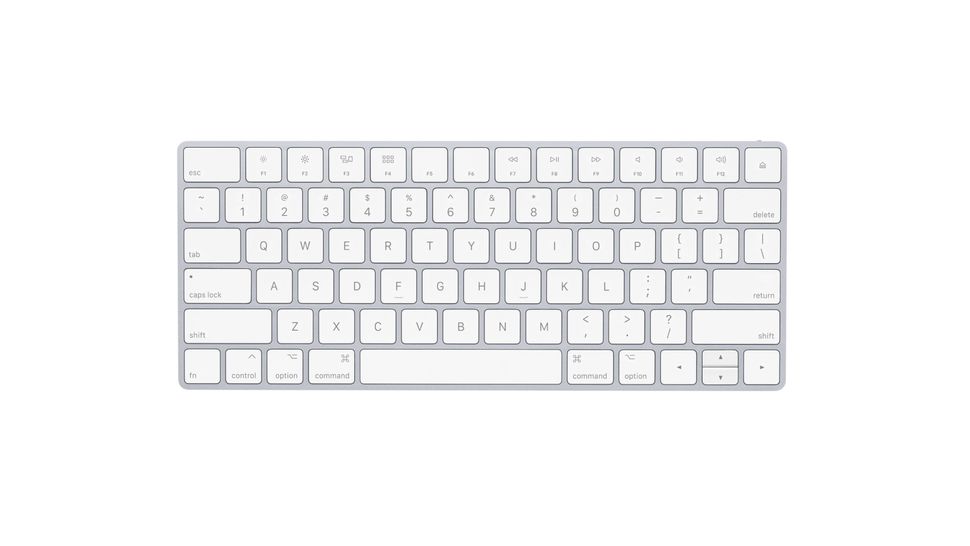 Apple's Magic Keyboard is the most comfortable, reliable and good-looking keyboard we've ever had the pleasure of using, and it's simply the best keyboard for Mac users. It's actually incredible how sleek and thin this keyboard is, especially considering how comfortable it is to use. We're Magic Keyboard users ourselves, and we found its great bounce and satisfying tactile feedback to be a plus when we're typing away for hours. Those are, of course, thanks in large part to that stable scissor mechanism, which Apple has adopted on its laptops as well.
Other features we love about it are its Touch ID reader, which is responsive and works incredibly well, and its month-long battery life. It's so easy to use as well. Turn it on for the first time, and it'll automatically pair with your Mac – it's so decidedly Apple. The fact that it's thin and compact makes it travel-friendly, but we find that to be a bit of a double-edged sword as it's also not the most ergonomic keyboard we've used. Still, that's not too bad of a trade-off.
After at least a couple of years of waiting on the brand to launch a low-profile keyboard, Razer fans are finally getting not just one, but a line of sleek and slim gaming keyboards. First in line is the Razer Deathstalker V2 Pro, and it's muscling its way into this form factor market with impressive specs.
Among many of the these we appreciate here are its short travel distance of 2.8mm and short actuation of 1.2mm (if you get the linear optical version) – that's a tad shorter than our previous favorite, the Logitech G915 TKL Lightspeed – that makes gaming and typing on it all the more comfortable.
It's also incredibly versatile with three connectivity options: Bluetooth, USB wired, and 2.4GHz wireless, allowing you to connect to three devices at the same time. It goes beyond that as well. It makes things convenient with the three buttons in the back so you can quickly switch from one device to another.
Other mention-worthy features here include the up to 40 hours of battery life on a single charge, that highly-customizable Chrome RGB lighting, and a full-key programmable design. If you're looking for the best low-profile gaming keyboard for gaming and productivity, you've found it.
Read our full Razer Deathstalker V2 Pro review
Remember those old IBM Model M keyboards? Well, that's what the Unicomp New Model M seeks to emulate. Available in both USB and PS/2 versions, it uses buckling spring switches that comes with a coil spring that sits between the keycap and a pivoting hammer, which collapses when clicked.
Those keys take more effort to press than just about every other modern switch. So, why exactly would you want this? Well, you're rewarded for this hard pressing with a tactile response that feels like the classic mechanical keyboards of old, along with a noise that will drive everyone around you mad. Plus, you're getting an extra robust keyboard overall – not to mention a full set of keys. If you're a robust typist who spends most of your day crafting documents, this is a terrific option. Just make sure your closest neighbors aren't bothered with the sound.
Some keyboards just ooze class, and the Das Keyboard 4 Professional is one of them. Its features everything people love about Das keyboards, including a solid aluminum top panel for added rigidity and a very minimalistic look. But, it also comes with its own features such as an oversized volume knob and a two-port USB 3.0 SuperSpeed hub. Other mention-worthy features are the instant sleep button and the footbar that also functions as a ruler!
With gold-plated Cherry MX mechanical switches under the keycaps, you're also guaranteed the best and most satisfying experience of your life. That makes it a terrific option for the office. Of course, the dedicated media keys also make it the ideal keyboard for those who like to consume media while staying productive. It's not the most affordable keyboard on our list, but if you're looking for something a little bit more premium, Das is the way to go.
How to choose the best keyboard for you
It goes without saying that if you demand the look and feel only mechanical switches can provide, rather than those that are slim and stealthy, we suggest perusing our best gaming keyboards round-up instead.
Gamers prioritize the actuation that clicky feeling mechanical keyboards bring, whereas traditional home and office users are more about practicality. That said, the sheer magnitude of sound produced by a lot of mechanical keyboards is offputting to some. For those folks, we have some membrane keyboards to recommend as well.
How we test keyboards
Testing peripherals is a serious matter, even if most people might feel like they come secondary to everything else. That's especially true for keyboards. After all, it is your main interface for interacting with your PC or laptop, and most people use it all day long. That means that not only does it have to be reliable and to perform well, but it has to also be comfortable and satisfying to use.
So, we take our keyboard testing seriously. Each keyboard that lands on our desks is treated and utilized as our main keyboard for a week or more. That's the best way to ensure that we're not only experiencing it the way consumers would in the real world, but also coming across any quirks, flaws, and issues.
We also take a look at its design and ergonomics. A top priority for keyboards is that they have to minimize finger, wrist, and shoulder fatigue. For compact keyboards, we also test out just how travel-friendly or ideal for small setups they are.
If a keyboard is wireless or has wireless connectivity, we take a closer look at that connection – just how solid it is, whether there are discernible lags, and what its range is. If a keyboard has additional features, we test those out as well, checking how effective they are and how they useful they can be in real-world scenarios. Finally, we take everything we've learned and compare them with the keyboard's price to gauge if it's a great value or if it's too overpriced to be worth recommending.