The best keyboards 2023: top keyboards for typing and gaming
Because your computer deserves only the best keyboards
VERDICT
REASONS TO BUY
REASONS TO AVOID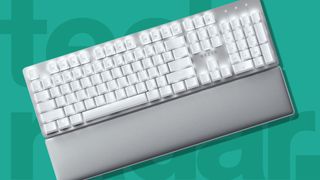 (Image credit: Future)
Editor's Note: December 2023
This month, we decided to remove gaming keyboards from this guide, sticking to productivity keyboards and boards for creative work instead, especially since gaming keyboards are a completely different breed and deserve their own (extensive) list.
We also have a few new entries we just added: the Wombat Pine Professional, Lofree 1% Transparent, KiiBOOM Phantom 81, and the Das Keyboard 6 Professional - all tested and reviewed by us to make sure their up to your standards.
Michelle Rae Uy, Buying Guides Editor
Only the best keyboards can truly deliver a comfortable and seamless typing experience. While dirt-cheap keyboards from Amazon can see you through your usual typing needs, they aren't going to be as fast and as responsive as top-notch keyboards. More importantly, they're not going to prioritize ergonomics.
Any mediocre keyboard can function properly as an input device. However, a high-quality option is more accurate, faster, and a lot more responsive, as well as more satisfying and more comfortable to type on. If it's a wireless keyboard, you'll find that the higher quality ones have better connectivity as well. In fact, we recommend getting one even if you don't spend all day typing away at your computer.
Much like when you're using the best mouse, the best keyboard will change the way you interact with your computer and elevate your experience overall. Having tested more than our share of keyboards, we can truly say that there is massive difference between an excellent keyboard and most of the cheap ones you find online.
So, we gathered all the best keyboards we've tested or used ourselves, including the a few mechanical keyboards and some of our favorite mini keyboards, to help you get exactly that. If you're looking for a board for gaming, check out our best gaming keyboards list. But, if you want something for productivity, casual use, or creative work, one of the keyboards below - along with money-saving keyboard deals available right now - should meet your typing needs.
The best keyboards 2023
Why you can trust TechRadar We spend hours testing every product or service we review, so you can be sure you're buying the best. Find out more about how we test.
The best keyboard overall
Specifications
Interface:
Bluetooth 5.1, Logi Bolt USB Receiver
Keyboard backlighting:
Yes
Reasons to buy
+
Comfortable and satisfying
+
Mic mute button on hand
+
Surprisingly affordable
Reasons to avoid
-
Integrated palm rest isn't very supportive
-
No backlighting
We have put the Logitech Signature K650 Wireless Comfort through the necessary paces, and we must say we're impressed. An excellent general-purpose keyboard that's great for practically all users – except gamers, it delivers a great typing experience for much less than you would think.
We found its keys incredibly comfortable and satisfying to use even when we're typing all day. That's despite the fact that they do have a bit of resistance on them. We also found it surprisingly lightweight for a full-sized keyboard. And, though we probably wouldn't recommend it for traveling, it's got a low profile as well.
We wish the integrated palm rest is more comfortable and there's backlighting, but there are many special features here to make up for those. Unlike other keyboards, this has a new and timely feature – a mic mute and unmute so you don't have to panic every time you need to toggle your mic during meetings. Other new keys a lot of people will appreciate are the web browser buttons and the screenshot key. Rounding those out are its multi-connectivity and up to 36 months of battery life.
Read our full Logitech Signature K650 review
A budget keyboard that doesn't compromise on performance
Specifications
Interface:
USB wireless receiver
Keyboard backlighting:
No
Switches:
Cherry SX scissor
Reasons to buy
+
Incredibly straightforward and easy setup
+
Keys are a pleasure to type on
Although the Cherry Stream Desktop keyboard is not exactly the best-looking or the most compact, it's arguably one of the best keyboards of 2023. This no-nonsense Cherry SX scissor-switch keyboard brings things back to the basics while also adding in some vital modern luxuries.
So, while we were prepared to be underwhelmed by it, we were floored by its performance and the typing comfort it offered during testing. Not only is this Cherry SX scissor-switch keyboard robust and affordable, but it also delivers a great performance and even greater comfort, making it a pleasure to use even though it's not exactly what you'd call eye candy.
The setup is breathtakingly easy as well, something many casual users will appreciate. You just need a single dongle to connect it and its matching mouse to your computer or laptop, which should free up some of those ports for other peripherals. Not all great things come in fancy, attractive packages.
Read our full Cherry Stream Desktop Keyboard review
A quiet mechanical keyboard that's worth its premium price
Specifications
Interface:
Bluetooth, Razer HyperSpeed 2.4GHz, Wired USB-C
Keyboard backlighting:
Yes
Switches:
Razer Yellow Mechanical Switch
Reasons to buy
+
Mechanical keys are surprisingly quiet
+
Connects to multiple devices wirelessly
Reasons to avoid
-
Linear switches option only
-
Expensive
The Razer Pro Type Ultra may be expensive, but it's just the kind of product you'd want to shell out for because it's worth it. Fitted with silent and linear mechanical keys, you'll get that satisfying tactile feedback without the unnecessarily loud click-clacking. Some might be disappointed that it's only available with linear switches, but we found them to be perfect for office settings.
It also comes fully-loaded with features, boasting three connectivity options, multi-device connectivity, and a luxurious wrist pad to kept our wrists comfortable especially during long typing sessions. Due to the added height of the keys, we found our wrists bending upward to type effectively, but the wrist pad does offer enough support to mitigate the issue.
When using the wireless connectivity, you've got up to 214 hours of battery life on Bluetooth and up to 207 hours when using the 2.4GHz dongle. Of course, if you don't feel like having to charge every time the battery runs out, you can also go wired. Pair this one with the Razer Pro Click Mini, and you might never look at your productivity workload the same way again.
Read our full Razer Pro Type Ultra review
The best compact mechanical keyboard
Specifications
Interface:
Bluetooth 5.1, USB-C
Keyboard backlighting:
7 white LED backlit effects
Switches:
Pre-lubed Kailh Jellyfish mechanical switches
Reasons to buy
+
Sleek and stunning design
+
Sturdy, premium build
+
Excellent typing performance
Reasons to avoid
-
Expensive for some people
-
Not hot-swappable
The Lofree 1% Transparent is undeniably appropriately named. This mechanical keyboard, pre-lubed Kailh Jellyfish mechanical switches that are comfortable to type on, is not just stunning, with its beautifully clean transparent keycaps, which have with a hallow center and a removable press-and-fit lid so you can customize them with tiny sequins or beads for fun, and a sleek equally-transparent top cover.
But it's amazing to type on as well. The switches felt and sounded amazing (that thock sound is near-orgasmic) and were smooth to type on during testing. Because the are pre-lubed, we also found it to be quieter than other mechanical keyboards. The battery life is decent as well, which got us about 60 hours of typing time with backlighting set to low brightness - that means you're getting about a week's worth of work use before needing to charge.
Keyboard enthusiasts - aka those who are willing to spend the money for a keyboard - will certainly adore it, though the fact that it's not hot-swappable might turn some off. But, you don't need to be one to truly appreciate this board, and if you're looking for something to help you stay productive and class up your work setup, it's worth the price.
Read our full Lofree 1% Transparent review
Top-notch compact keyboard for remote and hybrid workers
Specifications
Keyboard backlighting:
Yes
Reasons to buy
+
Great functionality and software
+
Ergonomic keys
+
Stylish, robust design
Reasons to avoid
-
Bluetooth only
-
Permanent tilt, no adjustable stand
The Logitech MX Keys Mini is among the best keyboards in the mini keyboards market. Being not only compact but also thin and lightweight, it's just as ideal for travel and commutes, as it is for home use, which gives it that versatility many remote and hybrid workers are seeking these days.
While it is wrapped in a compact package, we found it to deliver a pleasant typing experience during testing, with its keys ergonomically designed to keep your fingertips in place and feel tactile despite the lack of mechanical switches. It's robust as well – the absence of any detectable scratches or bumps after a week of carting it around in our backpack is proof.
And, naturally, since it is Logitech, there's a great system here for multi-device connectivity, allowing you to pair it with three devices at once and easily switch from one to the other on the fly. It is Bluetooth only, however, and it doesn't have an adjustable stand.
Read our full Logitech MX Keys Mini review
A premium option for the mechanical keyboard community
Specifications
Keyboard backlighting:
Yes
Switches:
Holy Panda X Switches
Reasons to buy
+
Solid construction, gorgeous design
+
Comes with an anodized aluminum case
+
Excellent typing experience
Reasons to avoid
-
Expensive
-
No wireless option
Mechanical keyboard fans will love this officially-licensed The Lord of the Rings offering from Drop whose impressively solid and premium build is only surpassed by its comfortable and satisfying typing feel. This keeb may be outside of our usual offerings, but it's part of our effort to branch out and include worthy brands that have nurtured a cult status among true mechanical keyboard fans with discerning tastes.
We can't help but be impressed her. Thanks to its Holy Panda X Switches and Phantom Stabilizers, the tactile experience is delivers is unparalleled and the sound each key is something that mechanical keyboard enthusiasts will find orgasmic – without being too loud and obnoxious.
Meanwhile, those keycaps are gorgeous, stamped with Sindarin phrases and Tengwar script – alongside, of course, the regular English alphabet and keyboard legends, and come in a concave form to keep your fingers in place. You even get a set of extra keys from Drop's Autumn in Rivendell Kit so you can customize it to an extent. We only wish the keycaps were slightly bigger, as the way they're designed right now, their smaller size makes each key feel a little cramped.
Read our full Drop + The Lord of the Rings Elvish review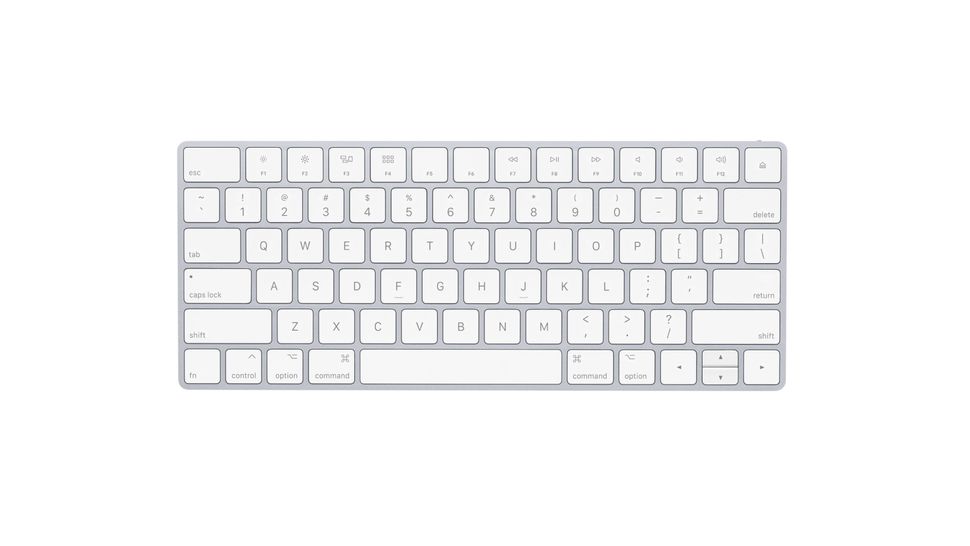 7. Apple Magic Keyboard
The best keyboard for Mac users
Specifications
Keyboard backlighting:
Yes
Reasons to buy
+
Thin and compact for small setups
+
Scissor switches are a pleasure to use
Reasons to avoid
-
White color gets dirty easily
Apple's Magic Keyboard is the most comfortable, reliable and good-looking keyboard we've ever had the pleasure of using, and it's simply the best keyboard for Mac users. It's actually incredible how sleek and thin this keyboard is, especially considering how comfortable it is to use.
We're Magic Keyboard users ourselves, and we found its great bounce and satisfying tactile feedback to be a plus when we're typing away for hours. Those are, of course, thanks in large part to that stable scissor mechanism, which Apple has adopted on its laptops as well.
Other features we love about it are its Touch ID reader, which is responsive and works incredibly well, and its month-long battery life. It's so easy to use as well. Turn it on for the first time, and it'll automatically pair with your Mac – it's so decidedly Apple. The fact that it's thin and compact makes it travel-friendly, but we find that to be a bit of a double-edged sword as it's also not the most ergonomic keyboard we've used. Still, that's not too bad of a trade-off.
Feature-rich mech keyboard that's a great value for your money
Specifications
Interface:
USB-C wired, 2.4GHz wireless, Bluetooth
Keyboard backlighting:
No
Switches:
Red Cherry MX mechanical switches
Reasons to buy
+
Excellent typing experience
+
Lots of useful shortcuts
+
Multi-platform, multi-connectivity
Reasons to avoid
-
Split-second delay when waking
-
No backlighting
The Wombat Pine Professional is giving the likes of Logitech and Razer are good run for their money. Though the Wombat brand doesn't yet enjoy mainstream popularity, it's an appealing choice for professionals who want a proper mechanical keyboard that's also both attractive and office-appropriate. Since it is designed especially for Mac users (though it is compatible with multiple platforms), it also comes in different colorways that match the colors of the iMac 24-inch.
Its performance and comfort can't be beat either. It takes a second to wake, but that's about the only complaint we have. The keyboard is responsive and accurate, and the Red Cherry MX version we tested delivers that linear key switch experience that we love: non-clicky and non-bumpy actuation with a nice bottom out. It's also fitted with a noise and vibration absorption mat and pre-lubed stabilizers to improve the typing experience.
There's no backlighting here, but other special features abound, including ones that you won't find on other boards. There's the number pad that has a simulated mouse mode, special function keys that give you quick, one-press access to the calculator, calendar, browser, and voice assistant (if set up), and the Function keys, which moonlight as the settings, media, app, and emoji menu quick access keys.
Read our full Wombat Pine Professional review
Top-quality mechanical keyboard for RGB fans
Specifications
Interface:
Wired, USB 2.4GHz, Bluetooth 5.0
Keyboard backlighting:
Yes, south-facing and side lighting
Switches:
KiiBOOM pre-lubed Crystal switches
Reasons to buy
+
Amazing typing experience
+
Quieter than other mechanical keyboards
+
Attractive, clear design
Reasons to avoid
-
Too heavy to be portable
-
A little thick and needs a wrist rest
Among the best transparent mechanical keyboards on the market, the KiiBOOM Phantom 81 boasts pre-lubed Crystal switches that allows it to literally sparkle, especially when you turn that vibrant RGB lighting on. So, if you're an RGB fan but would like to use a non-gaming keyboard for work, this is going to make you giddy.
It's not just pretty though; the typing performance is also on-point. Those switches are very responsive and great to type on, especially when combined with this keyboard's gasket mounted design, which also helps with making it slightly quieter than other mech keyboards. There's also no noticeable latency with the wireless connection, even though it does take a second for it to re-establish, we've noticed.
Despite its 81-key design, this really isn't portable being thick and heavy, but it is space-saving. Just make sure to invest in a wrist rest as that thickness can be fatiguing without proper support.
Read our full KiiBOOM Phantom 81 review
The best keyboard for professional users
Specifications
Keyboard backlighting:
White backlighting
Switches:
Cherry MX Blue / Brown mechanical
Reasons to buy
+
Incredible build quality
+
Backlit keys, onboard volume control
+