The main area of visual customization on Android Wear is the watch face. A selection come built into each watch, but a trip to Google Play is all it takes to find hundreds more.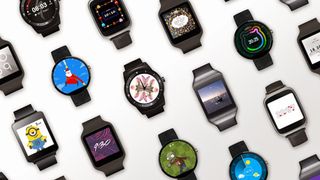 These include both digital and analogue faces, branded ones, arty ones and a whole lot more, with a large selection available for both circular and square watch faces. If you're stuck for inspiration, check out our list of the best Android Wear watch faces available.
Watch faces will soon be getting a lot more useful too, as Android Wear 2.0 allows you to add complications, containing things like battery information, step count, calendar events or notes from your to-do list.
Android Wear 2.0 release date and compatibility
Android Wear is getting an overhaul to Android Wear 2.0 as an OTA update in 2017. Unlike Android smartphones, all eligible watches should get the update at some point.
However, some older models will not be eligible. The full list hasn't been confirmed, but we know that the LG G Watch and Moto 360 (2014) won't be getting Android Wear 2.0.
The Huawei Watch and LG Watch Urbane 2nd Edition can both run the Android Wear 2.0 second developer preview, so we'd expect those phones to be set for the update as soon as it launches.
Android Wear 2.0 widgets
With Android Wear 2.0 you'll be able to customize most of the watch faces out there with complications from your favorite Android Wear apps.
That means if you've got a fancy-looking analogue face, you can add in small widgets to tell you what's coming up on your calendar, stock info, step counts, notes on what's next from your to-do list and more.
In the developer preview, not every watch face offered support for complications, but we're unsure whether that will be the case when it officially launches.
In actual use, this seems a little bit of a faff to get into – you'll need to choose a random face, open the menu with a long press and then choose complications. What's confusing is that you'll need to tap Android Wear to get into the system widgets, but when more apps are installed (like Strava) you'll get different options to play with there.
If you need to get more information, just tap the widget and you'll be taken straight into the app from the home screen – not just shortcuts any more, but actually useful.
The UI is also enhanced, with more minimal, muted colors and a darker theme to help conserve battery life, and it definitely looks a bit sleeker too.
Android Wear 2.0 other features
Other Android Wear 2.0 improvements include smart replies and upgraded handwriting recognition. The smart replies are generated by Google Assistant, which will take a look at what's been said and give you the most likely replies to easily tap and send off.
After that, you can clumsily sketch in big letters or numbers to send an easy reply to the recipient, although you won't be able to send them a long diatribe easily.
The text is recognized automatically though, and when we demoed the option it was very accurate.
The second developer preview of Android Wear 2.0 has brought gesture support to third-party apps. Whether any apps will make use of the new feature is currently uncertain.
Android Wear 2.0 will also bring direct cloud access via Bluetooth, Wi-Fi or cellular data, so smartwatches can work completely independently of phones and if you've got a cellular watch even make calls.
Fitness tracking is also being improved, with apps able to talk to each other and share information, to build a full picture of your activity. For example, you can track the calories you consume with one app and use another to see how many you burn, with all the data fed into Google Fit.