Choosing the best iPad isn't just a matter of buying the newest one. That's because Apple has four different iPad lines and each is aimed at different buyers, price points, and needs.
The entry-level option, simply called the iPad line, is the low-cost minimum-feature tablet. It's ideal for families or seniors while still offering some very useful features. Alternatively, there's the iPad Mini which is smaller so it's ideal for anyone looking for the most portable experience.
Then there's the iPad Air which is Apple's mid-range tablet, offering a bigger screen, more processing power, and a middle-range price. It's a good option for students or other workers on the move. At the top-end is the expensive iPad Pro family. These tablets have high-end screens, even more processing power than the iPad Air, and extensive storage space too. They're designed for creatives or business professionals that want a laptop level of power in a tablet.
Our guide to the best iPads will help figure out what the best fit is for you. This list is fairly similar to our ranking of the best tablets overall, but if you don't want an iPad, our look at the best Android tablets is where you need to go.
Apple devices play well together so the best iPhones will be great complements to these iPads.
Generally, we see a new iPad unveiled a couple of times each year, so keep an eye on this list as it's likely to be updated frequently. Below, you'll see an overview of each device, along with key specs, and a link to their full review.
Best iPads 2022: which iPad should you buy?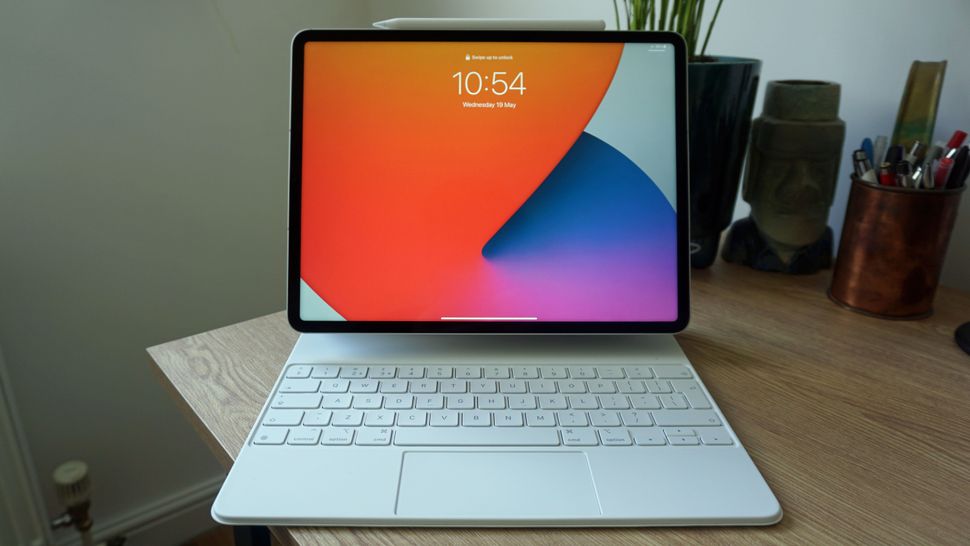 We've picked the iPad Pro 12.9 (2021) as our favorite iPad because it ticks all the boxes you need for a professional tablet.
The slate has a giant 2048 x 2732 Mini LED screen, an incredibly powerful Apple M1 chipset (also found in MacBooks and iMacs), compatibility with Apple's various keyboard folios and the Apple Pencil, and also up to 2TB storage.
What does this mean? Well, it's a versatile and powerful little machine that we found handles video editing, loads of writing, drawing and animation and gaming with aplomb.
You won't find a more powerful tablet (well, apart from other iPads) - it handled everything we threw at it.
So why might you consider something else? Well, it's incredibly expensive - especially if you're considering 5G connectivity, or storage that goes anywhere near the max of 2TB.
Plus, while it's great for professionals and creatives, not everyone will need the extras it provides - if that's you, the other iPads on this list are better for you.
Read the full iPad Pro 12.9 (2021) review
We'd recommend this iPad Air to people who were interested in the iPad Pro, but perhaps don't need all its bells and whistles.
The tablet has the same Apple M1 chipset, so it's just as powerful - plus, it has a similar design, battery life and accessory compatibility.
Its two key differences are that it doesn't have as much storage space and its screen is smaller (and technically uses different technology, though we're not sure most people will notice). When we tested the devices we didn't mind these differences most of the time, and unless you're a power-user, you might find the Air a better device.
That's especially the case for students. Since the thing feels the same as the iPad Pro, but costs less, people on a budget might find it perfect. Although there are lots of devices lower on this list that are even cheaper.
Read the full iPad Air (2022) review
The iPad 10.2 (2021) is Apple's entry-level tablet for 2021, and arguably also the best value iPad of the year.
Sure, it's not a huge upgrade on the previous model, but the new 12MP ultra-wide selfie camera makes it much better for video calls, while the True Tone display makes it more pleasant to use in a variety of environments, with the screen automatically adjusting based on the ambient light. This especially makes the iPad 10.2 (2021) a joy to use outdoors.
From testing all the iPads on this list, we found that the 10.2 provides the best value-for-money proposition. Sure, it's not as good for sketching and audio as the iPad Air, or as useful for high-performance tasks as the Pro, but it's also a lot cheaper.
And that's all relative too - compared to lots of non-iPad alternatives you might be considering, we found the iPad 10.2 feels smooth to use and has enough power for most tasks. So unless you're going to need all the bells and whistles of the Air or Pro, this is a great choice.
Read the full iPad 10.2 (2021) review
The iPad Pro 11 we've listed here is basically the exact same tablet as the 12.9-inch model listed right at the top of this guide.
The key difference is the screen size - the iPad Pro 11 has an 11-inch screen, while the iPad Pro 12.9 has a... well, you can probably guess. There are a few knock-on effects from this - mainly, that the battery for this tablet is a little smaller, though that doesn't matter since the screen is drawing less charge.
One other downgrade is that it doesn't get a Mini LED screen, sticking with LCD instead - that's why it's here, lower in our list.
In terms of chipset, charging speed and accessory compatibility, though, this is basically the same device, and it'll be great for people who need a powerful slate yet don't want to carry around a massive model.
And, most importantly, it feels exactly the same to use - so creatives and business users won't be disappointed here. It's a little cheaper than the 12.9 too.
Read the full iPad Pro 11 (2021) review
This iPad Air is the predecessor from the one listed higher in this ranking, and it came out two years prior. It's not a massive downgrade though - the two key differences are that it's not got 5G options, and it has a slightly weaker chipset.
For the vast majority of people, those 'downgrades' aren't really considerations, and using that two-year-old tablet now, you'd be forgiven for not knowing it's old. It still runs just fine and supports all the apps you need.
That makes you've got the same chic design, the same good-looking screen and the same decent battery life.
In addition, two years of sales and price cuts makes the iPad Air (2020) a really tempting option for people who need a more affordable mid-range tablet.
Something we really like about this tablet is that it comes in a broad range of colors - you've got more options than most the other devices on this list.
Read the full iPad Air 4 (2020) review