If you want the best smartwatch, you're looking for a real jack of all trades. You need a watch that'll monitor your health, track your efforts when exercising, last for a long time between charges, have useful tools like flashlights and timers and, perhaps most importantly, come at a reasonably low price.
Here at TechRadar, we've tested all the best smartwatches on the market, including offerings from all the biggest companies as well as up-and-comers and smaller names, allowing us to rank them definitively so you know which to consider.
We've tried everything, from top-tier Apple Watches and Fitbits to Garmin watches and Tizen-sporting Samsung watches. There's also Wear OS, which is Google's own wearable operating system in the vein of Apple's watchOS and, spoiler alert, you'll see it show up in a lot of these devices.
You should note that certain smartwatches are limited in compatibility to certain phones. For example, you won't be able to use an Apple Watch with one of the best Android phones and some of the best phones have limited functionality with other devices.
Compatibility is one of the main things you should consider when buying a smartwatch, but also check whether it has the features you need, be that GPS, an ECG, or good battery life. When we review each smartwatch we consider design, features, battery life, performance, fitness smarts, price and more.
You'll find our picks below, complete with new additions like the Apple Watch 7 and Fitbit Sense. And make sure to check back soon, because new wearables keep on arriving.
Best smartwatches you can buy right now
The Apple Watch 7 is a flagship smartwatch that's in some ways more of the same, as this isn't a whole lot different to the Apple Watch 6.
It has essentially the same chipset and little in the way of new features, but what new stuff the Apple Watch 7 does have is useful, especially its larger screen, which is 20% bigger and yet only a tiny bit larger on your wrist, thanks to smaller bezels.
That extra size makes all the difference when interacting with the Apple Watch 7, and the wearable also charges faster than ever. With those things added to the still-excellent Apple Watch 6, the Apple Watch 7 is undeniably a great smartwatch.
Our reviewer noted that better battery life and improved fitness features would have made this wearable even better, but what's here still seriously impresses.
Read our full Apple Watch 7 review
The Samsung Galaxy Watch 4 is a wearable that had a lot of hype around it. This sees Samsung return to Wear OS, having used Tizen for recent models. But this isn't Wear OS as you might know it – it's a new take on the operating system, designed alongside Samsung, and with a very Tizen-like skin on the top.
That means you get the best of both worlds, with the functionality and apps of Wear OS, coupled with the look and feel of Tizen.
Add to that great performance, what we found to be a comfortable fit, a lightweight build, and interesting new body composition measurement tools, and this makes for a top smartwatch, especially for those interested in tracking their health and fitness.
But with some of its features requiring a Samsung phone, and no support for iPhones, the Samsung Galaxy Watch 4 isn't something we can recommend to everyone. It also arguably isn't worth upgrading to if you already own a recent Galaxy Watch.
Read the full Samsung Galaxy Watch 4 review
The Apple Watch SE is one of the best smartwatches money can buy right now, but it's only the right choice for you if you own an iPhone.
If you do have an iPhone, you may wonder why the Apple Watch 6 doesn't rank above this? That's because the Apple Watch SE does almost everything that smartwatch can, but for a much lower price.
The Apple Watch SE comes with some top-end specs, a high-end design and a great range of features that you can't get on every other smartwatch right now.
The battery life isn't the best on the market based on our tests, and there isn't an always-on display, but if you're after a great value for money choice for your next wrist companion you should opt for the Apple Watch SE.
Read the full Apple Watch SE review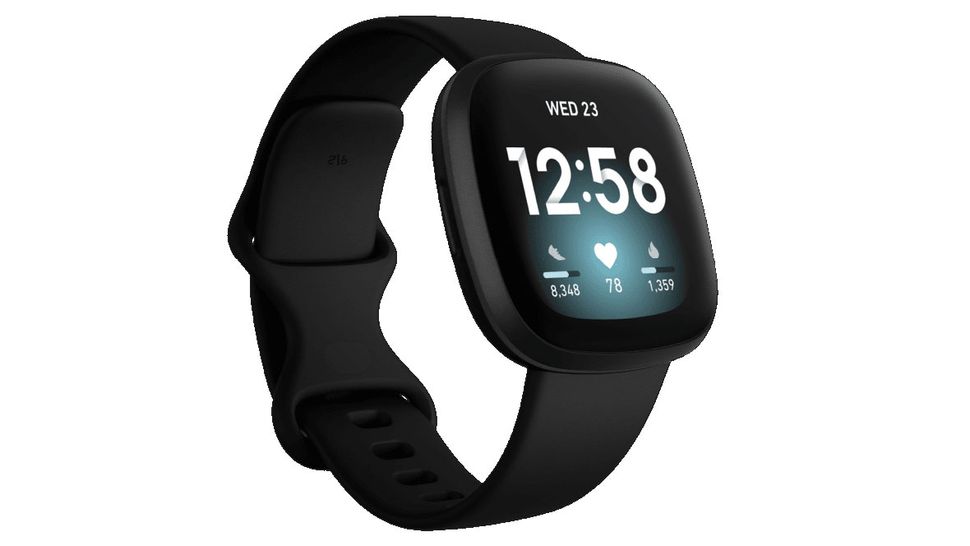 Don't want something from either Samsung or Apple? The Fitbit Versa 3 may be best for your wrist, and this latest smartwatch from the company is one of the best wrist companions for those who want to focus on fitness features.
There's built-in GPS, we found it comfortable to wear, and the display is easy to view with a crisp image. Like previous Fitbit smartwatches, this is mostly focused on fitness and won't be for everyone.
But for general wearable fans, the Fitbit Versa 3 is a good option, and it's more affordable than some of the other options on this list too.
Read our full Fitbit Versa 3 review
The Galaxy Watch 3 from Samsung is one of the best smartwatches for Android owners. It also works with an iPhone though. It's a sequel to the Galaxy Watch from 2018, and it keeps a lot of that device's design elements but refines them.
The Galaxy Watch 3 features a unique rotating bezel that makes navigating around the smartwatch a joy. We find that a lot easier than trying to use the display, which is something you have to do on a lot of the other best smartwatches in this list.
Apps available on the watch are more limited than Wear OS or watchOS - two rival smartwatch operating systems - but it still offers the core basics and Samsung has provided a watch that's good at fitness as well as sporting a great design and lots more functionality too.
Features are more limited if you're using this with an iPhone, but it's still compatible with those devices. We'd recommend considering an Apple Watch though if that's your phone of choice. Overall, the Galaxy Watch 3 is the full package if you're looking for a smartwatch to track your fitness, look good on your wrist and a whole lot more.
Read the full Samsung Galaxy Watch 3 review
The Fitbit Sense is both stylish and impressive, packing in advanced health and fitness features like an ECG, stress monitoring, heart rate zones, and skin temperature measurements.
It's an interesting feature set, and it's paired with all the basics you'd expect from a fitness-focused smartwatch, including tracked workouts, GPS, a voice assistant (with the choice of Alexa or Google Assistant), and meditation tools.
With a stainless-steel case and a sharp screen too, the Fitbit Sense really feels like the full package, except that sadly some of its tools are hidden behind the Fitbit Premium paywall. If you're happy to subscribe to that then this is a top option, but if you'd rather just make a one-off purchase then be aware that you won't be able to access everything this watch has to offer.
Read our full Fitbit Sense review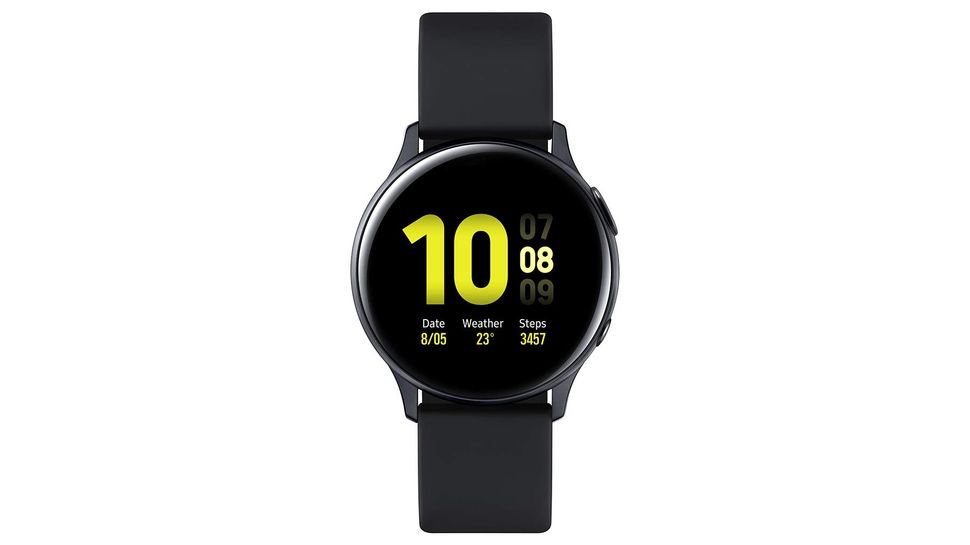 Samsung shrank the best parts of the the Galaxy Watch into this sportier smartwatch that's slimmer, lighter and, arguably, more comfortable - then released a second version months after the first that included a few coveted features, including a rotating digital bezel and an LTE version.
Overall, not much has changed - which isn't a bad thing, as it's still a quality smartwatch at a decent price. The Galaxy Watch Active 2 features a 1.2-inch 360 x 360 display that we found bright and beautiful yet small enough to be strapped around your wrist than a lot of the other devices in this list.
It still comes sporting all of the top-end fitness features you'd expect from Samsung's Tizen watch range, with 39 workout modes, a heart rate and ECG sensor, and health app with stress and sleep monitoring. There's even a way to monitor your blood pressure, but that won't be activated for some time.
While it's still more affordable than the leading Apple Watch, the price was bumped up from the original Watch Active, shrinking its value compared to the competition. It's certainly not a cheap smartwatch, but when compared to the price of the Galaxy Watch 3 you may prefer to opt for this version that's remarkably similar.
Read the full Samsung Galaxy Watch Active 2 review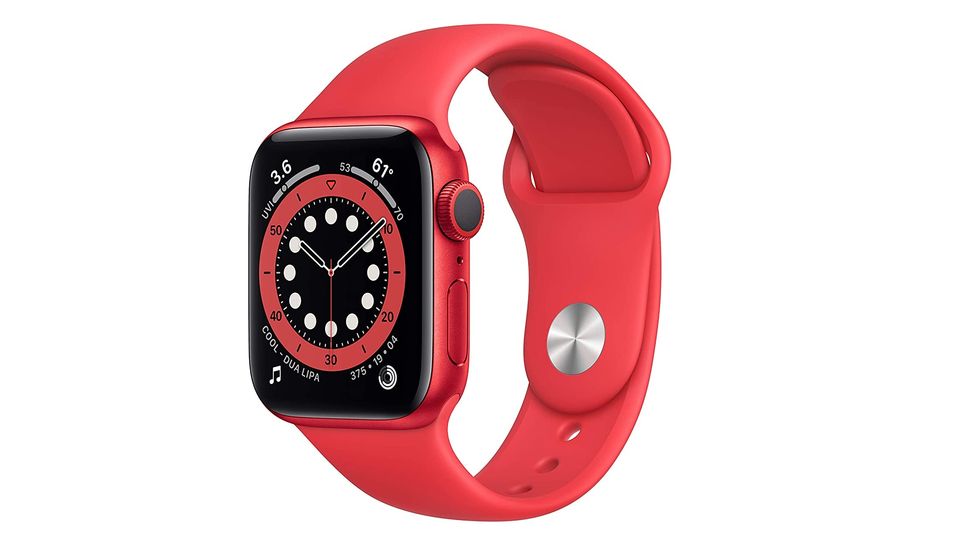 The Apple Watch 6 hasn't taken the top spot in our best smartwatch list, but this is absolute best device you can get if you own an iPhone. Why isn't it ranked above the Apple Watch SE? Because it's a lot more expensive than that option.
The Apple Watch 6 works seamlessly with Apple's phones, and it's well worth considering if you plan to stick with the iPhone range for at least a few years.
It isn't a huge upgrade over the Apple Watch 5 though. There are new features like blood oxygen monitoring and an upgraded chipset, but largely it's a similar device with the exact same screen and design.
All of that said, if you're after an Apple Watch this is the best from the company ever, we just found the lack of any major upgrades a slight disappointment. Note however that the Apple Watch 7 has now been announced. so expect it to make its mark on this list - just as soon as you can buy it and we've reviewed it.
Read the full Apple Watch 6 review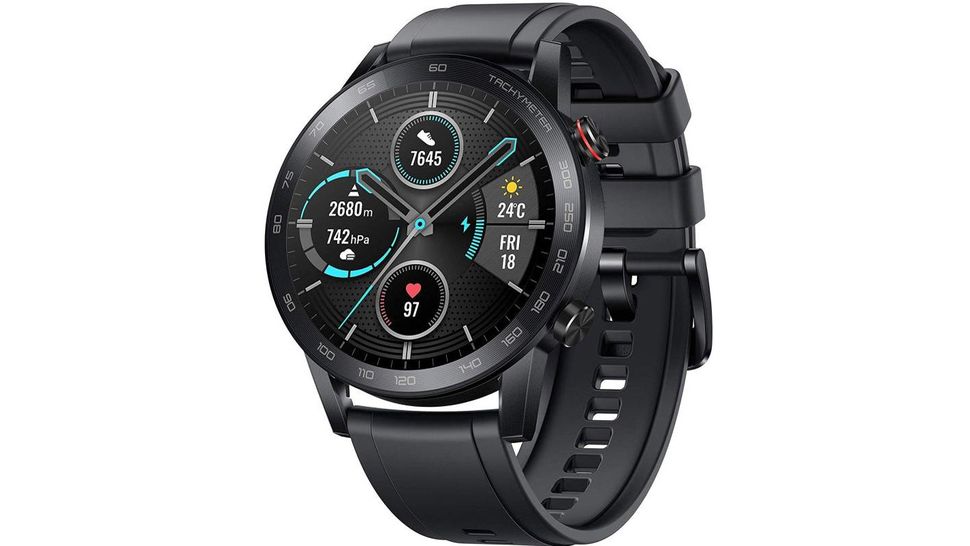 If you're a fond exerciser but don't think a dedicated sports watch is for you, then the Honor Magic Watch 2 might be the right smartwatch for you thanks to its set of fitness features.
The Honor Magic Watch 2 tracks a range of sports with detailed information, and can even provide workout advice and feedback for certain activities. It's great for people looking to get fitter.
The watch also lasts for a long time without needing to be charged in our tests, up to a week or two weeks depending on which version you buy, and it looks pretty sleek too.
There are a few issues with the watch like its relative lack of non-fitness features, the fact its design can often get very dusty and need cleaning, and the fact lots of its fitness features aren't available on iOS, but even then we can still recommend it as a good smartwatch.
Read our full Honor Magic Watch 2 review
The TicWatch Pro 3 is one of the best Wear OS watches - you can use this with your iPhone or Android phone - and it offers some solid battery life as well as some intuitive functionality.
This uses the latest Qualcomm Snapdragon Wear 4100 chipset with 1GB of RAM, and we found this smartwatch to be one of the most powerful devices on this list. Apps load quickly, and we didn't find any time where you'll be left waiting for something to boot up.
Battery life is where this smartwatch truly sings though with the smartwatch able to last for over a month in what the company calls 'Essential Mode'. Want to keep your smartwatch features running? You'll still get three days from a single charge of this smartwatch.
Plus, the price means it undercuts a lot of other top-end smartwatches as well so it's a touch cheaper than many other options on this list.
Read the full TicWatch Pro 3 review
How we tested
Every smartwatch on this list has been fully and extensively reviewed by the expert team at TechRadar, so we know exactly what makes them tick.
Using that knowledge we've then ranked them, while also factoring in their price, performance, value, and core specs.
What should I look for when buying a smartwatch?
The first thing to check is whether your phone is compatible with it - you can't use an Apple Watch with an Android phone, and you can't use a Samsung Galaxy Watch 4 with an iPhone. Beyond that, consider the battery life and the features - how often will you be happy charging it, and what do you need out of your watch?
Which is the best smartwatch?
The best smartwatch changes all the time, but typically you'll find an Apple or Samsung smartwatch topping the list, as these tend to be packed full of high-end features and polish.
You might want to check out Apple Watch vs Garmin comparison.