Looking for an excellent fitness tracker that also offers the brains of a smartwatch? The Ticwatch Pro 5 could be just what you're looking for. It collects stacks of information which is comprehensively laid out for you, the battery is excellent and it's also a great-looking device, too, but that premium look does come at a premium price.
Pros
+

Powerful processor

+

Accurate fitness tracking metrics

+

Looks classy
Cons
-

Android only - for now

-

Quite pricey
Why you can trust TechRadar We spend hours testing every product or service we review, so you can be sure you're buying the best. Find out more about how we test.
Ticwatch Pro 5: One minute review
I'll be honest: in this humble writer's opinion, even the best Wear OS watch struggles to hold a candle to the best Apple watch's combination of design and software found on its Apple Watch lineup. That's perhaps understandable, given Apple's harnessing of both hardware and software stacks, but the Ticwatch Pro 5 has made me sit up and take notice.
It's a gorgeous watch, looking closer to an analog timepiece than many on the market, and it's powerful, too.
That latter benefit stems from the small detail that is the Snapdragon W5+ chip inside, making it a wrist-mounted powerhouse. That means it flies through tasks without skipping a beat, while also offering impressive battery life.
It also takes some cues from Apple Watch, with an excellent rotating crown for navigation which works in conjunction with the touch screen.
It's not the cheapest smartwatch, but for the amount on offer it feels a fair value proposition, but it may understandably be at the upper end of many budgets. Still, the Ticwatch Pro 5 is well worth a look for budding fitness enthusiasts, longtime gym goers, and anyone taking a renewed interest in their health.
Ticwatch Pro 5: Specifications
Swipe to scroll horizontally
| | |
| --- | --- |
| Component | Ticwatch Pro 5 |
| Price | $349.99 / £329.99 / AU$519.99 |
| Dimensions | 50.1 x 48.0 x 12.2 (mm) |
| Weight | 44.3g |
| Case/bezel | 7000-series aluminum + high-strength nylon with fiberglass |
| Display | 466 x 466 px, always-on OLED |
| GPS | GPS+Beidou+Glonass+Galileo+QZSS |
| Battery life | 80 hours |
| Connection | Bluetooth 5.2 |
| Water resistant? | Yes, 5ATM |
Ticwatch Pro 5: Price and Availability
£329.99 in the UK
$349 in the US
AU$519.99 in Australia
Let's get this out the way: the Ticwatch Pro 5 isn't cheap, especially not compared to some of the best cheap fitness trackers. However, it's only a little pricier than the Samsung Galaxy Watch 5 base models, and comparable to the Google Pixel Watch in raw money - and, as you'll see, it's perhaps more value for money when you compare the mileage you'll get out of the watch.
It's a medium-high asking price, but we'll let it slide thanks to its combination of premium design and power under the hood. It launched on May 24, 2023, but you can likely expect discounts later in the year during big sale events such as Black Friday.
Ticwatch Pro 5: Design and screen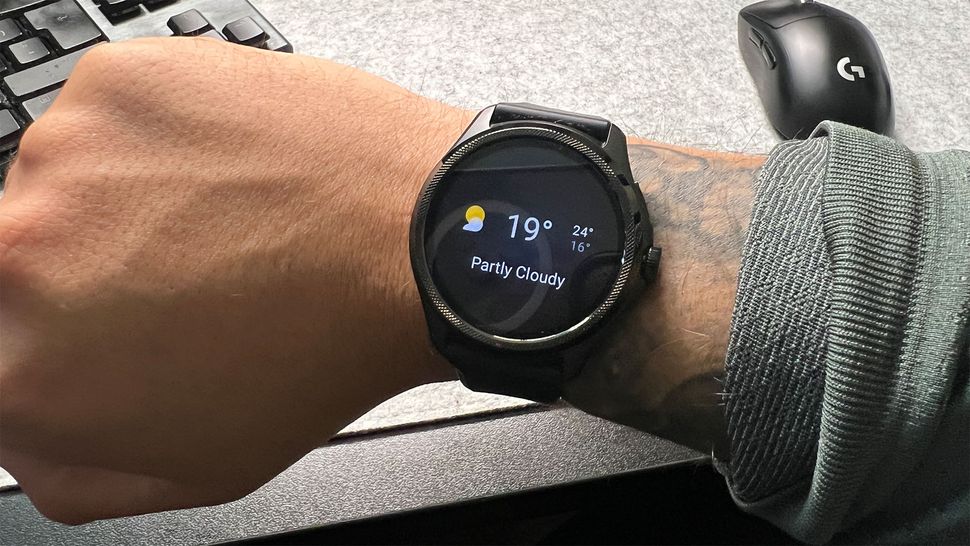 1.43-inch OLED display
Dual layer display is pleasingly minimalist
Straps can feel a little cheap
The Ticwatch Pro 5 offers a circular touchscreen AMOLED face with impressive crispness, but it has more up its sleeve in the form of a dual-layer display. Ticwatch Pro 3 offered the same, and it essentially switches to a second display layer when the first is not in use.
This second screen, which has a pleasing minimalist feel, like an old Casio watch, offers metrics for steps, calories, heart rate, and more, and actually using the watch will take you out of this limited view and drop you into the "true" Wear OS functionality.
The screen is nicely recessed to avoid to much scratching, although we've avoided bashing it on door handles in our testing. Still, the Corning Gorilla Glass coating should help those accidents from shattering it, and provides extra peace of mind on the trail. The raised bezel puts us in mind of the Samsung Galaxy Watch 5 Pro, which also uses that metal lip to help ward off glancing corner blows.
As mentioned before, there's an Apple Watch-esque rotating crown for scrolling through menus and apps with ease, but there's also a side button that can bring your recently used apps to the fore. It's all nicely designed with the combined aluminum and high-strength fiberglass
Our only minor gripe is that the straps feel a little cheap. It's not that they're bad, and they can easily be switched with the pins underneath, but it doesn't feel even as soft to the touch as Fitbit's straps, let alone premium silicone alternatives like Apple. However, it's the only flaw to find in a solid, functional, beautiful design.
Ticwatch Pro 5: Features
Runs Wear OS 3
One colorway
No Google Assistant or LTE option
Aside from the dual-layer display we mentioned earlier, there's a whole host of tech packed into the Ticwatch Pro 5. Much of that leans heavily on Wear OS, specifically the latest Wear OS 3 version. That means you can use Google Wallet and load your cards onto your watch, download playlists from the likes of Spotify, and leave your phone at home entirely, storing those playlists offline.
During our tests, we found the GNSS positioning services (with GLONASS, Beidou and Galileo providing the same excellent worldwide connectivity as some of the best Garmin watches) more than capable of tracking your location with pinpoint accuracy.
Interestingly, there's no way to invoke Google Assistant at present, but there's every chance this comes later. There are also no cellular connectivity options at purchase, which is a bummer for those who want to stream music on the go rather than simply download their favorite playlists.
However, it's easy to get started on the watch, with a rapid pairing process that felt so quick I felt sure something wasn't configured properly.
As mentioned before, the rotating crown is a godsend for navigating lengthy lists of menu options or notifications and offers a subtle vibration when in use. It's a small touch, but it's appreciated.
Ticwatch Pro 5: Performance
Snapdragon W5+ chip ensures snappy responses
Uses Mobvoi Health app, which is comprehensive
Metrics matched Apple Watch Ultra
In my time with the Ticwatch Pro 5, I tested it with a variety of weight workouts and some running and cycling for cardio.
Wearing it on the opposite wrist to my Apple Watch Ultra, I found its metrics to mirror that of its rival, not missing a step - literally.
Whatever your level of fitness or interest in getting fitter, the Ticwatch Pro 5 writes its data into the Mobvoi Health app. It's not the most exciting app to look at, but it certainly tracks enough metrics for pro users to learn about their body's rhythms. Activity is measured in Active Hours, minutes of structured exercise, and steps.
Sleep quality is measured with a timeline similar to Garmin Connect's layout, with different colored sections indicating light sleep, deep sleep, REM and time awake. This information is also available as a bar chart, with a timeline of your heart rate while you slept. It's all standard stuff, but comprehensively - if unexcitingly - laid out for you.
The Snapdragon W5+ chip keeps switching between apps and menus snappy, and installing fresh ones is as easy as you'd expect on Wear OS, too. The Ticwatch Pro 5 pulls data from sensors including, but not limited to, heart rate, skin temperature, Sp02, and GPS. It's as robust a set of sensors as you're likely to find. If you're worried about all of that data collection chugging the battery life, then fear not.
The 628mAh battery inside the Ticwatch Pro 5 lasts for an age, and while it won't beat out the likes of Fitbit models with literal weeks of battery life, it does offer a lot more and still reaches around the 80-hour mark.
That's likely due to that dual-layer display we discussed earlier, but it also smartly disables many of its smart features overnight so that it can sleep track, but won't be checking for notifications (unless you really want it to).
Charging is done through a small connector attached to a USB-A connection, and while there's no power brick included, you can reach well over 60% of charge in 30 minutes if you're using a fast charger.
Ticwatch Pro 5: Should I buy?
Swipe to scroll horizontally
| | | |
| --- | --- | --- |
| Category | Comment | Score |
| Price | Roughly equivalent to Samsung's offerings, with arguably more in the way of features | 4/5 |
| Design and screen | Outstanding dual-display, always-on OLED and simple, effective design. | 4.5/5 |
| Features | Advanced GPS and GNSS features, all the usual Wear OS goodies. No LTE option though. | 4/5 |
| Performance | Outstanding. Battery life performs as expected, and metrics matched the Apple Watch Ultra and Strava for accuracy. | 5/5 |
| Total | A great-looking, great-performing device. Highly recommended. | 4.5/5 |
Buy it if...
You want a powerful smartwatch
The Ticwatch Pro 5 is one of the fastest Wear OS devices we've tested, thanks to its Snapdragon W5+ processor.
You want excellent battery life that doesn't impact features
Fitbit and other manufacturers may last longer, but the Ticwatch Pro 5 offers much, much more, and its dual-layer display also means it fares better than other Wear OS options.
Don't buy it if...
You're on iPhone
This may sound obvious, but at the time of writing the Ticwatch Pro 5 is incompatible with iPhone. Compatibility with iOS could come later, however.
You're on a budget
The Ticwatch Pro 5 isn't cheap, and while it's a very impressive device, it may be out of your budget.
Ticwatch Pro 5: How we tested
We wore the Ticwatch Pro 5 on one wrist, connected to an Android device, with the Apple Watch Ultra on the opposite side connected to an iPhone.
It stayed on our reviewer's wrist for multiple days, tracking heart rate and exercise during the day, and sleep tracking and vitals overnight. This helped test battery drain, as well as comfort in the long term.
With both devices running Strava, we tested the GPS by mapping short running routes in the local areas with both tracking at the same time, with matching results.
Ticwatch Pro 5: Also consider
Swipe to scroll horizontally
| | | | |
| --- | --- | --- | --- |
| Component | Ticwatch Pro 5 | Garmin Foreruner 265 | Samsung Galaxy Watch 5 |
| Price | $349.99 / £329.99 / AU$519.99 | $449 / £429 / AU$770 | £269 / $279.99 / AU$499 |
| Dimensions | 50.1 x 48.0 x 12.2 (mm) | 46.1 x 46.1 x 12.9 (mm) | 44.4 x 43.3 x 9.8 (mm) |
| Weight | 44.3g | 47 g | 33.5g |
| Case/bezel | 7000-series aluminum + high-strength nylon with fiberglass | Fibre-reinforced polymer | Armor aluminum frame |
| Display | 466 x 466 px, always-on OLED, Corning Gorilla Glass | 416 x 416 px AMOLED, Corning Gorilla Glass | 450 x 450 px super AMOLED, Sapphire crystal |
| GPS | GPS, Beidou, Glonass, Galileo, QZSS | GPS, Beidou, Glonass, Galileo, SatIQ | GPS, Glonass, Galileo, |
| Battery life | 80 hours | 13 days (20 hours GPS) | 24 hours |
| Connection | Bluetooth 5.2 | Bluetooth 5.2, ANT+, Wi-Fi | Bluetooth 5.2, Wi-Fi |
| Water resistant? | Yes, 5ATM | Yes, 5ATM | Yes, IP68 |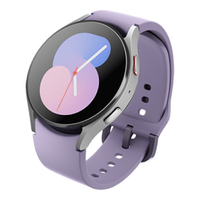 Another great mid-range Wear OS-adjacent watch running Samsung's One UI Watch operating system. It's a good watch, escalating to great if you've got a Samsung phone as it all pairs so seamlessly.
Read our full Samsung Galaxy Watch 5 review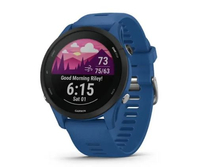 A similar-priced Garmin watch with a fabulous OLED screen, this is a dedicated workout wearable that operates like a 'true' smartwatch with its full-color touchscreen and onboard music storage. Slightly more expensive but great for runners.
Read our full Garmin Forerunner 265 review
First reviewed: June 2023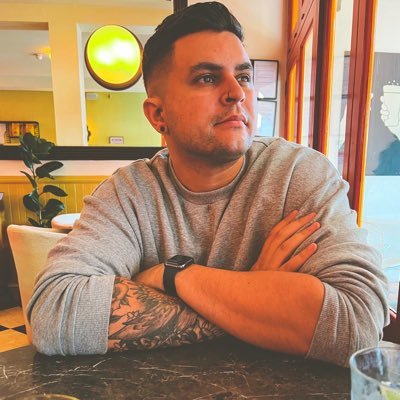 Lloyd Coombes is a freelance tech and fitness writer for TechRadar. He's an expert in all things Apple as well as Computer and Gaming tech, with previous works published on TopTenReviews, Space.com, and Live Science. You'll find him regularly testing the latest MacBook or iPhone, but he spends most of his time writing about video games at Dexerto.