It's been long replaced by the iPhone SE as Apple's go to budget handset, but if you're looking for the cheapest iPhone on the market then you have to check out iPhone 5S deals before committing to your purchase.
Apple is no longer producing iPhone 5S handsets, and so it's no longer available on contract brand new from any of the major networks.
But that doesn't mean you can't still get one. Refurbished models come on to the market from time to time (although their prices don't look too good) and there are still plenty of retailers stocking the 5S handset only, and for well less than £200. So you could easily buy it SIM-free and then get hold of a cheap SIM only deal to put in it.
This will give you much more flexibility than getting it on contract anyway. We've built a dedicated comparison chart below showing all the best unlocked iPhone 5S prices, or hit the 'Handsets' tab at the top of the first table.
More options: iPhone SE deals | iPhone X deals | iPhone 6S deals | iPhone 6 deals | iPhone deals | SIM only deals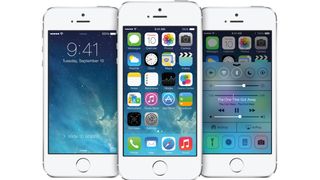 iPhone 5S debuted Apple's newfangled fingerprint sensor and 64-bit processor three years ago, and it's still a viable smartphone for anyone on a budget. It's held up well enough with a good camera and iOS 11 software update - just don't expect the specs of the iPhone X!
Read Techradar's full iPhone 5S review here