Editor's Note: June 2023
As more people have shifted to working from home and putting together less portable work setups, desktop PC are once again playing a bigger role in many households. So, it's only right that test the available options out there for you to help you make the right choice. This means that we will be expanding this list in the coming weeks and months.
This month, we've got some new additions: a gaming PC that works great as a work PC, a new pick of the best gaming PC for most people, and a premium option for those with deeper pockets.
Michelle Rae Uy, Reviews and Buying Guides Editor, Computing
Choose the best computer to suit your needs. Instead of spending a lot of money on a kitted-out machine that's overkill or cheapening out on a budget PC that won't meet your demands, your main goal should be finding that perfect PC that can handle your day-to-day workload without slowing down or heating up your whole space.
Make sure that it has the best processor and the best GPU you need for your daily demands. Play close attention to the memory as well – an 8GB RAM may be enough for casual users but not for gamers and content creators. And, make sure that you're getting enough storage for your needs – something like 256GB of storage, for example, isn't going to be enough if you're saving a lot of videos, hi-res photos, and games.
If your demands include intensive tasks like video editing or gaming, you might need something with more powerful specs. One of the best gaming PCs might be a great choice. But, if you only need something for sending out emails and streaming content, you're better off with a more affordable system. Luckily, you have a lot of options just with the type of computer you want, much less specific brands and what they bring to the table.
We'll help you get something that's the best value for your money, instead of getting one that's overkill or a cheap one that barely runs. We've put our many years of PC experience to use to by running them through their paces and choosing only the best computers on the market.
Whether its the best budget gaming PC or the best all-in-one computer you're after, chances are we've tested it. And, you'll find something from our picks below to suit your needs and wallet. We've even included the best prices available so you can save if a PC deal is available.
The best computer 2023
Why you can trust TechRadar We spend hours testing every product or service we review, so you can be sure you're buying the best. Find out more about how we test.
Powered by 12th-gen Intel Core processors (up to an Core i9-12900K), and up to an Nvidia RTX 3090, this rather compact desktop PC from Dell packs an enormous punch. And given that it is a Dell PC and Dell remains one of the best OEM systems integrators in the world), the hardware in the XPS desktop manages to edge out similar systems from rivals with the same hardware configurations at a generally lower price.
While we didn't quite get around to writing a full review of this machine, we did test it extensively in the office, using it to get through our daily workloads. And we must say, this is a fantastic workhorse, especially for the price. It misses out on some features - it's got just the one USB-C port, for example. But it's proven to be a great proposition for the price, which is why it tops our current list as the best PC for most people.
If you didn't think the Mac mini could get any better, then think again. The Mac mini (2023) is by far the best mini PC you can buy right now, with Apple improving the smallest Mac in every way that matters. While it's still not upgradeable, it's more powerful than ever, powered by the new M2 and M2 Pro chips. We performed similar tests on the Mac mini as we did on the MacBook Pro 16-inch (2023), and it performed brilliantly, seeing us through editing 8K movie files and making projects in Ableton Live 11 without a sweat.
It's also touting a cheaper price - or, at least a price of entry, which makes it accessible to more people, especially those with smaller setups. What's more, it's body is every so slightly thinner so you can slip easily slip it in your backpack to take to the office or while traveling. If you're looking for a compact PC to sit unobtrusively on your desk, in a studio, or even under a TV, this is an excellent choice – even die-hard Windows users may be tempted.
Read the full Apple Mac Mini M2 (2023) review
Beauty and power come in spades in the Acer Predator Orion 7000 but without forcing you to break that piggy bank. It's a beast, no matter how demanding the task is. Its high-end specs guarantee a smooth gaming experience and have seen us through completely maxed out sessions – including 4k resolution, HDR, ray-tracing, and 120fps (and even 256fps) – without breaking a sweat.
Quite literally, thanks to its well-constructed cooling system that keeps running smoothly without turning into a furnace, which is just what's necessary with the amount of power it's got under the hood. The fans can get a bit loud, but it didn't bother us during testing, especially when we had a decent headset on.
The chassis itself is gorgeous, trimmed with stunning RGB lighting, but it's built for practicality as well with its elegant cable management system and excellent port selection. Just remember that it will require quite a bit of space, however, being big and bulky.
Read our full Acer Predator Orion 7000 review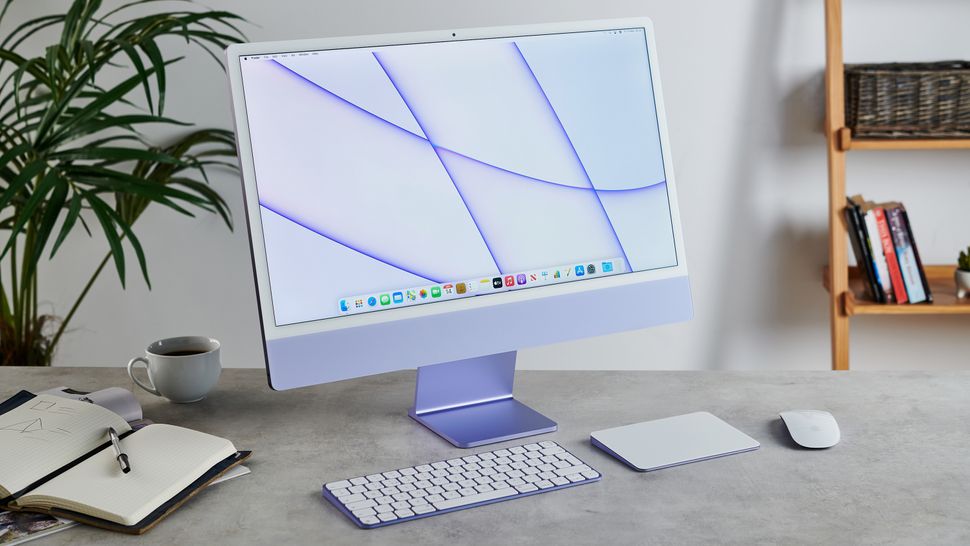 The 2021 redesign of the ever-present iMac is as good as it looks, boasting an enlarged display (24 inches, up from the previous 21.5-inch models) and a selection of vibrant color schemes. The new iMac runs on Apple's own silicon now, utilizing the powerful Apple M1 chip to elevate performance beyond the older Intel-powered iMacs. It's a versatile and effective platform for any professional workload, and gaming on a Mac is even a tangible option nowadays too.
If you want an all-in-one system that is ready to go straight out of the box, the 2021 iMac is a fantastic choice, arguably the very best option on the market right now. It even comes with Apple's wireless Magic Keyboard and Magic Mouse - colored to match your iMac, we might add - so you can get to work the moment you set it up. A full HD webcam and studio-quality triple microphone setup make for excellent clarity in video calls. The new display is a bright and colorful high-resolution screen that serves wonderfully for photo and video editing, too.
Read the full iMac (24-inch, 2021) review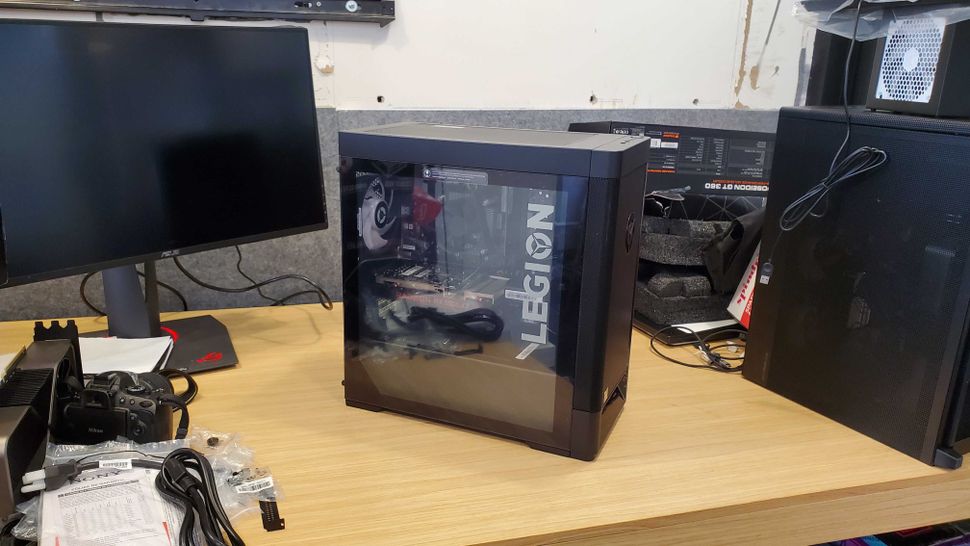 The Legion Tower 5 Gen 6 (AMD) is a no-frills affordable gaming PC through and through. That means that it takes a more minimalist approach with a plain-looking chassis and zero RGB lighting. That doesn't, however, mean that it compromises on performance.
Of course, it couldn't run Cyberpunk 2077 on anything higher than low settings or Dirt 5 higher than medium settings if you want 60 fps during our testing. However, not everyone needs to play on high settings so as long as you're setting your expectations low, a smooth gaming experience awaits. That also means that works well as your work computer, especially since its no-frills design makes it subtle enough for a work setup.
Another pluses here are that it weighs about 30 pounds, much lighter than most PCs, lightweight enough that you can carry it around with relative ease, and the case is small, which means it won't take up a lot of space. Despite its size, there's also decent port selection, which means you'll have more than enough to accommodate all your gaming peripherals.
Read our full Legion Tower 5 Gen 6 (AMD) review
A frankly inspired piece of computer hardware engineering, the Corsair One i300 is a marvelously compact workstation computer that leverages some smart internal design choices to offer top-tier performance with a footprint barely any larger than the Lenovo IdeaCentre Mini 5i seen higher up in this very list. It also runs quieter than many powerhouse PCs thanks to its single roof-mounted fan and perforated side panels.
The One i300 is likely to be a bit overkill for the average user, given its high-end internal components and steep entry price. Still, this is indisputably the most powerful compact form factor PC available right now, and Corsair offers a variety of models with both AMD and Intel processors. If you're looking for a high-end PC for resource-intensive content creation tasks or 4K gaming (or both!), this is an excellent pick. The remarkably compact design does mean that cracking open the chassis to upgrade your components is a tricky - though not entirely impossible - proposition, but thankfully the hardware on offer here means the Corsair One i300 should serve you for years to come.
Read the full Corsair One i300 review
The Alienware line has always been stunning in design and performance, and the Alienware Aurora R15 doesn't fall far from the tree. But beyond the incredible power under the hood, which saw us through both Cyberpunk 2077 and Marvel's Spider-Man Remastered at completely maxed out graphics settings without breaking a sweat, is substantial upgrades in cooling.
There's no PC title that you can't run with ease on it. And that has a lot to do with the cooling and ventilation system, which now features an upgradable 240mm liquid cooling, five 120mm fans, a hexagonal side-venting, and voltage regulator heatsinks on the motherboard. It could be running Cyberpunk 2077 for three hours, and it will still maintain an excellent internal temperature.
It's very expensive, to be sure, but on top of the impressive performance are an excellent port selection as well, adding to its value. Still, only invest if you can afford to splurge.
Read our full Alienware Aurora R15 review
If you're a creative professional, the Mac Studio is basically the best computer you can buy right now. Think of it like a super-charged Mac Mini aimed directly at digital content creators, equipped with a powerful M1 Max or M1 Ultra chip from Apple along with a whopping 128GB of RAM. These chips are actually more effective for high-end content creation than the newly-introduced M2 chip thanks to their laser focus on creative workloads rather than the more general functionality of the M2. Heavy workloads like rendering complex 3D animations or editing 8K footage are all in a day's work for the Mac Studio, provided you've got a suitable display to plug it into.
Like the Mac Mini, the Mac Studio is extremely compact and effectively silent when running, so you won't have to worry about clearing desk space or listening to fans humming while you work. Unlike some of the computers on this list, the Mac Studio can't be upgraded - a side effect of its compact design - and it's also very, very expensive. But if you're a professional creative, this is undeniably worth the asking price.
Read the full Apple Mac Studio review
How to choose the best PC for you
How to choose the best PC for you
Finding the best computer can be challenging since there are so many different types of desktop PCs. We look at all different kinds and compare them to other PCs in their class and consider everything from price to performance.
Just because something is cheap doesn't mean it's bad, so budget PCs need just as close an inspection as high-end systems, and in all cases we consider the performance of the PC against the expected price for a product in that class.
That means a PC less than $500/£500/AU$800 won't be as powerful as the best gaming PC, but if it outperforms our expectations then it is a strong candidate for our list. Meanwhile, if a PC has best-in-class performance but is selling for three times what it should, we're very unlikely to recommend it to anyone since you can pay considerably less with just a slight decrease in performance.
Which computer configuration is best?
The best computer configuration will depend on what you're using your PC for. You need to pay attention to the CPU, GPU, hard drive and SSDs, and RAM in your tower because each individual aspect needs to be changed for the optimal computer configuration.
If you're using your desktop PC for everyday tasks, you won't need a high-powered CPU or GPU and the standard SSD and RAM will do just fine. Gaming PC towers, however, will need those high-power CPUs and GPUs as well as lots of hard drive and SSD storage to account for high-resolution gaming.
Which is the best computer brand?
The best computer brand depends on what your PC's functionality is and what you use it for. Dell and Lenovo make great everyday use computers if you like Windows operating systems, but Apple also has great desktop computers if you're able to afford how expensive they can be.
On the other hand, if you want a PC that has gaming capabilities, you'll want to look at brands like MSI, Corsair, or even Alienware (a gaming-focused brand owned by Dell) if you're looking for the highest quality gaming PC.
Many computer brands have the best PCs that are top-quality and affordable, so the best computer brand for you will ultimately depend on what you want your PC to accomplish.
How We Test
Here at TechRadar, we believe in rigorously testing every piece of hardware that passes through our hands. If it fails to impress during testing, we'll always let you know; we won't recommend you buy any product that falls short of the performance median for its price range.
Our testing process varies from product to product, but we're always sure to run the most appropriate tests considering the target purpose of whatever we're reviewing. This means we're always sure to run plenty of gaming tests on a gaming laptop, or editing benchmarks for a desktop workstation PC. We also always examine the build quality of a product to see whether it aligns with the attached price tag.
If you want to know more about how we test and rate the computers in this guide, check out our explainer on how we test laptops and desktops to learn more.
Today's best computer deals