Best Sony lenses 2023: 16 top lenses for Sony mirrorless cameras
Best
Contributions from
last updated
There's now a E-mount lens to suit pretty much any occasion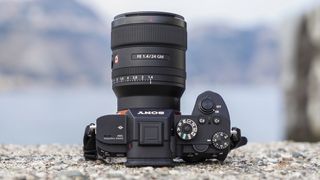 (Image credit: Future)
Looking for the best Sony lenses? You're in the right place. We've tested all of the best lenses to help you find the right ones for your camera and style of photography. Armed with one of the best Sony cameras, it's time to get focal.
If you're relatively new to Sony cameras, here's a quick introduction to them. Sony has two distinct product lines for its mirrorless cameras. The APS-C range is aimed at beginners to enthusiasts, while the full-frame range is available for enthusiasts up to professionals. Whether you have an APS-C Sony camera like the Sony Alpha A6600 or a full-frame model like the Sony A7R IV, we've got you covered.
Sony took the photographic world by storm back in 2013, with the launch of its first A7 mirrorless camera. This diminutive yet powerful body quickly grew into a whole series of A7 and A9 cameras, which have gone from strength to strength. It took no less than five years for the biggest names in traditional cameras to catch up, with Canon and Nikon only launching its first full-frame mirrorless cameras in 2018, namely the Canon EOS R and RP, and the Nikon Z7 and Z 6.
With such a lengthy head start, Sony put those five years to good use. It designed and brought to the market a succession of impressive full-frame compatible lenses, while also ramping up its range of APS-C format lenses for its popular line of A6000 series camera bodies. Whatever type of prime or zoom lens you need for your Sony full-frame or APS-C format body, you'll be able to find an own-brand Sony lens to fit the bill. The only catch is that sometimes the bill can be a little steep, so we've taken value into consideration as well in this in-depth guide to the best Sony lenses.
Just as with conventional SLRs, independent manufacturers have kept an eye on Sony's progress and started designing prime and zoom lenses that compete with own-brand optics. Some of the latest from the likes of Sigma and Tamron deliver similar or even better performance than Sony's own lenses, while undercutting them for price. Let's take a closer look at the best buys to suit a range different requirements.
While Sony lenses can be shared across all of its bodies as the mount is the same regardless of sensor size, many are specifically designed to be used on either the full-frame bodies, or the APS-C bodies. In this guide we'll be taking a look at lenses which are available for both systems – and will note if they are best suited to full-frame or APS-C, or are good for both.
Best Sony lenses 2023 at a glance:
Why you can trust TechRadar We spend hours testing every product or service we review, so you can be sure you're buying the best. Find out more about how we test.
Sony FE 24mm f/1.4 GM
Sony FE 16-35mm f/2.8 GM
Sony FE 85mm f/1.4 GM
Sigma 24-70mm f/2.8 DG DN Art
Sigma 14-24mm f/2.8 DG DN Art
Sigma 50mm f/1.4 DG HSM Art
Sony FE 85mm f/1.8
Sigma 85mm f/1.4 DG HSM Art
Sony FE 200-600mm f/5.6-6.3 G OSS
Sony Distagon T* FE 35mm f/1.4 ZA
Sony Vario-Tessar T* FE 24-70mm f/4 ZA OSS
Sony FE 90mm f/2.8 Macro G OSS
Sony FE 70-200mm f/4 G OSS
Sony FE 100-400mm f/4.5-5.6 GM OSS
Sony FE 20-70mm F4 G
Sony E 70-350mm F4.5-6.3 G OSS

Best Sony lenses in 2023
1. Sony FE 24mm f/1.4 GM
A premium wide-angle prime for full-frame Alpha cameras
Specifications
Focal length:
24mm (36mm APS-C)
Reasons to buy
+
Excellent image quality
+
Beautiful bokeh
The FE 24mm f/1.4 GM is Sony's newest wide-angle prime lens and also the company's eighth high-end G Master lens. Sony has designed the lens around four key criteria: resolution, bokeh, speed, and a compact and lightweight design. It doesn't disappoint. Image quality is stunning, with excellent sharpness across the frame, while the 11-blade circular aperture renders smooth and natural-looking bokeh. Focusing is swift thanks to the Direct Drive SSM (DDSSM), while it weighs in at only 445g (15.7oz). That's quite a bit lighter than Canon's 24mm f/1.4 (650g / 22.9oz), Nikon's 24mm f/1.4 (620g / 21.9oz) and Sigma's 24mm f/1.4 (665g / 23.5oz). The only real downside is the hefty price tag.

2. Sony FE 16-35mm f/2.8 GM
The ultimate wide-angle zoom lens for Sony photographers
Specifications
Focal length:
16-35mm (24-52.5mm APS-C)
Reasons to buy
+
Stunning optics
+
Fast and silent AF
The Zeiss-badged Sony Vario-Tessar T* FE 16-35mm f/4 ZA OSS has been the main choice for Alpha users after a high-quality wide-angle zoom lens, but the arrival of the Sony FE 16-35mm f/2.8 GM now makes that decision much harder. A stop faster at f/2.8, this is a larger piece of glass that weighs in at 680g. Build quality is excellent and includes a full set of weather-seals, while the 11 blade rounded aperture diaphragm delivers ultra-smooth bokeh. Focusing is fast and silent, while the image quality is stunning - the perfect partner for cameras like the 42MP Alpha A7R III and the newer 61-megapixel A7R IV.

3. Sony FE 85mm f/1.4 GM
Everything you could hope for in a portrait lens, and more besides
Specifications
Focal length:
85mm (127.5mm APS-C)
Dimensions:
89.5 x 107.5mm
Reasons to buy
+
Beautiful bokeh
+
Incredibly sharpness
This is a stunning lens and the perfect optic for beautiful portraits. The 11 blade rounded diaphragm helps produce sumptuously soft and dreamy bokeh in defocused areas. Sharpness across the entire frame is very good at f/1.4 – and stunning at f/2.8 and beyond. Sony's Nano AR coating fends off ghosting and flare, while lateral and longitudinal fringing are both minimal. The focus hold button and de-click aperture ring option are nice bonuses, with the latter working very well when shooting video.

4. Sigma 24-70mm f/2.8 DG DN Art
Cheap at half the price
Reasons to buy
+
Exotic optical path and build quality
+
Half the price of Sony's G Master lens
Reasons to avoid
-
It's no lightweight at 830g
-
Distortion/vignetting can be noticeable
Sigma's Art lenses have an uncompromising design ethic that goes all out for enabling artistic flair and creativity, no matter if they end up being quite large and weighty. The 24-70mm f/2.8 standard zoom for Canon and Nikon SLRs is typical of the breed but the new 'DN' version for Sony mirrorless cameras is more of a complete redesign than a simple tweak with a different mounting plate. It's also about 200g lighter, making it more manageable on a svelte Sony mirrorless body, but is still pretty weighty at 830g.
Sigma has certainly thrown the full weight of its technological expertise into the lens. It has a complex optical path of 19 elements. Of these, there are three aspherical elements, six top-performance FLD ('Fluorite' Low Dispersion) elements and two SLD (Special Low Dispersion) elements. In addition to Sigma's usual Super Multi-Layer Coating, there's a brand new Nano Porous Coating, to further reduce ghosting and flare.
The lens is impressive mechanically as well as optically. Its stepping motor autofocus system is very fast and virtually silent in operation, and comes complete with the usual electronically coupled focus ring, which enables very precise manual adjustments. Meanwhile, aperture control is based on an 11-blade diaphragm which remains very well-rounded when stopping down, helping to retain attractive bokeh.
Image quality is mostly fabulous, with superb sharpness and contrast, and absolutely negligible color fringing. The only minus points are that barrel distortion is rather noticeable at the short end of the zoom range and vignetting is quite severe at f/2.8, but automatic in-camera corrections are available for both of these aberrations.

5. Sigma 14-24mm f/2.8 DG DN Art
Ultra-wide viewing angles with top-notch quality
Specifications
Focal length:
14-24mm (21-36mm APS-C)
Reasons to buy
+
Great image quality
+
Robust, weather-sealed construction
Reasons to avoid
-
Less 'ultra-wide' than Sony 12-24mm
-
Not a 'zero distortion' lens
Own-brand Sony wide-angle zooms include the FE 16-35mm f/2.8 G Master and the FE 12-24 f/4 G. This new Sigma lens goes wider than the 16-35mm while matching its fast and constant f/2.8 aperture, although it doesn't go quite as wide as the 'slower' f/4 lens. For our money, the Sigma is actually an ideal compromise in terms of zoom range and aperture rating. And speaking of money, it massively undercuts both Sony lenses for purchase price.
Like Sigma's 24-70mm Art standard zoom for Sony mirrorless cameras, this one has evolved from a very popular lens that was designed for Canon and Nikon SLRs. Again, there are considerable differences in the construction of the E-mount version, starting with the optical path. The veritable feast of glass includes three aspherical elements, complete with a large-diameter, ultra-high-precision one at the front. Further back, there's an FLD ('Fluorite' Low Dispersion) element and no less than five SLD (Special Low Dispersion) elements. Also like the standard zoom, the ultra-wide lens uses both Super Multi-Layer Coating and Nano Porous Coating, which give a noticeable reduction in ghosting and flare, compared with the older SLR lens.
As usual in ultra-wide lenses, the lens hood is an integral part of the barrel and protects the bulbous, protruding front element. As such, there's no attachment thread for the direct mounting of filters. However, the new E-mount version of the lens adds a gel filter slot in its mounting plate, complete with a locking device, and comes with a template for cutting gel filter material to size.
Build quality is excellent and the construction features comprehensive weather-seals. Handling is similarly top-drawer. The autofocus system is fast and unerringly accurate, and image quality is stunning in terms of sharpness and contrast, even when shooting wide-open at f/2.8. However, whereas the SLR edition of the lens is virtually a 'zero distortion' optic, the DN version produces noticeable barrel distortion in the 14-16mm sector of its zoom range. Even so, this can be automatically corrected in-camera.

6. Sigma 50mm f/1.4 DG HSM Art
This sharp and affordable Art-series optic impresses
Specifications
Full-frame compatible:
Yes
Focal length:
50mm (75mm APS-C)
Dimensions:
85.4 × 99.9mm
Reasons to buy
+
Excellent sharpness
+
Nine rounded aperture blades
Reasons to avoid
-
No weather sealing
-
Pretty chunky
This lens has already garnered much acclaim since its release five years ago, being prized for its sharpness. Not only that, but at a fraction of the price of Sony's own Planar T* FE 50mm F1.4 ZA optic, this is a very tempting option for street, portrait and nature photographers who need that wide f/1.4 aperture, be it for working in low light or for isolating subjects from their surroundings. It's not the smallest 50mm f/1.4 lens of its kind, although it seems that the extra bulk is necessary in order to deliver the kind of imaging performance we find here.

7. Sony FE 85mm f/1.8
Sensibly priced optic that delivers great bokeh
Specifications
Full-frame compatible:
Yes
Focal length:
85mm (127.5mm APS-C)
Reasons to buy
+
Beautiful bokeh
+
Stunning sharpness
Reasons to avoid
-
No distance and DOF scales
-
Some flare
This fairly chunky optic nonetheless only weighs in at a pretty modest 371g thanks to a predominantly plastic construction, but balanced really nicely on the Alpha A7R II we tested it with. The design is very clean - so much so that there's no distance or DOF scales, but those niggles aside, it's a cracking portrait lens. Focusing is nice and brisk while the nine-blade diaphragm delivers to really beautiful bokeh. Optically, there's little to fault it on either - it's incredibly sharp at the centre of the frame through the aperture range. If you can't justify one of the more exotic Sony portrait lenses, this is a great option.

8. Sigma 85mm f/1.4 DG HSM Art
The wedding photographer's dream lens
Specifications
Full-frame compatible:
Yes
Focal length:
85mm (127.5mm APS-C)
Dimensions:
94.7 × 126.2mm