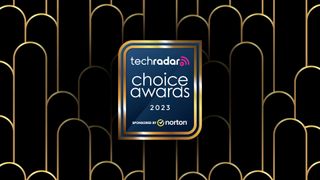 (Image credit: Future)
It's time to meet the winners of the TechRadar Choice Awards 2023, sponsored by Norton! The winners of these awards are chosen in part by you, the readers of TechRadar, to help make sure we're honoring the tech that's most-loved by the people who actually use it.
We'll lead in with our Editor's Choice awards, which are chosen solely by the TechRadar judges. But then we'll get into the full list of categories across all kinds of tech products, which were decided by combining the votes of our readers with scores from our judges.
We've got more categories than ever this year, reflecting how the world of tech continues to broaden. And one of these new awards is what we'll open with: the Reader's Choice Award. This was 100% voted by you, from a shortlist of the biggest-name tech released in the last 12 months. So let's start with the people's winner!
Reader's Choice Award
Editor's Choice awards
Phone of the Year
Laptop of the Year
TV of the Year
Streaming service of the Year
Headphones of the Year
Health & Fitness Device of the Year
Camera Device of the Year
Home Tech of the Year
Game of the Year
Sustainability Award
Brand of the Year
One to Watch
Phones category winners
Best Value Phone
Best Mid-range Phone
Best Folding Phone
Best Camera Phone
Best Gaming Phone
Best Tablet
Computing category winners
Best Budget Laptop
Best Laptop for Gamers
Best Computing Innovation
Best PC Gaming Accessory
TV category winners
Best TV for Gaming
Best TV for Movies
Best OLED TV
Best Mid-range TV
Best Value TV
Best Projector
Best Soundbar
Streaming category winners
Best Streaming Device
Best Streaming Service for Movies
Best Streaming Service for Documentaries
Best Streaming Service for TV Shows
Best Streaming Service for Value
Audio category winners
Best Wireless Headphones
Best Wireless Earbuds
Best Value Headphones
Best Value Earbuds
Best Bluetooth Speaker
Best Wireless Speaker
Best Audio Player
Health & Fitness category winners
Best Smartwatch
Best Running Watch
Best Fitness Tracker
Best Electric Toothbrush
Best Smart Scales
Best E-bike
Best E-scooter
Cameras category winners
Best Beginner Camera
Best Hybrid Camera
Best Professional Camera
Best Video Camera
Best Instant Camera
Best Action Camera