The Hisense PX2 Pro is an excellent successor to the PX1 Pro. It's brighter and starts cheaper, making it all the more appealing for anyone who's been holding out for a dazzling UST projector to sit at the center of their home theater.
Pros
+

Great color and contrast

+

Google TV smart interface

+

Classy design
Cons
-

Built-in speakers lacking

-

Could be brighter
Why you can trust TechRadar We spend hours testing every product or service we review, so you can be sure you're buying the best. Find out more about how we test.
Hisense PX-2 Pro: one-minute review
The Hisense PX1 Pro was one of the best ultra short throw projectors for the money, and the company's new model, the Hisense PX2-Pro, is even better. While its $2,999 / £2,499 / around AU$4,750 price tag makes it an expensive piece of hardware, it's actually cheaper than its predecessor and is one of the more affordable ultra short throw (UST) projectors around.
What you get for the money is a fantastic, compact projection system offering solid performance in a dim room and exceptional performance in a dark one. It blasts an admirable 4K picture at a range of sizes and its simply stunning color puts the Xgimi Aura and Epson EpiqVision Ultra LS800 to shame.
You'll want to set this projector up with a good sound system and a projection screen to make the most of it, but even on its own the PX2-Pro has everything you need to put on a movie night.
Hisense PX-2 Pro review: price and release date
Release date: June 2023
MSRP: $2,999 / £2,499 / around AU$4,750

The Hisense PX2-Pro is available now for $2,999 / £2,499 / around AU$4,750, launching at a lower price than its predecessor the PX1-Pro launched at. The projector doesn't come paired with a screen like Hisense's Laser TV models.
Hisense PX-2 Pro review: Specs
Swipe to scroll horizontally
| | |
| --- | --- |
| Screen sizes supported: | 90-130 inches |
| Brightness (specified): | 2,400 lumens |
| HDR support: | Dolby Vision, HDR10, HLG |
| Optical technology: | 3-laser DLP |
| Smart TV: | Google TV / VIDAA |
| Connections: | 2 x HDMI 2.1 (1 with ARC), HDMI 2.0, 2 x powered USB, optical digital audio output, 3.5mm audio output, Ethernet |
| Dimensions: | 20.5 x 6.3 x 12.8 inches (W x H x D) |
| Weight: | 26.5 pounds |
Hisense PX-2 Pro review: design and features
A stylish, retro-futuristic design
Plenty of connection options
Google TV with Netflix support
The Hisense PX2-Pro is as snazzy-looking as it is feature-packed. The design is largely unchanged from the PX1-Pro, so it's still every bit the retro piece of hardware that it was in a past life. The design also comes with tighter dimensions than the Hisense L9G and Hisense L9H model that it borrows some of its hardware DNA from. This compact UST projector would look right at home next to a record player.
The projector sits on four adjustable feet that let you get it properly perpendicular and level to the wall or projection screen you plan to project on. Focus is managed electronically, which is functional, though not as convenient as a manual focus dial. Another disappointing omission is any real cover for the optics. There's cover glass, but that's not quite as good as a sliding cover that can prevent dust and pet hair in the air from gathering. (With a projector, it's surprising how much impact a single hair laying across the lens can have.)
Tucked away into this slick little number is a machine with ample capabilities. Three HDMI ports are ready to receive 4K inputs, though one is also ready to pass along high-bandwidth Dolby Atmos audio using eARC. If you don't plan to use eARC, you also get optical and 3.5mm analog audio outputs as options. There's a high-speed USB port for powering streaming sticks or connecting external media storage. Wi-Fi 5 is a bit disappointing to see in this 4K streaming era, but the PX2-Pro includes an Ethernet jack for a better connection.
While almost all of the ports are on the rear, there's one extra USB type-A port on the left side of the projector that's ready to serve as a trigger for other home theater devices, such as an electronic projection screen like the Akia Screens Floor Motorized Tab-Tension CineWhite.
The Hisense PX2-Pro also has capable brains with Google TV smart TV interface built in for US models. (In the UK the PX2-Pro runs the VIDAA U7 Smart TV OS, which features Disney Plus, Netflix, Amazon Prime Video, YouTube, Freeview Play and more.) And unlike many other projector smart operating systems, this one actually is ready to stream Netflix from the jump, and even includes a shortcut to it on the remote. It appears Hisense has started to break down the walls some streaming services curiously had up against smart projectors.
A few projectors we've tested with smart TV systems tend to settle for weak hardware that's barely up to the task of running them, resulting in a slow experience, but not this Hisense. Navigating the settings menus and pulling up streaming content is quick. During setup, Hisense provides the option to skip some of the process — no internet connection, no Google account — which can come in handy if you want to keep things simple and plan to use the projector only with external sources.
Design and features score: 4.5/5
Hisense PX-2 Pro review: picture and sound quality
Brightness and contrast a huge plus
Incredible color alongside robust HDR support
Modest built-in sound
As far as projectors go, the Hisense PX2-Pro is a beaut. It's coming from a strong lineage, as the PX1-Pro put the phenomenal capabilities of its three-laser DLP projection system to work in stunning fashion. This new model just upgrades that with a bit more brightness, which makes it more watchable than ever.
The PX2-Pro hasn't quite split the difference between the brightness of this line and the Laser TV line recently brought up to the L9H, which succeeds the marvelous L9G. But, at $3,000, it's a powerful value package and one that benefits from the flexible image size option that's lacking on the Laser TV line.
Hisense's projector blasts a sharp picture that comfortably stretches up to 130 inches. At that size, 4K really starts to make sense, and it doesn't come up lacking for clarity. And as long as you can draw the shades, the brightness is more than enough for a picture that size.
Clarity and brightness being what they are here, the true star of the show is the color provided by the three-color light source. Whether it's displaying HDR content or SDR content, the PX2-Pro puts on one hell of a show, easily trouncing the color of the 3LCD Epson LS800 or the single-laser Xgimi Aura. Splashy content like Avatar: The Way of Water looks glorious while down-to-earth shows like Justified still see the lasers show their power every time the camera heads to the neon-lit interior of a bar. The Hisense also has comprehensive support for HDR, covering HDR10, HLG, and Dolby Vision (which was also added to the PX1-Pro after its launch).
The picture is one thing, but the sound is another. A pair of 15-watt speakers may pump out some volume, but they're hardly a match for the visual capabilities of the projection system. In a 200 square-foot room, you'll get the volume you need for a rousing time, especially where it comes to mids. But when cranking the volume up, treble becomes unpleasantly sharp and biting, while the deep bass range remains lacking no matter what. There's just not enough here to shake your bones. They also hardly muster reasonable stereo separation, so the promise of Dolby Atmos is a flat one. Plan to pair this projector with a cheap soundbar at a bare minimum.
Picture quality score: 4.5/5
Hisense PX-2 Pro review: value
Expensive but not at the top of the range
Dimmer, but fair next to competition
The Hisense PX2-Pro isn't a cheap projector, but it's far less expensive than some of its UST compatriots. It's a good bit cheaper than the $3,499 (about £2,850, AU$5,035) Epson Home Cinema LS800, a model it absolutely decimates in picture quality in a dark room, though it lags well behind the Epson's brightness. It's also much cheaper than the $5,499 (about £4000, AU$7500) Hisense L9H, though that model comes bundled with an ambient light rejecting screen.
This all helps make the PX2-Pro a compelling value in the UST projector realm, especially if you have a dim room. It's got a great picture and is reasonably versatile. There are some threats to it from the portable 4K projector space, such as the JMGO N1 Ultra or even Hisense's own C1, but the PX2-Pro is a force to be reckoned with regardless.
Swipe to scroll horizontally
Hisense PX-2 Pro

| Attributes | Notes | Rating |
| --- | --- | --- |
| Design and features | A sleek retro-futuristic design with the Google TV smart TV system onboard | 4.5/5 |
| Picture and sound quality | Excellent color and very good brightness, though speakers are just adequate | 4.5/5 |
| Value | Sells for less than many competitors while outperfrming them | 4/5 |
Should I buy the Hisense PX-2 Pro?
Buy it if...
You want a great picture for dim rooms
The Hisense PX-2 Pro looks its best in a dim or dark room, though it also has sufficient brightness to perform well in brighter viewing conditions.
You want a variable-size image
Unlike Hisense's 'Laser TV' projectors that come bundled with a projection screen, the PX-2 Pro has a variable image size, which is useful if you want to move it around to different rooms.
You want a projector with Dolby Vision HDR
Many projectors don't support Dolby Vision high dynamic range, but Hisense provides that feature through its full line of ultra short throw projectors.
Don't buy it if…
You want a UST projector that comes with a screen
The PX2-Pro doesn't ship with a projection screen, so if you don't want to have to shop for that item separately, you should instead buy one of Hisense's Laser TV projectors.
You plan to view in a bright room
You'll get a bright image with the PX2-Pro, but it's designed mainly to be used in a room with some light control unlike super-bright projectors such as the Epson LS800.
You don't want to use a soundbar
The PX-2 Pro's audio output is enough to fill smaller spaces, but larger ones will require a soundbar or some other type of external speakers to get adequate volume and bass.
Also consider...
Swipe to scroll horizontally
Comparison: 4K UST projectors

| | Hisense PX2-Pro | Epson LS800 | Hisense L9G | Xgimi Aura |
| --- | --- | --- | --- | --- |
| Price: | $2,999 | $3,499 | $5,499 | $2,499 |
| Screen sizes supported: | 90 to 130 inches | Up to 150 inches | 100 inches | 80 to 150 inches |
| Brightness (specified): | 2,400 lumens | 4,000 lumens | 3,000 lumens | 1,800 ISO lumens |
| HDR support | Dolby Vision, HDR10, HLG | HDR10, HLG | HDR10, HLG, Dolby Vision | HDR10, HLG |
| Optical technology: | 3 laser DLP | 3LCD, Laser | 3 Laser DLP | Single laser DLP |
| Smart TV: | Google TV / VIDAA | Android TV | Android TV | Android TV |
| Connections: | 2x HDMI 2.0 (1 with ARC), HDMI 2.0 | 3x HDMI 2.0 (1 with ARC) | 2x HDMI 2.1, 1x HDMI 2.0 (with eARC), 1x RF, optical | 3xHDMI (1 with eARC) |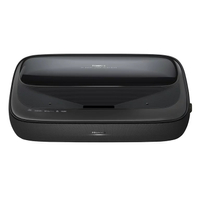 Hisense L9G
If you know you're planning to get a dedicated ALR screen, the Hisense L9G may make more sense. It's a little brighter at 3,000 lumens and like the PX2-Pro, it's color is off the charts, it supports Dolby Vision, and it has eARC for Dolby Atmos. Also, its 40W sound system is a beast in its own right. Here's our full Hisense L9G review.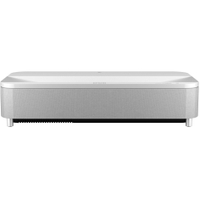 Epson LS800
The Epson LS800 uses a 3LCD laser light source to beam a stunningly bright 4,000 lumens image. This makes it a great option for daytime sports viewing and it also has good built-in sound. Here's our full Epson LS800 review.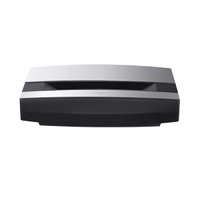 Xgimi Aura
The Xgimi Aura is slightly less expensive than the Hisense PX2-Pro and has about the same brightness. It's also among the best-looking UST projectors on the market though it features the less user-friendly Android TV interface. Here's our full Xgimi Aura review.
How I tested the Hisense PX-2 Pro
Tested at home in multiple, real-world viewing conditions
Presented the display with a variety of media and formats
I have tested numerous projectors and displays over the last half-decade
I tested the Hisense PX2-Pro at home, in real-world conditions. This saw it faced with ambient light coming in from numerous windows, in-room lighting, as well as ambient noise that both the projector and speaker systems had to overcome. The projector was tested both against a bare, white wall and an Akia Screens CineWhite screen. It was presented with streamed content, HDR and non-HDR, and console gameplay.
My testing evaluates the projector's performance with respect to its price and competition from other models I and colleagues at TechRadar have tested.
I have been testing projectors since 2021 and displays for even longer.
First reviewed: October 2023
Over the last several years, Mark has been tasked as a writer, an editor, and a manager, interacting with published content from all angles. He is intimately familiar with the editorial process from the inception of an article idea, through the iterative process, past publishing, and down the road into performance analysis.