Two-minute review
Following last year's landmark Pixel 6 series, the Pixel 7 range looks like an iterative update by comparison, but it doubles down on what makes Google's phones stand out.
Like the Pixel 7 Pro, the Pixel 7 arrives with Google's latest Tensor G2 chipset, which, paired with Google's own take on an Android 13, delivers a satisfying user experience, with everyday tasks made that little bit easier.
While Google's Tensor platform doesn't usually compare all that favorably in side-by-side benchmarks with equivalent flagship processors, that's because it's built with a different focus in mind: AI and machine learning. This remains true for the new Tensor G2, and it enhances a number of facets of the Pixel 7 user experience, from camera quality to call quality, speech recognition and beyond.
The Pixel 7 sports a design that, while divisive, feels considered and premium. The cameras sit within an imposing aluminum band that helps the phone stand out from the crowd, especially in its price range, and the smaller 6.3-inch display size and thinner bezels (compared to the Pixel 6) mean the Pixel 7 is more comfortable to hold, and more pocketable, than before.
The biggest shortcomings are most notable in areas where this phone, by design, trails behind the Pixel 7 Pro, with its slower 90Hz peak refresh rate display (versus 120Hz on the Pro) and the absence of a dedicated telephoto camera chief among them.
Even so, the user experience feels polished, the AI-supported features are unique and competent, and the promise of more functionality via forthcoming 'feature drops' mean this Pixel is only likely to get better with time.
Google Pixel 7 price and availability
Announced October 6, on sale October 13
Prices start at $599 / £599 / AU$999
Same pricing as the Pixel 6
The Google Pixel 7 made its way to pre-order following its October 6 launch, and started shipping as of October 13. The device starts at $599 / £599 / AU$999, which Google rightly points out is $100 less than the latest iPhone 14 and marries up with the price of its predecessor, 2021's Google Pixel 6. In select markets, Google also offered up the new Pixel Watch as a pre-order bonus.
The pricing above is for the base 128GB storage model, but there's also a 256GB variant that's priced at $699 / £699 / AU$1,129. Unlike the iPhone 14 (and 14 Plus), there's no 512GB storage option – for that you'll have to move to the pricier Pixel 7 Pro, although the 512GB variant of that phone is only available in the US and Australia, and not the UK.
There's also no power adapter in the box (another change introduced with the Pixel 6 series), meaning that if you want the fastest-possible charging for your Pixel 7 (21W) – and if you're keeping it in the family – you'll have to pay Google (from) an additional $25 / £25 / AU$45 for its compatible 30W USB-C adapter.
If you want to make the jump to actually buying a Pixel 7 (or 7 Pro) check out our roundup of the latest Pixel 7 deals.
Looking for the perfect audio pairing for the Pixel 7? Check out our review of Google Pixel Buds Pro.
Google Pixel 7 design
Familiar, distinct design established by the Pixel 6
Slightly smaller than the Pixel 6 but still feels big for its screen size
IP68 water and dust resistant
2021's Pixel 6 range marked a notable shift in the series for a number of reasons, and chief among them was the phones' design.
While the two-tone approach to color – exemplified by the Kinda Coral Pixel 6 – hasn't carried across to this latest generation of Pixels, the Pixel 7 (and Pixel 7 Pro) sport a more evolutionary, rather than revolutionary aesthetic one year on, with solid color behind the rounded Gorilla Glass Victus back, divided by metalwork.
The main visual update is to the signature black glass 'visor' of a camera bar that previously concealed each phone's various lenses. This year, it's been replaced by a predominantly metal one, which makes a feature of the lenses rather than hiding them. It's equally divisive and unique all at once, making this series of Pixels just as instantly recognizable as the last in a crowded field.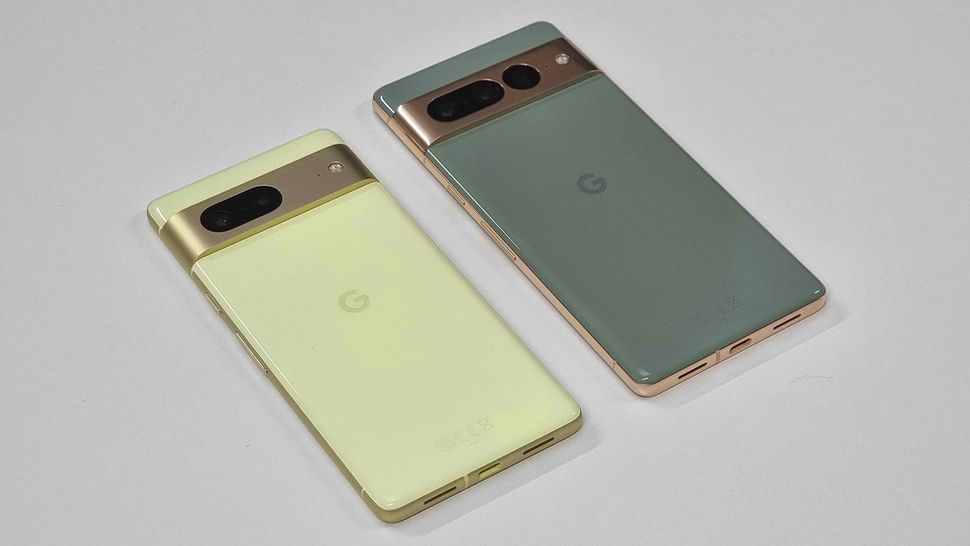 As for the metal in question, the use of lightly textured aluminum on the Pixel 7 (it's polished on the Pixel 7 Pro) gives the phone an almost jewelry-like quality, especially on this generation's standout Lemongrass color option (pictured). On this phone the metal is gold-tinted, rather than silver or dark gray, as you'll find on the other two available finishes: Snow (white / silver) and Obsidian (black / gunmetal).
Google's choice of 100%-recycled aluminum (a material Apple might want to consider switching to for its next best iPhones), paired with the marginally smaller footprint of the standard Pixel 7 (compared to its direct predecessor) helps keep the phone's weight down to a respectable 197 grams.
Opting for a similar design to the previous year's Pixels means the Pixel 7 isn't the most svelte or elegant smartphone out there, and considering its screen size, it still feels a little too big in the hand. However, the Pixel 7 isn't meant to be a 'mini' Pixel, relative to the 7 Pro (the better fit for that moniker would be the rumored Pixel 7a).
As on the Pixel 6, there's a USB-C port and a set of twin grilles on the bottom edge of the phone's rounded frame. The power key and volume rocker run down the right side, and the whole thing is IP68-certified against water and dust.
Google Pixel 7 display
6.3-inch Full HD+ 20:9 90Hz OLED always-on display
Display protected by Gorilla Glass Victus
90Hz peak refresh rate feels behind the curve
As alluded to already, the Pixel 7 is a fraction smaller than the Pixel 6, dropping from a 6.4-inch display to 6.3 inches This helps to more clearly differentiate it from the super-sized 6.7-inch Pixel 7 Pro, and also means it's one of a relatively small number of Android phones worth considering at this screen size.
The Pixel 7 has the same Full HD+ resolution and 20:9 aspect ratio as the Pixel 6, which means the display is imperceptibly sharper than its predecessor, but Google has managed to up the brightness, so that it runs at up to 1000 nits in normal use, and can push to 1400 nits at its peak (25% brighter than that of the Pixel 6's display) for better visibility in bright surroundings.
The bezels have also shrunk, compared to last year's model (though there's still a 'chin'), but even with the subtly-rounded edges of the Gorilla Glass Victus-protected screen, the phone still appears a little bulkier than its screen size would suggest. Despite being the smaller model of this year's duo, it sports the same display size as found on the 'XL' Pixels of old, like the Google Pixel 4 XL.
One upgrade we'd love to have seen this year is a higher refresh rate for the display. You still get a beautiful OLED panel that offers great viewing angles, nice colors and deep blacks, and which feels responsive, but it still tops out at only 90Hz. Sure, it might still make iPhone 14 owners envious, but in the Android world, for a device of this caliber and price, a toggle between a fixed 60Hz or 90Hz (where supported) feels really behind the curve now.
The company could have at least opted for an adaptive refresh rate panel for greater power efficiency, as you'll find on the Pixel 7 Pro, which can scale from its peak 120Hz right down to 10Hz when needed.
On the plus side, multiple color profiles, Night Light (to reduce eye strain) and basic always-on functionality are welcome inclusions, as is the optical in-display fingerprint sensor, which at this (admittedly early) stage hasn't proven as problematic as the previous model's was at launch, even if it isn't as snappy as Samsung's ultrasonic alternative, for example.
Google Pixel 7 software and features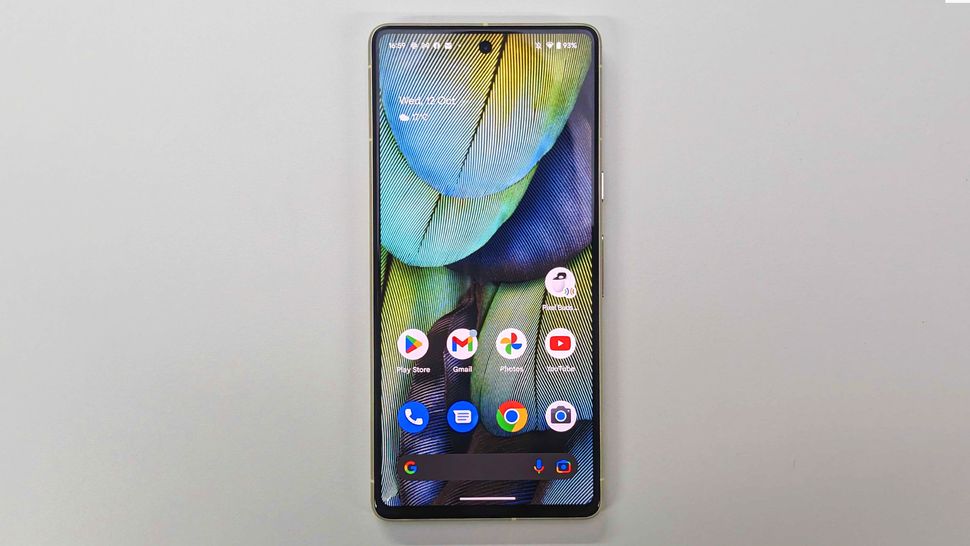 Android 13 on Pixel 7 offers a clean, fun user experience
Promised standout features locked behind 'feature drops' coming after launch
Three years of OS upgrades, five years of security patches
As is the Google way, its Google's latest flagship phones arrive with the latest version of its mobile OS: Android 13.
The user experience on the Pixel 7 is characteristically clean and easy to navigate, with the most prominent change in recent years being the introduction of Google's Material You design language. Its effects are more widespread in Android 13, adding color theming, intelligently generated to complement your chosen wallpaper, to app icons, menus and more.
While the Pixel launcher (the name for the user experience on Pixel phones) is generally minimalist in its approach relative to the likes of Xiaomi's MIUI or Oppo's ColorOS, there are a few embellishments, some of which are wholly new to Android 13.
The media playback bar in the notifications shade now has an undulating wiggle to it that adds a little character and interest on-screen; there's a one-handed mode that behaves similarly to iOS's Reachability feature, bringing the whole UI down halfway to make elements at the top of the screen more readily reachable; and superb haptic integration give everything from unlocking the phone with the fingerprint sensor to typing on the keyboard a sense of weight and quality that's hard to convey in words.
Some of the Pixel 7's (and 7 Pro's) most exciting new features aren't actually available at launch, but rather than causing new Pixel owners to raise pitchforks over promised features that aren't available at launch, Google has cleverly reframed such additions not as delays but 'feature drops', which the company issues multiple times throughout the year as a way to demonstrate its commitment to the Pixel line.
One such addition is an integrated free VPN to offer enhanced security and privacy when you're browsing online, as well as potentially granting access to content from other regions through your favorite streaming app, depending on how much control Google grants you.
Like Google's original Tensor SoC (system-on-chip), the new Tensor G2 chip inside the Pixel 7 places a focus on machine learning and AI-based processes, which in real-world use translates to everything from improved photo processing to speech-to-text capabilities.
We'll get to the camera later, but while it's hard to quantify exactly how well Tensor is doing its job, features like live transcription in the recorder app – which is smart and accurate enough to distinguish between speech, music and background sounds – will serve students, habitual note-takers and (thank you Google) writers very well.
In messaging, voice typing is impressively capable (though the promised context-aware suggested emojis never made an appearance during testing), while being able to ask your phone to read out web pages, or live-transcribe audio while your volume is turned down, continues to feel down right futuristic, not to mention being great for accessibility.
Along with the VPN, Clear Calling is another exciting-sounding feature that isn't on the phone at launch, which is a shame, as it addresses an area of the modern smartphone experience that, ironically, often feels overlooked.
Google Pixel 7 performance
New Google Tensor G2 SoC w/ 8GB RAM
Focus on machine learning and AI functionality
Benchmarks behind rivals, but great in real-world use
Trying to put the Pixel 7's (and 7 Pro's) Tensor G2 silicon through its paces is trickier than with conventional smartphone chipsets, especially when it comes to benchmarking the AI and machine-learning tasks it's been optimized for. This isn't helped by the fact that, at the time of this review (ahead of the Pixel 7's general release), benchmarking apps are not accessible on the device we were testing.
That said, based on everything Google has told the world about Tensor G2, along with what we learned from testing the original Tensor chip inside the Pixel 6 series, and details that surfaced ahead of the Pixel 7's arrival, it doesn't have the raw power to match phones powered by Qualcomm's Snapdragon 8 Plus Gen 1 chip, such as the Samsung Galaxy S22 Ultra. However, the difference isn't likely to be all that significant in real-world use.
Swiping around Android felt flawlessly fluid, and when it came to gaming, thanks to the promise of graphical improvements, and even when cranking up the fidelity settings in titles like Genshin Impact and Apex Legends, the Pixel 7 hovered around 60fps (frames per second) without complaint. Don't expect this to serve as a rival to the best gaming phones out there, but know that it won't let you down if you do want to use it to take on your friends in Call of Duty Mobile.
Moving past the generalities of Tensor's overall competence, speech-to-text based functionality like Live Dictation was near flawless (particularly impressive as it relies on an on-device model), while the long-awaited face unlock proved wholly viable, reliable and snappy – so much so that we're left wondering what stopped Google implementing the feature on the Pixel 6.
In terms of security, it's also worth noting that beyond fingerprint (and now face) unlocking, Google's Titan M2 chip – introduced in last year's original Tensor SoC – is onboard too. It's there to make sure your passwords and data remain scrambled against prying eyes, and is generally considered to be a capable piece of hardware that stands up to industry standards on security.
All in all, while it may not have the raw horsepower of an iPhone 14 Pro, the Pixel 7 can hold its own, especially where AI tasks are concerned.
Google Pixel 7 battery life
Smaller 4,355mAh battery compared to Pixel 6
Can get through a day of heavy use on a full charge
21W wired charging is behind the curve, but fine
The 4,355mAh battery in the Google Pixel 7 may sound large, but we wish it was bigger, especially as it's technically a capacity reduction compared to the 4,614mAh battery inside its predecessor. That said, Google claims that the Pixel 7 can go for 24 hours on a full charge with normal usage, and in practice we found that to be the case – we ended most days at around 15%, with usage including streaming, gaming (30 minutes of Apex Legends with Ultra HD graphics settings sapped 10% charge), and extended TikTok sessions.
If you still have battery concerns when you're out and about, the Extreme Battery Saver mode promises to provide up to 72 hours of life.
You can have the Pixel 7 intelligently schedule when to turn on Battery Saver if it doesn't think you'll make it to your next regular recharge time, based on your typical schedule, while Extreme Battery Saver lets you whitelist apps your still want to access, while suppressing any unapproved apps and background services, which works well in practice.
Perhaps the weakest aspect of the Pixel 7's battery performance isn't longevity but recharging, as the phone only has the same 21W top speed of its predecessor.
If you're using Google's official 30W USB-C charger, the company claims the Pixel 7 will reach to 50% charge in 30 minutes, which is fine, but nothing to crow about.
In testing with a generic 27W PD charger, the Pixel 7 reached 47% in 30 minutes, 80% in an hour and 100% in just under one hour 40 minutes.
Other phones in this price range, like the OnePlus 10T, can charge much, much faster. Faster charging would be a nice bonus for Google's base model (or even its Pro model, for that matter) but we'd still favor an even larger battery (or just longer battery life) if we had to choose between the two.
Wireless and reverse wireless charging also feature, under the name Battery Share, which is great for those with wirelessly charged earbuds or smartwatches who don't want to carry multiple cables with them.
Google Pixel 7 camera
50MP main + 12MP ultrawide rear cameras
10.8MP front-facing punch-hole camera
New features include Photo Unblur and Cinematic Blur (for video)
Enhanced digital zoom doesn't compare to optical telephoto
While it lacks the 48MP telephoto sensor that remains exclusive to the Pixel 7 Pro, you're still getting the same 50MP main camera as that phone, as well as a similar 12MP ultra-wide (although unlike on the Pro, this sensor lacks autofocus, and thus there's no new Macro Focus mode on the standard 7). This year, you also get the same 10.8MP punch-hole selfie snapper across both the standard and Pro models, plus 4K video recording up to 60fps and support for 10-bit HDR video capture for better colors, brightness and contrast.
While the hardware is interesting, the Pixel camera experience is really more about the processing and software, which here are supported by that Tensor G2 chip.
Camera samples
Having used the Pixel 6 Pro extensively, our hopes were high for the camera experience on the Pixel 7 series, and we weren't disappointed. Dynamic range is again a particular highlight, and while base image quality doesn't feel like it's taken any major steps forward, it was already very good to begin with.
What's more, the Pixel 7 lets you do more with your shots compared to last year's Pixels. The already-superb low-light shooting mode (which Google brands as Night Sight) is now faster in operation, and thanks to some smart algorithmic work the Face Unblur feature has been expanded to full Photo Unblur (even photos that weren't taken on the Pixel 7 can benefit from this feature), which, although not perfect, is the best on-device example of such a tool we've seen, making an otherwise challenging photo edit as easy as dragging an on-screen slider.
Creative shooting modes are on hand too, with the existing Action Pan and Long Exposure modes adding dramatic motion blur either to or around a subject (depending on which one you choose) with surprisingly good consistency, while the addition of a new Cinematic Blur mode brings portrait-style bokeh to video.
As with the Cinematic Mode introduced on the iPhone 13 range, Cinematic Blur feels like it's still in beta, and definitely needs further work. Although the subject-tracking seems to work well, the feature struggles when it comes to separating a subject from its background, causing the artificial bokeh to pop and stutter throughout the frame.
Notice the inconsistent bokeh between background and foreground elements over only a five-frame difference when shooting with Cinematic Blur enabled.
Essentially, less motion is better, so racking focus between a foreground and background subject is far more attainable than, for example, trying to follow a moving vehicle that's passing in front of you.
Google Pixel 7 score card
Swipe to scroll horizontally
| Attributes | Notes | Rating |
| --- | --- | --- |
| Design | An eye-catching design that's a subtle evolution on the Pixel 6 that can still turn heads. | 4/5 |
| Display | 90Hz for a flagship is behind the curve but the screen looks great otherwise. | 3.5/5 |
| Software | Clean Android and lots of really intelligent Pixel-exclusive features to enjoy. | 4.5/5 |
| Performance | The Tensor G2 chip does what it's meant to well, even if it doesn't compare to mainstream competition. | 4/5 |
| Battery | Battery life lives up to Google's claims, but faster charging would have been nice. | 3.5/5 |
| Cameras | No optical zoom, and some features need work, but it's hard to take bad photos with this phone. | 4/5 |
| Value | Great functionality and nice hardware in a standout design at a good price. | 4/5 |
Should I buy the Google Pixel 7?
Buy it if...
You want a phone that stands out
Not everyone will love the camera bar-driven design of the Pixel 6 and now the Pixel 7, but Google has created something that's undeniably different to anything else on the market, and that's no easy task (without it also looking terrible). The Lemongrass finish is equally divisive, but if you want an eye-catching phone with substance, the Pixel 7 delivers.
You're a creative mobile photographer
If you rely on your phone's camera for more than snapping pics of a fancy dinner or your receipts (it's good for those too), the Pixel 7 comes with some creative photo capture modes and editing features that allow for some amazing results; it also just takes great pictures.
You like Google's assistive features
Whether you rely on accessibility, or just like the idea of being able to dictate to your phone, have it read content back to your and the like, the Pixel 7 has the feature set and hardware to make your life easier in lots of little ways, and it's set to get better over time.
Don't buy it if...
You want a compact phone
Sure, it's smaller than the Pixel 6, and Google has slimmed down the bezels, but the Pixel 7 still feels like a sizeable phone (remember, it's a similar size to XL Pixel phones of old). Until the Pixel 7a arrives, grab a Galaxy S22 or a Zenfone 9 if you want a pocketable rocket.
You shoot a lot of video
Google has improved the Pixel line's video quality, and Cinematic Blur is an ambitious new addition, but you'll still have to do a lot of work if you're looking to become the next Roger Deakins (Google him). Video is otherwise better year-on-year, but Samsung and Apple still have the edge here.
You need a lot of storage
One of the most basic issues with the Pixel 7 is storage. While Google would no doubt love you to commit to a Google One cloud storage subscription, if you want to store a lot of apps, games, and media locally, 256GB will only go so far. The phone's main rivals offer up to 512GB and beyond.
Also consider
There isn't a lot of competition directly at the Pixel 7's price point but there are similarly-specced rivals and alternatives that cost only a little more for those who want something Pixel adjacent.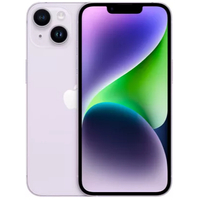 (opens in new tab)
Apple iPhone 14
Like the Pixel 7, the iPhone 14 doesn't rewrite the rulebook over its predecessor and Apple perhaps cut a little too much off the top when deciding which features should remain 'Pro-only' for this generation but it packs more power into a smaller space than the Pixel, with a similar camera to boot.
Read our Apple iPhone 14 review for more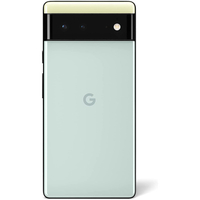 (opens in new tab)
Google Pixel 6
The Pixel 6 was an ambitious reimaging of what the Pixel line should be and what it was capable of, with the first of Google's own AI-savvy chipsets in Tensor and a killer camera. With the more incremental changes leading to the Pixel 7, the 6 still plenty to offer.
Read our Google Pixel 6 review for more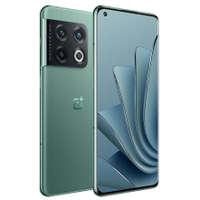 (opens in new tab)
OnePlus 10 Pro
The OnePlus 10 Pro struck a great balance between price and performance at launch; with a flagship chip, a superb display and a slick user experience. A few months on and its value has only gotten better.
Read our OnePlus 10 Pro review for more
First reviewed October 2022