You feel the absence of features that are exclusive to the Pixel 7 Pro, but what the standard Pixel 7 does offer – from its distinct design to its creative and capable camera and intelligent user experience – make it a great value-for-money flagship buy.
Pros
+

Unique color options and design

+

Same Tensor G2 performance as Pixel 7 Pro

+

Great camera with creative features
Cons
-

90Hz display feels dated at this level

-

Lacks the zoom camera of the Pro

-

Faster charging would be nice
Why you can trust TechRadar We spend hours testing every product or service we review, so you can be sure you're buying the best. Find out more about how we test.
Two-minute review
Following last year's landmark Pixel 6 series, the Pixel 7 range looks like an iterative update by comparison, but it doubles down on what makes Google's phones stand out.
Like the Pixel 7 Pro and Pixel 7a (head over to our Google Pixel 7a review for our verdict on the latter device), the Pixel 7 arrives with Google's latest Tensor G2 chipset, which, paired with Google's own take on an Android 13, delivers a satisfying user experience, with everyday tasks made that little bit easier.
While Google's Tensor platform doesn't usually compare all that favorably in side-by-side benchmarks with equivalent flagship processors, that's because it's built with a different focus in mind: AI and machine learning. This remains true for the new Tensor G2, and it enhances a number of facets of the Pixel 7 user experience, from camera quality to call quality, speech recognition and beyond.
Editor's note: The Pixel 7 has been succeeded by the Google Pixel 8. If you want to know how that phone fared in our testing, do go and check out our Google Pixel 8 review, and also consider reading our Google Pixel 8 Pro review.
The Pixel 7 sports a design that, while divisive, feels considered and premium. The cameras sit within an imposing aluminum band that helps the phone stand out from the crowd, especially in its price range, and the smaller 6.3-inch display size and thinner bezels (compared to the Pixel 6) mean the Pixel 7 is more comfortable to hold, and more pocketable, than before.
The biggest shortcomings are most notable in areas where this phone, by design, trails behind the Pixel 7 Pro, with its slower 90Hz peak refresh rate display (versus 120Hz on the Pro) and the absence of a dedicated telephoto camera chief among them.
Even so, the user experience feels polished, the AI-supported features are unique and competent, and the promise of more functionality via forthcoming 'feature drops' mean this Pixel is only likely to get better with time.
Google Pixel 7 price and availability
Announced October 6, on sale October 13
Prices start at $599 / £599 / AU$999
Same pricing as the Pixel 6
The Google Pixel 7 made its way to pre-order following its October 6 launch, and started shipping as of October 13. The device starts at $599 / £599 / AU$999, which Google rightly points out is $100 less than the latest iPhone 14 and marries up with the price of its predecessor, 2021's Google Pixel 6. In select markets, Google also offered up the new Pixel Watch as a pre-order bonus.
The pricing above is for the base 128GB storage model, but there's also a 256GB variant that's priced at $699 / £699 / AU$1,129. Unlike the iPhone 14 (and 14 Plus), there's no 512GB storage option – for that you'll have to move to the pricier Pixel 7 Pro, although the 512GB variant of that phone is only available in the US and Australia, and not the UK. The Pixel 7a, by comparison, retails for $499 / £449 / AU$749 in one storage variation: 128GB.
There's also no power adapter in the box with vanilla Pixel 7 (another change introduced with the Pixel 6 series), meaning that if you want the fastest-possible charging for your Pixel 7 (21W) – and if you're keeping it in the family – you'll have to pay Google (from) an additional $25 / £25 / AU$45 for its compatible 30W USB-C adapter.
If you want to make the jump to actually buying a Pixel 7, 7a or 7 Pro, check out our roundup of the latest Pixel 7 deals.
Looking for the perfect audio pairing for the Pixel 7? Check out our review of Google Pixel Buds Pro.
Google Pixel 7 design
Image 1 of 6
Familiar, distinct design established by the Pixel 6
Slightly smaller than the Pixel 6 but still feels big for its screen size
IP68 water and dust resistant
2021's Pixel 6 range marked a notable shift in the series for a number of reasons, and chief among them was the phones' design.
While the two-tone approach to color – exemplified by the Kinda Coral Pixel 6 – hasn't carried across to this latest generation of Pixels, the Pixel 7 (and Pixel 7 Pro) sport a more evolutionary, rather than revolutionary aesthetic one year on, with solid color behind the rounded Gorilla Glass Victus back, divided by metalwork.
The main visual update is to the signature black glass 'visor' of a camera bar that previously concealed each phone's various lenses. This year, it's been replaced by a predominantly metal one, which makes a feature of the lenses rather than hiding them. It's equally divisive and unique all at once, making this series of Pixels just as instantly recognizable as the last in a crowded field.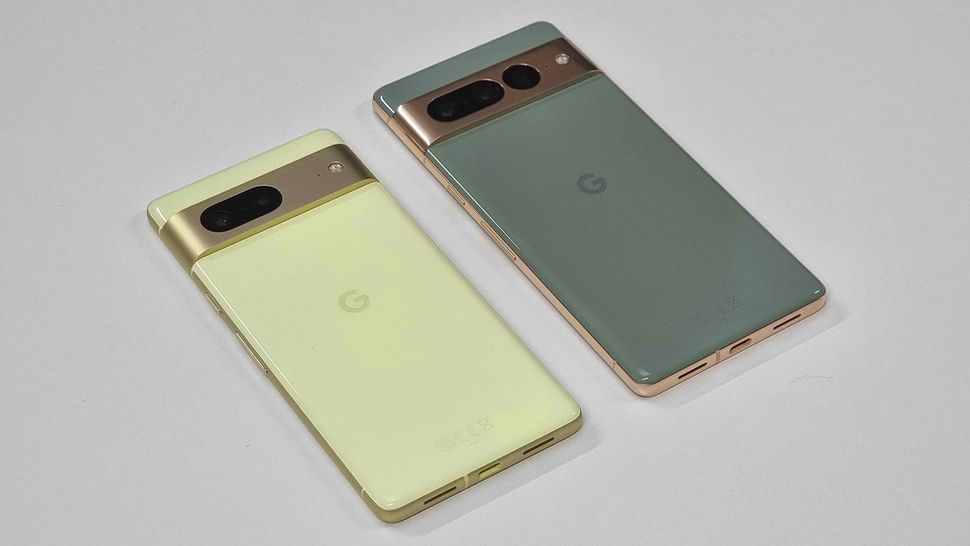 As for the metal in question, the use of lightly textured aluminum on the Pixel 7 (it's polished on the Pixel 7 Pro) gives the phone an almost jewelry-like quality, especially on this generation's standout Lemongrass color option (pictured). On this phone the metal is gold-tinted, rather than silver or dark gray, as you'll find on the other two available finishes: Snow (white / silver) and Obsidian (black / gunmetal).
Google's choice of 100%-recycled aluminum (a material Apple might want to consider switching to for its next best iPhones), paired with the marginally smaller footprint of the standard Pixel 7 (compared to its direct predecessor) helps keep the phone's weight down to a respectable 197 grams.
Opting for a similar design to the previous year's Pixels means the Pixel 7 isn't the most svelte or elegant smartphone out there, and considering its screen size, it still feels a little too big in the hand. However, the Pixel 7 isn't meant to be a 'mini' Pixel, relative to the 7 Pro (the better fit for that moniker is the Pixel 7a).
As on the Pixel 6, there's a USB-C port and a set of twin grilles on the bottom edge of the phone's rounded frame. The power key and volume rocker run down the right side, and the whole thing is IP68-certified against water and dust.
Google Pixel 7 display
6.3-inch Full HD+ 20:9 90Hz OLED always-on display
Display protected by Gorilla Glass Victus
90Hz peak refresh rate feels behind the curve
As alluded to already, the Pixel 7 is a fraction smaller than the Pixel 6, dropping from a 6.4-inch display to 6.3 inches This helps to more clearly differentiate it from the super-sized 6.7-inch Pixel 7 Pro, and also means it's one of a relatively small number of Android phones worth considering at this screen size.
The Pixel 7 has the same Full HD+ resolution and 20:9 aspect ratio as the Pixel 6, which means the display is imperceptibly sharper than its predecessor, but Google has managed to up the brightness, so that it runs at up to 1000 nits in normal use, and can push to 1400 nits at its peak (25% brighter than that of the Pixel 6's display) for better visibility in bright surroundings.
The bezels have also shrunk, compared to last year's model (though there's still a 'chin'), but even with the subtly-rounded edges of the Gorilla Glass Victus-protected screen, the phone still appears a little bulkier than its screen size would suggest. Despite being the smaller model of this year's duo, it sports the same display size as found on the 'XL' Pixels of old, like the Google Pixel 4 XL.
One upgrade we'd love to have seen this year is a higher refresh rate for the display. You still get a beautiful OLED panel that offers great viewing angles, nice colors and deep blacks, and which feels responsive, but it still tops out at only 90Hz. Sure, it might still make iPhone 14 owners envious, but in the Android world, for a device of this caliber and price, a toggle between a fixed 60Hz or 90Hz (where supported) feels really behind the curve now.