Pixel 7a: One-minute review
The Google Pixel 7a may be powerful and it may be smart, but if it can't last me through a full day I won't be recommending it as one of the best phones you can buy. The power of the Google Tensor G2 chipset, which can erase tall buildings from your photos with a couple of taps, may be too much for the tiny battery, and the phone's sluggish charging only makes things worse.
Why start with complaints about the battery? Because it's important. More important than taking great photos, which the Pixel 7a can manage ably, though it won't win you any contests. Even with more megapixels on tap, many of the photos I took look very much like those from its predecessor, the Google Pixel 6a.
Battery life is more important than whatever performance benefits you might get from Google's powerful processor, which can handle the best games and most advanced apps with no trouble. Play those games for your entire train ride to work, though, and you better have a charger waiting at your desk – and you also better have a couple hours to spare before you need a full battery again.
With blazing speed that drains the battery in no time, the Pixel 7a is like a European roadster. You get all the performance and style of the premier sports car, in a smaller package with some corners cut. And, as with a great roadster, it's best to wait until the Pixel 7a drops to a price that makes it irresistible.
Pixel 7a review: Price & availability
Starts at $499 / £449 / AU$749, more expensive than the Pixel 6a (US & UK)
One configuration with 8GB RAM and 128GB storage
Available immediately, Coral color is only available from Google directly
The Google Pixel 7a lands right on schedule for Google's mid-year bargain Pixel phones, only a day shy of the Pixel 6a's first anniversary; however, the Pixel 7a will hit stores in more of a hurry than its laggard predecessor, and will be available to buy immediately after launch, instead of months later.
The Pixel 7a costs $499 / £449 / AU$749 for the single configuration option, which gives you 128GB of storage, with no option to expand that, and 8GB of RAM. I'd like to see a bit more storage – and, believe it or not, microSD cards are not uncommon in this price range. Of course, there's plenty of Google cloud to go around, so you'll probably synchronize most of what takes up space.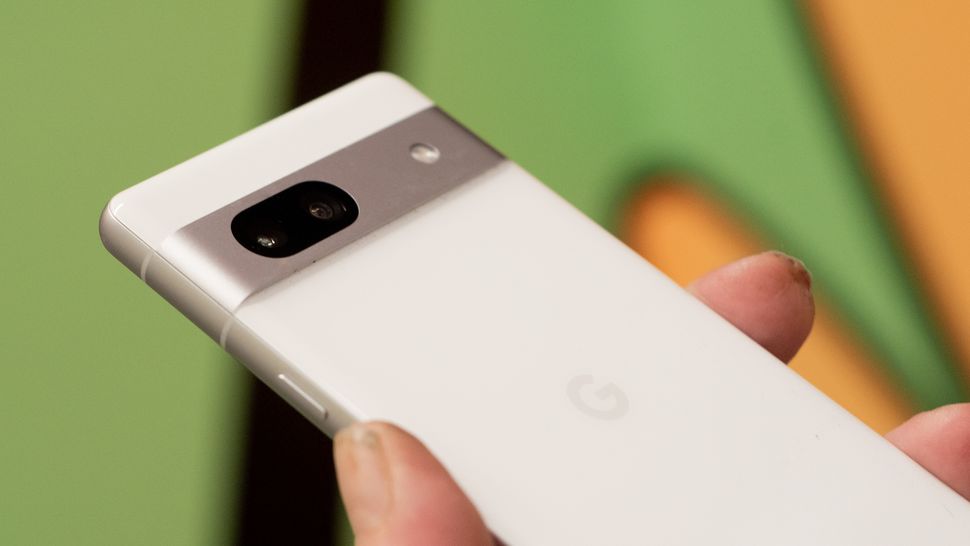 You can buy the Pixel 7a in four colors, though the most distinctive coral option is exclusive to Google's own online shop and its New York storefronts. Your mobile carrier will have Snow, Charcoal, and Sea handsets, which translate to white, grey and blue.
The Pixel 6a cost $50 / £50 less at launch (there's no difference in Australia), and in our Pixel 6a review we identified almost the exact same issues that I have with the Pixel 7a. Since then, that phone has seen some dramatic sales and price cuts – you could often find it for $300 / £300 / AU$600, and at that price it went from being a disappointing budget phone to the best bargain in mobile.
I'd like to think the Pixel 7a will get the same discounts, especially around the sales season later in the year as new flagship phones bubble to the surface. Then again, Google might keep the Pixel 6a around at its occasional $300 price, leaving the Pixel 7a just a bit too expensive to be worth recommending.
Pixel 7a review: Design
It looks like every other recent Pixel
It's still feels unique – because nobody is buying Pixel phones
Maybe try something different for the next one
When the Pixel 6 and Pixel 6 Pro showed up, they looked unique, and stood out among boring phone designs with their corner-mounted camera blocks. Then came the Pixel 6a and it looked… the same. Next came the Pixel 7 and Pixel 7 Pro – more of the same. And now we have the Pixel 7a, and it looks, well, the same. Seriously, Google – even Apple changes its phones just a little bit after this long.
If the Pixel 7a still seems unique, maybe that's because you don't see many Pixel phones around, and that's not a great thing for Google. I liked the signature Pixel design in October, 2021 when I saw it for the first time. Sadly, Google has kept the basic formula but ditched the two-tone colorway options that were really the best part of Pixel 6a design.
My review sample isn't the cool Coral color, or even the less-cool Sea – although my UK colleagues snagged that blue model, so we have some great photos to show it off. I got white – sorry, Snow. Thankfully, I also got the official Google silicone case in Coral, so I barely looked at the slick little shell as I kept it mostly in the case – and the Coral color really is pretty.
If you leave your phone naked and afraid, the Pixel 7a has a nice matte finish on the frame that makes it easy to grip. The slick, slightly curved back surface will slide off a slope, but you won't have trouble holding onto it.
Google says the Pixel 7a is the most durable Pixel a-series phone yet, and thankfully it's water resistant to survive splashes or an accidental dip in the sink.
Pixel 7a review: Display
Nice display but nothing special
90Hz refresh rate improves over Pixel 6a
Not as flashy as the Samsung Galaxy A54
I have no complaints about the display on the Pixel 7a, but it isn't the best I've seen either, even in this price range. It certainly beats last year's Pixel 6a, especially outdoors in bright sunshine, where the Pixel 7a is actually usable. It's not bright, but it's visible.
I like the smaller 6.1-inch size of the Pixel 7a, which makes it feel like a compact phone compared to the much larger devices I'm used to carrying. It could be harder to see fine details in photos for editing work, but the Pixel was responsive enough to let me zoom in and scroll around quickly.
If you're looking for a more impressive screen, and willing to give up a lot of performance, you could check out the Samsung Galaxy A54. The Galaxy A54 uses a 6.4-inch display with a 120Hz refresh rate, while the Pixel 7a can only manage 90Hz. I didn't notice the slower performance other than when playing the fastest games with tons of effects, and for most tasks 90Hz is fine.
Pixel 7a review: Camera
Big improvement over Pixel 6a
Better low-light and dynamic lighting shots
Terrible at zoom, even just a little bit
With Google's AI prowess and the Tensor G2 chip behind it, there was never any doubt that the Pixel 7a would produce satisfying photos. The main camera sensor gets a major upgrade, lifting it from 12MP to a whopping 64MP. Even though the pixels are almost a third smaller, the overall sensor is larger, and images benefit from the better tech.
I spent most of my time comparing the Pixel 7a's cameras to the ones on the Pixel 6a, because that device far exceeded our expectations for bargain phone cameras. I'm pleased to say that the Pixel 7a improves dramatically over the older model. I saw more detail in the backgrounds of images, and much better lighting throughout my shots. Dark spots that would have disappeared in shadow now show nuance.
Sadly, some of the worst problems remain. Google can claim that this phone can shoot like an 8x zoom lens, thanks to digital trickery, but those tricks don't come off. Zoom photos are nearly unusable, and look laughably more like an oil painting than a photograph. The Pixel 7a has the exact same problems as the 6a, and produces almost identically terrible zoom shots.
Here are some image samples from the Google Pixel 7a, compared to the same shot taken with the Pixel 6a.
I found the video recording to be disappointing, especially at the supposed 4K resolution. The video may have the right number of pixels, but those pixels looked pretty lousy when taking high-speed shots of my dog in action. I tried using the Cinematic stabilization mode, but didn't notice such a dramatic effect as using a gimbal for a steady shot.
For special tricks, the Pixel 7a gets a long-exposure mode that the Pixel 6a doesn't have. I enjoy shooting long exposures, as you can get some cool effects if you spot the right opportunity.
Google endowed the 6a with all of the coolest photo editing tricks, like Photo Unblur and automated Magic Eraser, and while the 7a gets all of those tricks too, it's hard to see an advantage here.
The real magic happens in Google Photos, which gets special tools on Google Pixel phones with Tensor chips inside. There aren't any new editing features found on the Pixel 7a that we haven't seen before, but it isn't missing anything, and these are the best and easiest on-device editing tools you'll find on a phone, short of an Adobe Creative Suite subscription.
You can even fix old photos that you didn't take with the Pixel 7a, as long as they are uploaded to Google Photos. These photography tricks are one of the Pixels' biggest selling points.
Pixel 7a review: Software
Runs Android 13 at launch, with three years of OS updates
Wait, only three years? Doesn't Google make this phone?
Seriously, the iPhone gets six years, what's up with only three
Google's own version of the Android 13 interface is light and easy to use, with thoughtful customization options that are much more automatic than they used to be. If you ever considered Android because you wanted a more personalized device, but shied away because it seemed too complicated, the latest software guides you much better than before, and leaves out the parts that made things difficult.
It isn't like Apple's iOS, not even close, and both companies could learn a lot from each other. Apple could learn how to make widgets that are truly functional and fit your home screen the way you want, for instance.
Google, for its part, could learn how to simplify its settings and options even further. The three-and-a-half pages of scrolling through the Settings menu is just the start of all the digging you need to do to find everything you can adjust on the Pixel 7a. If a feature matters, why isn't it easier to discover?
Truthfully, though, Google should be embarrassed by how far it has fallen behind Apple in offering major OS updates. Google adds small, minor features periodically through the lifespan of the Pixel phones, but that lifespan is astonishingly short.
Google makes Pixel phones, the software for the Pixel phones, and the chips that run the software. What use is a Google chip and Google software if Google will only support its own phone for three years? Three years is reprehensible, especially for Google, and even on a bargain phone like this.
How limiting is three years of support? You could buy a Pixel 7a and an Apple iPhone 12, a phone that was launched in October 2020. In three years, your brand spanking new Pixel will stop getting OS updates from Google, but you'll still have another year of life on your iPhone.
This is why everyone disrespects Android phones, and a major reason why the Pixel 7a is very difficult to recommend. While I can excuse some issues if the price drops, waiting for that to happen will only make this phone older when you buy it, and Google has already set the clock ticking on when it will stop caring about the Pixel 7a.
Pixel 7a review: Performance
Amazing performance from a bargain phone
Still can't outperform an iPhone 12
I'd rather have a slower phone with a bigger battery
When a premier phone maker like Google produces a bargain phone it usually makes some sacrifices while keeping some of the advantages of its higher-end handsets, and Google has chosen to retain the performance of its flagship Pixel phones in the Pixel 7a. It has a distinct performance advantage over other phones in its price range – the Samsung Galaxy A54 isn't even in the same solar system as the Pixel 7a, given how much faster Google's phone is.
Of course, in the shadows lurks Apple with its miraculous in-house Bionic chips. You can still buy an iPhone 12 new from Apple, with an A14 Bionic platform (A16 is the current generation) for around the same price as the Pixel 7a, and the older iPhone outmatches Google's best in benchmark performance. In real-world use, you'll hardly notice a difference, but it's worth noting that Android's best-performing phones still aren't indisputable champions.
I had no trouble running the latest games, or editing photos and videos with advanced tools such as Adobe Lightroom. The Pixel 7a performed incredibly well, especially for a phone in this price range. If a fast phone is what you're after, the Pixel 7a won't disappoint you.
The Pixel did run a bit warm when I gamed for a long time, and a few times during my testing week the phone warned me that it would shut down features while the temperature was too high. This was after nonstop gaming at 60fps, but more expensive phones can handle that sort of chore with no complaint.
At this price, you're getting most of the same performance you'll get from a Pixel 7 Pro, albeit with less RAM and a few other internal omissions. Other phones in this price range will give you a bigger and better display, though, as well as a bigger and better battery. The Galaxy A54 gives you a 5,000mAh battery cell, and the Motorola Edge 30 Fusion has a bigger battery and much faster 68W charging.
Most users will prefer more battery life and faster charging, in addition to a better display. If you came looking for speed, you found it – but if you aren't sure that flagship performance is what you need in a phone, I'd suggest looking elsewhere.
Pixel 7a review: Battery
The weakest link in the Pixel 7a chain
Just as bad as last year's Pixel 6a
It's a fast phone, but you pay with battery power
Hey, you wanted a fast phone, and just like fast cars chug petrol, the Pixel 7a slurps down its battery. I spent a long commute into New York City playing Marvel Snap, then switched to a Google Meet video chat. By the time the 90-minute ride was over, I was at 65% battery. Ouch.
The Pixel 7a also takes too long to charge, and the charging curve slopes downward. That is, it took me 45 minutes to get the battery up to 50%. Another 45 minutes and I still wasn't fully charged, I was only at 92%, and the last bit of battery life often took more than 30 minutes to top off. Very weird.
That means you should plan on leaving the Pixel 7a connected to a charger whenever you aren't using it. This is not a phone you can rely on for long-term battery life. Google has an Extreme Battery Saver mode which it claims can last you up to three days of use, but it requires severely limiting which apps and features can be used – and I'd rather have a phone that lasts one normal day rather than three 'extreme' days.
Even if Google drops the price, battery life will remain a stumbling block when it comes to recommending the Pixel 7a. Many phones that are less expensive use a large battery as a key selling point, along with a bigger display. The Pixel 7a is disappointing now, but for a bit less money it becomes a rare roadster; not the most practical phone, but fun to own during a midlife crisis.
Should you buy the Google Pixel 7a?
Swipe to scroll horizontally
Pixel 7a Score Card

| Attributes | Notes | Rating |
| --- | --- | --- |
| Value | Great price for the performance, but I expect it will get cheaper | 3 / 5 |
| Design | Looks just like the last Pixel, and the one before that, and… | 2.5 / 5 |
| Display | Nice and bright but competitors are bigger and faster | 3 / 5 |
| Cameras | Great upgrade over the winning Pixel 6a, with excellent editing tools | 4 / 5 |
| Software | Android is simple and mature, but seriously, only three OS updates for your own phone, Google? | 3 / 5 |
| Performance | Fantastic performance, nearly matching the Pixel 7 Pro at less than half the price | 4 / 5 |
| Battery | Battery could hardly last through lunch time, let alone all day. Charging was also slow and decelerating | 2 / 5 |
Buy it if...
You want great photos and photo editing
There aren't a ton of photo options, but the Pixel 7a takes great shots and makes editing as easy as can be – even editing photos you took on other phones.
You want to try all of the unique Google features
From clear calling to recordings that identify speakers, there are cool features that only Pixel phones with Google Tensor can manage, with more arriving regularly.
The price drops by $100 / £100 / AU$150
It's a great bargain phone if you need performance, but there are too many compromises. For a nice discount, though, we could overlook some of those.
Don't buy it if...
You need a phone that lasts all day
The Pixel 7a unfortunately has the same terrible battery life that we complained about with the Pixel 6a. You'll need to charge it once or maybe even twice a day.
You want a bigger, better screen
The display on the Pixel 7a isn't bad, but there are Samsung and even Motorola phones that have bigger, brighter screens with a higher refresh rate. And a bigger screen means a bigger battery, just sayin'.
You can afford an iPhone
Sorry to say, but the iPhone 12 is more than two years old and it's still faster than the Pixel 7a, plus it will get software updates after the Pixel 7a is forgotten.
Pixel 7a review: Also consider
Swipe to scroll horizontally
Other phones to consider

| | Pixel 7a | Samsung Galaxy A54 | Apple iPhone 12 |
| --- | --- | --- | --- |
| Price: | $499 / £449 / AU$749 | $449.99 / £449 / AU$699 | $699 / £679 / AU$1,199 |
| Display | 6.1-inch, 90Hz | 6.4-inch, 120Hz | 6.1-inch, 60Hz |
| Cameras | 64MP main camera, 13MP ultrawide, 13MP selfie | 50MP main camera, 12MP ultrawide, 5MP macro, 32MP selfie | 12MP main camera, 12MP ultrawide, 12MP selfie |
| Software Support | Android 13, 3 years of OS updates | Android 13, 4 years of Android updates | iOS 16.4, 6 years of iOS updates (predicted) |
If my Google Pixel 7a review has you considering other options, here are two more flagship smartphones to consider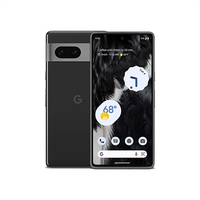 Apple iPhone 12
The Apple iPhone 12 is the most affordable iPhone, and you can find some good deals if you look around. It may be older, but it will get OS updates for longer than a new Pixel 7a, and its Bionic processor can wipe the floor with any Android.
Check out our Apple iPhone 12 review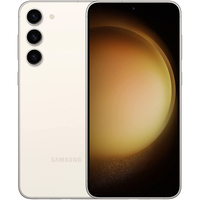 Samsung Galaxy A54
This bargain phone looks like a premiere Galaxy S, and you get a bigger battery and better display than you'll find on the Pixel 7a – and Samsung supports its phones with Android updates for longer than Android-maker Google.
Check out our hands-on Samsung Galaxy A54 review
How I tested the Pixel 7a
I have had the Google Pixel 7a for one full week of testing
This was the only phone I used for the review period
I use benchmarking software, developer tools, and internal data collection
I used the Pixel 7a in every way I imagined a typical user would want to use it. I took photos, played games, and used it for all of my social networking and communication needs. I used it for productivity apps and tools, mindfulness and health apps, and fitness apps.
I also used the Pixel 7a with wearable devices, including Pixel Buds Pro earbuds and my Pixel Watch. I used it with a gaming controller, my automobile, and numerous Bluetooth accessories.
We benchmark all the phones we test using standard benchmarking software, and we also perform internal testing on the phone's performance and battery life. I used GFX Benchmark, PhoneTester Pro, and Geekbench, among other testing apps. I also access the developer options on Android phones for direct feedback on performance from the device itself.
During my review time with the Pixel 7a, I loaded all of the apps I use with my smartphone and used it as my daily device. I used it for maps and navigation, music and video playback, as well as for calls and messaging. I took tons of photos and videos, played games, and used the phone to help me get around.
First reviewed May, 2023