Samsung Galaxy A54: Two-minute preview
Seldom are mid-range phones as memorable as their flagship counterparts, but Samsung's Galaxy A series – and its A5X devices in particular – are often notable entrants into the mid-range market each year; unquestionably serving as some of the best Samsung phones money can buy.
They've seen a lot of success in past generations, with both the Galaxy A50 and Galaxy A51 being among the best-selling phones in the world, in their respective launch years; making the arrival of this newest entry for 2023 – the Samsung Galaxy A54 5G – all the more significant.
A few days shy of a year on from the introduction of the Galaxy A53, Samsung showcased both the Galaxy A34 5G and Galaxy A54 5G alongside one another, hoping to rejuvenate the company's presence in the mid-range phone market by once again offering trickle-down premium features and long battery life in a stylish package that costs around half as much as the flagships they take inspiration from. As the numbering suggests, it's the A54 that's the fuller-featured off these two latest A-series entrants; with a more premium build, more competent cameras and more power at its disposal.
Compared to its predecessor, the A54 has a marginally smaller 6.4-inch Full HD+ Super AMOLED display, which now peaks at 1,000nits (that's 200 more than the A53). You'll find Gorilla Glass 5 on the front and back, and the IP67-certified design embraces the floating camera aesthetics first introduced on the Samsung Galaxy S22 Ultra and subsequently adopted by the company's current flagship Galaxy S23 series, from the start of the year.
Just a few weeks prior to the A54's debut, Samsung announced a successor to the silicon that powered 2022's Galaxy A53 – the Exynos 1380. This just so happens to be the chip that keeps the A54 ticking over, paired with 8GB of RAM in most markets (although there is also a 6GB RAM variant in some regions), alongside either 128GB or 256GB of storage, bolstered by increasingly-novel microSD expandability, up to 1TB.
Samsung's also proud to shout about the phone's 5,000mAh battery (that's larger than both the S23's and S23 Plus' batteries), which the company promises delivers up to two-day longevity, twinned with support for 25W fast-charging – just like the standard Samsung Galaxy S23.
While most numbers go up between generations, when looking at the A54's camera compared to its predecessor, the digits actually drop, but in this instance that could be a good thing. Rather than a 64MP lead snapper, the A54's camera array is fronted by a new 50MP sensor with larger pixels, improved autofocus and OIS (optical image stabilization), paired with a 12MP ultrawide, a 5MP dedicated macro camera and a 32MP front-facing punch-hole camera.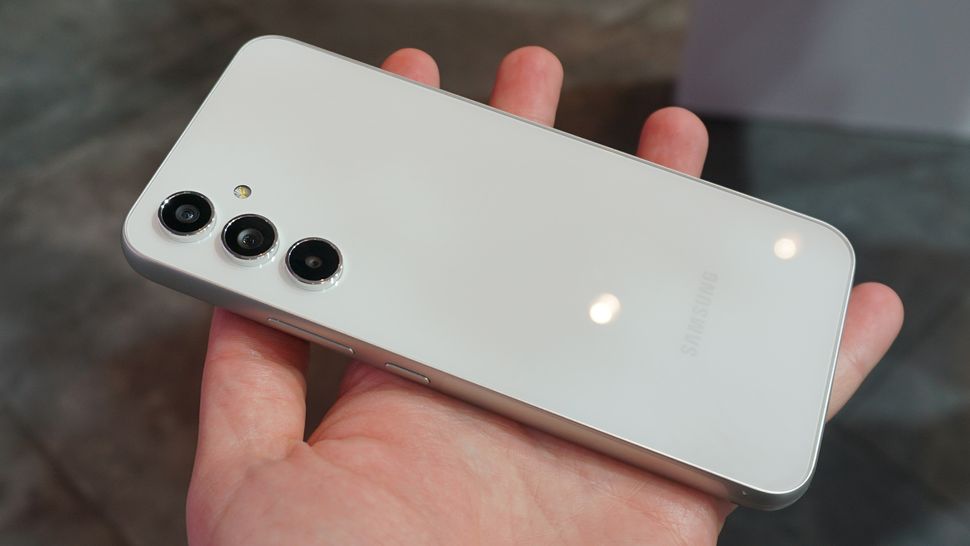 On the software side of things, Samsung has pulled the impressive commitment it's made with its flagship-class Galaxy S and Z phones down to the A54 too, meaning this mid-ranger – which arrives on One UI 5.1 atop Android 13 – enjoys the same four years of OS updates and five years of security updates; granting the A54 a far longer lifespan than the majority of its equivalent rivals, from a software standpoint.
The Galaxy A54 was announced on March 15, with a progressive rollout across European markets, starting with France. Pre-orders in the UK kicked off on the same day, with an on-sale date of April 25, while in the US pre-orders start March 30, with and on-sale date of April 6. In Australia, the A54 is available from March 31.
US and Australian customers will find the starting price of the A54 unchanged from its predecessor, at $449.99 and AU$699 respectively, however, in UK customers can expect a £50 price hike compared to the A53; taking the starting price from £399 to £449 for an 8GB RAM / 128GB Galaxy A54.
Stay tuned for a full review and in the meantime, why not check out our rundown of the best cheap phones, as well as our full Samsung Galaxy S23 review, Samsung Galaxy S23 Plus review and Samsung Galaxy S23 Ultra review.
Hands-on Samsung Galaxy A54 review: Price and availability
Pre-orders kicked off from launch day (March 15) in markets across Europe, with an on-sale date in the UK of April 25 and a pre-order bonus of a free pair of Samsung Galaxy Buds 2 earphones.
Swipe to scroll horizontally
Samsung Galaxy A54 prices

| | | | |
| --- | --- | --- | --- |
| RAM / Storage | US price | UK price | AU price |
| 6GB / 128GB | TBC | N/A | AU$699 |
| 8GB / 128GB | $449.99 | £449 | TBC |
| 8GB / 256GB | TBC | £499 | TBC |
While a pre-order date still isn't confirmed for Australia, the A54 goes on sale on March 31, with the option of a free Samsung Galaxy Watch 4 (40mm) available to claim on purchases made between March 31 and April 13. Samsung Australia is also offering a bonus year of Samsung Care Plus Lite on purchases made before June 30.
In the US, pre-orders run from March 30, with an on-sale date of April 6 and a trade-in offer of up to $250 on select devices, as well as a discount on a pair of Galaxy Buds Live, for $49.99.
Hands-on Samsung Galaxy A54 review: Specs
There are a number of obvious tweaks and refinements that Samsung has exacted on the A54 between generations, including a fractionally smaller and brighter screen, a new camera system that – among other things – drops its predecessor's depth sensor, plus there's a choice of punchier, more eye-catching colorways.
Swipe to scroll horizontally
Samsung Galaxy A54 specs

| | Header Cell - Column 1 |
| --- | --- |
| Dimensions: | 158.2 × 76.7 × 8.2mm |
| Weight: | 202g |
| Screen: | 6.4-inch 19.5:9 FHD+ (2340 x 1080) 120Hz Super AMOLED, protected by Gorilla Glass 5 |
| Chipset: | Samsung Exynos 1380 |
| RAM: | 6GB / 8GB (LPDDR4X) |
| Storage: | 128 / 256GB (UFS 3.1) + microSD (up to 1TB) |
| OS: | Android 13 w/ One UI 5.1 |
| Primary camera: | 50MP, f/1.8 w/ OIS |
| Ultrawide camera: | 12MP, f/2.2 |
| Macro camera: | 5MP, f/2.4 |
| Front camera: | 32MP, f/2.2 |
| Audio: | Stereo speakers |
| Battery: | 5,000mAh |
| Charging: | 25W wired |
| Colors: | Awesome Graphite, Awesome Violet, Awesome Lime, Awesome White |
Hands-on Samsung Galaxy A54 review: Design
Gorilla Glass 5 front and back
IP67-certified construction
Smaller but heavier than Galaxy A53
The Galaxy S22 Ultra enjoyed a design language all its own last year, while the contour-cut camera aesthetics originally introduced on the Galaxy S21 series persisted across most of the company's other 2022 smartphones. However, this year – as with the Galaxy S23 and S23 Plus – the Galaxy A54 now shares in the more contemporary floating camera design first seen on last year's Ultra.
While the A53's raised camera module was pretty tasteful (I preferred it to the full contour-cut look of the S22 and S22 Plus), the revised look of the A54 is even cleaner; even if it is at the expense of some individuality compared to market rivals and predecessors. To counter this, this year's model comes in a range of more punchy finishes; namely Awesome Lime and Awesome Violet, while Awesome Graphite and Awesome White are a little more modest.
After seeing the A54 side by side with its launch sibling – the A34 – I was a little envious of the latter's more exciting pearlescent finish, which adds rainbow hues across the back of the phone when held against the light; it's markedly more eye-catching compared to the flat colors behind the Gorilla Glass 5 on the A54 line, which only catch fingerprints and smudges under the same conditions.
With its smaller display, the A54 is fractionally thicker than its predecessor but perhaps more noticeable is the difference in weight. By gaining 13 grams between generations, the A54 finds itself over the 200-gram threshold (at 202 grams) where a handset's weight starts to feel noticeable in the hand, especially for its screen size. Even so, it's comfortable to hold and construction feels solid (even if the plastic frame looks to be on the chunky side, proportionally), bolstered by IP67-certified dust and water resistance, for added peace of mind.
Hands-on Samsung Galaxy A54 review: Display
6.4-inch Full HD+ AMOLED display
120Hz variable refresh rate. 240Hz touch sampling rate
1,000-nit peak brightness + Vision Booster
On the surface, the A54 features a similar display to its predecessor, however, Samsung has made small but meaningful upgrades that deliver a better overall viewing experience.
Moving from a 20:9 to a 19.5:9 aspect ratio means the A54 has a Full HD+ display that's 0.1-inches smaller than its predecessor, at 6.4-inches. Usually, a smaller screen at the same resolution would suggest a sharper image between generations, but as it's the aspect ratio that's brought about this size difference, image sharpness remains consistent.
What the company calls an 'Infinity-O display' is actually just in reference to the punch-hole front-facing camera at the top-center of the screen, while a relatively thick bezel (which gets wider along its bottom edge) sits between the phone's frame and the pixels of the display. The Super AMOLED panel at play delivers great contrast and vibrant colors, this year folding in the company's Vision Booster tech, for more accurate viewing against a range of different ambient lighting conditions.
Speaking of lighting, the A54's screen also boasts a 200-nit bump to peak brightness, which now tops out at 1,000nits; meaning the outdoor visibility should be even better, compared to the A53 and its predecessors by quite a stretch.
There's the ability to lock the phone at 60Hz to conserve power or enable its adaptive refresh rate, so the phone can scale up to 120Hz or down, as needed (it also has a 240Hz touch response rate).
Blue light filtration – branded on the A54 as Eye Comfort Shield in the phone's Quick Settings – has also been almost halved (12.5% down to 6.5%, according to independent certification from SGS) compared to the A53's screen; for less disruptive viewing in low light or late at night. Meanwhile, a wealth of controls let you tweak color profiles (the phone is set to 'Vivid' out the box), as well as color temperature, and you even have the option of tweaking independent RGB sliders.
Hands-on Samsung Galaxy A54 review: Software
Runs Android 13 on top of One UI 5.1 out the box
4 years OS updates + 5 years security updates
For existing Samsung Galaxy users, the One UI 5.1 experience atop Android 13 should feel immediately familiar; squircle icons, Samsung apps sitting in parallel with Google apps – such as the Galaxy Store and Google Play Store – along with a few handy extras, like the ever-present Edge Panels, which can be swiped out to offer access to favourite apps and contacts, and even pairs of apps for instant split-screen multitasking, easily.
The A54 does give you the option of which additional Samsung apps you want to install during setup, so that the likes of the Samsung Browser and Samsung Calculator aren't compulsory inclusions, but there are unquestionably a few additional pre-loaded third-party offerings that could be considered bloatware which need to be removed manually once setup is complete (in the UK, that includes Booking.com and TikTok).
Coming from a Pixel or Motorola, or even iOS, there's a definite learning curve that centers around getting to know One UI's specific visual language, but once you've mastered that, the experience is enjoyable to use, full-featured and, as such, pretty powerful.
One small but welcome enhancement on the A54 is an improved haptic feedback system, which more closely mirrors the premium haptic experience you'd find on flagships like the Galaxy S23, OnePlus 11 and Xiaomi 13 Pro; serving up precise vibrations for everything from unlocking the phone to zooming in when using the camera.
The biggest win for the A54's software experience has to be its support though, with Samsung matching the commitment it's made with its flagship phones by promising users four years of OS updates and five years of security updates, expanding the phone's lifespan far beyond many rivals around the same price point.
Hands-on Samsung Galaxy A54 review: Cameras
50MP f/1.8 main camera w/ OIS
12MP ultrawide + 5MP macro camera
32MP f/2.2 front-facing camera
One fewer camera sensors than Galaxy A53
The camera has always been a big focus for Samsung's Galaxy A5X devices and the new lead 50MP f/1.8 sensor on the A54 looks like a nice step-up compared to the 64MP sensor leading its predecessor's camera system.
Despite a slight drop in resolution, the move to a larger 1/1.56-inch (up from 1/1.7-inch) sensor, with larger 1µm pixels (up from 0.8µm) and improved range of motion from the OIS (optical image stabilization) system (1.5-degrees of motion up from 0.95), should all result in greatly improved image capture, particularly in low light.
Samsung's ongoing commitment to tight integration with social apps like Snapchat persists on the A54 too, letting you get better quality results when grabbing shots with Snap filters and the like, through the camera's dedicated 'Fun' shooting mode.
Interestingly, the move to a main sensor with all-focus pixels might be the reason behind the loss of the fourth depth sensor, found on the back of last year's Galaxy A53, while a 12MP ultrawide and a 5MP dedicated macro sensor remain, along with a 32MP front-facer.
Samsung promises greatly improved VDIS (video digital image stabilization) when shooting with the A54 and capable editing tools like Photo Remaster and Object Removal after capture.
Hands-on Samsung Galaxy A54 review: Performance and audio
New 5nm Exynos 1380 SoC
Up to 8GB RAM w/ RAM Plus up to 8GB
Up to 256GB storage + microSD up to 1TB
Stereo speakers
Just weeks before the Galaxy A54's debut, Samsung Semiconductor pulled the wraps off the Exynos 1380 – a mobile SoC (system on chip) operating as the successor to the Exynos 1280, which happened to power 2022's Galaxy A53.
It was actually the 1380's announcement that served as one of the last big indicators that the Galaxy A54 was about to launch and, sure enough, the phone arrived packing this new silicon. Built on a similar 5nm process to the 1280 but with the promise of improved power and efficiency, better graphical performance (great for gaming) and a denser NPU (neural processing unit), equipped to better handle AI-based tasks, like image processing, more efficiently.
In most markets – including the UK – the A54 comes paired with 8GB RAM (LPDDR4X), however, there's a 6GB RAM model in some regions too. Regardless, the A54 also enjoys One UI's RAM Plus feature, which lets you use a portion of the phone's storage as additional memory so more apps can remain open simultaneously and to speed up app load times.
Speaking of storage, the A54 comes with either 128GB or 256GB of space, paired with what's become something of a novelty – even in the mid-range market – microSD expandability up to 1TB.
Connectivity includes 5G, WiFi 6, Bluetooth 5.3 (up from Bluetooth 5.1 on the Galaxy A53) and an eSIM (meaning dual-SIM functionality is possible). The phone's earpiece and down-firing speaker work in tandem to create a stereo pair when you don't want to use headphones too.
Hands-on Samsung Galaxy A54 review: Battery life
5,000mAh battery
25W wired fast charging
Promise of two-day battery life
Just as with the company's flagship phones, Samsung chose to omit the power adapter from the box of the Galaxy A53 and that practice continues with the A54, which comes boxed with a USB-C cable, SIM tool and paperwork, but no charger.
If you do want to power the A54 back up, however, it's rated to match the Galaxy S23's 25W fast charging speeds, which Samsung promises means a full charge in 82 minutes or less.
Perhaps the most notable claim, though, is that the hardware at play paired with a generous 5,000mAh battery, mean the Galaxy A54 is designed to last up to two days on a single charge in general use – a claim I'm keen to put to the test and will do soon, so don't forget to check back.
First tested March 2023