The iPhone 13 isn't a game changer for Apple's series of smartphones, but it's an important iteration that offers better battery life, a better processor and an upgraded camera setup than iPhones that have gone before it. If you're looking for a fast and capable smartphone, and don't need the extra features of the pricier Pro model, this is a top choice.
Pros
+

Strong battery life

+

Great design

+

Powerful internals
Cons
-

Minimal design changes

-

No 120Hz screen

-

No Ceramic Shield on rear
Why you can trust TechRadar We spend hours testing every product or service we review, so you can be sure you're buying the best. Find out more about how we test.
Two-minute review
The iPhone 13 is no longer Apple's newest smartphone, though it may well be a more tempting buy than its successor. The iPhone 14 series is out, and the main device in the series is pretty similar to the 13 with the same cameras, display, chipset and design. You can check out our iPhone 14 review to find our full notes on the device.
That's a shame, because in our initial iPhone 13 review, we noted that it didn't bring a huge number of features over the iPhone 12, though it did have a few tweaks here and there.
On paper, you'd be hard pressed to find a reason why Apple didn't call the iPhone 13 the iPhone 12S. The design is largely the same, the specs don't look hugely different, and there aren't many headline-grabbing new features.
If you do want a bigger upgrade then you might not have long to wait, as we're expecting to see the iPhone 14 on September 7, along with the iPhone 14 Max, iPhone 14 Pro, and iPhone 14 Pro Max, so bear that in mind before buying this.
That said, everything on the iPhone 13 is a touch better than before – and some elements are significantly better.
The highlight of the iPhone 13 is its battery life. Previously, iPhones haven't been synonymous with strong battery life, but during every day of our testing we've been hard-pressed to run the iPhone 13 out of juice.
Apple has finally cracked it when it comes to battery life, and it's now far better than it has been on previous iPhone iterations.
The iPhone 13's new A15 Bionic chipset, meanwhile, is incredibly powerful, and paired with 4GB of RAM it's capable of running multiple apps and tasks quickly and efficiently.
A new duo camera for the iPhone 13 improves clarity in images, while the introduction of the company's Sensor Shift optical image stabilization (OIS) technology, previously only available on Apple's Pro Max handsets, is a big deal for those who want to shoot quickly without losing their subject in a blur.
Even the screen on the iPhone 13 is a touch better than what we've seen on previous 'standard' iPhones, and that's a big deal if you're upgrading from an iPhone XS or older. The OLED technology here enables a brighter picture than ever, and the picture quality is simply fantastic.
One disappointment, however, is that Apple hasn't included a 120Hz refresh rate on the iPhone 13, so you're not getting as smooth an experience as on the iPhone 13 Pro or iPhone 13 Pro Max.
As ever, Apple's new iPhone will cost you, with the iPhone 13 price starting at $799 / £779 / AU$1,349 – although this year that gets you 128GB of storage, rather than the 64GB of the base-model iPhone 12.
While at first glance the iPhone 13 may not seem like a great leap forward for Apple, the improved battery life, performance, screen and camera all add up to be a worthwhile upgrade for anyone who's coming from an older iPhone, or looking to make the switch from Android. In fact, it's good enough to rank near the top of our best iPhone guide.
iPhone 13 release date and price
Went on sale September 24, 2021
Started at $799 / £779 / AU$1,349 for 128GB
Second most affordable of the iPhone 13s
The iPhone 13 series was announced on September 14 at the company's annual launch event, with pre-orders opening on September 17. The iPhone 13 release date was September 24, and unlike with 2020's iPhone 12 series it was possible to buy all the new handsets on the same day.
iPhone 13 specs
Weight: 174g
Dimensions: 146.7 x 71.5 x 7.7 mm
Display size: 6.1-inch
Resolution: 2532 x 1170
Refresh rate: 60Hz
Pixel density: 460ppi
Chipset: A15 Bionic
RAM: 4GB
Storage: 128GB / 256GB / 512GB
Rear cameras: 12MP + 12MP
Front camera: 12MP
Battery: 3,240mAh
The iPhone 13 starts at $799 / £779 / AU$1,349, which is the same price as the iPhone 12 in the US and Australia, and a touch cheaper in the UK. The iPhone 12 cost $799 / £799 / AU$1,349 at launch.
You'll get 128GB of storage for that price – Apple has dropped its 64GB models this year, and not before time. If you need more storage, the 256GB iPhone 13 costs $899 / £879 / AU$1,519, while the 512GB model costs $1,099 / £1,079 / AU$1,869.
If those prices are a bit of a stretch, the iPhone 13 mini has similar specs but is a not-insignificant amount cheaper, starting at $699 / £679 / AU$1,199, while going in the other direction you've got the iPhone 13 Pro and iPhone 13 Pro Max if you're looking for higher specs and, in the case of the latter phone, a larger screen.
In all cases, it's worth seeing what Apple promo codes are currently available for ways to save on your purchase.
iPhone 13 design
Mostly the same design as in the 12
Rear cameras have seen slight redesign
Fairly small for a smartphone
If you own an iPhone 12, you're unlikely to see a big difference between that handset and the iPhone 13. If, however, you own an older iPhone, or an Android device, you're certainly going to see some differences.
The new iPhone features a flat-edge design, which debuted with the iPhone 12 range. That means the design is a touch more angular than the rounded finish of previous iterations, but the phone is still comfortable to use one-handed.
The front and rear of the handset are glass, but only the front panel has Apple's patented Ceramic Shield technology, introduced on last year's iPhone 12 . Apple says this offers four times the drop resistance of the glass on older iPhones, but we still wouldn't recommend putting this claim to the test.
Image 1 of 7
We've yet to drop this handset, but it's comforting to know that the Ceramic Shield tech is there as a safety net – although we'd be more comforted if it was on the rear of the phone too.
On the subject of durability, the iPhone 13 series is IP68 dust and water resistant, which means it can survive in up to six meters of water for a period of 30 minutes. Don't expect this handset to be fully waterproof, but it'll survive the odd dunk.
On the left edge of the phone are the silence switch, the volume buttons and the SIM tray. The right edge hosts just the power button, so it's easy to find with your thumb or finger when you're trying to wake the handset.
On the bottom edge are the speakers, and the Lightning port connector for charging and data transfer.
We found the iPhone 13 was easy to use one-handed – it measures 146.7 x 71.5 x 7.7mm – although if you want a truly one-handed device, or you have smaller hands, the iPhone 13 mini may be a better choice.
The iPhone 13 weighs a touch more than the iPhone 12, at 174g compared to 164g, but it's not something you'll notice in everyday use, and it's roughly the norm for a phone of this type.
The rear of the iPhone 13 is plain, but looks sophisticated, with the Apple logo taking center stage and the camera module at the top-left. A minor change this year is that the company has opted to arrange the main lenses in the camera array diagonally, rather than vertically as on previous iPhones.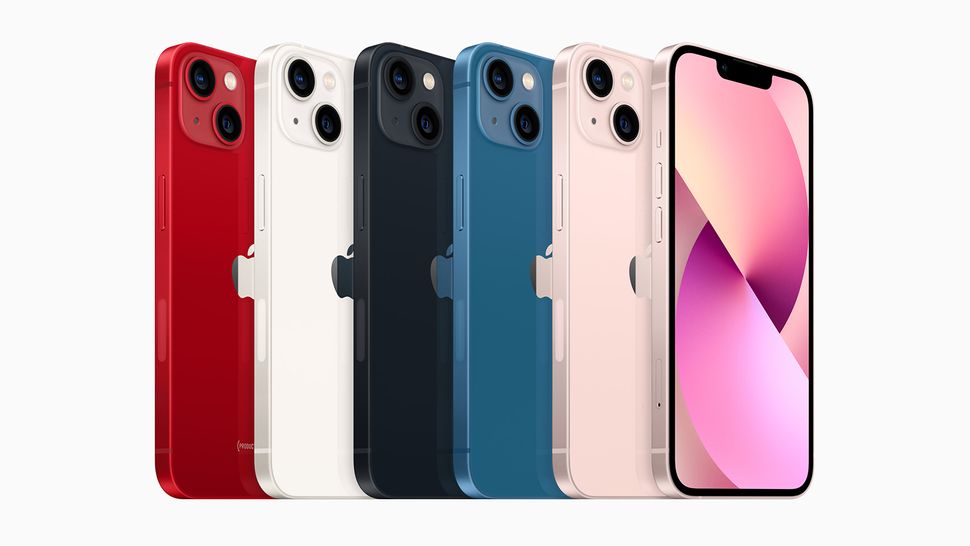 There are five color options for the iPhone 13: Blue, Midnight, Starlight (a cream color), Product Red and Pink – the shade you see pictured throughout this review.
These shades are rather muted, and if you're not a fan of any of them you may want to hang on and see if Apple introduces more colors at a later date – the company introduced a purple iPhone 12 around six months after that phone first launched.

If you own an iPhone 12, you should note that the cases for that handset won't fit the new model.
iPhone 13 display
6.1-inch screen with 2532 x 1170 resolution
OLED panel looks good in sun
Only 60Hz, not 120Hz like Pro
The display on the iPhone 13 is 6.1 inches, with a resolution of 2532 x 1170. It's a Super Retina XDR OLED display made by Apple, and it makes for a clear and bright image – the brightness has been improved on the iPhone 13, and it can hold its own against other smartphones in direct sunlight.
That resolution equates to 460 pixels per inch, which isn't the best we've seen on the market but is perfectly suitable for everyday use – we didn't find we ever needed a higher resolution, even when watching video or playing games.
There are thin bezels around the handset's screen, and some of the display is also taken up with the notch at the top. Yes, there's still a notch on the iPhone 13, but it's 20% smaller than the notch on the iPhone 12, giving you a touch more screen real estate.
Image 1 of 2