The Samsung S95C is the high-end OLED TV in the company's 2023 range, following from its first ever 4K OLED TV in 2022. While Samsung simply refers to these sets as "OLED," they're more usefully known as QD-OLED – this tech combines the self-emitting pixels of OLED with the color and brightness enhancing Quantum Dot layer found in the company's QLED TVs – and this type of screen is a different beast altogether.
The 2022 QD-OLED, the Samsung S95B, earned a five-star rating and ranks on our lists of the best 4K TVs and the best OLED TVs. For 2023, the company has expanded its OLED TV size range to include a 77-inch model alongside the 65- and 55-inch offerings. That 77-incher was made available for me to do a hands-on review at Samsung's facility in New Jersey, where I had sufficient time to make an in-depth picture quality assessment, though don't consider this a full review yet – that will come later.
Before I get into those details, let's review some of the features of Samsung's new S95C OLED TV. The 77-inch model I tested will cost $4,499 (around £4,200 / AU$6,600) and is currently available for pre-order in the US. Its four HDMI 2.1 ports support up to 144Hz refresh rates, along with VRR and FreeSync Premium Pro.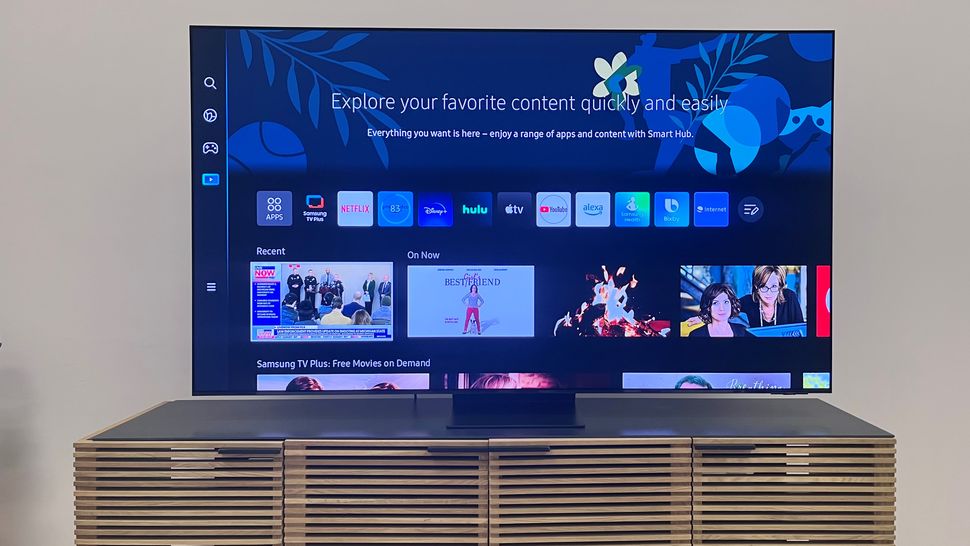 For the S95C series, Samsung is introducing a new, brightness-boosting Quantum HDR OLED Plus feature that uses AI deep learning to fine-tune brightness on a per-pixel level. A Quantum Neural Processor is also onboard that upscales pictures to 4K using AI-based algorithms, with the processing performed on a scene-by-scene basis while the set simultaneously adds dynamic HDR10+ tone mapping. (As with all other Samsung TVs, HDR10+ is the only advanced high dynamic range format the S95C supports, with Dolby Vision once again left out of the HDR mix.)
On the audio front, Samsung's new OLED TV features a 4.2.2 speaker system – a clearly audible upgrade from the 2.2.2-channel configuration of last year's S95B. There's also Object Tracking Sound Plus, a feature that improves the directionality of sound effects when using the set's built-in speakers, and Q Symphony 3.0, which lets you combine the TV's built-in speakers with a compatible Samsung soundbar for an enhanced audio presentation.
Samsung's incredibly slim OLED TV has what the company calls an Infinity One design, with an external One Connect box handling connectivity and linking to the TV via a cable. The set's Solar Cell remote control soaks up ambient light to extend battery life, and the set also features an ATSC 3.0 tuner for receiving NextGen digital TV broadcasts in the US.
The Smart Hub interface on Samsung TVs hasn't changed much from the previous generation aside from the addition of new Health options. A Samsung account is still needed to download apps, and you can edit the order of menu options to a degree. A Game Hub screen acts as a centralized location for console-free playback of selections from Xbox, Nvidia GeForce NOW, Amazon Luna, Utomik, and more, and AirPlay 2 is supported for casting audio and video from an iOS device.
Looks good from any angle
A main advantage to OLED TVs is that pictures look uniformly bright and maintain consistent contrast over a wide viewing arc. QD-OLED models such as the S95C go a step further than conventional OLED TVs (often called 'W-OLED') like those sold by LG and others by providing consistent color saturation over a 180 degree viewing window.
This was easy to see on the S95C, which also showed excellent screen uniformity on full-screen gray test patterns at various brightness levels. The S95C turned out to be the brightest OLED TV we've yet tested, with peak light output on a 10% white window pattern measuring 1,374 nits in Filmmaker mode. For the sake of comparison, last year's S95B hit 1,040 nits peak light output in the same picture mode, which makes Samsung's new model approximately 32% brighter. (The LG G2 OLED, meanwhile, managed 950 and 942 nits in its Cinema/Cinema Home and Filmmaker Modes, respectively, when we tested it last year.)
OLED TVs typically serve up excellent UHD-P3 color space coverage and the S95C was no exception, measuring better than 99%, along with 74.6% BT.2020 coverage. This basically means that the S95C offers uncompromised color reproduction when watching HDR programs on disc or from streaming services. Input lag in Game mode measured 9ms, an excellent result that ranks the S95C among the best gaming TVs around today.
Processing Perfected
Samsung's video processing enhancements for its 2023 TVs provide a clear step up from last year's models. Looking at the video montage section from the Spears & Munsil UHD HDR Benchmark disc, images mastered at 4,000 nits peak brightness maintained much of their highlight detail when viewed on S95C. And the black clipping, an effect that obscures detail in deep shadows, that I had spotted during a hands-on session with last year's S95B, was completely absent, with shadows instead looking layered and nuanced.
Motion handling is also seeing an improvement in Samsung's 2023 TVs. Watching a scene from No Time to Die where a camera pans slowly across a craggy hillside, the image looked mostly solid and detailed. Scenes from Dune following Paul's testing by the Bene Gesserit Reverend Mother also revealed the TV to be adept at handling noise in dark, grainy images.
While I didn't have time to view a wide range of content on the S95C, everything I did watch, from reference scenes I've viewed hundreds of times on various TVs to programs streamed from the Samsung TV Plus free TV portal, looked great, with the set's enhanced brightness lending an extra level of punch to the picture.
I had the chance to give the 77-inch S95C a good look over when I was given a preview of it at CES 2023 and was impressed enough to declare it the best TV I'd seen at the show. Now, having spent some quality time with the set, I'm convinced that my CES judgement was spot on. Samsung's S95C is a fantastic TV, and one I look forward to getting in for a full review to get an even better handle on its capabilities. In the mean time, check out our guide to whether Samsung OLED TVs are worth buying.
We've also got a guide to the Samsung S90C, the S95C's cheaper QD-OLED cousin, if you want to read more about Samsung's options.