The Samsung HW-Q990C delivers the class-leading power and immersion that have long made Samsung's flagship soundbars so special. It's an incredible home theater experience, where you're truly taken over by engrossing Dolby Atmos sound. It doesn't move the performance dial forward as much as its predecessors, but what improvements there are over last year's model have been focused in the right areas.
Pros
+

Exceptional power and range

+

Uniquely complete surround sound

+

16 'real' audio channels
Cons
-

No 4K 120Hz HDMI passthrough

-

Bass issues with music

-

Launch price isn't cheap
Why you can trust TechRadar We spend hours testing every product or service we review, so you can be sure you're buying the best. Find out more about how we test.
Samsung HW-Q990C: Two-minute review
Unlike previous Samsung flagship soundbars, the Q990C doesn't deliver any design differences from its predecessor aside from sporting a slightly different color.
However, a few new features make the Samsung HW-Q990C one of the best soundbars. For starters, SmartThings Hub functionality has been added so that you can monitor and control other devices in your home. There's also built-in support for Amazon Alexa voice control and Alexa device grouping to create effective multi-room setups.
There's a new, more integrated auto-calibration system, too, while tweaks to Samsung's Adaptive Sound mode are claimed to deliver a more lively, detailed sound at low volumes. Meanwhile, a new generation of Samsung's Q Symphony enhances the way the speakers in Samsung's TVs and soundbars work together.
It's still the headline features that the Q990C carries over from its predecessor that matter, though. Namely, the colossal 11.1.4 channel count and massive 656W of power, which ensure that while the Q990C doesn't sound significantly better than its predecessor with movies, it certainly sounds just as good – meaning it's still the best Dolby Atmos performer in town.
It turns out that some retuning by Samsung's sound engineers has also delivered a significant improvement in music playback, addressing the Q990C predecessor's most significant limitation.
Samsung HW-Q990C review: Price & release date
Release date: May 2023
Price: £1,599/$1,599/A$1,999
The Samsung HW-Q990C soundbar was released in May 2023. Its £1,599/$1,599/AUS$1,499 pricing clearly establishes it as a very premium soundbar. In fact, it's Samsung's flagship model for 2023. For perspective, it's twice as expensive as the Sonos Arc or Sony HT-A5000 soundbars.
Samsung does provide a lot of bang for your buck, though, in the shape of a four-component system delivering a class-leading channel count. It's worth pointing out, too, that there are a few single-bar or bar-plus-sub solutions out there that cost considerably more.
Samsung offers a step-down model to the Q990C, the £1,149/$1,099/AUS$1,499 HW-Q930C, that uses a smaller, less powerful main soundbar, drops a couple of channels, uses a more 'standard' subwoofer design, but still includes rear speakers.
Samsung HW-Q990C review: Specs
Swipe to scroll horizontally
| | |
| --- | --- |
| Dimensions | Main soundbar - 1309(w) x 595(h) x 277(d)mm; subwoofer - 220(w) x 413(h) x 277(d)mm; rears - 129.5(w) x 201.3(h) x 140.4(d)mm |
| Speaker channels | 11.1.4 |
| Connections | Two HDMI inputs, one HDMI output with eARC support, digital optical audio input, Wi-Fi, Bluetooth |
| Dolby Atmos/DTS:X | Yes/Yes |
| Sub included | Yes |
| Rear speakers included | Yes |
| Features | Q Symphony, Adaptive Sound mode, SpaceFit sound calibration, Voice Enhance Mode, Active Voice Amplifier, Hi-Res Audio Decoding, LED display, HDR10+ and Dolby Vision pass through; SmartThings Hub control; Built-in Amazon Alexa and Alexa device grouping for multiroom; Apple Airplay support |
Samsung HW-Q990C review: Features
16 real channels of Dolby Atmos sound
2x HDMI inputs, but no 4K 120Hz support
New auto-calibration system
The Q990C lives up to its billing as Samsung's flagship soundbar by playing an impressive numbers game. It delivers a class-leading 11.1.4 real (rather than 'virtual') channel count, backed up by 656W of power coursing through 22 separate speakers fitted into four separate included components: the main soundbar, a hefty subwoofer, and two rear speakers.
The idea behind including so many channels (which include four up-firing drivers) is to deliver a 'proper' experience with the Dolby Atmos and DTS:X formats the Q990C supports. That is, an experience that puts you at the heart of a hemisphere of sound (including overhead effects). There's no 'front sound only' or 'virtual height effect' compromise here when playing the latest and greatest movie soundtracks.
The Q990C also impresses, for the most part, with its connections. In particular, it provides a two-input, one-output HDMI loop-through system capable of carrying the premium HDR10+ and Dolby Vision HDR formats (as well as the basic HDR10 and HLG systems).
It's a pity the HDMIs don't extend to supporting the 4K 120Hz gaming feeds the latest consoles and PCs can deliver, especially given that Samsung cares about gaming enough to equip the soundbar with a Game preset that enhances specific placement effects so that it's easier to tell where enemies are shooting/approaching you from. You can connect your 4K 120Hz-capable gaming device directly to any TV that supports HDMI's eARC technology and pass Dolby Atmos soundtracks to the Q990C that way. Provided your set-up doesn't suffer from the audio syncing issues occasionally experienced with ARC technology.
The Q990C supports many sources beyond those associated with its physical connections, including Apple AirPlay 2, Spotify Connect, AAC, WAV, FLAC, AIFF, MP3, OGG and ALAC hi-res audio files.
However, all the features we've discussed were also found on 2022's Samsung HW-Q990B. So how does the 2023 model move things on from its predecessor?
The two most significant advances are its new SpaceFit Sound Pro auto-calibration system and the new tuning of the soundbar's music performance. The first of these finally see Samsung auto-calibrating the system's subwoofer and other speakers in unison rather than using a separate system to monitor bass. Activating this feature has an instant positive effect on the sound, and from then on, the system will continually monitor the sound to compensate for potential changes in your room set-up. I'll talk about the new music tuning in the next section.
The Q990C also adopts a new (third) generation of Q-Symphony technology, where recent Samsung TVs can join audio forces wirelessly with compatible Samsung soundbars to create a larger, more detailed front soundstage. This new version deploys all the speakers in both the TV and soundbar, rather than leaving some silent, and allows the soundbar to draw on the power of a Samsung TV's AI-boosted audio processing.
Also new for the Q990C is built-in support for Alexa voice control and the ability to set up Alexa device groups – the latter of which gives you a simple way of establishing a multi-room sound system. Finally, you can use the Q990C with the SmartThings app for your phone to control other devices around your home, thanks to the new SmartThings Hub functionality.
Samsung HW-Q990C review: Audio performance
The HW-Q990C's monster channel count signals that this soundbar is exceptionally – almost uniquely – focused on getting the best out of film soundtracks. And as with its predecessor, it lives up to that promise in spectacular fashion.
Its single most outstanding trait is its ability to craft an exceptionally immersive and full surround sound experience that places you at the heart of the sort of hemisphere/dome of sound required to create a whole Dolby Atmos experience more seamlessly than any other soundbar I've heard (bar last year's Q990B). The side- and up-firing drivers in the two rear speakers and main soundbar join forces immaculately to ensure there's no distracting, immersion-breaking gap in the three-dimensional sound stage.
Placement effects are exceptionally accurately positioned within the Q990C's cocoon of sound, too (especially with the SpaceFit auto-cal system doing its thing), and the various drivers' combination of power, sensitivity and projection means that the soundstage always appears busy, detailed and convincing. Including when it comes to handling transition sounds across or through the hemisphere of sound.
The cinematic feel of the Q990C's sound with DTS:X and, especially, Dolby Atmos soundtracks is enhanced even further by how loud it can get without a hint of distortion, buzzing or crackling. Your ears will give in way before the Q990C's speakers.
Even the most shrill trebles manage to avoid sounding harsh or exposed, the mid-range is expansive, expressive and able to shift through more gears than most soundbars to take on swelling action scenes, and the bass from the subwoofer is deep, enthusiastic (without becoming over-dominant) and reactive. The unusual Acoustic Lens design of the subwoofer, which sees a diffusing 'plate' sitting an inch or two proud of the eight-inch driver, also helps the exceptionally rich, deep bass emanate throughout your room more smoothly and evenly.
Despite the impressive bass depths the subwoofer can achieve, low frequencies don't feel at all baggy or detached from the sound output by the main soundbar – which speaks volumes (pun intended) about the dynamic range the soundbar is capable of.
As ever, with soundbars that reflect sound off walls and ceilings, the Q990C's sound stage building can be affected by quirks in your room layout or design. However, while vaulted ceilings could present an issue with the clarity of the up-firing drivers, the latest Space Fit auto-cal system does an outstanding job of compensating for pretty much any other room shape problem you might have.
While the Q990C's class-leading movie performance is beyond reproach, aside from a little more bass cohesion courtesy of the latest Space Fit auto-cal system, it doesn't improve much over the Q990B. This is not the case, though with music – provided you put the Q990C's subwoofer in the right place.
I've been critical of previous Samsung soundbars, including the Q990B, for being unable to adapt the immense power and dynamic range they bring to movies to music playback as convincingly as I'd like. New tuning by Samsung's audio engineers, as well as the improved SpaceFit system, has finally delivered a flagship Samsung soundbar that's consistently enjoyable to listen to with music, even in basic stereo mode. The sound is more coherent, consistent and balanced, retaining a musical feel despite the immense power bubbling away underneath it all.
The subwoofer can sometimes kick in slightly too vigorously with a sudden heavy beat or plummeting bassline. Still, such distracting moments are far fewer and further between than they have been before on the Q990C predecessors. Provided, anyway, that you place the subwoofer forward of your seating position rather than to the side of or behind you.
An Adaptive Sound option for music playback, which essentially remixes stereo tracks to take advantage of all of the soundbar's channels, also impresses, often delivering results that sound like professional remixes. For the first time with a Samsung flagship soundbar, though, I slightly preferred listening to music on the Q990C in native stereo mode (the soundbar's 'Standard' preset).
Turning to Q Symphony, I didn't notice any major differences generated by the system now using all the speakers in the soundbar and a connected Samsung TV. Being able to draw on the audio processor in the TV did seem to yield slightly more refined and content-appropriate audio results, though. And the general ability of Q Symphony to blend the sounds from the TV's speakers with those of the on-paper much more potent soundbar remains surprisingly effective.
Samsung HW-Q990C review: Design
The HW-Q990C ships with no less than four separate components – so it's more of an imposition on your living room than most soundbars. Nothing as imposing as a full-on separates system would be, of course.
However, Samsung would make no apology for this because while it still offers a simplified audio solution, the Q990C also wants to provide a true surround sound experience.
The main soundbar is heftier, broader and chunkier than most, though it still fits underneath the screen of current Samsung TVs (and those of most rival brands, too, come to that), as long as they're 55 inches or up.
It angles back sharply at each end to accommodate side-firing speakers, giving it a distinctive and attractive shape that combines form and function perfectly. The rears feel impressively engineered, too, maintaining a surprisingly small footprint considering they house three separate channel drivers each; benefitting from a stylish sloped top to help train the up-firers slightly forward; and helpfully sitting on small feet that help to prevent unwanted vibrations getting into whatever shelf or bit of furniture the speakers are sitting on.
The subwoofer is a big, chunky affair, as you would expect for the rumble it can produce. The lens that protrudes above the large side-mounted driver gives it a more sophisticated, high-tech look than your average bass boomer.
At first glance, each speaker in the Q990C package looks the same as it did with 2022's Q990B. Closer inspection reveals that the Q990C sports a slightly greyer finish than the metallic black of its predecessor.
Samsung HW-Q990C review: Setup & usability
Samsung has gotten progressively better over the years at delivering stable wireless connections between the various components of its flagship soundbars. I'm happy to say that throughout many hours of testing the Q990C, I've yet to experience a single dropped connection from any of the speakers.
The speakers all find and connect immediately without any manual input when you first plug the system's elements in. I was relieved that the Q990C sports an LED display on its front edge, where you can see it while sitting on your sofa, rather than putting it on the top edge like some previous Samsung flagship soundbars have.
There's plenty of choice over how you control the Q990C. It ships with an attractive and well-organized remote control, for starters, but also supports basic but effective voice control via built-in Amazon Alexa. Or, if you prefer a more 'visual' control system, you can use Samsung's SmartThings app on your phone – an app that makes it easy to get the soundbar set up on your Wi-Fi system. A few basic setting buttons are also built into the soundbar's top edge.
Of course, most control will just be turning it on and off, and adjusting the volume, and HDMI-CEC handles these from your standard TV remote.
One last nice touch is Tap Sound support, where touching a recent Samsung phone to the soundbar's bodywork is all it takes to establish a music-sharing connection between the two devices.
Samsung HW-Q990C review: Value
At $1,599 / £1,599 / AUS$1,499 officially, the Q990C resides in the upper echelons of the soundbar world. You can buy an excellent 55-inch OLED TV for that sort of money. If you can afford it, though, I'd argue the Q990C is good value.
It justifies its cost in two main ways. First, it gives you four separate, well-built components delivering a fantastic 16 channels of sound, which helps it create the complete Dolby Atmos experience in the soundbar world. Second, it can pump out colossal amounts of power without losing precision or clarity. This makes it the nearest thing in the soundbar world to a separate system – but without the cables, AV receiver, multiple speakers to position… the convenience is valuable too.
Should I buy the Samsung HW-Q990C?
Swipe to scroll horizontally
| Section | Notes | Score |
| --- | --- | --- |
| Features | So long as you don't need 4K 120Hz pass through, the Q990C is exceptionally well featured. Particularly in the range of sound formats it can support, and the peerless number of channels it uses to play them. | 4.5/5 |
| Audio performance | No other soundbar produces such a fully formed and immersive Dolby Atmos movie performance. And music now isn't bad either. | 5/5 |
| Design | The Q990C's four components make it more of a presence in your living room than most soundbars, but it's still compact relative to the huge sound it produces. | 4/5 |
| Setup & usability | All four components connect automatically from first install, and there are control options galore. | 4.5/5 |
| Value | It might not be cheap, but it's most definitely worth it. | 4/5 |
Buy it if...
You want a fully immersive Dolby Atmos/DTS:X experience
With 11.1.4 channels and more than 600W to play with, the Q990C creates a true dome of sound around you, into which it places all the perfectly positioned effects that make Dolby Atmos and DTS:X soundtracks so special.
You favor movies over music
While the Q990C is comfortably the best flagship soundbar Samsung has made when it comes to music playback, its main focus remains movies. If you're more of a music first person, you might prefer a premium single-bar solution from a more traditional hi-fi brand.
Don't buy it if...
Money's tight
However much we might argue that the Q990C delivers enough channels, power and quality to justify its price, it's still a high price.
You're a gamer who needs 4K 120Hz HDMI pass through
If you have an Xbox Series X, PS5 or premium PC, you might find the Q990C's inability to pass 4K 120Hz signals through its HDMI loop through a problem. Soundbars capable of doing that are extremely rare at the moment, though – see below for one.
Samsung HW-Q990C review: Also consider
Swipe to scroll horizontally
| Header Cell - Column 0 | Samsung HW-Q990C | LG S95QR | Sony HT-A7000 | Samsung HW-Q930C |
| --- | --- | --- | --- | --- |
| Dimensions | Main soundbar - 1309(w) x 595(h) x 277(d)mm; subwoofer - 220(w) x 413(h) x 277(d)mm; rears - 129.5(w) x 201.3(h) x 140.4(d)mm | Main soundbar - 1200(w) x 63(h) x 135(d)mm; subwoofer - 201.7(w) x 407(h) x 403(d)mm; rears - 159(w) x 223(h) x 142(d)mm | Main soundbar - 1300(w) x 80(h) x 142(d)mm | Main soundbar - 1187(w) x 585(h) x 277(d)mm |
| Speaker channels | 11.1.4 | 9.1.5 | 7.1.2 | l9.1.4 |
| Connections | Two HDMI inputs, one HDMI output with eARC support, digital optical audio input, Wi-Fi, Bluetooth | Two HDMI inputs, one HDMI output, Wi-Fi, Bluetooth | Two HDMI inputs, one HDMI output with eARC support, Wi-Fi, Bluetooth | One HDMI input, one HDMI output with eARC support, digital optical audio input, Wi-Fi, Bluetooth |
| Dolby Atmos/DTS:X | Yes/Yes | Yes/Yes | Yes/Yes | Yes/Yes |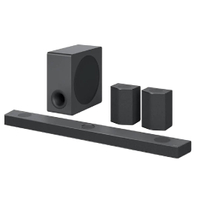 LG S95QR
With 15 channels of sound and 818W of power, this LG soundbar system is the Q990C's closest rival. It lacks a couple of channels compared with the Samsung model (one of the LG's claimed channels is actually an up-firing 'echo' of the center channel), but if anything its soundstage is even bigger than the Samsung's. While this suits big rooms, though, it can feel a little less immersive.
Read our full LG S95QR review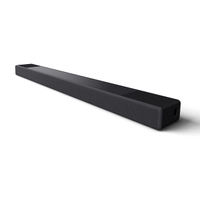 Sony HT-A7000
Sony's current flagship soundbar ships as a single-bar solution. It still provides 7.1.2 channels and 500W though, making it one of the most cinematic sounding single-bar solutions. You can add optional rear and subwoofer speakers too, and it has 4K 120Hz passthrough.
Read our full Sony HT-A7000 review