The Dyson V15s Detect Submarine might be a mouthful to say aloud but it sure is a handy tool to vacuum and mop your floors. Yes, Dyson finally has a mopping vacuum cleaner! The new Submarine wet roller head has been designed to handle both wet and dry spills, and it does so supremely well. However, it has one flaw – the dirty water tank is not fully sealed and spills can occur. Moreover, as the roller gets saturated with dirt, it can leave streaks along its edges if you pause to take a breath. If Dyson can figure out how to fix these issues, the next iteration of the Submarine would be a formidable cleaning tool.
Pros
+

Vacuums and mops

+

Easy to manoeuvre

+

Updated, better Fluffy Optic with the Complete model
Cons
-

Dirty water compartment not sealed

-

Integrated crevice tool not ideal

-

Doesn't hold a lot of clean water
Why you can trust TechRadar We spend hours testing every product or service we review, so you can be sure you're buying the best. Find out more about how we test.
Dyson V15s Detect Submarine: Two-minute review
The Dyson V15s Detect Submarine (try saying that quickly a few times!) is the brand's first mopping vacuum cleaner. This isn't just a hard floor specialist as it comes with an improved Digital Motorbar cleaning head designed to tackle carpets. The Fluffy Optic – first introduced as the Laser Fluffy in the Dyson V15 Detect – has also been upgraded with an LED light instead of the laser, which offers a brighter and broader beam to illuminate more floor space. The latter hard-floor cleaning head, however, only comes with the V15s Detect Submarine Complete (oh, that name is tiring!), which is the model Dyson sent for this particular review.
It's important to note that there are physical differences between the V15s Detect Submarine and the Complete model – the former is based on the original Dyson V15 Detect released in 2021, while the latter is based on the Dyson Gen5detect from 2022 and comes with the integrated crevice tool.
No matter which model you choose, the star of the show is the brand-new Submarine wet roller head that's been designed to handle wet and dry spills. Whether it's a thick, almost-dry food spill, muddy boot prints or just a regular mop of your hard floors, the Submarine can handle it all and mops very well. That said, it suffers from one design flaw that makes it a little hard to recommend as it is now – the dirty water tank is not fully sealed and, as it gets full, it can spill. The handstick's LED display shows the clean water level only, meaning there's no way to know how much dirty water is collecting.
Moreover, as the wet roller continues cleaning, at some point it can start to leave dirty streaks, particularly when you've paused at a spot. As long as you keep moving, it's fine. But when you do stop to remove the Submarine cleaning head to give it a wash, not only will the saturated roller leave a streak, you'll get some dirty water spilling out too which even its drip tray – yes, Dyson has thoughtfully included one – can't prevent.
If you can figure out how to avoid those spills – I sure couldn't in the few weeks I was testing the V15s Detect Submarine – then Dyson's new cordless vacuum mop is a great cleaner. In fact, its mopping skills are par excellence! If Dyson can fix this design flaw on the Submarine head to prevent dirty water spills, then the next version of the machine is sure to go into TechRadar's list of the best vacuum cleaners.
Another thing I like about the V15s Detect Submarine is that Dyson has gone back to the 60-minute battery pack, meaning it's not as heavy as the Dyson Gen5detect, making it a lot easier to manoeuvre – like the V15 Detect. However, the integrated crevice tool that we first saw in the Gen5detect is here and it does not work as well as the one you get separately with the base model of the V15s Detect Submarine or the older Dyson models. Its length is too short to get deep into nooks and crannies, and it doesn't create as good a seal as the separate attachment does, so it barely sucks up anything from skirting boards.
Despite its flaws, it's hard for me to not recommend the V15s Detect Submarine to Dyson fans – it vacuums and mops very efficiently indeed – and considering it's a Dyson with dual functionality, it's priced rather well too.
Dyson V15s Detect Submarine review: price and availability
Announced July 2023
Currently only available in Australia with prices from AU$1,549
Not available in the US or the UK yet; Singapore gets the Dyson V12s Detect Slim Submarine (from SG$1,299)
Dyson's been testing its products by launching them in specific markets at first before releasing them elsewhere. For example, the Dyson Airstrait was released in the US only in May 2023 (yet to be sold elsewhere), while the robot vacuum cleaner called Dyson 360 Vis Nav is still stuck in Australia before heading elsewhere.
It's the same with the Dyson V15s Detect Submarine – it's currently only available in Australia, with a potential global release sometime in the future (no official timeline has been offered by Dyson yet). Strangely, Singapore gets a Submarine model, but it's the V12s Detect Slim Submarine, meaning the handstick has a smaller bin.
To confuse matters further, Dyson has two models of the V15s Detect Submarine in Australia – the base model is identical to the V15 Detect but comes with two cleaning heads – the Digital Motorbar and the Submarine roller – at a cost of AU$1,549 (around $995 / £779 at the time of writing), while the Complete model resembles the Gen5detect handstick – integrated crevice tool is here – and ships with a freestanding dock called the Free Dok Multi and the newly designed Fluffy Optic in addition to the other two heads at a higher price of AU$1,649 (about $1,059 / £829).
This is the same price as the Gen5detect models in Australia and costs just AU$100 more than the V15 Detect. In my opinion, this is better value than either of Dyson's previous two offerings from 2021 and 2022. That's because you're not just getting a very good mopping head, but the Complete option also has an improved Fluffy Optic for hard floors that I much prefer over the original Laser Fluffy. However, the Complete option is exclusive to the Dyson Store.
Dyson V15s Detect Submarine: Specs
The below specifications are for the Australian model of the Dyson V15s Detect Submarine Complete.
Swipe to scroll horizontally
| | |
| --- | --- |
| Price: | from AU$1,549 (around $995 / £779) |
| Bin volume: | 0.77L |
| Suction power: | Up to 240AW |
| Speed modes: | 3 + one mop |
| Filtration: | Whole-machine HEPA filtration system |
| Battery: | Up to 60 minutes fade-free |
| Charging time: | 4.5 hours |
| Weight: | 3.8kg (for the Complete model) |
| Machine height: | 126cm |
| Total tools: | 5 + Free Dok Multi and drip tray |
Dyson V15s Detect Submarine review: Design
Power trigger returns
Integrated crevice tool in the Complete model; separate attachment in the base model
New Submarine wet roller head for mopping
If you looked at the V15s Detect Submarine handstick, you'd be forgiven for thinking it was just the V15 Detect. And if you saw the V15s Detect Submarine Complete, then at first glance it might resemble the Gen5detect as you can see the red button to release the integrated crevice tool, but then you'll see the power trigger on the newer machine which was replaced by a button on the 2022 model. And that saddens me – I breathed a sigh of relief that I no longer had to keep a trigger pressed to make a Dyson work… and it just went away again. Still, it's not a major complaint, just something my arms would have preferred, and I'm sure I'm not alone.
Resemblance to previous models aside, the standout here is the new mopping head. It took Dyson a long time to get here but it's finally competing with the likes of the Samsung Bespoke Jet and the LG CordZero A9 Kompressor Aqua. With typical Dyson aesthetic, the new Submarine wet roller head has clean lines, a velvet roller, a small clean water 'bottle' (yes, it does resemble a water bottle) and, somewhere behind it all, a small compartment for the dirty mop water to collect.
This is where someone at Dyson didn't think things through as the compartment isn't well sealed. That means that after you finish mopping and you want to remove the head to clean it, you will be dripping water on the floor as it sloshes around due to the movement. The only way that I found to avoid this is to make sure the drip tray – a grey plastic tray that fits under the Submarine head – is placed by the sink you're going to be cleaning the head at before you start to mop. The moment you finish, place the drip tray under the head and then detach it. It's not foolproof though and you might just need the head again to mop up the spill you just created.
Just going by the size, I thought the Submarine roller head would be heavy, but it's surprisingly not. Even with water filled, the roller's movement begins to pull the handstick as soon as you press the power trigger, so moving it along a hard floor is very easy.
Maintaining the Submarine is easy as the velvet roller comes off and is fully washable, and you can rinse out the entire cleaning head – press a marked red button and the two parts slide apart.
If you opt for the Complete model, then you also get an updated version of the Fluffy Optic. Instead of the original laser light that I thought was superfluous in the V15 Detect, there's now an LED light that functions a lot better. As I've said earlier in this review, the beam of light is now broader and brighter, so you can see it in any kind of ambient lighting condition and see more of the floor to let you clean more efficiently.
While the Digital Motorbar on the base model of the Submarine is identical to the V15 Detect's, the one on the Complete model has been given a bit of a facelift to match the gold aesthetic of the handstick – the inner roller is also gold.
As I've mentioned before, the integrated crevice tool from the Gen5detect is here and, while useful, I prefer it as a separate attachment. That's because the integrated version needs to fit inside the tube of the handstick, resulting in it being short and the opening too round and broad. The cutaway for the opening is angled too acutely, so you don't necessarily create a seal when vacuuming a corner or skirting boards, and no dust gets sucked up. With the separate attachment, which comes with the base model of the Submarine, the slim opening is more efficient and it can be attached to the end of the tube, giving you more reach.
Image 1 of 4
Another thing I have to talk about with the Complete package is the Free Dok Multi. It's not often Dyson includes a free-standing dock for its cordless vacuum cleaners and they're restricted to exclusive models only, as is the case here. However, the dock is far from what I expect from Dyson. The plastic feels flimsy, the parts aren't easy to fit together and feel like they'll break if I apply too much force, and the white plastic clashes really badly with the rest of the Dyson color aesthetic. Moreover, if you do get the Free Dok Multi, you can't stick it into a corner or against a wall. There is only one spot to hang one of the three large attachments that come with the machine, so at least one is going to be hanging off the side slots, and you have to account for its length. So the space the Free Dok Multi takes is more than its slimline look would suggest.
Everything else is inherited from the other Dyson cordless vacuum cleaners – the HEPA filter on the top is washable, as are the rollers on the Submarine and Fluffy Optics. In fact, the entire Submarine wet roller is washable. Cleaning the bin is the same as before, although you will still need to watch out for the hair that gets tangled around the bin's inner metal cylinder – these can be hard to remove and, as before, not the most hygienic cleaning method as Dyson would have us believe.
The LED display is the same as we've seen on the V15 Detect, with the graphical representation of the dust and dirt the same vertical graph (as opposed to the horizontal one on the Gen5detect). When the Submarine tool is attached, it displays the percentage of clean water available. A button below the display will let you change the power mode.
Unlike both the Gen5detect and the V15 Detect, I find the V15s Detect Submarine a lot easier to move around, no matter which cleaning head I'm using. According to Dyson's spec sheet, the Complete model weighs 3.8kg, compared to the V15 Detect at 3.1kg and the Gen5detect at 3.5kg. I think that's a mistake as it feels lighter than the V15 Detect in the hand, and the Submarine roller just makes it super easy to drag along a floor. I've tried measuring the machine myself on a weighing scale, but because I have to hold it in place, the measurements aren't accurate and come in at just under 3kg, which can't be right either.
Dyson V15s Detect Submarine review: Performance
Excellent mopping capabilities
Dirty-water spills can happen, which can be mopped up with the V15s Detect Submarine
Same vacuum prowess as the V15 Detect
Considering the V15s Detect Submarine is Dyson's first vacuum mop, I think the company has done quite well. The appliance's vacuuming skills are, as before, quite good. It's the same vacuuming performance we saw from the V15 Detect, just quieter. So carpets are well taken care of, as are hard floors. The dynamic suction we've seen in the last few Dyson models is here, so most users will only need to leave the machine in Auto mode and it will do its thing and, as before, I still think the Digital Motorbar is the catch-all tool for any kind of floor. However, if it's mostly fine dust in your home and you don't have pets, then the Fluffy Optic that ships with the Complete model is good and no longer the novelty that I thought it was when I tested the V15 Detect.
So let's talk mopping here in more detail. The Submarine wet roller cleaning attachment is pretty impressive when it comes to cleaning spills, both wet and dry. For the latter, however, you do need to remember that there's no suction when using the Submarine, so you're mopping up a dry spill, not vacuuming. If you need to clean up breakfast cereal, for example, you can mop up the milk, but you'll need to use the Digital Motorbar after it's all dried up to suck up the cereal itself. The Fluffy Optic, however, will only scatter the dried cereal as there's not enough space between the roller and its case to pull in large cereal like Cheerios. However, spills with smaller bits of food, like rice, can be mopped up easily by the Submarine, but you will need to give it a good wash and allow it to dry fully before using it again.
Tracked muddy shoes through the house? The Submarine will take care of that and do an impressive job of cleaning up the mud – whether dried or wet – and the stains on the floor. Some stubborn food stains may need a few passes over them, but the Submarine is perfectly capable of handling that. Spilt water on the floor? The Submarine roller will mop that dry too. I used it in the bathroom of my test space (aka my own apartment), not just to mop the floor but also dry out the shower stall and I was very impressed indeed.
Even more impressive is the fact that the roller seems to pick up a heck of a lot of fine dust that the Fluffy Optic misses and doesn't even illuminate, leaving your floors spotless and a lot cleaner than just vacuuming. I'm basing this on the color of the mop water and how dirty the roller gets after just a few passes on an already-vacuumed floor.
What was not all that impressive was the subsequent dirty water spills I had as I walked from said bathroom to the laundry room sink where I was going to wash the Submarine roller head. So I had to empty the dirty water and use the Submarine to mop up the spills anyway.
This is far from ideal and clearly something Dyson didn't think through. There's no way to know how much mop water is filling up in the compartment behind the roller as the display only shows how much clean water you have left to work with. If it was the other way around, perhaps the unsealed compartment wouldn't have been such a bother and I could empty the dirty water after mopping each room (which, again, is not ideal). Not everyone is going to lug the drip tray around as they mop or remember to place it exactly where you finish. And while this design flaw might seem like a small one, it ends up being a bigger issue for the end consumer to deal with.
Another thing to keep in mind is that the Submarine attachment doesn't hold a lot of clean water. You'll be able to do a large living room only before you'll need to refill the little bottle in the cleaning head. So if your multi-room home is all hard floors, you'll need to fill it often and empty the dirty water just as often, which may not be ideal for everyone.
Dyson V15s Detect Submarine review: Battery life
Up to 60 minutes of fade-free power
Average of 42 minutes with motorized cleaning heads
Replaceable battery pack
With the V15s Detect Submarine, Dyson's gone back to the 60-minute battery pack it uses in the V15 Detect. That, I think, is a good move because the 70-minute battery used in the Gen5detect made the machine quite heavy and hard to move around or used as a handheld unit.
While it's possible to get a full 60 minutes of runtime from the V15s Detect Submarine, that will only work with the non-motorized tools like the Hair Screw Tool and the Combination Tool or achievable in Eco mode. You'll also get almost the whole 60 minutes with the Submarine roller head as the suction is switched off with it attached, however you'll run out of clean water long before you'll need to recharge the machine.
With the motorized tools – namely the Digital Motorhead and the Fluffy Optic – you can get anywhere between 40 to 45 minutes in Auto mode, depending on how often the dynamic suction comes into play. If your home is particularly dirty and the suction changes often, you may get less than 40 minutes, but you can also get up to 50 minutes if there isn't a lot of dust.
During my testing, I managed to get 62 minutes in Eco mode, but I wasn't quite enthused by the clean I got in this mode. On the other hand, Boost is great for carpets but you can expect to run out of juice in about 8 minutes.
Topping up the battery, according to Dyson, should take 4.5 hours, but my test unit went from 20% to full in a smidge over 3 hours, so I expect empty to full shouldn't take more than 3.5 hours.
Should I buy the Dyson V15s Detect Submarine?
Swipe to scroll horizontally
Dyson Gen5detect report card

| Attributes | Notes | Rating |
| --- | --- | --- |
| Value | While it might be expensive, there's value for money here considering you can vacuum and mop for the first time with a Dyson. | 4 / 5 |
| Design | It looks like any other Dyson, but if dirty water sloshes out, then Dyson needs to rethink the design of the Submarine cleaning head. | 4 / 5 |
| Performance | It vacuums and mops well, but dirty water spills and wet roller marks on the floor aren't ideal. | 4 / 5 |
| Battery life | As always, Dyson promises good battery life from each of its machines and they're always fade-free. | 4.5 / 5 |
Buy it if...
You've been waiting patiently for a Dyson that can vacuum and mop
Dyson took its time making a vacuum cleaner that can also mop and it's done a decent job. It's not the perfect dual-function machine, but it cleans well, like you'd expect from a Dyson. Just beware dirty-water spills.
You predominantly have hard floors that need mopping
While I think it's well priced, for a Dyson that is, its value-for-money perspective increases if you're going to be using the Submarine wet roller head more. If you don't need a mop, you're better off considering the V15 Detect or an older, cheaper model and save some cash.
Don't buy it if...
You own a steam mop
The V15s Detect Submarine is a good mop, but if you already use a steam mop, you might get a better, more hygienic clean… with no dirty-water spills.
You're after value for money
Dyson might be the most popular brand of vacuum cleaner on the market but you can get cheaper vacuum mops. Samsung's Bespoke Jet costs hundreds less or, if you have just hard floors at home, something like the Roborock Dyad Pro would be a better option.
Also consider
If you're not sold on the Dyson V15s Detect Submarine, then take a look at the below alternatives as solid competitors instead.
Swipe to scroll horizontally
| | Dyson V15s Detect Submarine | Samsung Bespoke Jet | Dyson V15 Detect | Roborock Dyad Pro |
| --- | --- | --- | --- | --- |
| Price: | From AU$1,549 (around $995 / £779) | from $1,035 / £629 / AU$1,299 | from $699.99 / £599.99 / AU$1,399 | $449.99 / £489.99 / AU$799 |
| Bin/tank volume | 0.2 gallon / 0.77L | 0.13 gallon / 0.5L | 0.2 gallon / 0.77L | 900mL CWT, 770mL DWT |
| No. of speeds | 3 | 4 | 3 | 3 |
| Suction power | 240 AW | 210 AW | 230 AW | 325 AW |
| Battery | up to 60 minutes | up to 120 minutes | up to 60 minutes | Up to 43 minutes |
| Weight | 3.8kg (Complete model) | 2.7kg | 3.1kg | 4.8kg |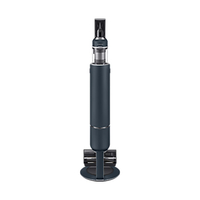 Samsung Bespoke Jet
At maximum suction, I think the Samsung Bespoke Jet can outdo any Dyson. And it can mop too. It also comes with several attachments, including an auto-empty station that sucks out any dust and dirt, including hair, in seconds. Sure, there's ongoing costs in replacing the dust bags but the whole machine costs a lot less than the V15s Detect Submarine. You also get two batteries in the box and I personally think it looks better than a Dyson.
Read our full Samsung Bespoke Jet review to learn more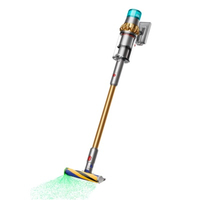 Dyson V15 Detect Absolute
If you don't need a mop attachment but still want what I consider the best Dyson, then consider the V15 Detect Absolute. It comes with all the attachments you might need for a carpet or hard floors, sans the mop of course, plus great suction too.
For more details, read our in-depth Dyson V15 Detect review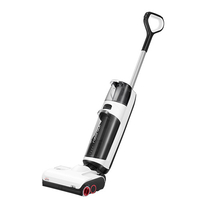 Roborock Dyad Pro
At a little over half the price you can get a vacuum mop that's a hard floor specialist. With more suction than either of the alternatives listed here, and excellent cleaning prowess, the Roborock Dyad Pro vacuums and mops at the same time, so you save time as well as money. It is a heavy machine, though, but is worth considering if you predominantly have hard floors at home.
Read our full Roborock Dyad Pro review for more information
How I tested the Dyson V15s Detect Submarine
Used up to three times a week as main vacuum cleaner
Spilt milky cereal, water and sauces on the floor to test mopping capabilities
Avoided using detergents
I've used the Dyson V15s Detect Submarine two to three times a week for four weeks as my main vacuum, while also running the Dyson V15 Detect to compare suction during vacuuming. I allowed hair and dust to accumulate on the carpet in one room before the first test run.
I also scattered different-sized grain on the floor to test vacuuming, including sugar, rice, Cheerios and tapioca pearls. I then used the Digital Motorbar and the Fluffy Optic to vacuum to determine which one does best on such debris.
To test the mopping prowess, I poured cereal and milk on the floor, allowing it to dry. I first vacuumed up the cereal, then used the Submarine wet roller head to mop the dried, sticky milk. I also poured water on a patch of floor to mop up to see how well the patch dries. Dusty shoe prints and dried food on the floor were also mopped during different tests.
I've actively been testing and reviewing vacuum cleaners of all kinds for the last six years and have learnt what to look for when choosing a machine that's best for different kinds of homes. I also place high importance on value for money in any appliance I test.
Read more about how we test
[First reviewed August 2023]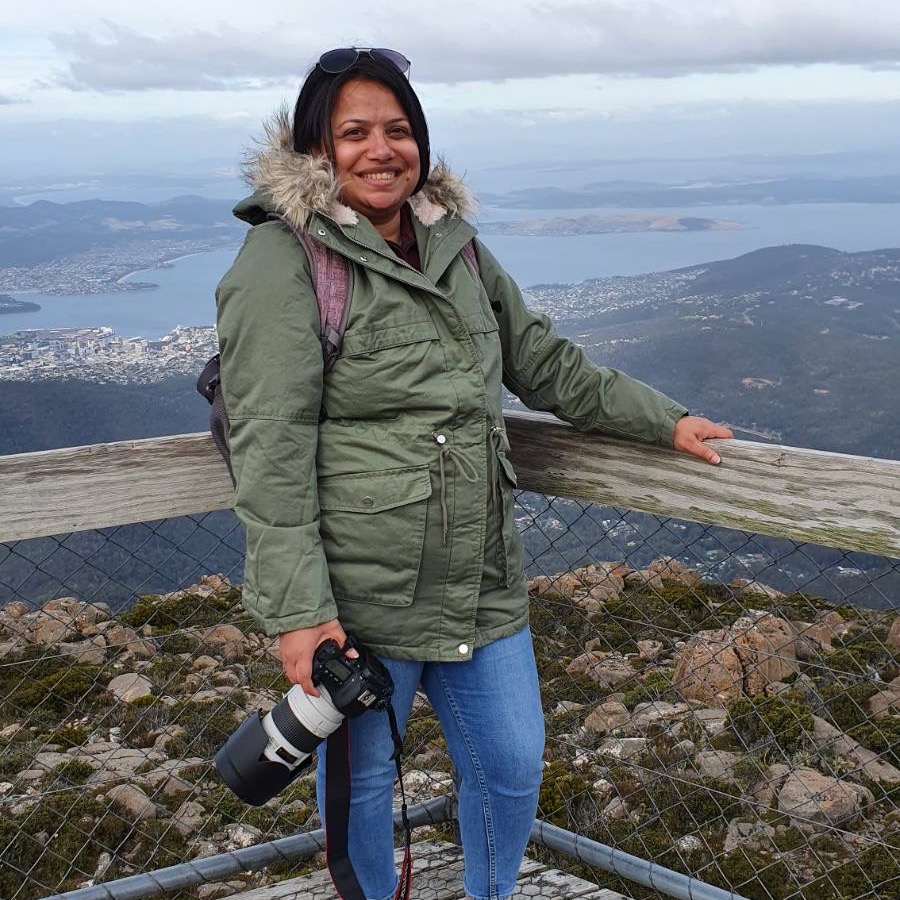 Sharmishta is TechRadar's APAC Managing Editor and loves all things photography, something she discovered while chasing monkeys in the wilds of India (she studied to be a primatologist but has since left monkey business behind). While she's happiest with a camera in her hand, she's also an avid reader and has become a passionate proponent of ereaders, having appeared on Singaporean radio to talk about the convenience of these underrated devices. When she's not testing camera kits or the latest in e-paper tablets, she's discovering the joys and foibles of smart home gizmos. She's also the Australian Managing Editor of Digital Camera World and, if that wasn't enough, she contributes to T3 and Tom's Guide, while also working on two of Future's photography print magazines Down Under.