Invest in one of the best robot vacuum cleaners and let it take care of all the hard work for you. It might sound too good to be true, but a robot vacuum cleaner really can keep your floors free of dirt and dust, while you put your feet up.
These smart household helpers are packed with clever tech which allows them to map your floor plan so they never miss an inch. What's more, app connectivity means you get set it to work even when you're not at home. And take it from us, there's nothing better than coming home to clean floors when you haven't had to do the work yourself.
It's safe to say that robot vacuums have advanced in leaps and bounds over recent years, they're smarter with far better suction power than ever before plus, some can even empty themselves. But, that doesn't mean they capable of replacing the best vacuum cleaners completely.
It's worth keeping one of the best upright vacuums or best cordless vacuums to hand so you can vacuum into those spots the robot can't reach as well as give your floors a more thorough clean when needed. Robot vacuums can be an investment, so to help you choose which is right for you, we've tested many of the leading models in our homes to bring you our top picks, many of which are still amongst some of the best Cyber Monday deals we have seen for 2022.
The best robot vacuum 2022: tried and tested
Why you can trust TechRadar Our expert reviewers spend hours testing and comparing products and services so you can choose the best for you. Find out more about how we test.
The iRobot Roomba S9+ is the best robot vacuum you can buy right now, although, with such a hefty price tag, it will be out of the reach of some.
It proved simple to use during testing, and the S9+ impressed us when it came to sucking everything from fine dust and biscuit crumbs to cereal on hard floors. However, its pick-up on carpets wasn't quite as thorough - although our existing cordless vacuum also struggled to suck up some of the remaining fine dust, suggesting this is deeply embedded into the pile.
The Roomba S9+ is self-emptying and deposits the debris from each clean into the 14.9oz / 440ml replaceable dust bag in the charging and emptying station - meaning you won't have to empty the robot vacuum regularly. Instead, you'll get an alert on the app when it needs replacing, and the vacuum offers integration with Alexa and Google Assistant.
Read our full iRobot Roomba S9 Plus review
For those seeking a robot vacuum on a budget, the Eufy 11S is worth considering. At a reasonable price and often discounted, you'll be hard pushed to find anything cheaper on the market.
That's not to say the affordable price tag means compromising on dust pick-up. On test, it picked up dry oats from a medium-pile carpet and a hard floor with ease, and finer dust made from flour and cookies was also no problem for it on a hard floor - although it wasn't as good on carpets. It's slim, too, meaning it has no problems cleaning under furniture with low clearance. However, with a smaller dust bin compared to other models on the market and no app control or integration with voice assistants, there are some compromises to be made for the low price - although that will be music to the ears of those that want a simplistic robot vacuum.
It doesn't take the same logical path around the home when cleaning as other more expensive Eufy models do. Sometimes it'll go in straight lines and sometimes seek out the edges of a room, while on occasion, it'll travel in circles, which means it may take slightly longer to clean the whole room or floor. Also, it wasn't always that good at moving around objects – low-level things seemed to fox it the most, such as deep-pile rugs, piano pedals, and pet food bowls.
Read our full Eufy RoboVac 11s review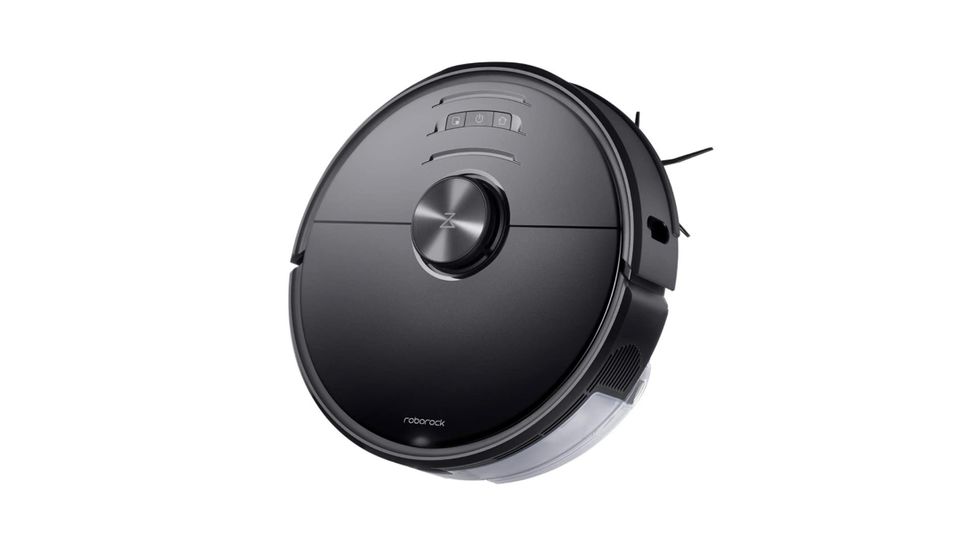 The Roborock S6 MaxV stands out for battery life. Roborock says it will manage up to three hours of continuous cleaning in its least powerful mode. During testing, we used the middle-of-the-road 'balanced mode,' which meant 30 minutes of cleaning over an area of 20 square meters (215 square feet) depleted the battery by 20% - a decent level of performance.
The Roborock S6 MaxV has dual cameras and a Lidar, so it's quick when it comes to mapping a room. It'll even mark obstacles like discarded shoes or furniture on the map and snap a photo that can be seen in the app. The app even uses AI processing to identify the obstacle, which works most of the time.
We were impressed with its dust to pick up on carpets and hard floors - offering similar suction to its competitors. It can mop and vacuum, but its dual function means it's one of the biggest robot vacuums we've tested, taking up a significant amount of space and struggling to get between chair legs. However, it's surprisingly quiet in use, making it a gentle giant.
Read our full Roborock S6 MaxV review
There's nothing worse than having to dash around your home collecting items that have been left around before you set a robot vacuum on a cleaning spree. If you don't, there's a chance they will get tangled in the brush roller and cause lasting damage, not to mention the time you'll need to put in to remove the item.
However, the iRobot Roomba J7 Plus can put an end to this, as it uses its built-in camera and other sensors to identify and avoid obstacles in its path. On test, it managed to navigate around both a sock that escaped the laundry pile and a charging cable we left in its way.
As with other Roomba vacuums on this list, the dust pick-up on the carpet and hard floors were excellent. In addition, it's a self-emptying model, so you don't need to empty the robot vacuum's dust box. However, there is an ongoing in the form of the replaceable dirtbags the robovac empties the debris into.
We also found the side brushes tended to scatter larger debris around the room, which made cleaning slightly longer, and there wasn't a clear battery level. However, its smarts far outweigh these minor gripes.
iRobot doesn't make any claims about how long the battery lasts between charges, but we found that it would vacuum the ground and first floor of our 3-bed house on a single charge. If it starts to run out of energy, it'll return to base on its own. A full recharge will take no longer than 2 hours.
Read our full iRobot Roomba J7 Plus review
If you love the idea of a robot vacuum that can mop and vacuum, but you're on a budget - this hybrid floor cleaner from Eufy is well worth considering. At just under half the price of the Ecovacs Robovacs that can mop as well - and often discounted - this certainly comes with a more affordable price tag.
On test, the Eufy G30 Hybrid collected fine dust, cookie crumbs, and larger debris – including cereal – with ease, even on the lowest power setting from hard floors, although like most robot vacuums, it struggled with ground-in dirt on carpets. The dust canister and water tank are smaller than rival models. However, we think this is an acceptable compromise given the more affordable price tag.
While the robot vacuum takes a methodical path backward and forward through a room, mapping its way - you can't save these for future cleans, so it's not quite as smart as other robot vacuums we've tested.
Read our full Eufy RoboVac G30 Hybrid review
A newcomer to the world of robot vacuums, Yeedi's 3-in-1 device impressed us with its ability to mop efficiently with rotation mop heads that self-clean every ten minutes. It was also good at tackling debris on our floors, though it's much more effective at cleaning central areas than it is at getting close to the baseboards.
Limitations in the app mean the Yeedi Mop Station Pro is best placed in a single room that requires more cleaning than you're up for doing manually. This is because you can only store one floor plan, and because of the bulk of the appliance's docking station.
All of that said, this still gets its place on our best robot vacuum ranking due to its impressive mopping technology, effective vacuuming, self-sufficiency, and relatively affordable price tag. It also runs quietly, which is a plus.
Read our full Yeedi Mop Station Pro review
This is the latest iRobot Roomba to launch and we found that it comes with all the same offerings of the J7 Plus, and more.
It has the ability to suck up particles as small as 0.7 microns (which is the P.O.O.P promise) making it ideal for pet owners. It will also actively avoid your furry friends at your command over Alexa, Siri or Google Assistant. Generally, we found that the Combo J7 Plus vacuumed well and mopped much better than most combination models, although we did find that it struggled with some spillages such as oats since it had a tendency to fling those around with the brush attachment.
The app makes the Combo J7 Plus easy and intelligent to use. This is where you can set it up to map your floorplan and set zones, and it continues to learn. You'll receive notifications of a new cleaning recommendation, when a particular space in the home needs more attention.
Although it is pretty quiet in operation, for the 10-30 seconds that it's emptying the noise reaches a dizzying height of over 90dB. And there's no denying that it's expensive, unless you get it whilst on sale.
Read our full iRobot Roomba Combo J7 plus review (opens in new tab)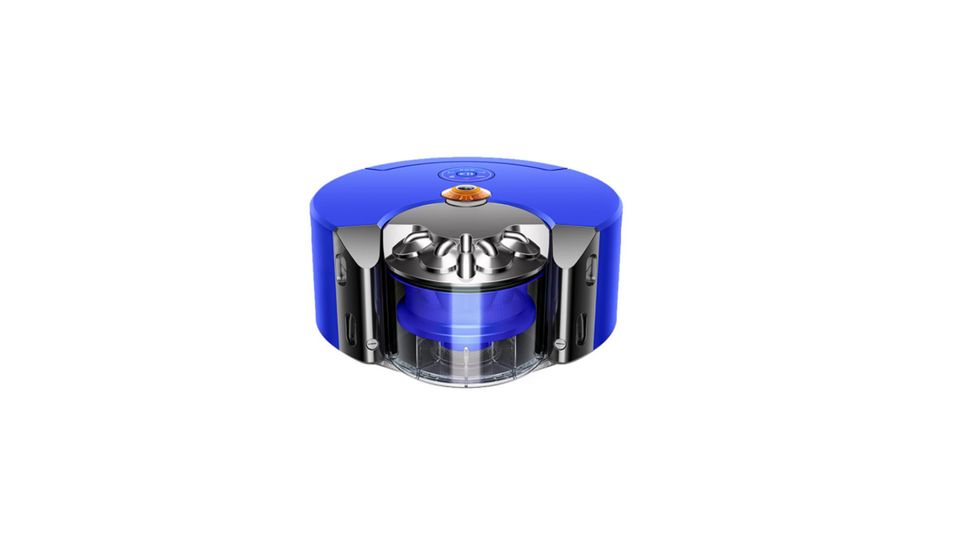 The Dyson 360 Heurist is the first robot vacuum to rival a cordless vacuum regarding cleaning power. It's got 20% more suction than Dyson's previous robot vacuum cleaner, the Dyson 360, and as the motorized brush runs the entire width of the vacuum cleaner, you get full suction power even on the edges of rooms. It's a narrower design than most robot vacuums, but the trade-off is it's taller too. So while it does a great job squeezing in narrow gaps, it struggles to get under some furniture.
There's no denying it's slow to set up, as the vacuum uses a camera to map rooms rather than LiDAR, but your patience will pay off. Once that's completed, you'll be able to split your house into zones and set restrictions such as avoiding altogether, not using the spinning brush bar (suitable for delicate hard floors and deep pile carpets), and stopping the vacuum from attempting to climb furniture.
It works with both Alexa and Google Assistant, so you can use your voice to start it cleaning. However, in our experience, it can't avoid obstacles, such as cables and shoes, so you'll need to pick these up yourself, and on full power, it's louder than most of its competitors, coming in at around 70db.
Read our full Dyson 360 Heurist review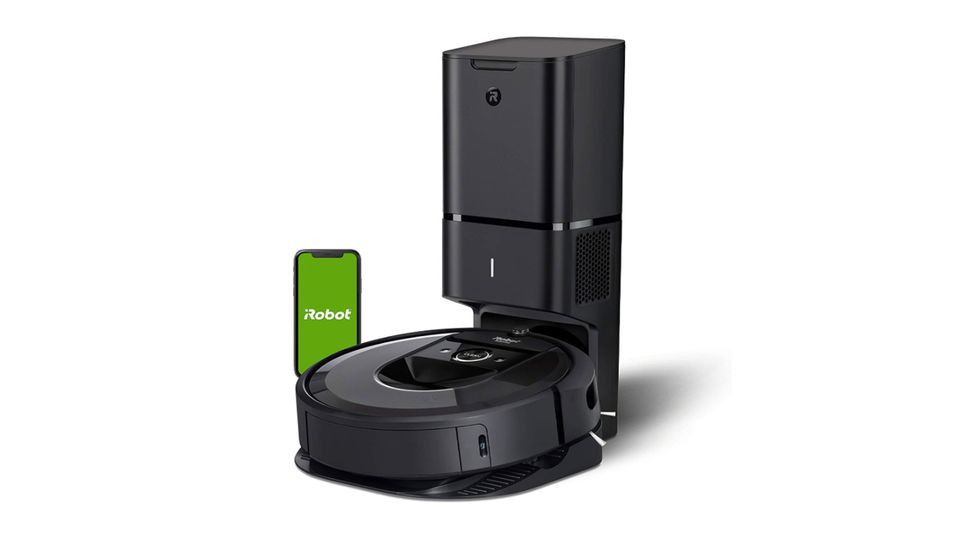 Look no further than this model if you want a robot vacuum that's great for collecting pet hair and other dust and debris.
The Roomba i7+ excelled at collecting pet hair as well as fine dust during testing. In many ways, equal to its bigger sibling - the Roomba S9 - it's got the same smarts for mapping your home and integrates with Amazon Alexa and Google Assistant. It also uses the same large capacity dust bags to ensure you only remove the dust and debris collected every 30 days. However, it's also available without the self-emptying base for a slightly more affordable price tag.
However, when it comes to suction power, it just can't compete. During testing, we found it was best suited to quick daily cleans but struggled to remove the level of larger debris and ground-in dirt the S9 could. That being said, for most people, this robot vacuum will strike the right balance between price and cleaning power.
The replaceable dust bags mean the robovac comes with an ongoing cost. Still, it retains the familiar circular design and rotating body found on previous Roomba robot vacuums, so it has no problems maneuvering through narrow areas.
Read our full iRobot Roomba i7+ review
If you struggle with allergies, the Neato D10 is worth considering. It's one of the few robovacs with a built-in HEPA filter, which according to Neato traps, captures 99.97% of allergens as small as 0.3 microns.
On test, we found the D10 offered good pick-up on carpets and hard floors. The battery provides up to 300 minutes of runtime on the lowest suction setting. However, despite its D-shaped design, which Neato says is suitable for edges and corners of rooms, we found it struggled to collect all of the debris from the corners and crevices of the baseboards in our home.
We also found the robot vacuum tends to try and climb up low-lying furniture, while the customization of maps in the app wasn't as robust as we'd have liked. That said, it's still a great performing robot vacuum.
Read our full Neato D10 review
The Ecovacs Deebot Ozmo N8+ can vacuum and mop, ensuring your hard floors are left sparkling. Just like the Ecovacs Deebot Ozmo T8 AIVI it can also detect carpet, and when it does will stop mopping to ensure your floor coverings don't end up sopping wet.
However, it builds on this with an Auto-Empty Station and will automatically empty the onboard 14.2oz / 420ml dust canister into a disposable bag after every clean. So you only have to worry about emptying the robot vacuum once a month or so. We found it sucked up fine dust and larger debris on hard floors on the lowest power setting but required the highest suction setting to remove the most visible traces of flour from medium pile carpets. We were disappointed there's no spot cleaning option either.
We found the robot vacuum became stuck a few times and repeatedly banged into pet food bowls, as it doesn't have the same level of sensors as found on Ecovac's more expensive models. However, it's a good buy for large homes with plenty of hard floors and, thanks to app control and voice integration, busy families, too.
Read our full Ecovacs Deebot Ozmo N8+ review
We've recently received the Dreametech L10s Ultra for review. So far, we've set it up and have yet to use but first impressions are certainly impressive.
It arrived in a very big and very heavy delivery box which was a struggle to get through the door and into a room to set up. It was also a struggle to lift it out of the box by ones self, but we made it. It feels like a quality bit of kit, and by that we (also) mean sturdy.
It's a hybrid robot vacuum which includes some cleaning formulae to slot into the base station. We're looking forward to having our carpets vacuumed and our hard floors mopped with powerful suction of 5,300Pa and high-speed suction. We're also looking forward to putting the 'up to 60-days with automatic emptying, mop-cleaning, mop-drying, water-adding, and solution-adding' to the test in a 3-bed family home.
How we test robot vacuums
To identify the best robot vacuums, we put models from big brands such as Shark, Dyson, and Roomba to the test and smaller names, including Eufy and Roborock. We evaluate the dirt pick-up of each model covering fine dust and cookie crumbs, along with larger particles, including cereal, while also looking at whether its pick-up on edges and crevices is as good as on large surface areas.
As well as assessing how effectively the robot vacuums clean floors, we also compare how easily they maneuver on the carpet and hard floors, as well as whether the robovac takes a logical path around a home or cleans in a random pattern means you could easily miss areas. We also looked for robot vacuums that can learn the layout of your home, meaning they can be dispatched to clean a particular room or space in just a few taps.
We rate each robot vacuum on how easy it was to empty, how loud it was in use, and how long the battery lasted between charges.
How to choose the best robot vacuum
There are several aspects you should consider when choosing the best robot vacuum cleaner for you.
As well as deciding whether you want a robovac that just vacuums or one that mops, it's also important to consider battery life, as nobody wants a robot vacuum that runs out of power halfway through cleaning your home. Similarly, look for robot vacuums that have large dust canisters or those that empty their dust bins, meaning it really can be left to clean your floors unaided.
Some robot vacuums take a methodical path across your floors, ensuring the vacuuming process is quick and efficient. However, these tend to be more expensive than robot vacuums that employ a random route when cleaning your floors.
Also, look for a smart mapping feature that ensures the robot vacuum learns the layout of your home and can clean specific rooms or areas at the touch of a button, and those that allow you to set no-go areas that the robot vacuum won't even attempt to clean - ideal if you have teenagers, which leave their clothes all over their bedroom floor.
Are robot vacuums worth it?
In short, yes. Robot vacuums can be more expensive than upright or cordless vacuums. Still, you're paying for the added convenience of not having to do the vacuuming yourself and worry about how often you should vacuum. Robot vacuums are an excellent solution for busy people who don't have time to put the vacuum around. Still, they offer a good alternative for those with mobility issues because all you need to do is switch them on.
Many robot vacuums cope well with hardwood floors and carpeted areas, but if your home has many staircases, you'll need an additional vacuum to clean the stairs. With many robot vacuums suitable for programming from your phone, you'll be able to switch these devices on when you're out and about and come home to clean floors.
How much does a robot vacuum cost?
Robot vacuum cleaners can cost anything from between $200 / £150 for models such as the Eufy RoboVac 11S to well over $1000 / £1000 for models such as the iRobot Roomba S9+.
How much you spend depends on your budget and your must-haves in a robot vacuum cleaner. As a rule of thumb, the more features and functions a robot has, the more expensive it will be. This doesn't mean that the performance you are getting with a robot vacuum will be any less, though.
Do robot vacuums work on pet hair?
Like other types of vacuums, many of the best robot vacuums on this list and other models we've tested are effective at collecting pet hair, fine dust, and larger debris from floors.
Designs that offer a Boost or Turbo mode are ideal if you have thick-pile carpets or rugs as they ensure you can temporarily increase the suction power, ensuring no fur remains after cleaning.
The best models to choose are ones that have rubber brushes that are free from bristles, so the pet hair doesn't get trapped around them. Although that's not to say robot vacuums with bristled brush bars aren't as effective at collecting the hair. If you choose one of these, look for a design with a tool to help remove pet (or human) hair that's got tangled to make your life easier.
Can a robot vacuum replace a normal vacuum?
Robot vacuums can offer a very impressive clean, even on thick carpets, making them an excellent alternative to upright or other vacuums. They'll be more convenient too as you can set them to work when you're busy doing other things. In addition, the dust cups on robot vacuums are often smaller than you'd expect to find on a canister or an upright vacuum cleaner.
While robot vacuums don't have crevice tools that work well down the side of your sofa or stairs, these machines usually have small brushes on the outside of their shells. The brushes do an excellent job of getting close to baseboards and ensuring that any crumbs or dirt on hard floors don't escape the vacuum's suction. However, as of yet, they can't clean the stairs.
Read more on this subject by reading can a robot vacuum replace your existing vacuum cleaner?
How do robot vacuums work?
Robot vacuums have a series of brushes on the underside of the machine that work together to collect dirt and dust that they come in contact with. The dirt is then sucked into the dust cup, which is fitted into the vacuum's body. Most are equipped with smaller brushes that extend past the circumference of the vacuum, and the purpose of these is to reach dirt that's settled against baseboards or in awkward places.
More advanced robot vacuums have lasers on the front of the machine and some on the underside of the device too. These lasers detect where furniture, objects, and edges are in your home, helping avoid bumps, and cliff detection prevents the machine from falling down the stairs. Read our article on how do robot vacuums work to find out more.
What is the best robot vacuum?
After reviewing all ten robot vacuum cleaners in this guide, our number one is the iRobot Roomba S9+. It impressed us during testing with epic suction on hard floors and a good pick-up on the carpet, although we felt that it could have done better at this - maybe.
The iRobot Roomba S9+ is self-emptying when it reaches a certain level in its bin. The debris is captured in a 14.9oz / 440ml replaceable dust bag in the charging and emptying station. This makes it an awesome choice for those who suffer from allergies because all the dust is contained, and there is no fear of emptying any of it back out again (by accident) if you open it. Alerts when the bag needs a change and integration with Alexa and Google Assistant are a sweetener to an already excellent robot vacuum.