Editor's Note: March 2023
It's happened. We've knocked the Dyson V15 Detect off our top spot and replaced it with the Shark Stratos. It has all the tech for an effective and effortless clean. We were really impressed with it and feel that it deserves to be voted the best cordless vacuum cleaner for 2023. Will it be rivalled? We'll see.
Jennifer Oksien, Editor - Homes
The best cordless vacuums are time savers and space savers. Time savers because they're instant-on, go-anywhere vacuums that will do a superb job on carpets, wooden floors, tiles and your car's upholstery too. And because they're designed to be super-portable and super-manoeuvrable, they don't need lots of storage space when you're done.
There used to be a trade-off with cordless vacuums: in order to get their convenient cleaning you had to accept poorer suction and fairly short battery life. That's not the case with the best cordless vacuums, however. The technology has improved very dramatically in a very short time, and the best of them are among the best vacuum cleaners full stop.
There are lots of manufacturers, models and designs out there, and that's why we're here. We've tested all the key models from brands big and small, and we've tested them not in testing rooms but in real homes where cats, kids, dogs and DIY can push even the best vacuums to their very limit. Because we've actually used these vacuums in the real world, we know which ones are the best buys at every price point.
If you're looking for even more convenient cleaning, put your feet up and check out our guide to the best robot vacuums. If you prefer to kick it old-school, we've also rated the best upright vacuums on the market. And if you'd like some top tips, expert advice and handy hacks to get the most from any kind of cleaner, our feature on how to vacuum is just what you've been waiting for.
The best cordless vacuum 2023: tried and tested
Why you can trust TechRadar Our expert reviewers spend hours testing and comparing products and services so you can choose the best for you. Find out more about how we test.
The Shark Stratos is a new line of vacuum cleaners from one of the best cordless vacuum cleaner brands there is. We reviewed the cordless model, but the new tech is also available as a corded and upright vacuum cleaner.
Known as the Shark Stratos Cordless with Clean Sense IQ IZ862H in the US or the Shark Stratos Anti Hair Wrap Plus Cordless Vacuum [1 Battery] IZ400UK in the UK, we were incredibly impressed with this vacs ability to sense how much dirt is on a floor and increase the suction power accordingly. It's even said that this tech - Clean Sense IQ - will increase dirt pick up by up to 50%. We also love that it has Anti-Odor Technology built in to the floor head which prevents any unpleasant smells from building up inside.
It comes with an Anti-Hair Wrap brushbar which is mega useful for households with long and short haired residents, and the flexible wand puts vacuuming the floor under the couch / sofa within reach. The only thing we found that the floorhead didn't do so well is to get into narrow spaces, but there's the crevice and multi-surface tools for that.
Read our Shark Stratos Cordless review
If you're on a budget but still want a cordless cleaner that gets the job done well, the Roidmi R10 is worth considering. It may not rival the Dyson V15 Detect when it comes to suction power but we were still impressed with its dust pick-up on hard floors.
There are some compromises to keep the price tag affordable of this model, which was previously called the Roidmi S1E. The 40-minute runtime is shorter than other cordless vacuums on the market, and it struggled to deep clean carpet. However, while its decibel levels are similar to other cordless vacuums, its softer tone feels less intrusive, and you can chat while cleaning without having to shout.
This cordless vacuum cleaner is easy to use in both stick cleaner or handheld mode, and lightweight. And, it comes with a good selection of tools, including a motorized mattress brush to make upholstery cleaning easy.
Read our full Roidmi R10 cordless vacuum cleaner review
Dyson's latest vacuum cleaner really is its best yet and one of the very best cordless vacuum on the market, hands down. It may be expensive but with better cleaning performance and suction power than the Dyson V11, and the same long-lasting battery for the same price tag, it's worth every penny.
On test, we found it excelled when cleaning hard floors, thanks to the inclusion of a laser that highlights microscopic dust invisible to the human eye. We were impressed that when used on Auto mode, the vacuum conserves the battery by adjusting the suction power to suit the floor type and the amount of dust automatically. There's also a handy LCD screen that displays the remaining runtime, too.
The V15 Detect Absolute has an average-sized dust canister, and is noisy when used on full power. Not to mention, it's fairly pricey, but we think it's worth the money if you want the best premium cordless vacuum cleaner on the market.
Read our full Dyson V15 Detect Absolute review
The bagged vacuum cleaner is an older appliance tech which may have been bitted by the dust, until Numatic launched their first ever cordless stick vacuum cleaner. Let us introduce the Henry Quick.
This cordless vacuum has proven to us that old ideas can also be some of the best. On review, it did away with any dust clouds rising from the bin upon emptying, or that moment you go to grab the vacuum and realise the recently washed filter is still dripping wet, because since it's bagged, you can just release the bag and get on with your day.
We found that it isn't 100% perfect - heavy when in use for long times and the cost of bags is an ongoing cost - but it's strong, powerful, low-maintenance and easy on the eye.
Read our full Henry Quick review (opens in new tab)
The Pure One S15 Pro is a dream cleaning machine, taking much of the effort and brain-strain out of vacuuming, plus emptying is blissfully mess-free.
One of the main features that we love about the Pure One S15 Pro is its iLoop Smart Sensor tech, which delivers visual affirmation that floors are dust-free. It's similar to the Dyson V15 Detect, in that it adjusts power automatically according to particulate size. When used in Auto mode this sensor tech ramps up – and reduces – suction power according to need, which saves on battery life and makes light work of particularly messy floors.
The machine's five-stage filtration system is a big bonus for allergy sufferers, while the separation of air and dust aims to keep the filter cleaner for longer – which means you don't lose suction (or have to wash the filter) as frequently.
The Pure One S15 Pro delivers plenty of bang for your buck, and we were very impressed by the high-quality look and feel of this smart cordless. Whether it beats the Dyson V15 is purely a matter of personal preference, but the Tineco Pure One S15 Pro is definitely up there with the best.
Read our full Tineco Pure One S15 Pro review
Struggle with hair wrapped around your vacuum's brush roller? The Shark Anti Hair Wrap Cordless Stick Vacuum Cleaner with PowerFins & Flexology may be the answer.
This vacuum, which is called the Shark Vertex Pro Lightweight Cordless Stick Vacuum with DuoClean PowerFins (IZ662H) in the US, features Anti Hair Wrap technology that prevents hair from getting tangled up, so you no longer have to spend hours picking out the strands yourself.
On test, we were impressed with the suction power. The main 'stick' of the cordless vacuum is bendable which makes it much easier to clean under furniture and in tight spaces, too.
Heavier than of the best cordless vacuums on this list, it's one of the noisiest vacuums we've tested, and the wheels on the back of the cleaner head flicked some of the oats around rather than collecting them when we tested it on hard floor. This meant we had to make several passes to ensure the mess was cleared.
Read our full Shark Anti Hair Wrap Cordless Stick Vacuum Cleaner review
The predecessor to Dyson's V11 range, the Dyson V10 cyclone offers impressive cleaning power but at a slightly more affordable price, although not quite as competitive as other models on the market.
It's on par with the V11 when it comes to cleaning performance. In our tests we found that on both carpets and hard floors it did a sterling job of sucking up fine dust, pet hair, and even larger debris such as cereal and cat litter.
The dust bin size and up-to 60-minute runtime match the V11, though do be aware that if you push it to its most powerful suction settings that figure drops dramatically. It can be converted into a handheld cleaner like other Dyson cordless vacuums.
At full power, it doesn't last quite as long as the V11 either, and it doesn't have the ability to automatically adjust the suction power to suit the floor type you're cleaning. There's no LCD display either, but it is lighter and cheaper.
Read our full Dyson V10 Cyclone review
This cordless vacuum cleaner from Vax gets our vote for use inside the home and outside in the car. It comes with a suite of attachments and has an impressive battery life of up to 90 minutes, meaning that even if you have parked down the road you'll have plenty of juice to see you through the clean.
We also found that it does a good job of picking up dirt and dust from hard floors and carpet. The three-stage infiltration claims to remove up to 99.8% of particles such as fine dust and pet dander down to 0.3 microns in size. And the new CleanControl digital display shows you how much run-time you have remaining while you vacuum, and a second battery provides back-up for a seamless clean.
Weighing in at 3.8kg, it isn't the lightest cordless we've tried. We also found that although great that there's lots of attachments, when it comes to storing you'll need a fair amount of space because on-board storage is pretty limited.
Read our full Vax ONEPWR Blade 5 Dual Pet and Car review (opens in new tab)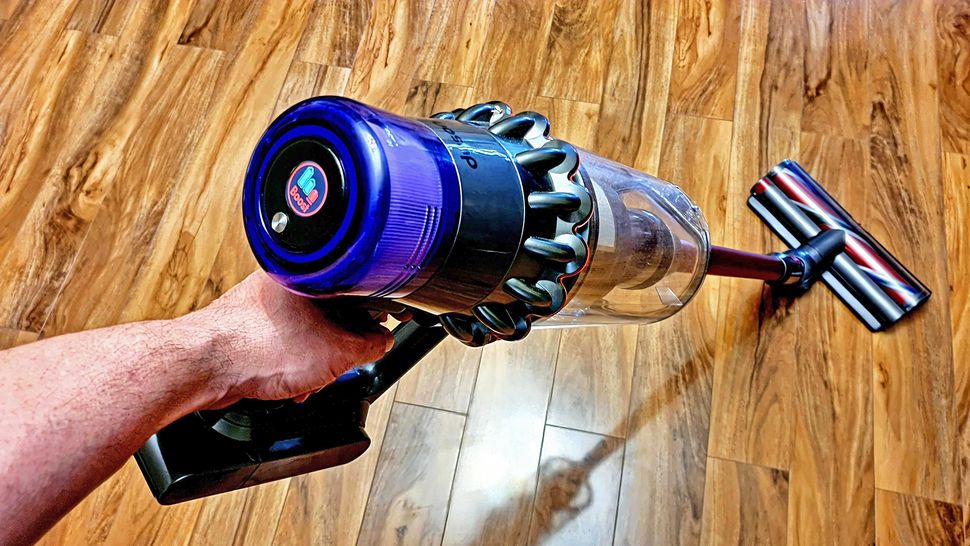 The best cordless vacuum with a large dust canister is a must if you have a big home, and the Dyson V11 Outsize really fits the bill here. The 1.9-liter dust canister holds 150% more debris than the Dyson V15 Detect Absolute (above) and means you shouldn't have to empty it too often. The cleaning head is also wider than usual, which means you'll be able to cover more ground than with a standard cordless cleaner and is another feature that makes it well suited to larger homes.
In our tests its powerful suction meant it collected discarded biscuit crumbs, ground-in dirt, and even cereal and cat biscuits with ease. However, this is the most expensive vacuum we've tested, putting it out of reach of some, and we found the larger size made the vacuum cumbersome to use in handheld mode.
Read our full Dyson V11 Outsize review
A compact and lightweight cordless vacuum that's close to hand is ideal for quickly and efficiently cleaning up small spills, and the Shark WandVac really fits the bill for this type of device.
Simple to use, during testing it collected fine dust from hard floors and carpets with ease, although for larger debris, we found it required several sweeps to scoop up all of the mess. It can be used either as a stick vacuum, or in handheld mode. The dust canister is smaller than average, so will need to be emptied more frequently, but we found it was easy to empty.
The Shark WandVac is loud in use and the runtime is around a quarter of that offered by rival cordless cleaners. So, it's the best cordless vacuum for quick clean ups rather than a deep whole house clean.
Read our full Shark WandVac review
For homes kitted out solely with hard floors, the Dyson Omni-glide is the best cordless vacuum you can buy. With not one, but two soft brush bars, it ensures you can vacuum your home faster than ever without damaging the hard flooring. And we found dust and dirt pick up to be very effective during testing.
Released just days after the V15 Detect Absolute (above) the Omni-glide can lie flat on the floor so it can be easily maneuvered under low-lying furniture, while four 360-degree castors on the bottom of the cleaning head ensure the vacuum can be steered in any direction. It can even lie flat.
The Dyson Omni-glide can only last for 20 minutes between charges, although the battery, which is housed inside the vacuum's handle, is swappable. This did mean, however, during testing we found the vacuum cumbersome to use in handheld mode.
The Omni-glide is one of Dyson's more affordable vacuums. But, it's still pricey compared to the rest of the market, especially when you consider it can't be used on carpet.
Read our full Dyson Omni-glide review
How to choose the best cordless vacuum for you
With such a wide array of cordless vacuums on the market, choosing the right one might feel like an overwhelming task. However, if you focus on these considerations you'll quickly be able to identify the model that's best suited to you.
Start by checking how long the battery will last between charges and whether it's swappable, so that if the battery runs out of power mid-clean, you don't have to wait for the vacuum to recharge before you can carry on. Similarly, the size of the dust canister will also affect how many interruptions there are to your cleaning session. If you have a bigger house, look for models with larger than usual dust cups.
If you have hard floors, look for a cordless vacuum that comes with a dedicated cleaner head, which has a softer brush roll to ensure the flooring isn't damaged when vacuuming.
Also, check the vacuum cleaner will be able to reach under furniture and in any tight spaces, you have in your home to ensure you're thoroughly cleaning your floors every time you push a vacuum around.
If you've got furry friends, you'll be pleased to know, there are plenty of models designed to suck up pet hair from your floors as well as your soft-furnishings. Cordless vacuums are designed to be on hand whenever you need them but how often you should vacuum will depend on how many people and pets are in your house as well as how much you're at home.
As you've read, there are a lot of the best cordless vacuums to choose from. There's no right or wrong make or model to choose, but it is important to get the right one for you and your household by choosing wisely. Our "5 things to consider when buying a Dyson vacuum cleaner" would (also) be worth a read because what we've specified can be applied to any cordless vacuum you're looking at buying.
If you're still unsure, read our advice on which type of vacuum should you buy and read our comparison of canister vs upright vacuums and bagged vs bagless vacuums.
How we test cordless vacuum cleaners
To find the best cordless vacuum cleaner, we evaluate how successfully each model collects everything from fine dust and dirt to larger debris such as cookie crumbs and cereal. As well as assessing how well floors are cleaned, we've also compared how easy the vacuum cleaners are to maneuver on carpet and hard floors, as well as whether dust pick up is evenly distributed across the cleaning head, or concentrated in one area.
We rated each design on how durable it is, as well as simplicity of emptying, how loud it is during use and how long the battery lasts. For each model we wanted to know whether it was easy to convert into other modes; such as a handheld vac, the useful tools and accessories it came with to clean edges or remove pet hair, and that it didn't require reading a thick instruction manual before use.
Is Shark better than Dyson?
Shark and Dyson are two of the biggest brands in the cordless vacuum market right now. They seem evenly matched when it comes to suction power, but Shark's designs are slightly more affordable than Dyson's models, which may leave you wondering if Shark is better than Dyson?
To keep the price tag low, Shark's vacuums are not as sleek and stylish as Dyson's, and they're often heavier, too. While they come with useful technology such as the ability to stop hair getting tangled around the brush air, and flexible wands to ensure you can clean in hard-to-reach places, they're not as high-tech as Dyson's offering. Dyson's vacuums tend to have longer-lasting batteries than Shark's models too.
So are Shark vacuums better than Dyson? It very much depends on the layout of your home, your budget and the types of surfaces you want to clean. Read our Shark vs Dyson article for a more in-depth look at the two floor-cleaning brands.
How do I choose a cordless vacuum cleaner?
We think the cordless vacuums we've listed above are the best of the best, but it's essential to consider your personal needs.
The most important considerations when choosing a cordless vacuum cleaner are:
1. Specs
2. Design
3. Features
Starting with the specs is typically the way to go - think about how long of a runtime you need from your cordless vacuum, what floor types you have in your home, and how powerful you'll need the cleaner to be.
Next up, think about what features you might need from your new cordless vacuum. If you have pets, that means looking for a vacuum that can handle hairs and even odors. You might need a range of attachments to handle various surfaces in your home or a vacuum that can easily transform into one of the best car vacuums.
Lastly, think about the design of the vacuum. Is it light enough to use overhead if you have shelves and high surfaces that need cleaning? How easy would it be to store in your home? You might even want to consider if it will be aesthetically pleasing, especially if you're planning to keep it out in the open.
Are stick vacuums worth it?
Cordless stick vacuums bring some great benefits, especially if you have a smaller home, or just need a more accessible device for cleaning up small spills and messes in the kitchen.
As they are more compact and lightweight, stick vacuums are great for quick cleanups, however, they wouldn't be worth it if you need any kind of deep clean.
What is the difference between an upright vacuum and a cordless stick vacuum?
Cordless vacuums have been available for more than two decades, and while the early models were not as good when it came to dust pick up, that's no longer the case.
Many of the cordless vacuums on the market are comparable, and in some cases better, to corded, upright vacuums when it comes to collecting dust and dander from carpets and hard floors. They're more versatile than corded vacuums too, as they can be converted into lightweight, handheld cleaners that are suitable for use on upholstery, up high, and even in vehicles.
However, there is one area where they struggle to match corded vacuums, and that's the capacity of the dust canister. On average, cordless vacuums have dust canisters with a capacity of anywhere between 0.2 and 0.75 liters, whereas traditional corded vacuums, whether it's upright or a canister, have a capacity of anywhere between 1 and 2 liters. The only exception is the Dyson V11 Outsize, which has a 1.9-liter capacity. However, it's also extremely expensive compared to other cordless vacuums and much bulkier.
Which cordless vacuum has the longest battery life?
Cordless vacuums can last anywhere between 10 and 60 minutes depending upon which suction level they are used on. The more powerful the suction, the shorter the battery life.
In our tests, we found the Miele Triflex HX1 Cat & Dog to have the longest battery life. As while it offered 60 minutes on the lowest suction power, just like the Dyson V15 Detect, the Dyson V11 Outsize and Shark Anti Hair Wrap Cordless Stick Vacuum Cleaner with PowerFins & Flexology, it lasted for just over 16 minutes on the most powerful suction power.
Whereas the Dyson V15 only managed 15 minutes and the Shark Just 11 minutes. It's also worth noting that all three of the vacuums we've mentioned here, have swappable batteries. This means, providing you purchase additional batteries from the manufacturer, you can remove a battery that's run out of power and replace it with a fully-charged battery, rather than having to stop vacuuming and put the entire appliance on charge, only resuming when the battery has full power again.