Samsung Bespoke Jet: two-minute review
Using the Samsung Bespoke Jet is one of the best experiences we've had when testing a vacuum cleaner of any kind. It's capable of putting the Dyson V15 Detect to shame in terms of its functionality and power, and does a better job on piled carpets than a corded Miele (some of the more powerful traditional vacuums on the market today).
The Bespoke Jet will not just suck up dirt, debris and hair, it will also mop hard floors, even washing up ingrained stains as you can spray water on them to loosen the dirt first. After it's all done, you just need to press a button to empty the dust canister and all the dirt collected gets sucked out in a second or two.
Samsung has definitely thought through the entire design and functionality of the Bespoke Jet, with one small exception. The large Jet Dual floor cleaning head (which we suspect most people will be using above all else) doesn't move too well in angles, i.e the swivel isn't great.
That's compounded a little by the fact that it's a touch top-heavy, but this issue isn't unique to Samsung – as with most cordless vacuum cleaners with detachable battery packs, the weight distribution is uneven and trying to turn the vacuum cleaner can cause a little wrist/arm fatigue despite the Bespoke's being lighter than previous Jet models.
Having said that, the mopping and the soft roller cleaning heads don't have the same issue, so it's possible that this might be a one-off and a small defect on our review sample.
If we really had to complain about something else (we're definitely in nitpicking territory now), that would be the extra space required by the accessory cradle. To be fair, though, that cradle is a necessity as it provides space not only for the plethora of tools that ship with the machine, it also adds an extra charging dock for the second battery that ships with two of the Bespoke Jet models. And it also comes with its own power cable, so you're going to need two spare power points for the vacuum cleaner.
And that's all we could find to complain about. The Bespoke Jet has excellent suction as a vacuum cleaner and does a pretty decent job as a mop too. It can also 'sweep', which is a functionality we never thought was a necessity until it was (more on this later). Long story short: it's plenty powerful, particularly at its two high power modes, is self-cleaning and versatile... and also very competitively priced, making this one of the best vacuum cleaners yet.
Like Dyson, LG and Miele cordless vacuum cleaners, the Bespoke Jet also has different configurations (in select markets) – three to be precise – with the only difference between them being the number of batteries and the number of cleaning tools that ship with each.
Samsung Bespoke Jet price and availability
Announced February 2022
Launch price from $1,035 / £629 / AU$1,299
Available now in three configurations in select markets
To confuse availability across its markets, Samsung has decided it will offer different models of the Bespoke Jet in different countries… with different names.
For example, the US only gets one model – the priciest option at $1,035 – that comes with all the cleaning heads and accessories, the Clean Station and, importantly, two battery packs. The UK, on the other hand, gets two models (at least for now) – the Jet Complete and Jet Complete Extra – costing £629 and £899 respectively. The difference here is the cheaper option comes with a single battery pack, while the latter ships with two packs and the Power Mop cleaning head to boot.
Australia hits the jackpot with three models called the Jet Pro Extra, Jet Complete Extra and Jet Elite Extra. Interestingly, all three come with two battery packs, with the only difference being the accessories shipping with the three models. The first two configurations cost AU$1,299 while the Elite Extra is AU$1,399.
It's hard to compare the price of the Bespoke Jet with anything else on the market as most other popular brands – Dyson, Shark, Bissell, Miele – don't come with auto-empty stations for the cordless stick vacuums. The only one that's comparable is the LG CordZero A9 Handstick with All-In-One Tower that costs $999 / AU$1,599 (unavailable in the UK). It vacuums, mops and self-cleans too, plus offers two battery packs as well. Interestingly, the All-In-One Tower offers all the space you need to store the attachments and tools.
With just one model to compare the Bespoke Jet with, we think it's pretty competitively priced.
Samsung Bespoke Jet design
Free-standing Clean Station and charging dock
Accessory cradle
Telescopic tube
Just like the Bespoke Fridge range, the Bespoke Jet cordless vacuum cleaner comes in an array of earthy colors – white, navy blue and green – which should complement your home decor no matter what shades you've opted for.
And no matter which Bespoke Jet model is available in your country, you'll get it with the headline feature – the all-in-one Clean Station. It doubles as the charging stand as well, with space for the main floor cleaning head attached to the telescopic tube. You just have to make sure the tube is retracted for it to fit. Yes, you read that right: the Bespoke Jet comes with a telescopic tube – a rare occurrence in the world of modern cordless uprights.
Samsung's Clean Station is a little different from the auto-empty stations now available with plenty of newer robot vacuum cleaners. Instead of automatically sucking out the dirt from the dust canister as soon as the machine is docked, the Clean Station requires the user to press a button for the process to start and also stop it manually. It takes no more than 2-3 seconds for a full 0.5L canister to empty into a 2L bag that can easily be swapped out when full (you get three with the machine – one installed and two extra) by removing a panel on the stand.
The panel fits so seamlessly around the Clean Station that it's easy to miss if you aren't paying attention to the user manual. Even better is just how easy it is to remove and put back – it takes absolutely no effort at all – and that goes for every part of the vacuum cleaner when you're assembling it, including the telescopic tube (something you don't usually get in a lot of handsticks), cleaning heads, the tiny bottle that's the water tank or the battery. Everything about the handstick is just… so easy.
Under the removable panel is another one that swings outward to reveal the dust bag. A point to note about this inner door is that it will not click shut if no bag is attached, meaning you won't be able to close the outer panel either. So when changing out the dust bag, be sure to replace it immediately.
If you'd like to avoid the recurring cost of the disposable bags, you can empty the dust canister the usual way. You can also take it apart completely to wash it out occasionally and clean/replace the filter, which is best practice if you want to extend the life of your vacuum cleaner.
The Bespoke Jet is also lighter than some of the other popular cordless vacuum cleaners on the market today. For example, the Dyson V15 Detect weighs in at 3kg, while the Bespoke Jet tops the scales at 2.7kg. That said, the battery on the top of the handheld unit (which weighs 1.44kg) does make the weight distribution uneven and the machine can feel heavy, particularly when you're trying to manoeuvre it in small angles.
And that is our only complaint with Samsung's new vacuum cleaner – unless you take into account the extra space you're going to need to either store all the various tools and accessories (there's no space for them on the Cleaning Station itself) or the Accessory Cradle that ships with the Bespoke Jet.
The cradle is a thoughtful addition as it provides a charging slot for the second battery that ships with specific models, meaning you're going to need to place the cradle near a second power point or use a multi-way plug as it comes with its own cable. Moving the cradle around is easy, though, as it's got a carry handle.
Depending on the Bespoke Jet model, you can get up to seven cleaning heads and tools. This includes two motorized cleaning heads for hard floors alone – the Jet Dual Brush that has a bristle roller and a soft roller for use on hard floors and carpets, and the Slim Action attachment that's got just the soft roller and designed for wood floors.
Then there's the Spray Spinning Sweeper that, as the name suggests, can be used to sweep and to mop. Samsung provides a pair of bristly pads that can be handy to loosen particles in dried-up kitchen spills or muddy shoe tracks. Note that there's no suction when using the Sweeper, so all you're doing is moving the dirt around, calling for a round of vacuuming and/or mopping after.
Alternatively, you can fill the little plastic bottle (aka the water tank) and spray some water onto the caked-in grime, then mop using the washable microfiber pads. Samsung also provides a pack of disposable, antimicrobial wet wipes that attach to the bristles of the stiff pads, but we found these to be quite wasteful as they dry up quickly and a pair isn't enough to mop a full room, let alone the whole house.
Other than the three motorized cleaning heads, there's a smaller soft roller called the Pet Tool (which is also motorized), as well as the usual suspects of the crevice tool, the combination tool and a flexible tool.
Take all seven into account and you'll find the Accessory Cradle is the best storage option if you have the extra floor space. While the cradle itself fits only four tools (even the big motorized ones), a smaller attachment adds a few more spots.
All the controls you need are within easy reach of your thumb when holding the handstick and the digital display is clear and sharp. Other than the power button, there's just the plus and minus buttons that cycle through the suction/power modes (there are four) and, when the water tank and Spray Spinner are attached, you use the plus button to spray water. Note that unlike the LG CordZero A9 Kompressor Aqua, the mopping head does not automatically suck water to the pads – you can pre-wet the microfibre pads and then spray as and when you need more moisture on the floor, or spray and use the dry pads to clean up the puddles.
As with the digital display on Dyson vacuums, the Bespoke Jet will show you what power mode you're on and how much battery life is left for each. When docked, it becomes a battery charging indicator.
Samsung Bespoke Jet performance
Extremely powerful suction in Jet mode
Lacks dynamic suction
Good as a mop
Not only is the Samsung Bespoke Jet good-looking (well, when docked on the Clean Station, it's sleek as), it's quite powerful too. There are four suction modes – Min, Mid, Max and Jet – and we found ourselves mostly using the Mid level for regular cleaning runs. Carpets take a few passes to get clean in this mode, but we have to talk about the Jet mode. It's got the most powerful suction we've seen on any vacuum cleaner we've tested or used, proven by our test of a very hairy carpet getting cleaned in a single pass.
We allowed a wall-to-wall carpet space to get really dirty over three weeks, adding hair from brushes as well and grinding them right into the fibers. A light-brown mid-pile carpet turned almost black by the time we were done with it and we kid not: a single pass and it was all gone! The Dyson V15 Detect in Boost mode was not able to keep up, requiring two to three passes to clean the same amount of equally dirty carpet.
We also threw some talcum powder on the same carpet, a fluffy bath mat and on a tiled floor – on the Jet setting, it took a single pass for the fine white powder to disappear from the carpet, a couple of passes on the bath mat and a single pass on the tiles.
As impressive as that sounds, using the Bespoke Jet on its highest suction mode limits battery to just eight minutes (more on battery life later). Having said that, a single pass means you finish cleaning quicker and those eight minutes go a long way. We were able to clean a fully-carpeted bedroom and half a living room in that time in our test space, which is pretty good. And given we had two batteries to play with, Max and Jet modes quickly became our favorite options for vacuuming. To be fair though, the Mid setting, which is the default option as soon as you turn the handstick on, is pretty capable too, and would be perfect for the day-to-day cleaning runs.
The one thing Dyson has over Samsung in their respective flagship cordless vacuum cleaners is dynamic suction. The Dyson V15 Detect automatically increases suction when it detects a rug or carpet, or when it detects more dirt. The Bespoke Jet misses out on this feature – if it did boast dynamic suction, we think Samsung truly would have had the perfect vacuum cleaner.
We didn't think a sweeper would be very useful until we needed to get rid of caked-in muddy boot prints. We tested the Bespoke Jet in Sydney when the city was deluged with unseasonal rain, so tracking mud through our test space seemed to be the norm each day. Vacuuming (even in Jet mode) did not take care of the dry mud, so a quick loosening of the dried grime with the bristly pads helped. It might seem a complicated process, but this needed to be followed up with a quick vacuum run and a mop to get the hard floors looking spotless. But given how quickly attachments slot in and out, the whole process really doesn't take so long. Sweeping, though, isn't something we see most people using a lot, but it's handy to have.
As a mop, the Bespoke Jet was surprisingly impressive too. We allowed drops of sauce from different types of food to fall and dry on our test space's kitchen floor over a few days. We didn't even bother pre-wetting the microfiber pads; we just fitted the water tank to the Sweeper, sprayed some water on the bits of food and allowed the machine to do its thing. A few seconds later and all the spots were gone.
We saw similar mopping prowess from the LG CordZero A9 Kompressor Aqua model in the Turbo mode – this vacuums and mops at the same time but adds some vibrations to the mopping process for caked-in grime. The Samsung has no such vibrations and can still manage to do a good job. It must be noted that mopping using a handstick (any brand) isn't the same as your own elbow grease, which is perhaps the only option when your hard floors are particularly grimy.
It should be mentioned that with the rounded edges of the Spray Spinning Sweeper, you're not going to be able to mop into corners, but the attachments swivels really well.
Like any other handstick, the Bespoke Jet quickly converts into a handheld unit that lets you dust shelves, and get into nooks and crannies with the crevice tool or the flexible tool.
Whatever the Bespoke Jet does, it does so relatively quietly. Where the Dyson V15 Detect registered 77dB on its Auto mode (81dB in its Boost mode), the Samsung topped out at 71dB in the Mid power level, 75dB in Max and 78dB in Jet.
We've also got to talk about how powerful the suction in the Cleaning Station is. As we mentioned before, it takes just a couple of seconds to empty a full canister, and this is even more impressive considering long lengths of hair that can be seen tangled around the central cylinder get pulled out.
Speaking of long hair, you will need to be a little careful when using the Sweeper – if you haven't done a good vacuum run before a mop, hair on the floor easily gets tangled around its roller wheel and cleaning that out is near impossible. This could affect its movement later in the life of the machine.
Samsung Bespoke Jet battery life
Swappable battery pack
Up to 120 minutes battery life; more in wet mode
Fade-free power
60 minutes seems to be the standard for most of the cordless handsticks that have been released in the last two or three years, and that's the case here as well. Each battery pack that comes with the Bespoke Jet offers you a maximum of 60 minutes while vacuuming, and about 1 hour 20 minutes when mopping. Note that the max of 60 minutes is while using the non-motorized tools like the combination or crevice tools.
Depending on the suction mode, though, you're looking at a maximum of 42 minutes when using a motorized cleaning head. 42 minutes, of course, is on the Min power setting, which drops to 24 for Mid, 14 at Max and a mere 8 minutes at the Jet setting.
The good thing is you really don't need to pay attention to how long you're using the vacuum for as the time remaining is displayed clearly on the screen. And having a second battery pack you can swap out, there really is nothing to worry about.
When a battery pack is done, the machine just switches off, like a Dyson, without fading out the power. From there, it takes about 3.5 hours to top up from zero to full.
Should I buy the Samsung Bespoke Jet vacuum cleaner?
Buy it if...
You want hygienic end-to-end cleaning
The Clean Station ensures that emptying the vacuum cleaner canister is real simple and, well, clean. You'll never have to worry about dust and hair falling out of your dustbin while emptying the canister and you don't need to stick your fingers in to pull out locks of hair stuck inside.
You want powerful suction
The Bespoke Jet's Min mode is nothing to write home about but anything above that is plenty powerful. The Mid setting is more than enough for the day-to-day cleaning up, while Max is more than enough to suck up most anything from any kind of floor. But where the Samsung machine shines is the Jet setting – we've never tested or used anything quite as powerful.
You're after a versatile vacuum cleaner
Vacuuming is all well and good, but this machine does more. You can actually 'sweep' although we don't envision anyone really needing that option, but it does quite well as a mop. The fact that you can spray as much or as little water you need – yes, you're in full control – means you can get rid of pretty much most stains on the floor.
Don't buy it if...
You don't have a lot of floor space for storage
The Clean Station alone doesn't have a large footprint and it's been designed to compliment the decor of a modern home. But add in the Accessory Cradle and you're looking at space for an additional piece. Even if you choose not to use the cradle, the vacuum comes with plenty of accessories that will need to be put away somewhere. And you'll also need that extra power point to keep the second battery topped up.
You don't need a full-featured vacuum cleaner
While the Bespoke Jet is well priced considering how much it's got going for it, it's not what we would call 'affordable'. So if you think you don't need all the bells and whistles of this Samsung machine, you can find a pretty good cordless vacuum cleaner for less. The recurring cost of the replacement dust bags for the Cleaning Station will also need to be taken into account if you're on a budget.
Also consider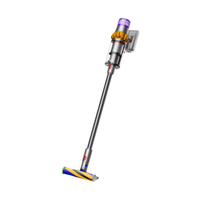 (opens in new tab)
Dyson V15 Detect
It may not mop and you're going to have to empty its dust canister yourself, but if you have the money to spare, Dyson's current flagship is quite the marvel. Its newly designed Soft Fluffy attachment will highlight any fine dirt on your floor and you'll get a graphical representation of what it's sucking up. Plus there's powerful dynamic suction to boot.
Read our full Dyson V15 Detect review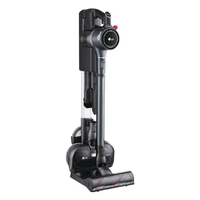 (opens in new tab)
LG CordZero A9 Kompressor (A9K-Aqua)
Competing directly with the Bespoke Jet, LG's A9 Kompressor Aqua model will vacuum and mop up for you, and do it well. While it does come with its own free-standing dock, it misses out on the self-cleaning feature that the Samsung boasts. But it does allow you to store all the tools and attachments on the dock.
Read our full LG CordZero A9 Kompressor review
First reviewed on April 2022