Dyson Gen5 Detect: two-minute review
The Dyson Gen5 Detect ushers in a new era for the brand's cordless vacuum cleaners. Not only does it steer away from the more familiar V-series naming system, it improves on what the V15 Detect offers.
While it still resembles all the other Dyson V-series handsticks, the old trigger mechanism to power the vacuum has been replaced by a traditional on/off button like in the V12 Detect Slim. This is a welcome relief as the new flagship cordless vacuum cleaner is heavier than any of the previous models.
The extra weight comes from two other improvements – an integrated crevice tool and a bigger battery. The former is now built into the tube of the Gen5 Detect and is accessible via the press of a button, then pulling the tube down. The battery is slimmer and longer as compared to what we saw on the V11 and V15 models, but it's the one that adds significantly to the weight of the machine – you now get up to 70 minutes of runtime.
Dyson has also improved the brightness of the laser light on the Fluffy floor head, which is also most welcome as the beam is now easier to see in bright daylight.
Another design change is the way the dust data analysis is displayed on the LCD screen. Instead of the vertical bar graph on the V15 and V12 models, it's now horizontally displayed, with numbers replacing the lines once the vacuum has been powered off.
Where it counts is the new motor which, Dyson says, is a 'Gen' model rather than the older 'V' one, hence the change in nomenclature of the device itself. This new Hyperdymium motor delivers up to 262 air watts of suction compared to the 230 air watts delivered by the V15 and 210 delivered by the Samsung Bespoke Jet. As impressive as the number is, we didn't see any significant difference in performance between the Gen5, V15 or the Samsung flagship vacuum cleaner – they all suck really well. Interestingly, the Gen5 Detect is quieter in its Auto mode than the V15 Detect… significantly quieter.
As impressive as the improvements are on paper, the added weight makes the Gen5 Detect difficult to use for long periods of time and, in handheld mode, even a few minutes can cause arm fatigue. And while we understand that upgrades come with a higher price tag, the Gen5 Detect's cost just makes it that much harder to recommend over its predecessor.
Dyson Gen5 Detect review: price and availability
Announced October 2022
List price starting at AU$1,499 (about $1,040 / £865)
Available now in Australia, TBC for US and UK
Although Dyson announced the Gen5 Detect back in October 2022, it is currently only available to buy in select markets. In Australia, the starting price of the new flagship is AU$1,499, but US and UK release date and pricing information is yet to be confirmed (converted that's about $1,040 / £865 at the time of writing).
As with every Dyson cordless vacuum cleaner, the Gen5 Detect also comes in different versions – two in Australia. Called the Gen5 Detect Complete and Gen5 Detect Absolute (which is our test model for this review), the only difference between the two is the color scheme used and the number of tools they each ship with. The former is the full package that includes eight tools and accessories in the box, setting you back a whopping AU$1,549 (about $1,075 / £890).
While the price of the Gen5 Detect is in keeping with what Dyson has typically done with each new release, it is a steep price to pay for a vacuum cleaner. In comparison, Samsung's flagship Bespoke Jet, which can also mop and comes with a lot more bells and whistles (and is lighter too) has a starting price of $1,035 / £629 / AU$1,299.
Specs of the Dyson Gen5 Detect review unit
Price: from AU$1,499 (about $1,040 / £865)
Bin volume: 0.77L
Speed modes: 3
Filtration: Whole-machine HEPA filtration system
Suction power: up to 262 AW
Battery: up to 70 minutes runtime
Weight: 3.5kg
Additional tools: up to 8 accessories
These specifications are for the Australian model of the Gen5 Detect Absolute.
Dyson Gen5 Detect review: design and features
Power button replaces trigger
Integrated crevice tool
Brighter laser on the Fluffy Optic floor head
For the most part, the Dyson Gen5 Detect looks like any other Dyson vacuum cleaner, with a similar form factor. However, there are some noticeable differences between the older models and the new, starting with the traditional trigger to power the machine being replaced by a power button on the top of the LCD display, much like in the V12 Detect Slim.
A few other minor differences in design – noticeable when seen side by side with other V-series models – is a red streak along the side of the handle added for some trim and the battery pack now looking slimmer and longer. Look a little harder and you'll find that the HEPA filter housing on the top of the Gen5 Detect is a larger cylinder (previous models were smaller and angled outward slightly), while the petal-like design for the motor is shorter.
Speaking of the filter, this is washable, so there aren't any ongoing costs to replace it, and this is now printed on the filter housing. Also washable is the soft roller inside the Fluffy Optic floor head, and this now has a brighter laser that is easier to see in daylight as compared to the Laser Fluffy on the V15 and V12 models.
Let your eye drift below the dust canister (which is the same as in the V15 Detect) and there is now a new button on the tube of the machine. Press this and pull the tube down to reveal the new integrated crevice/dusting tool. This is really handy as it converts the handstick to a handheld unit in seconds without you needing to switch attachments. Since it's housed within the tube, this new crevice tool is slimmer, but the original combination tool also ships in the box if you prefer that.
While the addition of some extra plastic on the machine from the built-in crevice tools adds a little bit of overall weight, the bigger battery pack – which is replaceable as before – makes the Gen5 Detect extremely top heavy. We had a similar complaint with the V15 Detect and, although the weight difference between the two is just 400g (3.1kg versus 3.5kg for the new handstick), you will feel it in your arms while using the machine. The motorized floor heads glide smoothly over hard floors and carpets, so as a handstick it's still quite alright, but the Gen5 Detect is unwieldy as a handheld – one of the reasons a Dyson cordless vacuum cleaner has been so popular for so many years. And for that, the Gen5 Detect loses some marks.
Dyson Gen5 Detect review: performance
Improved motor with better suction power
Dynamic suction
Comparatively quiet
Like its predecessors, the Dyson Gen5 Detect has some impressive vacuuming skills. The new motor on board now offers up to 262 air watts of suction, although you'll be hard pressed to see the difference between the V15 Detect and its successor in the Auto mode. There's a significant improvement in Boost mode though, which puts it on par with the Samsung Bespoke Jet's max suction setting (called Jet mode) despite the lower 210 air watts of suction on the competition. Still, the Gen5 Detect is an excellent sucker, whether you need your really hair-entwined carpet cleaned or a quick one on a hard floor.
Speaking of hair-entwined carpets: the Motorbar cleaner head has 56 detangling vanes that effectively get rid of any entanglements, keeping the attachment clean and easy to maintain. Of course, the Hair Screw Tool is included in the box, but its footprint is too small to make it worth using on floors.
As before, suction power here is dynamic when using the Digital Motorbar tool, so if the Gen5 Detect senses more dirt or realizes it's moved from hard floor to carpet, it will automatically boost suction, thus reducing the amount of time you spend vacuuming.
It should be noted that neither of the main cleaning heads (Motorbar or Fluffy) are effective at edges and both struggle to pick up larger debris. For example, dust along skirting boards was hard to suck up during our testing and unpopped corn kernels were just scattered away while moving the vacuum along the floor. Even grains as small as rice can scatter instead of getting sucked up. The only way to make sure you pick these up is to lift the vacuum and place the cleaning head directly over the debris. We even found the cleaning heads struggling to pick up small bits of paper.
We do need to talk about the dirt detection expertise of the updated Fluffy tool. Dyson says it has "re-engineered" the laser to be twice as bright and the beam to be broader to illuminate more floor space. We thought the Laser Fluffy was a gimmick when it arrived with the V15 Detect as we didn't find ourselves using it very much – the Motorbar was more than enough on both hard floors and carpets. Now, though, we think the brighter light on the Fluffy tool is worth using as, even in well-lit rooms, you can see the beam and the dust particles on the floor more clearly.
As with the V15 Detect, you'll get a visual representation of how much the vacuum cleaner is sucking up. While it's nice to have, we thought the bar graph was gimmicky too and our opinion hasn't changed as we really don't find ourselves registering what the data represents. The display, though, is really handy as you will get real-time updates on battery life and a notification alerting you to clean the HEPA filter when it's time.
Dyson claims the Gen5 Detect can capture particles as small as 0.1 microns (compared to the claimed 0.3 microns that the V15 Detect is able to capture), which is virus territory. Don't get too excited about thinking it might help with the fight against illnesses – it's not a disinfectant – but it will help clean up microscopic allergens lying around on your floor.
One improvement we really appreciate is how comparatively quiet the Gen5 Detect is. Depending on the suction mode, the new model clocked up 60dB on Eco mode, 64.5dB when in Auto and 78.6dB in Boost mode. In comparison, the V15 hits 73dB in its Auto mode.
Again, as impressive as its cleaning prowess is, the weight of the machine can make it difficult for some users, particularly when you convert it to handheld mode. Also, isn't it about time Dyson offered a cordless vacuum cleaner with a mop attachment now?
Dyson Gen5 Detect review: battery life
Up to 70 minutes runtime
Replaceable battery pack
It's been a while since Dyson upped the ante when it comes to battery life – after three generations of V-series vacuums offering up to 60 minutes of runtime, we finally have one that gets you up to 70 minutes. In fact, we managed to squeeze out 75 minutes during one test run.
The bigger battery (Dyson doesn't specify the capacity) is great for making sure larger homes are cleaned up in one go. Using the Digital Motorbar on a relatively clean hard floor, we got about 62 minutes on Eco mode, 45 minutes on Auto and just 8 minutes on Boost. Swap over to the Fluffy Optic cleaning head and you'll get more, which is good news for those with predominantly hard floors – on a relatively clean tiled floor, we actually got a smidge under 75 minutes on Eco mode, 65 minutes on Auto and 15 minutes on Boost.
It should be noted that runtimes will vary due to the dynamic nature of the suction. You will likely eke out a lot less if your floors are particularly dirty.
Dyson says the battery can take about 4.5 hours to recharge from zero to full, but we found it took just three hours at the mains after it automatically shut down due to lack of juice.
Should I buy the Dyson Gen5 Detect?
Swipe to scroll horizontally
Dyson Gen5 Detect report card

| Attributes | Notes | Rating |
| --- | --- | --- |
| Value | There are cheaper options that perform just as well, are lighter in use and can offer mopping functionality too. | 3 / 5 |
| Design | While it's tempting to score any Dyson device full marks for design aesthetics, a heavier battery just detracts from it. | 4 / 5 |
| Performance | Impressive as its suction is, there are cheaper models available that are just as good and offer more functionality too. | 4 / 5 |
| Battery life | This is where the Gen5 Detect shines and we can't find fault with the runtimes, although you will need to reconcile with the extra weight. | 5 / 5 |
Buy it if...
You're sensitive to allergens
With the promise that the Gen5 Detect can capture particles as small as 0.1 micron (which is impossible to test outside of a laboratory), this vacuum can keep 99.9% of dust and allergens. Plus a whole-machine HEPA filtration means it's all staying inside.
You want to see how well you're cleaning up
It's good to see what your vacuum cleaner is sucking up, particularly if you're interested in dirt data and analysis. Even better is the brighter, improved Fluffy tool and its light that is handy to have if you predominantly have hard floors.
You're a massive Dyson fan looking for an upgrade
There's no doubt that the Gen5 Detect is an excellent vacuum cleaner and it would suit a fan of the company very well… if you have deep pockets and are fit enough to take the weight.
Don't buy it if...
You're keeping a tight rein on your spending
The Gen5 Detect is now the most expensive Dyson yet and there are cheaper options that are just as powerful and efficient as this one is. You'll also find cheaper models that give you the option to mop too.
You'd prefer a lightweight vacuum cleaner
At 3.5kg, the Gen5 Detect is no lightweight and it's heavy duty in more ways than one. To take advantage of its impressive cleaning prowess will require you to be someone used to doing weights in the gym, and there are lighter cordless options out there that might suit you and your wallet better.
Also consider
Swipe to scroll horizontally
| | Dyson Gen5 Detect | Dyson V15 Detect | Samsung Bespoke Jet |
| --- | --- | --- | --- |
| Price: | from AU$1,499 (about $1,040 / £865) | from $699.99 / £599.99 / AU$1,399 | from $1,035 / £629 / AU$1,299 |
| Dust canister | 0.2 gallon / 0.77L | 0.2 gallon / 0.77L | 0.13 gallon / 0.5L |
| No. of speeds | 3 | 3 | 4 |
| Suction power | 262 AW | 230 AW | 210 AW |
| Battery | up to 70 minutes | up to 60 minutes | up to 120 minutes |
| Weight | 3.5kg | 3.1kg | 2.7kg |
If you're not sure about the Dyson Gen5 Detect, here are a couple more options to consider...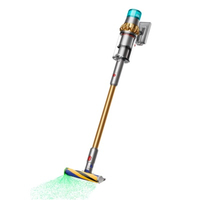 (opens in new tab)
Dyson V15 Detect
If you really want a Dyson, the V15 Detect is still a great alternative that's slightly cheaper. Despite the Gen5 Detect having more suction power, there's not a lot of real-world difference in performance. Moreover, the V15, despite weighing over 3kg, is still easier to handle than its successor.
Read our in-depth Dyson V15 Detect review for more information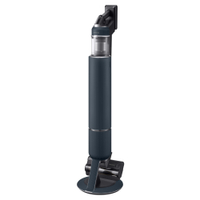 (opens in new tab)
Samsung Bespoke Jet
A powerful vacuum that sucks and mops (albeit not at the same time), the Bespoke Jet comes with plenty of attachments, including an auto-empty station that does a great job of sucking out the dirt, hair and debris from the handstick's dust canister. Two batteries in the box, plus plenty of space to stow all the attachments, great color options and a superb max suction mode makes this a compelling alternative to any Dyson.
Read our full Samsung Bespoke Jet review to learn more
How I tested the Dyson Gen5 Detect
I've been using the Dyson Gen5 Detect twice a week for five weeks as my main vacuum, while also running the Dyson V15 in some patches of floor on the same day. The Gen5 Detect has been used in all three suction modes on hard floors (tile) and on carpets. We've also allowed the carpet to accumulate significant amount of hair and dust for a couple of test runs.
On hard floors, we've also scattered different sized grains, such as rice, cereal and corn kernels, to test the Gen5 Detect with both the Digital Motorbar and the Fluffy Optic cleaning heads. I've used an iOS app to measure sound.
I've actively been testing and reviewing vacuum cleaners of all kinds for the last five years and have learnt what's important when choosing one, and what features are best for different kinds of homes. I also put high importance on value for money in any appliance I test.
Read more about how we test
[First reviewed January 2023]