Get a big boost to the quality of your mobile sound without putting a big dent in your bank account or a big device in your pocket.
Pros
+

Balanced, detailed and absorbing sound

+

Small in size and in price

+

Can handle very hi-res audio files
Cons
-

No fan of substandard content

-

Touchscreen not especially responsive

-

Device heats up quite quickly
Why you can trust TechRadar We spend hours testing every product or service we review, so you can be sure you're buying the best. Find out more about how we test.
Sony NW-A306: Two-minute review
Yes, there are some very good-sounding smartphones out there. But if you want the best mobile listening experience possible, you want a dedicated high-resolution digital audio player. These are often known colloquially as some of the best MP3 players, despite the fact that their talents go way beyond lossy compressed audio now. Trouble is, said hi-res players tend to be big and pricey, relatively speaking, which can limit their appeal.
No such drawbacks apply to the Sony NW-A306. It's small and light, despite the robust nature of its construction, and is priced to compete with the less well-known brands at the market's entry level rather than the bigger hitters like FiiO and Astell & Kern.
It's not short of features or functionality though, and when listening to some hi-res audio content through some appropriately talented headphones, there's an awful lot to enjoy about the way the NW-A306 sounds. Its talents are much less apparent when listening to less information-rich files, mind you, so you'll need to be prepared to fill its (rather limited) internal memory with hi-res stuff if you want to hear what it's truly capable of.
Sony NW-A306: Price and release date
Released in February 2023
$349 / £349 / $AU499
The Sony NW-A306 has a small profile and a surprisingly small yet affordable price tag to match. It retails for $349 in the US, £349 in the UK and $AU499 in Australia, and is also available to purchase directly on Sony's site.
When considering that the top of the line Astell & Kern A&ultima SP2000T is priced at an eye-watering $2,399 / £1,999 / AU$3,599, it's easy to to see how this entry-level digital audio player undercuts the competition – even the more reasonable Astell & Kern A&norma SR25 MKII at $749 / £699 / AU$1,099 is pricier still.
Sony NW-A306: Features
Android 12 operating system
Wired and wireless connectivity
32GB memory (but only 18GB)
Of course you're interested in one of the best hi-res audio players because you want an audio experience that's on another level to that served up by your smartphone. But that doesn't mean you're not interested in extended functionality, does it? Sony certainly doesn't think so.
The NW-A306 is quite wide-ranging in the way it accesses hi-resolution digital audio content. It has internal memory storage, but it's also simple enough to either drag and drop digital audio files from, say, a laptop (or use something like Android File Transfer if your music's on an Apple device). Bear in mind, though, that a lot of its 32GB of memory is taken up by the Android 12 operating system and what-have-you, so unless 18GB of memory – which is going to fill up pretty quickly if you have a lot of hi-res content you want to make available when off-line – is sufficient, then you'll be making use of the microSD card slot on the bottom of the player.
The device's Android interface gives you access to the Google Play store and so it's no trouble to download the app of any of the best music streaming services for online listening. Integrated dual-band Wi-Fi makes this possible – the Sony digital audio player also features Bluetooth 5.0 wireless connectivity. It's compatible with SBC, AAC, aptX HD and LDAC codecs, along with digital audio file compatibility that runs to MP3, WMA, FLAC, WAV, MQA, DSD256, Apple Lossless and more, making the NW-A306 unarguably a high-res device (Sony is coy about the details, but reading between the lines strongly suggests the NW-A306's DAC chipset operates at a native 24bit/96kHz resolution).
No matter how you decide to get your digital audio information on board, though, and no matter its standard, it's dealt with by 'S-Master HX' digital amplification that's been specially developed for the rebirth of the Walkman. The latest version of Sony's Digital Sound Enhancement Engine technology (DSEE Ultimate) is involved too. It intends to upscale compressed audio files in real time, and even claims to be able to do a job on 16bit/44.1kHz CD-standard content too. Or you may prefer the questionable charms of the NW-A306's 'vinyl processor', which adds some low-end resonance and surface noise to create an 'authentic' vinyl listening experience. Chances are, though, you'll give such nonsense the swerve and use the extensive EQ adjustment options instead if you want to finesse the Sony's sound.
As far as battery life is concerned, the NW-A306's stamina can vary greatly. The lithium-ion battery can last as long as 36 hours between charges – but that's when listening to poverty-spec 128kbps MP3 files using one of the best headphones that's hard-wired. Switch up to some 24bit/96kHz content and that figure drops to 32 hours, and if you go all-in with DSD256 then you're looking at a maximum of 14 hours. Your best-case scenario when using one of the best wireless headphones, meanwhile, is around 20 hours – and that's when enjoying some 128kbps content.
Sony NW-A306: Sound quality
Spacious, detailed and spirited sound
Dynamic and pacy with hi-res content
Somewhat struggles to deal with more compressed audio files
First things first, if you are likely to listen to compressed audio files (the sort of 256 / 320kbps stuff that Spotify deals in, for instance) through some ordinary wireless headphones, the Sony NW-A306 isn't going to blow you away. Listen to it like this and it sounds no better than a half-decent Android smartphone, which renders it a pointless purchase.
If you do the right thing though – which means digital audio files of CD-standard 16bit/44.1kHz as a minimum from Apple Music or Qobuz, perhaps, and some properly accomplished wireless (or, ideally, wired) headphones – there's an awful lot to like about the sound this digital audio player makes. In the right circumstances, it's capable of sound quality that makes its price look like a misprint.
A 24bit/96kHz file of Grapevine by Weyes Blood heard via a pair of Technics EAH-AZ80 – which we rank among our best earbuds – makes the point in some style. It's a robust, full-figured sound the NW-A306 presents, but with no shortage of delicacy or deftness. The overall tonality is nicely balanced, and there's no overstating or understating of any part of the frequency range. Integration is smooth, and the Sony NW-A306 establishes a big, properly organised soundstage that has both depth and width.
Bass is deep, square-edged and punchy – and it's controlled well enough that the NW-A306 has no problem giving rhythms believable, naturalistic expression. At the opposite end of the range, treble attacks crisply, with plenty of substance to complement the bite. And in every instance, detail levels are impressively high – the Sony has no problem handling the most minor and/or transient occurrences, and can identify and describe even quite subtle harmonic variations.
But it's through the midrange that the NW-A306 does its most convincing and agreeable work. It's an eloquent and revealing listen, with any number of interesting observations to make about a singer's technique and attitude. And with a technician as warm and accomplished as Weyes Blood, the Sony communicates in torrents. No shred of information seems to elude it, and it manages to sound spirited and musical even though it's getting through an awful lot of analysis.
The dynamic headroom is considerable. The NW-A306 can put a lot of distance between a recording's quietest, most contemplative moments and its headlong charge into the crescendo. And in those tunes that require it, it's never short of momentum. It's an entertaining, entertaining listen, striking a pleasing balance between attack and insight.
Safe to say a lot of this expertise and positivity deserts the Sony if you step down to say a 128kbps file of Scott Walker's Black Sheep Boy. Broad dynamics flatten out more than somewhat, while the more subtle second-stage dynamic insight all-but disappears. Detail levels fall away, and the entire presentation becomes less three-dimensional and, ultimately, much less convincing. So there's a lesson here somewhere…
Sound quality score: 4.5/5
Sony NW-A306: Design
98 x 57 x 12mm (HxWxD)
Weighs just 113g
Milled aluminium frame
The first thing you're likely to notice about the NW-A306 is how little of it there is. At just 98 x 57 x 12mm (HxWxD) and 113g, this digital audio player is small and light enough to slip into even the snuggest of pockets without a problem.
Somehow, though, Sony has managed to make this little player look and feel like a premium device. The milled aluminium casework is rigid and pleasant to the touch, and the ridged and rounded sides make it eminently grabbable. The 720p 3.6in TFT touchscreen is bright and sharp, if a little more reflective than is ideal, and the physical controls along one side are cleverly shaped – it's easy to know what's what without even looking.
Physical connections are all along the bottom of the player. There's a 3.5mm headphone socket, a USB-C input and a microSD slot that can officially accept cards of up to 512GB (anecdotal evidence in those corners of the internet that concern themselves with such things, though, suggests that 1TB cards are compatible too). And there's a recessed bar for attaching a lanyard or wrist-strap if you fancy.
Sony NW-A306: Usability and setup
A very smartphone-like experience
Useful suite of physical controls
Mildly frustrating touchscreen
You've set up one of the best Android phones before, right? Well, setting up the NW-A306 is basically the same process. You'll be prompted to switch onto your local Wi-Fi network, transfer any backed-up data from an existing Android device, integrate your Google accounts, and so on. How long it takes depends very much on how much like your Android smartphone you want your NW-A306 to be, but even at its most lengthy the set-up here is painless and almost entirely automated.
That's just as well because for all its crisp legibility and brightness, the Sony's TFT touchscreen isn't the most responsive around. There's a very specific sort of frustration brought on by pressing an on-screen button, waiting in vain for something to happen, pressing it again and then finding you've in fact issued two commands that will both be acted on. And it's the sort of frustration the NW-A306 routinely deals in. Just try to bear in mind that it doesn't take all that long to set up and once it's done, it's done.
After that – and once you've reached an accommodation with the rather leisurely responses of the touchscreen – using the NW-A306 is pretty straightforward. I'm still yet to learn how to stop it having a panic attack every time I turn the volume past '50', but in every other respect it's logical in the way it operates inasmuch as it's an Android device of the broad type we're all familiar with. And the addition of a 'hold' button to disable the physical controls (which run to 'play/pause', 'skip forwards/backwards', 'volume up/down' and 'power on/off') is a very useful inclusion.
Usability and setup score: 4/5
Sony NW-A306: Value
As long as you're prepared to indulge just a little, the Sony NW-A306 hi-res digital audio player represents very decent value for money. It's small, but perfectly formed. Its operating system is familiar, if a little sluggish. It's extremely capable with hi-res content, but rather less so with bog-standard stuff. And it's just about the most affordable big-brand portable music players around.
Should I buy the Sony NW-A306?
Swipe to scroll horizontally
Sony NW-1306

| Attributes | Notes | Rating |
| --- | --- | --- |
| Features | Android 12, plenty of Bluetooth codec support, the option for wired headphones and the ability to make digital music sound like it's playing from vinyl. Happy days | 5/5 |
| Sound quality | Thoroughly enjoyable with hi-res audio, considerably less enjoyable with more compressed stuff | 4.5/5 |
| Design | 'Small, light, properly built, and tactile'; basically the nap hand | 5/5 |
| Usability and setup | Easy enough to navigate, but the screen does lag a little in use | 4/5 |
| Value | Manages to look, feel and sound a fair bit more expensive than it is. Ts & Cs apply, though… | 4.5/5 |
Buy it if...
You want hi-res audio but you're not made of money
The Sony NW-A306 digital audio player has the 'big-brand entry-level' all to itself
You own proper wired or wireless headphones
The Sony NW-A306 will exploit all the headphone performance you've paid for
You like to travel light
This digital audio player is small and light enough to be no burden at all
Don't buy it if...
You want to listen to hi-res audio, wirelessly
While you can technically do it, it doesn't last for all that long and the touchscreen isn't the most responsive
You want to carry all your hi-res audio with you
The Sony NW-A306's internal memory storage capabilities aren't the biggest, but there's room for a microSD card
Sony NW-A306: Also consider
Swipe to scroll horizontally
Comparison: Digital audio players

| | FiiO M11S | Astell & Kern A&norma SR25 MKII | Onkyo DP-X1A |
| --- | --- | --- | --- |
| Price: | $499 | $749 | $799 |
| Supported audio formats: | WAV, FLAC, ALAC, AIFF, MP3, ACC and more | WAV, FLAC, WMA, MP3, OGG, APE, AAC, ALAC, AIFF, DFF, DSF | DSD-IFF, FLAC, ALAC, MQA, WAV, AIFF, AAC and MP3 |
| Interface: | Android OS | Android OS | Android OS |
| Battery life: | ~14 hours | ~20 hours | ~16 hours |
| Memory: | 32GB | 64GB | 576 GB |
| Display screen: | 5-inch 720x1280 | 3.6-inch 720x1280 | 4.7-inch 720x1280 |
| Weight: | ~271g | ~178g | ~205g |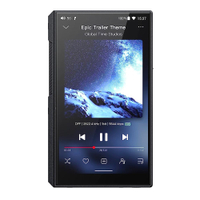 FiiO M11S
Yes, it's a chunk more expensive (and an altogether chunkier device) than the Sony NW-A306, but it's probably just about worth the additional outlay. The operating system is smoother, the display is crisper and brighter, and it has a choice of balanced or unbalanced headphone outputs. But while it's relatively compact, it's nowhere near as pocketable as the Sony… Read our full FiiO M11S review.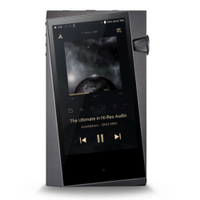 Astell & Kern A&norma SR25 MKII
Pricier (and chunkier) still is this Astell & Kern audio player, although you can see why when you hear its expressive, expansive and decisive sound quality. This audio player also has plenty of high-end features, but an angular design means it snags on your pocket even more so than the FiiO M11S. Read our full Astell & Kern A&norma SR25 MKII review.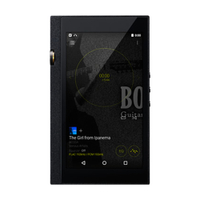 Onkyo DP-X1A
This may be just as expensive as the Astell & Kern SR25 MKII, but its straight and sleek design make it a bit less chunky (although we did note in our review that it was bulky). Its audio quality is also not quite on par with the SR25 MKII, which is worth being mindful of when deciding which audio player you buy. Read our full Onkyo DP-X1A Digital Audio Player review.
Simon Lucas is a senior editorial professional with deep experience of print/digital publishing and the consumer electronics landscape. Based in Brighton, Simon worked at TechRadar's sister site What HiFi? for a number of years, as both a features editor and a digital editor, before embarking on a career in freelance consultancy, content creation, and journalism for some of the biggest brands and publications in the world.
With enormous expertise in all things home entertainment, Simon reviews everything from turntables to soundbars for TechRadar, and also likes to dip his toes into longform features and buying guides. His bylines include GQ, The Guardian, Hi-Fi+, Metro, The Observer, Pocket Lint, Shortlist, Stuff T3, Tom's Guide, Trusted Reviews, and more.