One-minute review
If you're looking for one of the best hair dryers for 2023, the T3 AireLuxe is worth considering. With its long and narrow head, thin handle and sleek white finish, the this hair dryer stands out for design from rival models. The signature rose gold trim you'll find on other, smaller T3 hairdryers – including the T3 Fit – is welcome, with the T3 AireLuxe unapologetically bold in its size and professional-style features.
The T3 AireLuxe comes with a powerful ion generator that infuses hair with 10mm negative ions per second to reduce frizz and boost shine. Its custom-engineered T3 RapidAire IQ technology fan propels a 128% wider airflow compared to other leading hair dryer brands. I found that this created a steady flow of air that gently dried my long, wavy hair, leaving a soft and shiny finish. Having used the hair dryer over the course of a month, I was suitably impressed with the speed with which it dried my hair and smooth finish I was able to achieve using it.
There are two concentrator nozzles included in the box that attach to the main body of the hair dryer – one to rough dry and a smaller one to style in detail. If you want to diffuse your hair you'll have to buy the T3 SoftTouch 3 Diffuser, which is sold separately. The T3 Smoothing Comb, designed for use on curly and coily hair types, is also sold separately.
I was also impressed with the versatility offered by the hair dryer's controls, which in my opinion makes it a great option for straight, wavy and curly hair types alike. It features five heat and three speed settings that are conveniently positioned on the handle. In addition, a cool shot to hold styles in place and a volume boost switch proves helpful when you're trying to achieve a more fixed style too. Completing the impressive spec is the satisfyingly long 2.7m cord, which meant I could move around freely when using the hair dryer.
T3 AirLuxe hair dryer review: price and availability
List price: $199.99 / £170
The T3 AirLuxe is the brand's most premium professional-style hair dryer and a bestseller in its range. At the time of writing, it's currently being sold in the US and UK both direct from the T3 website and on Amazon.
Within the T3 range, yo'll also find the popular T3 Afar, priced at $179.99 / £150, which comes with a foldable handle that's ideal for travel. There's also the T3 Fit priced $149.99 / £130, which is 20% lighter and 30% smaller than a full-size hair dryer.
T3 AireLuxe hair dryer review: specs
Price: RRP $199.99 / £170
Heat settings: 5
Speed settings: 3
Cord length: 9ft
Accessories: Drying and styling concentrators included
T3 AireLuxe hair dryer review: design
Smooth finish and stylish trim
Balanced, lightweight and easy to hold
Well-positioned control offering
Design-wise, I found the T3 AireLuxe a joy to use. Its sleek white finish with rose gold trim feels premium and stylish, while the two additional nozzles included in the box easily attach in place. Likewise, the smoothing comb and diffuser, both of which are sold separately, can also be affixed with ease.
Those looking for portability should note that the AireLuxes design doesn't make it suitable for travel. Instead, this is a hair dryer for day-to-day use at home. In that vein this is a model that looks great on the dressing table, rather than being hidden away in the drawer.
The T3 AireLuxe handle and head are particularly well balanced, making it super-comfortable in use. In fact, this even weight distribution limited any arm ache I may have felt while blowing drying and styling my hair. The 9ft cord length allows plenty of flexibility whilst styling, while the long handle offers plenty of space around which to wind up the cord after use.
What I particularly welcome about the T3 AireLuxe's design is the successfully integration of the control features on its handle. I could happily hold the hair dryer while styling without accidentally pressing either the heat or speed buttons.
In fact, the controls are very comprehensively realized. Not only do you get up to five heat settings that are neatly raised with one push of a button, but there's a well-positioned speed button and equally useful volume boost button above it. When I wanted a cool blast of air, I could simply press the cool shot button on the other side of the main control panel.
All in all, the AireLuxe's design is hard to fault, although do note that it doesn't come with a hanging loop of the type included on the GHD Helios, for example. Neither does it arrive with its own limited-edition presentation box such as the Dyson Supersonic.
T3 AireLuxe hair dryer review: performance
Easy to adjust heat and speed settings
Well equipped with volume boost control
RapidAire IQ technology for fast and gentle drying
At the heart of the T3 AireLuxe is the inclusion of RapidAire IQ technology, which digitally controls the heat through the use of a smart micro chip. This helps to create a gentle airstream that claims to be 128% wider than comparative models, allowing you to dry large sections of hair quickly and without damage. I enjoyed using this hair dryer on my thick, long hair, which usually feels like quite a mission to dry. I found that after a wash and quick towel dry, the AireLuxe was able to dry hair to a satisfying level in no time at all.
The hairdryer has an ion generator that infuses air with 10 million negative ions per second, which is designed to reduce frizz and smooth the hair cuticle. With the help of a styling brush, I was able to achieve a very smooth blowout that didn't leave my hair feeling fluffy as some hairdryers do.
There are five heat settings and three speeds to choose from, but I found that even on the hottest setting the level of heat was never uncomfortably hot, as it can be with some hair dryers. The airflow could easily be adjusted and following a few uses I was able to determine the ideal settings for my hair: heat setting four and speed three.
My hair is quite thick, so generally tends to be quite voluminous. However, use of the wrong shampoo can sometimes leave it feeling a little limp and lifeless. On the days that I felt like my hair needed a little extra boost, I used the AireLuxe's volume boost button, which turns off the negative ions to deliver more volume. It's this function that really sees the T3 AirLuxe stand out from the crowd. I noticed that my hair felt bouncier with use, leaving it with a texture that was far easier to style into up-dos. My hair is naturally wavy, too, so on days that I wanted to accentuate curls, the diffuser delivered gentle and and effective airflow.
The breadth of heat and speed settings offered by this hairdryer also make it family friendly. I was able to dry both my young children's long hair using the high heat and speed setting. Plus, in terms of noise, the AireLuxe measured in at 84.6dB using the Decibel Meter app, on the highest settings – which is reasonable for a hair dryer offering up to five speed settings.
Meet our testers
The T3 AireLuxe has been tried out on a couple of hair types.
Emily has thick, long hair, which usually feels like quite a mission to dry. She found that after a wash and quick towel dry, it didn't take long for hair to get to a satisfyingly dry level using the T3 AireLuxe hair dryer.
Jennifer has very thick, heavy hair that sits just below the shoulders. Following a wash and very quick towel-dry she found that the T3 AireLuxe dried her hair quickly, without the frizz or flyaways that blow drying usually leaves behind.
She found the hairdryer comfortable to hold, although noted the build felt a bit plasticky. Jennifer also described the highest temperature setting as "mega hot", and the highest power setting as "mega loud".
Jennifer preferred the lower to mid speed with the lowest temperature setting when blow drying her hair, and she was a big fan of the lock-in cool shot.
Should you buy the T3 AireLuxe hair dryer?
Swipe to scroll horizontally
T3 AireLuxe hairdryer

| Attributes | Notes | Rating |
| --- | --- | --- |
| Price | At $199.99 / £170, this is quite an expensive design, but what i think is worth the spend for a premium finish. | 4/5 |
| Design | Looks and feels premium and is lightweight to hold. | 5/5 |
| Performance | Excellent variable heat and speed controls plus two concentrator nozzles that make it easy to dry and style hair. | 4/5 |
Buy it if...
You want gentle yet effective performance
With a 128% wider airflow than a standard hair dryer, the AireLuxe's design is efficient for a range of hair styles and lengths.
You want a good range of variable heat settings
There's no doubt this hair dryer is one of the most flexible designs I've tested. If you're looking for a model that will work on a range of hair textures, the five heat and three speed settings here will be welcome. Kids will appreciate the low and quiet speed settings, too.
You want a professional finish
The combination of controls on this hairdryer makes it easy to achieve the hair style you desire. There are two concentrators included in the box, but you can add accessories such as the diffuser and smoothing comb should you need.
Don't buy it if...
You want a hairdryer for travel
With a 9ft cord and full-size head and handle, this hairdryer is designed for home and salon use. While it's light in hand, it probably isn't a design you'll want to travel with.
You want super-hot temperatures
While the AireLuxe offers five heat settings, even at its top heat setting, it isn't the hottest we've found. While this is a good thing, those who require hotter temperatures should look elsewhere.
You're on a budget
While its premium features make the AireLuxe worth the spend, there are plenty of sub-$100 designs to choose from, if you're budget doesn't extend that far.
T3 AireLuxe review: also consider
Swipe to scroll horizontally
| | T3 AireLuxe | T3 Fit | T3 Afar | T3 AirBrush Duo |
| --- | --- | --- | --- | --- |
| Price: | $199.99 / £170 | $149.99 / £130 | $119.99 / £150 | $126.99 / £170 |
| Heat settings: | 5 | 3 | 3 | 5 |
| Speed settings: | 3 | 2 | 2 | 3 |
| Cool shot: | Yes | Yes | Yes | Yes |
| Accesories: | Drying and styling concentrator nozzles included | One concentrator included | One concentrator included | Interchangeable hot air blowdry brush, 2.5" round brush, 3" paddle brush |
For the best blowouts, also consider these stylish hair dryers...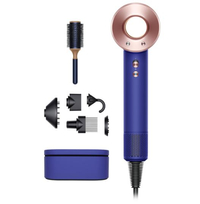 Dyson Supersonic
Offering three heat and three speed settings, the Supersonic also arrives with a number of convenient magnetic attachments in the box. We particularly like the flyaway attachment that's great for creating a sleek, smooth finish.
Check out our Dyson Supersonic review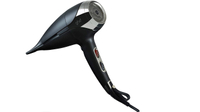 GHD Helios
A powerful hair dryer, with three speed and three heat settings, the GHD Helios is a reliable buy. It comes in a range of limited edition colors and is a great tool to help you achieve shiny hair after every wash.
Check out our GHD Helios review
How I tested the T3 AireLuxe hair dryer
I've been using this hair dryer after every wash for a month
I used it with the drying concentrator, styling concentrator and diffuser
I measured its noise level with the Decibel Meter app
Having tested a number of the latest hair dryers over the years, including the Dyson Supersonic, the T3 Fit and the Shark Style iQ, I can appreciate the qualities that make for a good hair dryer. A design that's easy to control, light in hand and delivers satisfyingly smooth results is worth its weight in gold.
To trial the T3 AireLuxe I used it each time I washed my long, wavy hair over the course of the month and rated it on design, performance and price. I used the Decibel Meter app to measure how loud it got in use, and used it to both blowout and diffuse my hair. Overall, I was impressed by the results and would recommend the T3 AirLuxe as a good option.
Read more about how we test
First reviewed: March 2023