Working your way through the best HBO Max movies is like a tour through the glorious history of Hollywood.
Sure, rival streamer Disney Plus may be built on the ever-popular foundations of Star Wars, Pixar and Marvel, but when it comes to genuine cinema classics, few can match HBO Max.
That's partly because the platform is owned by WarnerMedia, whose Warner Bros studio has an almost unrivalled back catalogue of movies stretching back decades. The best movies on HBO Max include representatives of the golden age of cinema such as Casablanca, as well as more recent Oscar-winners like Gravity, Joker and Mad Max: Fury Road. The streaming service is also packed with blockbusters, including the epic The Lord of the Rings and Harry Potter sagas, and – thanks to DC Comics also being part of the Warner stable – a ton of superhero action, from the Dark Knight to Wonder Woman and beyond.
In our selection of the best HBO Max movies, we've made sure that all eras and genres are feature. So whether you're into westerns or romance, sci-fi or fantasy, crime dramas or comedies, the list below – arranged in chronological order – has got you covered.
The Wizard of Oz
It's hard to imagine how far away Kansas must have felt when 1939 audiences first watched Judy Garland step into the Technicolor world of Oz. Over 80 years later, the movie remains a technical marvel, set in a bizarre fantasy world populated by witches (good and bad), scary flying monkeys, and a wizard who may not be all he pretends to be. But the real reason the story has been absorbed into our collective cultural memory is the memorable songs, a group of easy-to-love heroes, and that long-standing Hollywood staple – a story of good triumphing over evil.
Casablanca
It's no accident that Casablanca regularly features on lists of the greatest movies of all-time – this wartime classic is proof that they really don't make them like they used to. Humphrey Bogart is the bar owner whose life is turned upside down when an old flame (played by Ingrid Bergman) arrives in town with her new husband, a key figure in the resistance in Europe.
Both a love story for the ages and a cunning piece of 1940s propaganda – the importance of sacrifice in war is a major theme – Casablanca is much imitated but never bettered. Endlessly quotable and exquisitely acted, if you haven't seen it you must remember this: put it on your HBO Max watchlist now.
North By Northwest
A case of mistaken identity sends Cary Grant's suave advertising executive Roger O Thornhill on the run in one of the later highlights of Alfred Hitchcock's storied filmography. An espionage thriller made three years before James Bond (opens in new tab) made his screen debut in Dr No, it's a masterclass in suspense, while Grant's comedic lightness of touch supplies an almost screwball sense of fun.
North By Northwest also features a wonderfully slimy villain in James Mason, a memorable score from Hitchcock's composer of choice, Bernard Herrmann, and – in the crop duster scene and the famous fight on Mt Rushmore – a pair of cinema's most iconic set-pieces.
2001: A Space Odyssey
Nearly a decade ahead of Star Wars – and a year before humans walked on the Moon – Stanley Kubrick expanded the possibilities space travel. Where science fiction had traditionally been the preserve of schlocky B-movies, the legendary director assembled a spectacular vision of a future where beautiful ships glide elegantly through space to a score of classical music – and, at key moments, dead silence.
But beyond the hardware, this big-screen riff on Arthur C Clarke short story 'The Sentinel' asks huge philosophical questions about the origins of our species, and where we might be going next. While not quite up there with the best movies on HBO Max, sequel 2010: The Year We Make Contact makes a little more sense of 2001's ultimate trip.
Blade Runner
Thanks to Alien, Ridley Scott was already sci-fi royalty when Blade Runner (opens in new tab) landed in cinemas. Nonetheless, the world was rather slow to catch on to the brilliance of his futuristic noir about a detective chasing rogue androids in a futuristic L.A. By the time the director's cut arrived a decade later, however – removing star Harrison Ford's tired voiceover and a tacked-on happy ending – it was widely hailed as the masterpiece it is.
Viewed purely as a detective story it's run-of-the-mill stuff, but the powerful combination of world-building – its influence can be seen in almost every dystopian cityscape since – and Vangelis's dreamy synth score ensure Blade Runner is a film you experience as much as watch.
Gremlins
When a Christmas gift arrives with three simple rules, you know it's only a matter of time before at least one of them is broken. In Gremlins, the inevitable slip-up leads to yuletide carnage in a picture-box American small town, as a super-cute Mogwai spawns an army of reptilian creatures with a penchant for violent mischief and – bizarrely – Snow White and the Seven Dwarfs sing-alongs. Of course, with Steven Spielberg's Amblin producing, things never get too nasty, while director Joe Dante makes sure that the story is shot through with plenty of Looney Tunes-style humor – as well as finding time for one of the saddest tales of Christmases past ever told.
GoodFellas
"As far back as I can remember, I always wanted to be a gangster…" Even as mobster Henry Hill watches his friends shoot and stab a soon-to-be corpse in the trunk of their car, Ray Liotta's voiceover gives seedy organised crime a thrilling and entertaining edge.
Charting decades of mafia life through Hill's eyes, Martin Scorsese's drama is a violent, sweary, frequently funny rollercoaster ride that finds the humanity in men who wouldn't think twice about killing anyone who looks at them a bit funny. In a career packed with bona fide classics – he even recycled the GoodFellas formula in the nearly-as-good Casino and The Wolf of Wall Street – this crime classic may be Scorsese's masterpiece.
Unforgiven
Director/star Clint Eastwood rounds up an A-list cast for his epic farewell to the genre that made him a screen legend. While the big selling point is seeing the iconic Man With No Name as an old man, there's more to this brilliant revisionist western than reliving past glories.
Unforgiven is an entirely new story in which an ageing gunslinger reluctantly returns to his former ways to collect the bounty on a gang who slashed a young woman's face. It's a role the 60-something Eastwood was made for, but as a director he's totally unselfish, sharing the limelight with Morgan Freeman, Richard Harris and the brilliant Gene Hackman, who won an Oscar for his chilling performance as racist sheriff 'Little' Bill Daggett.
Best in Show
Having helped invent the mockumentary genre with This is Spinal Tap, writer/director/star Christopher Guest (aka the artist formerly known as Nigel Tufnel) shifts his comedic attentions from rock 'n' roll to dog shows.
Improvising from a loose story framework, Guest's talented ensemble (including Spinal Tap vet Michael McKean, and Schitt's Creek (opens in new tab) stars Eugene Levy and Catherine O'Hara) frequently strike comedy gold, accentuating the eccentricities of the canine-loving participants without ever being taking cheap potshots at their hobby. Special mention should also go to Fred Willard's wonderfully uncouth commentator Buck Laughlin, the very definition of a scene-stealer.
The Harry Potter saga
That the most successful book series in history spawned one of the biggest movie franchises ever is hardly surprising, but there's a certain – dare we say it – magic at the heart of Warner's big-budget film saga. Though the quality of the eight films varies, they're an admirably faithful adaptation of stories that have captured the imaginations of generations.
Producer David Heyman (who went on to bring Paddington to the big screen) had the good sense to surround young leads Daniel Radcliffe, Emma Watson and Rupert Grint with the cream of British acting talent, while the sets and visual effects ensured we could all believe we'd just enrolled at Hogwarts. For millennials, the Harry Potter movies are as culturally important as Star Wars.
The Lord of the Rings trilogy (2001-2003)
The Lord of the Rings trilogy is that rare movie series where everything – and everyone – came together at the right time. How different history may have been had New Line not trusted director Peter Jackson's vision, and allowed him to film all three movies back-to-back in his native New Zealand – the perfect real-world stand-in for Middle-earth.
In Fran Walsh and Philippa Boyens, Jackson found the perfect co-writers to translate JRR Tolkien's sprawling novels to the screen, while the visual effects geniuses at Weta discovered many ingenious ways to make a magical world feel real. Jackson also found the right performers for every iconic role, from Gandalf to Gollum, Elrond to Eowyn. Without The Lord of the Rings, there'd be no The Witcher and no Game of Thrones – Amazon's new The Rings of Power TV show has a lot to live up to.
The Dark Knight trilogy (2005-2012)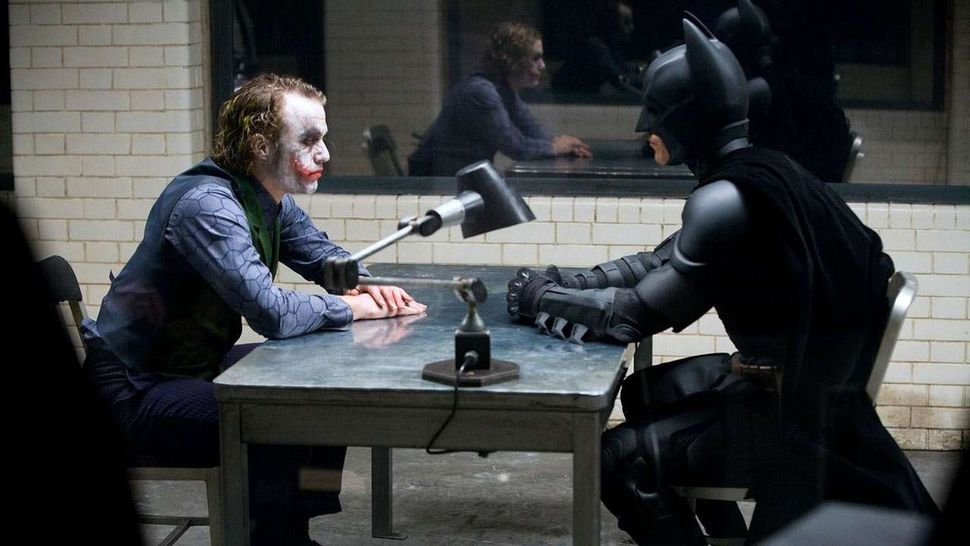 Now that the Marvel Cinematic Universe (opens in new tab) is widely accepted as the benchmark for superhero movies, it's easy to forget how radical – and brilliant – Christopher Nolan (opens in new tab)'s bat-trilogy was. Crafting a dark-and-moody Gotham City nearly two decades before Robert Pattinson got soaked in The Batman, Nolan's decision to ground the Caped Crusader in a believable world proves a masterstroke.
Batman Begins is one of cinema's great origin stories, while follow up The Dark Knight is an ambitious crime thriller that would probably have won numerous major awards if its protagonist didn't dress up as a bat. The Dark Knight Rises isn't quite the closer the trilogy deserves, but the series stands up as the pinnacle of DC storytelling on the big screen.
Inception
Between 2002's Insomnia and 2020's Tenet, Christopher Nolan had a long and extremely fruitful creative partnership with Warner Bros – how many filmmaker resumés can compete with a list including The Prestige, Interstellar and Dunkirk, as well as the aforementioned Dark Knight trilogy? His masterpiece, however – and an essential entry on any list of the best movies on HBO Max – is this mind-bending trip inside the dizzying world of dreams. Recruiting an A-list cast (including Leonardo DiCaprio, Tom Hardy, Elliot Page, Marion Cotillard and Joseph Gordon-Levitt), Nolan revels in the chance to tell a story in multiple, overlapping timeframes, while DNEG's city-folding visuals are truly, awe-inspiringly groundbreaking.
Gravity
If Star Wars and Star Trek make space travel look easy, Gravity is a scary reminder of just how vulnerable real-world spacefarers can be if something goes wrong in orbit. Sandra Bullock and George Clooney are the astronauts left stranded when a storm of debris leaves their space shuttle seriously incapacitated. Oscar-winning director Alfonso Cuarón fires plenty of innovative visual effects at their predicament, ensuring that the movie feels frighteningly real. But more importantly, he marshals an unbearably taut thriller about being trapped in the most unforgiving, most dangerous environment imaginable.
Behind The Candelabra
Although Michael Douglas spent most of the '80s and '90s in chiselled leading man mode, the 21st century has seen him morph into one of Hollywood's finest character actors. And his multi-award-winning performance as legendary pianist Liberace – a man who didn't believe in understatement – is one of the undoubted highlights of his long career. The star gets A-list support from Matt Damon as Liberace's boyfriend, a younger man finds himself trapped in a bizarre, acrimonious hell when the musician tries to mould him in his own image. Douglas's Traffic director Steven Soderbergh tells the story in typically accomplished style.
The Normal Heart
Ryan Murphy, the prolific mind behind TV shows as diverse as Nip/Tuck Glee, American Horror Story, Ratched and Pose, turned his attentions to New York's early-'80s HIV/AIDS crisis with this hard-hitting drama.
Directing from Larry Kramer's screenplay based on Kramer's own 1985 stage play, Murphy pulls no punches in telling the powerful story of gay activist Ned Weeks (a character Kramer based on himself) as he tries to convince the world to take the lethal virus seriously. The ever-brilliant Mark Ruffalo leads the cast as Weeks, with memorable support from Jim Parsons, Julia Roberts, Matt Bomer and Taylor Kitsch.
Mad Max: Fury Road
While action blockbusters aren't traditionally regarded as art, the ingeniously choreographed stuntwork of Fury Road ensured even the most highbrow critics had to give the fourth Mad Max movie its due.
After a lengthy and troubled production (excellently documented in author Kyle Buchanan's Blood, Sweat & Chrome), director George Miller built an entire movie around a single madcap chase across a post-apocalyptic wasteland. Although the movie bears the character's name, Tom Hardy's Max is relegated to a monosyllabic supporting player, leaving a magnificent Charlize Theron to take the lead as the heroic Imperator Furiosa – Anya Taylor-Joy will take on the role in an upcoming prequel.
Wonder Woman
While the superhero landscape of the 2010s was ruled by the all-powerful MCU, Wonder Woman proved that DC hadn't forgotten how to play Marvel at their own game. Far more playful than dour DCEU predecessors Man of Steel and Batman v Superman: Dawn of Justice, Patty Jenkins' movie is a thoroughly entertaining journey from Wonder Woman's origins on the magical island of Themyscira, to the battlefields of World War I.
As Christopher Reeve did in Superman: The Movie, breakout star Gal Gadot finds the joy and inherent decency in a god walking among humans, without ever allowing her to become one-note or predictable. It's just a shame that lightning didn't strike a second time in so-so sequel Wonder Woman 1984.
Joker
Barry Keoghan must be chomping at the bit to play the Joker in the follow-up to The Batman – Gotham's Clown Prince of Crime tends to bring out the best in every actor lucky enough to win the role.
For all Jack Nicholson and Heath Ledger's exuberance as Batman's most famous foe, however, they never had to go to places quite as dark as Joaquin Phoenix does here. Indeed, with Bruce Wayne still a child, director Todd Phillips' bleak, retro drama owes as much to Martin Scorsese crime dramas (most notably The King of Comedy) as traditional superhero movies. Its brutal, nihilistic take on a city gone to hell may not be to everyone's tastes, but Joker shows how far DC can push the envelope when they're not trying to ape Marvel.
Oslo
An adaptation of a three-hour stage play about early '90s diplomacy may not initially sound like one of the best movies on HBO Max, but the brilliantly told drama of Oslo makes it a must-watch. With a screenplay from original playwright JT Rogers, the film tells the based-on-real-life story of the 1993 Oslo peace talks, secret negotiations between Israel's prime minister Yitzhak Rabin and Yasser Arafat, leader of the Palestinian Liberation Organisation. His Dark Materials' Ruth Wilson and Sherlock's Andrew Scott play the pair of married Norwegian diplomats who were pivotal to events that remain extremely relevant today. A reminder that movies made for TV can be every bit the equal of their big screen counterparts.