If you're after a small, interchangeable-lens camera to carry around day-to-day and take on your travels, the A7C R is a compelling, albeit pricey choice. Identical in every way to the A7C II save for its higher-resolution 61MP sensor, the A7C R can handle almost any photography scenario with ease, while its video spec is very respectable. Having those extra pixels to play with will appeal to landscape photographers, and gives you plenty of scope to crop into pictures, adding versatility to your lens of choice. Such a small form-factor compromises handling when compared to an SLR-style mirrorless camera like the A7R V; there's no AF joystick, while the viewfinder is small and fiddly. However, as a travel camera, the A7C R might well be the most capable snapper available.
Pros
+

Best current Sony Alpha sensor in a compact body

+

Fantastic subject-tracking autofocus performance

+

Decent battery life
Cons
-

Much pricier than the A7C II

-

Awkward viewfinder

-

Not designed for use with large lenses
Why you can trust TechRadar We spend hours testing every product or service we review, so you can be sure you're buying the best. Find out more about how we test.
Two-minute review
Announced alongside the Sony A7C II, the A7C R is a pricier alternative with a higher-resolution 61MP full-frame sensor, but which is otherwise an identical camera. You can learn more about the build, handling, features and performance of the A7C R in our full Sony A7C II review; while this review touches on those fundamentals, here I'm focusing on the key differences around the different sensor, and how it impacts image quality, performance and the camera's position in the Sony Alpha lineup.
Succeeding the Sony A7C, which is one of the best travel cameras with full-frame sensor available, both the A7C II and A7C R maintain that travel-friendly compact form factor – Sony says they're the world's smallest full-frame cameras with in-body image stabilization – but come adorned with Sony's latest features, and represent a sizable upgrade.
In one sense, we're not seeing anything new here, and that's a recent Sony trend; it's been filling out its Alpha range with niche cameras that combine existing tech from other models. The A7C II is essentially a small A7 IV – the camera that tops our best mirrorless camera guide – while the A7C R is a baby A7R V. (The A7C, meanwhile, is a compact A7 III – notice a pattern?)
Image 1 of 3
When considering what's the best camera for you between the A7C II, A7C R, A7 IV or A7R V, the choice boils down to what's more important – your wallet, camera size, all-round handling, or image quality. Each of those cameras ticks half of those boxes, with the A7C R satisfying those looking for a travel-friendly camera with the best possible image quality.
Sony A7C R price and release date
The A7C R list price is $2,999 / £3,199 / AU$4,999 body-only. That's around 25% less than the Sony A7R V, but quite a mark up from the A7C II, which costs $2,199 / £2,099 / AU$3,499 body-only – I'd call that mark up a landscape photographer's tax. However, the A7C R comes supplied with an extension grip, and while that grip also works with the A7C II, it's an additional purchase with that camera (price TBC).
I prefer the reality of the A7C R over the A7C II because its high-resolution sensor is not only better for landscape photography, but it affords greater flexibility; I might not need 61MP most of the time, but I can crop into those larger pictures more than images from the 33MP A7C II when my lenses don't go tight enough, much as with the delightful Leica Q3 which is the best premium compact camera available, and which also sports a 61MP sensor.
That's to the point; the rangefinder-style A7C R isn't a camera with which you'd want to use chunky telephoto lenses to get you closer to subjects (see the images below with the FE 70-200mm F4 II lens). It's so small that you'll want to pair it instead with relatively tiny everyday lenses like the FE 40mm F2.5 – pictures taken with a lens like this lens often benefit from being cropped into, and double the pixels can effectively get you twice as close.
Image 1 of 3
Aside from which A7C model makes most sense based on the sensor, both of these cameras are designed to be as small as possible, and that comes with handling compromises compared to the SLR-style models. For example, despite the A7C R's and A7C II's viewfinder having improved magnification over the one in the A7C, it's still a tricky EVF to use day-to-day – I really had to push my eye in to get a clear view, while the EVF on the A7R V is much easier to use.
I also really missed an AF joystick. Don't get me wrong: the A7C R's autofocus performs brilliantly by itself, utilizing Sony's 'AI-powered' autofocus chip which means, just like the A7C II, the A7C R is able to recognize more subjects and in more scenarios than previous-gen cameras, and nail sharp focus on human eyes. However, the joystick is such a handy override when you want the control over which subject is in focus.
Image 1 of 4
In light of the modest viewfinder experience, it's some relief that the touch functionality of the vari-angle screen has been improved, adding touch navigation and swipe control in addition to touch focus, plus the in-camera UI is the latest streamlined version that's much easier to navigate than the previous setup.
The new Sony Creators' app works a treat, too. I had no problem connecting my Android phone to remotely control the camera and uploading images to the cloud. Sony apps of the past didn't cut the mustard, but the Sony Creators' app is a different experience altogether.
Image 1 of 2
Overall, the Sony A7C R is a highly capable photography-first camera for its size, perhaps the most capable. It will handle landscape photography as readily as fast-moving portraits, and by my reckoning is the most cost-efficient way to get Sony's excellent 61MP sensor. It's still super-expensive though, so we do have to finish by asking that question, "do you really need all those pixels?". For me, it's one for the wishlist.
Image 1 of 3
Sony A7C R: Specs
Swipe to scroll horizontally
| Header Cell - Column 0 | Sony A7C R |
| --- | --- |
| Sensor | 61MP BSI CMOS full-frame |
| Video: | 4K 60p |
| AF points: | 759-point array hybrid phase / contrast detection |
| LCD: | 3.0-inch vari-angle touchscreen, 1.03m-dot |
| Viewfinder: | 2.36m-dot, 0.39-inch OLED EVF |
| Memory cards: | Single UHS-II |
| Connectivity: | Wi-Fi / Bluetooth |
| Max burst: | 10fps mechanical shutter (C-AF) |
| Size: | 124 x 71.1 x 63.4mm |
| Weight: | 430g (15.2 oz) body only |
Sony A7C R: Image quality
There's everything and nothing to be said about the A7C R's image quality that hasn't been said before. It packs the exact same 61MP sensor as the A7R V, and you can read more about the formidable $,4000 / £4,000 / AU$6,500 mirrorless camera in our full Sony A7R V review.
The only real difference between the two is any impact on image quality resulting from the handling of each camera. You might get a firmer hold of the A7R V (which is probably why Sony bundles the A7C R with an extension grip), plus its in-body image stabilization is rated up to 8EV against the A7C R's 7EV, so you might get blurrier handheld A7C R shots in some scenarios.
Image 1 of 3
And then there's the comparison between the A7C R and the 33MP A7C II. Do we need the extra pixels? I think for a travel camera, where you want a lightweight setup and maybe just a single lens, more pixels is even more relevant. If a 40mm f/2.5 lens can't get close enough, you can just crop in. You can get the impression of an 80mm lens, for example, in a 61MP image cropped to a similar size of the 33MP A7C II. If money was no object, I'd definitely go for the A7C R.
Forgetting everything Alpha, and simply enjoying the pictures I've made with the A7C R, I can see pin-sharp detail where it counts, when the exposure settings are sensible. The enthusiast-level lenses I was using are highly capable; wide enough at f/4 to throw some lovely out-of-focus bokeh in portraits, and sharp enough stopped down for pin-sharp landscape photography.
Image 1 of 5
ISO performance is decent, with a native ISO 100 to 32,000 range. Any setting from ISO 100 to 1600 provides clean and sharp results, and I'd happily shoot up to ISO 6400, too. Beyond that setting, for example pushing to that maximum native setting of ISO 32,000 in low light is okay at a pinch, but if you look closely (see below the pictures of horses at moonrise), detail at this setting is pretty mushy.
JPEG colors straight out the box look great, dynamic range is generous, and intelligent autofocus is reliable. Put simply, the A7C R can be relied upon as an everyday camera; it's quick to respond when you need to capture the moment, and powerful enough for the constructed scenarios – a landscape photography expedition or portrait shoot.
Image 1 of 2
Video quality is decent too, with 4K 10-bit 4:2:2 up to 30 frames per second, and a log color profile providing the best image quality. We don't get 8K video as in the A7R V, but 4K videos are very sharp, taken from the 7K readout of the sensor, which is then downsampled without line skipping or pixel binning. If you like shooting half speed, the 60 frames per second setting incurs a Super35 crop (1.5x), making the wider-than-most 20-70mm zoom lens I had with the camera a particularly good match.
Image 1 of 2
Sony A7C R: Test scorecard
Swipe to scroll horizontally
Sony A7C R

| Attributes | Notes | Rating |
| --- | --- | --- |
| Price | Pricier than the A7C II by a considerable margin | 4 / 5 |
| Design | Familiar Sony handling in a small body | 4 / 5 |
| Performance | Packed with signature features from the Alpha range | 5 / 5 |
| Image quality | Class-leading full-frame sensor | 5 / 5 |
Should I buy the Sony A7C R?
Buy it if...
You want the latest autofocus technology
Utilizing Sony's best autofocus performance and AI-powered autofocus chip, the A7C R can intelligently and reliably track a broader range of subjects than ever to deliver sharp focus where it matters.
Image quality is a priority
For full-frame, you won't find better than Sony's 61MP sensor. Even if you don't need all those pixels, you can shoot in one of the smaller file sizes, or make use of the additional cropping potential that such a high 61MP resolution brings.
You value size over function
The A7C R tiny, and fits nicely in the hand, especially when the extension grip is attached. Add in the flip screen and newly introduced control dials, and you get a discrete and powerful little travel camera. However, if size doesn't matter, the overall user experience with the A7R V is better.
Don't buy it if...
You don't need the pixels
There's a big difference in pixel count between the A7C R and the A7C II, but the latter is no slouch, with a 33MP full-frame sensor. If you're looking for a more all-purpose travel-friendly snapper, you could save some cash by going for the A7C II.
You love using a viewfinder
In my book, the single biggest compromise in such a compact full-frame camera design is the viewfinder experience. The larger SLR-style A7R V has a larger 0.5-inch EVF than the 0.39-inch one in the A7C R, plus it has a superior 9.44m-dot resolution and easier eye relief.
You use big lenses
Take one look at the A7C R product photos in this review with the FE 70-200mm F4 II lens attached – it's a size mismatch, and that's a smaller zoom in Sony's range. If you regularly use bulky telephoto optics, you're better served by a larger camera.
Sony A7C R: Also consider
If our Sony A7C R has inspired you to think about other options, here are two more cameras to consider…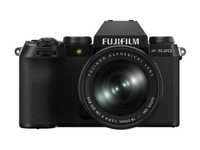 Sony A7R V
If a compact size isn't everything, then most of the tech in the A7C R comes from the chunkier and pricier A7R V. For the extra 20-25% outlay, you get a better user experience that includes a more spacious body, larger grip, AF joystick, a superior 9.44m-dot EVF with larger display, and a full-size HDMI. There's a bigger price gap between these two cameras than there is between the A7C II and A7 IV, and arguably more that separates the two as well.
Read our full Sony A7R V review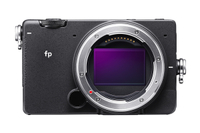 Sigma FP L
If you really want the smallest and lightest full-frame mirrorless camera for stills and video, then look no further than the Sigma FP L. It's a 61MP version of the Sigma FP – which is a truly pocketable camera with a 24.6MP full-frame sensor – with improved hybrid phase and contrast detection autofocus. Body-only, the FP L costs a fraction less than the A7C R, but it doesn't have in-body image stablization, nor a built-in viewfinder, which is instead available as a costly optional extra.
Read our full Sigma FP review
How I tested the Sony A7C R
I had a loan sample of Sony A7C R, along with the FE 20-70mm F4 and FE 70-200mm F4 II lenses, for one week, during which time the three bits of gear were with me most of the time, and combined for a travel-friendly setup easily stowed in a small bag. Ideally, I would have also have had a lightweight and compact lens that truly realizes the travel-friendly potential of the A7C R, like the FE 40mm F2.5 G.
Throughout the week I was able to regularly take photos and videos, including portraits, animal portraits, landscapes, macro, fast sequences, and general everyday shots, in all manner of lighting conditions, and utilize Sony's Creators' app for remote control of the camera and image uploads. I made sure to put the AI-powered autofocus system through its paces, capturing all kinds of human and animal photos and night shots, and I tested the 7EV image stabilization by taking slow-shutter-speed handheld pictures.
First reviewed August 2023