If you've been in the same room as one of the best 75-inch 4K TVs you can buy right now, you'll know it really is a sight to behold. These super-sized screens feature all of the latest tech and premium processing, at a size that will prove much more impactful than its smaller 55-inch or 40-inch cousins. A 75-inch TV is a surefire way to turn your home cinema set-up into something that actually feels as close to the real cinema experience as you'll get in your living room. 
Every year TVs are growing in size. Although 75-inch TVs are still the outlier, tech manufacturers are increasingly looking to bigger and bigger versions of their flagship sets. Improved manufacturing and increased demand also mean you're not having to remortgage your house to get one, either – even if you're still paying a decent amount more than the next size down, on the whole.
Other TV sizes to consider
Best 32-inch TV
Best 40-inch TV
Best 55-inch TV
Best 65-inch TV
But be warned, if you happen to find a 75-inch 4K TV that's suspiciously affordable, it's likely using older LCD technology that was designed for smaller screens. What that means is it might not deliver the high-impact image quality you're no doubt after in this category. That said, we have a few more budget options in this list for those without many thousands of dollars or pounds at their disposal.
We expect a bunch of new entries soon, once the 2021 ranges from the biggest TV brands start to release to market – whether that's the new Samsung TVs on the way or LG's original QNED range – so do check back now and again to see what new entries have been added. For now, though, here are the best 75-inch TVs you can buy.
Top picks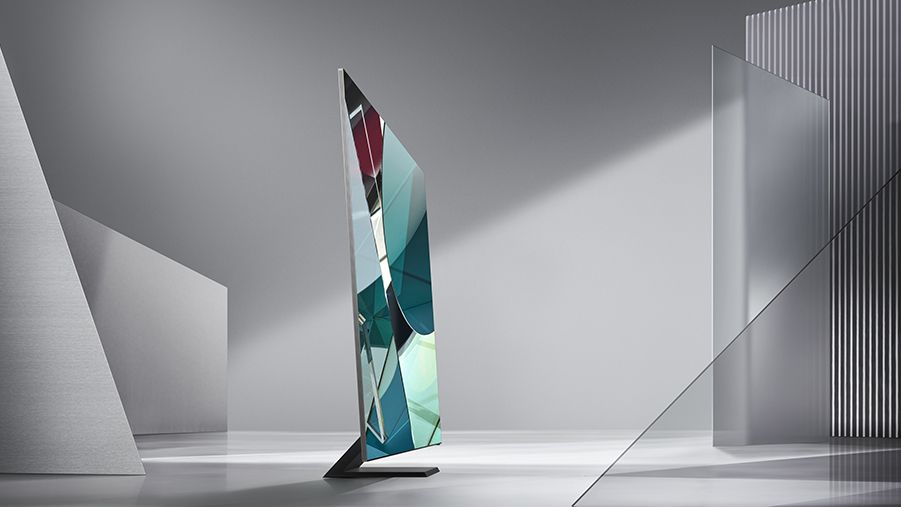 We know, we know: this isn't a 4K TV. But the Samsung Q950TS 8K QLED is such an astonishing television that it has to top the list for anyone after the best 75-inch TV out there.
With a panel boasting 33 million pixels, and cutting-edge upscaling to make even low-quality sources shine, the Q950TS has plenty to recommend it. At a 75-inch size, too, it's certainly big enough to make the use of 8K resolution really count.
The real change from last year's Q950R (the previous top pick in this guide) though, is the design. The Q950TS has an almost imperceptible bezel, giving the impressing of a floating display which – at 75-inch in the UK, and 82-inch in the US – is sure to make an impact in your home.
The OTS+ (Object Tracking Sound) audio technology certainly gives a sense and scale and height to the sound, too – as you'd hope with eight drivers and 70 watts of total power – even if our full tests found the sonic signature was a bit thinner than we'd hoped. 
Nonetheless, it's a step up from the 8K QLEDS of days gone by. You'll be paying for the privilege, certainly, and those looking for more reasonably-priced quality may still want to consider the Q80T QLED. But if paying £8,000 or $13,000 (around AU$21,400) doesn't put you off, this is one set to really show off with.
Read our full Samsung Q950TS 8K QLED TV review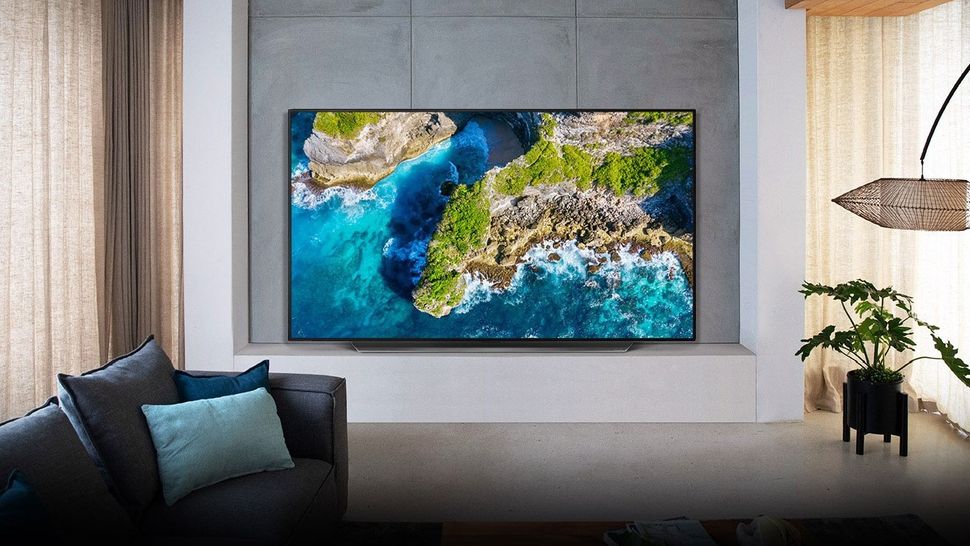 If you're after one of the best 75-inch TVs, and don't fancy an 8K model, you might want to consider the LG CX OLED.
Easily one of the best TVs out there, this OLED set offers drop-dead black levels, incredible picture quality, and LG's as-usual stellar design. There's not much different compared to the LG C9 (which held this spot last year), aside from an upgraded chip to better improve the picture processing algorithms.
The display is also incredibly thin, at just a couple of millimeters deep – while still managing to fit in four HDMI 2.1 ports (with eARC too) and a brilliantly low input lag, meaning this is one set able to handle those next-gen consoles coming later this year. (Support for Nvidia G-Sync make this a decent choice for PC gamers, too.)
Not to forget LG's webOS smart platform, which is market-leading in its intuitive interface and helpful content rows. You'll get Dolby Vision and Atmos support, too, even if HDR10+ isn't currently supported by LG TVs.
Having first launched in 55-inch and 65-inch sizes, there's now a 77-inch model available to buy too. You'll be paying a hefty $4,499 / £4,999 – around twice the price of the next size down – so we recommend being sure you want the larger model in your home. Either way, we doubt you'll regret opting for the CX.
Read the full review: LG CX OLED
While TCL's awesome (and inexpensive) 6-Series has been around for a while, it wasn't until 2019 that a 75-inch model came to stores – and even as the price stays the small, the screen definitely goes big. 
This TCL TV offers Dolby Vision support, and comes with Roku TV as its smart platform – though this size model is available exclusively to Best Buy in the US.
While TCL's 6-Series didn't impress us quite as much as the other TVs on this list, it is a competitive screen at its price point, offering bright, colorful HDR and exceptionally clear images.
If you have deep pockets and a chequebook ready to go, we'd still tell you to reach deep and shell out for something higher on this list. But if the TCL 6 Series is what's in your budget, it will provide exceptional performance for the price.
Read the full review: TCL 6-Series
The best LG TVs usually feature OLED panels, but the Nano90 is an exception as the flagship 4K LCD from LG last year – offering premium features, excellent processing, and a massive size for a significantly lower price than the 77-inch OLED TVs out there.
LCD is still the cheaper way to go, and you are having to put up with some issues you won't see on OLED: the Nano90 suffers some mild backlight flickering, for one, though the black levels are still very impressive for an LCD set.
The Nano90's wide viewing angles, strong color performance, and reliable webOS smart platform all make it a 75-inch screen that's easy to recommend – that is, if you can't stump up the cash for a (let's admit it, superior) OLED model like the CX above.
Read more: LG Nano90 TV review
Panasonic's flagship LCD screen last year may not have featured an OLED panel like its more premium siblings – such as the HZ1000, HZ1500, or monstrously good HZ2000 – but it did offer a massive screen with Panasonic's predictably competent processing.
You're getting universal HDR support here, as well as Dolby Atmos support – with enough forward projection in its 20W speakers to make the addition feel worthwhile.  Picture quality is impressive, too, with a clever backlighting system that ensures bright HDR objects stay bright without blooming in surrounding areas.
The 75-inch model is the best option, given its smaller 43-inch and 65-inch iterations use an IPS panel (lower contrast, wider viewing angles) rather than the 75-inch's VA panel (the reverse).
It's not the cheapest set on this list, but it's also far below what you'd be paying for a 77-inch OLED, and is well worth a look for those just after a reliable, high-performing LCD screen.
Read more: Panasonic HX940 TV review
At just $1,299 for a 75-inch model, the Hisense H8G Quantum Series is a highly affordable choice for super-sized screen.
At double of the price of the 65-inch model, though, there's a real price uptick, and those after a true saving may wish to check out the 65-inch model instead. That said, the Hisense H8G offers a lot at any size, with Dolby Vision HDR and Dolby Atmos support, along with a bright and colorful picture set to give you a great night in whatever you're watching.
The design of the set itself could be more inspiring, but you get what you pay for, and we'd rather Hisense skimp on the casing materials than the panel or processor.
Read more: Hisense H8G Quantum review
Buying advice
TechRadar's 75-inch TV buying advice
First and foremost, be really careful about TV sales that sound too good to be true. If you see a 75-inch 4K TV for around $600 / £600, it's probably going to let you down in terms of picture performance.
So who's the main culprit that causes ugly images in the 75-inch range? Bad backlighting. While the cheapies use edge-lit LED panels that produce poor black levels and contrast, the bigger brands opt for either direct, full array LED panels – or in the case of LG, OLED panels. Both illuminate across the whole screen, and create both luscious color and 4K clarity.
Some of our favorite 75-inch TVs are LG's series of OLEDs, which boast exceptional black levels and premium HDR (if technically measuring at 77-inch, given the limited sizing of OLED panels0. They're perfect for a dark room experience, like a home cinema, though for brightly-lit rooms you may want to consider Samsung's QLED TV series. Sony and TCL, too, make 75-inch TVs well worth considering.
Once you get to a 75-inch size, too, 8K TVs really become a smart investment. That's because the greater number of pixels over 4K (33 million rather than eight million) ensures far greater detail at that size. A 55-inch 8K TV doesn't really make much of a difference, but a 75-inch 8K TV certainly does.
You are paying more for an 8K TV on the whole though, which, coupled with the price increase of such a large screen, may move it out of your budget – in which case, a 75-inch 4K TV should still serve your needs just fine. If you have the cash, though, we don't think you'll regret opting for a set that makes the most of both a big-screen display and screen-filling detail.
Jamie Carter contributed original reporting to this article.