There's still time to get these hard drive and SSD Prime Day deals and make your PC very happy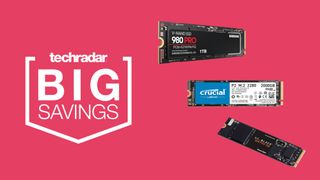 (Image credit: Future)
If you've been holding out to get some killer Prime Day deals and upgrade your PC storage, boy are you in for a treat. This year's event has served up some absolutely scorching deals on the best SSDs on the market and every single one of them is a worthy upgrade to your machine.
As we enter the second day the deals are still rolling, too. When Prime Day ends, so too do the discounts, so this really is your last chance.
A good SSD is one of the best improvements you can make to your PC, whether it's a desktop or one of today's best laptops. If you're still using mechanical hard drives, even moving to a SATA SSD will blow your mind.
Whether you need a boot drive, something for your game library, or just generic file storage, there is still something on offer right now that will get the job done.
(Not in the US or UK? Scroll down for deals in your region).
Today's best US SSD deals
This is one of the fastest SSDs money can buy thanks to its use of the PCIe 4.0 standard. That does mean not everyone will be able to use it to its full potential, but with a compatible system you will be blown away by the performance of this drive.
It hasn't been on the market all that long either so this is the first real discount we've seen, and it's a big one. Now is definitely the time to pull the trigger if you've been on the fence.
Today's best U.S. SSD deals
Today's best UK SSD deals
If all you need is a good SSD to boot your PC or laptop from then this is a great choice. It's fast, has more than enough space for Windows 10 and your most used applications and at this price, it's an absolute bargain. You won't get a better SSD for this money.
Today's best UK SSD deals
More hard drive and SSD deals
If you're outside the US or the UK, no worries, there are still plenty of great hard drive and SSD deals for you. Here you'll find the best on offer right now that are available in your region.
More hard drive deals
More Amazon Prime Day deals in the US
More Amazon Prime Day deals in the UK